Like GearBrain on Facebook
The security camera is a staple device in most smart home ecosystems these days. Whether you're looking to monitor your kids, pets, or just keep an eye out for intruders, there's likely a host of cameras on the market that will suit your needs. The Yi 1080P Home Camera is just such a security camera.

As you've no doubt gathered from its name, it records in 1080p, but it also boasts crying baby and motion detection, night vision, two-way audio, internal storage, cloud-based storage, robust encryption, Apple and Android apps, and a reliable Wi-Fi connection. All on top of a smooth setup, and a sleek, unobtrusive design.
The Look and Setup
Yi's 1080P Home Camera comes mounted in a white, sturdy feeling stand, and to be frank, it's one of my favorite looking security cameras out there: 5 inches tall, 2.5 inches wide, and less than 5 ounces. It's also very easy and quick to setup via your Wi-Fi network. After plugging it into the wall and downloading Yi's app onto your device of choice, you'll need to create a new account. From here, you'll tap on the add device button, listen for your camera to say "Waiting to connect," then confirm the cue on your phone. Once you've logged into your wireless router on your device, you'll be presented with a QR code that the camera can scan and automatically connect to your network. The entire setup took about five minutes, but do note that it only supports 802.11b/g/n 2.4Ghz wireless connections.
Once paired up, you can name your security camera, select a room, and begin tweaking the device's settings to your content. The app does a decent job of laying out the camera's settings in a straightforward way, explaining what most options effect. There are even options for motion detection and alert frequency.
I didn't run into any problems navigating the app, whether it was checking the cameras live feed, testing different settings, or monitoring the camera's alerts. The options for scheduling were clean and intuitive, as were the options to share the camera feed with friends or family members.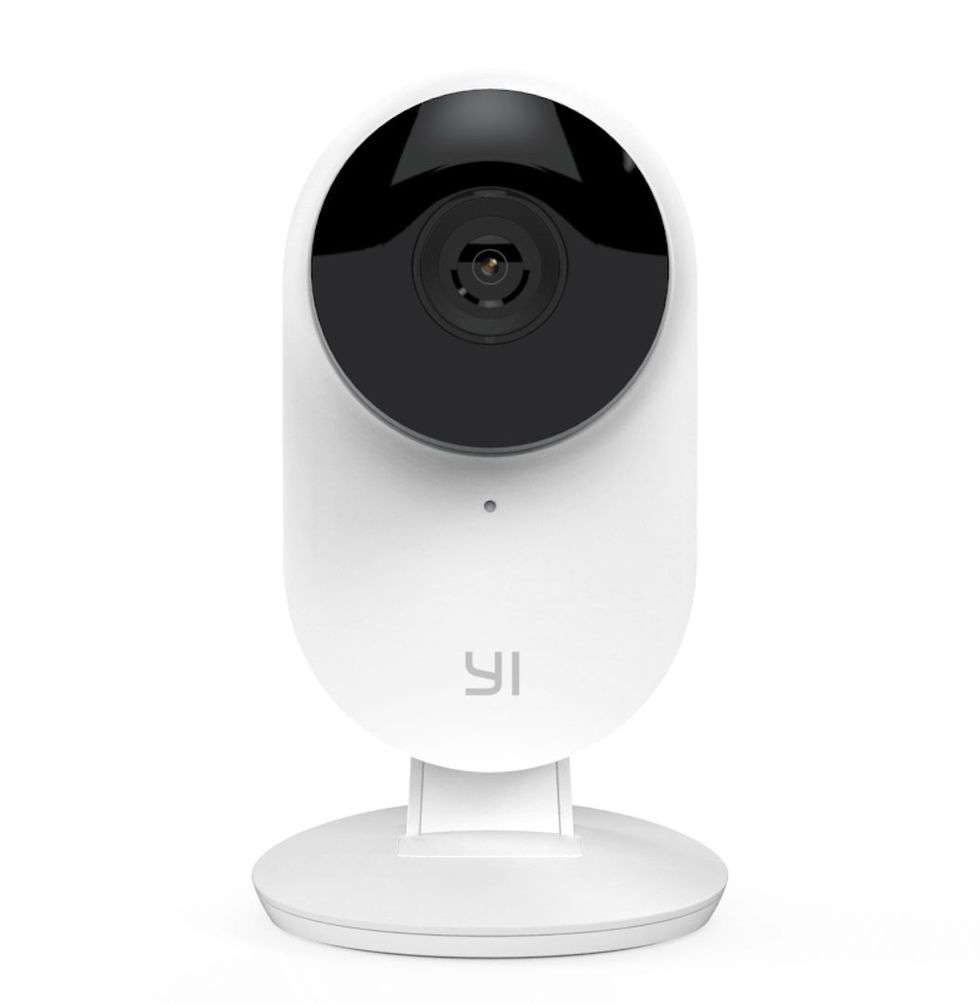 The Yi 1080P Home Camera is one of our favorites in terms of design
Camera In Practice
Despite the attractive look, ease of setup, and fluid app, I ran into some awkward issues with the Yi 1080P Home Camera. The recording quality was pretty good, even in night vision mode, and when the motion detection alerted me to movement, I could make out details in the image, regardless of light levels. I also appreciated the ability to set up regions of motion detection within the camera's 112-degree angle. I was even pleasantly surprised by the baby crying detection working so well. As I have no small children on hand, I had to test the feature using a sound clip on YouTube, but the device instantly recognized the sound and sent me an alert.
However, the Yi 1080P Home Camera has a few odd design issues that can sometimes make the experience confusing.
To start, the camera will only register and alert users of movement on a timer during each cycle. This means, once movement is detected and the initial video created, no more video or alerts will be made until that timer has reset. While you can reduce this timer from 10 to 5 or even 3 minutes, this means it's impossible to get multiple security alerts during the cool down window. The reasoning for this decision was to cut down on the number of spam notifications you'll receive on your phone, but it's a rather heavy-handed solution.
Second, segments of recorded motion during the detection phase are only 6 seconds in length. This means that anything that happens after those initial 6 seconds isn't displayed in the alert. Furthermore, on multiple occasions, the 6-second recording stopped just as I made my way into the frame. However, these short alerts shouldn't be confused with actual video of the situation. The notification merely serves to warn you of a potential problem. Once you tap into the alert, you can see a live camera feed with a scrollable timeline that allows you to monitor the situation at hand.

Finally, and most problematic, there were multiple instances in my testing where the camera flat out didn't register my movement, even when I picked it up and shook it around. These tests were well outside of the devices bizarre cool down period. This occurred with both monitored zones and general motion detection. This is worth noting if you are considering this security camera for your home.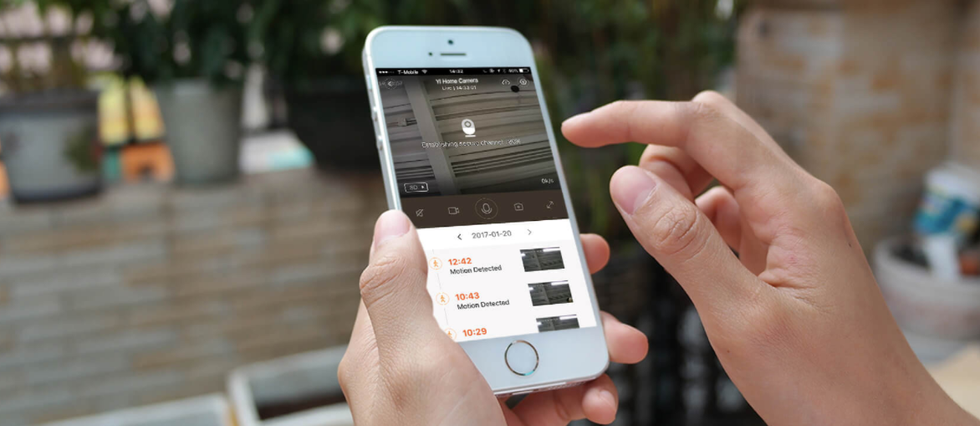 Like many security cameras, you can operate and check in on the Yi 1080P Home Camera via the appYi
Device Storage
As with all security cameras, storage is always something that must be addressed. The Yi 1080P Home Camera has a microSD slot that can be used to store videos locally on 32GB cards, as well as a cloud-based subscription model. Unfortunately, the camera doesn't include a microSD card, so you'll have to grab one separately.
The local storage option will hold about four days worth of content before it is overwritten automatically. This keeps you from having to clear out space regularly, but you do need to be aware of it, in case there is footage you need to backup.
As for the cloud storage, you can choose to sign up when you first pair up your device to the app or do so at a later date — or not at all. The plans are a little convoluted and on the pricey side, but they do provide you with the security of knowing your videos are safe in case of a problem.
The plans come in two varieties: Standard and Premium. Standard plans support up to 5 cameras storing motion detected videos only, while the premium plan supports one camera, but stores all CVR video. Within those basic frameworks, you can choose from 3 individual plans: 7 days, 15 days, and 30 days. This refers to the amount of time your video will remain on their servers. For instance, if you choose a seven-day plan, every 8th day your first video will overwrite the first video of the previous storage period.
The costs are equally convoluted but range from $9.99 a month to $19.99 a month with options to pay some plans quarterly or yearly.
Final Thoughts
The Yi 1080P Home Camera's ease of use, on top of the helpful options, such as zone detection, feed sharing, and crying baby monitor, make for an enticing home security option.
While the notification limitations are a bit strange and unclear within the app's settings, the real problem is the spotty motion detection. Being able to get an alert at the right time could mean the difference of contacting law enforcement during the act or missing it all together. The detection failing once or twice might be forgiven, but it was hit-or-miss far too often.
At $59.99, the price isn't bad; the look and feature set isn't too bad either. The Yi 1080P Home Camera may be a product you want to consider, for the less sensitive areas of your home, but if you want a more reliable means of monitoring, you'll have to spend some time micromanaging Yi's slick camera.
Pros: Quick to setup, decent quality video, crying baby alert.
Cons: Spotty motion detection is a real downer, no included SD card, no smart home integration, cloud options are convoluted and pricey.
Like GearBrain on Facebook