Samsung, as with many other manufacturers and retailers alike, has already kicked off its Black Friday sale. Deals and discounts are available on a range of products, including Ultra HD televisions, tablets, smartwatches, virtual reality headsets and more.
There are some impressive deals to be had on 4K televisions, as well as sound bars, computer monitors, tablets, smartwatches and fitness trackers.
Here are some of the best deals we've found so far in Samsung's 2017 Black Friday sale.
55-inch Class Q7F QLED Ultra HD television
Was $2,799, now $1,599
Save $1,200
49-inch Class Q6F Special Edition QLED Ultra HD television
Was $1,299, now $999
Save $300
55-inch Class MU8000 Ultra HD television
Was $1,499, now $899
Save $600
50-inch Class MU6300 Ultra HD television
Was $749, now $479
Save $270
49-inch Class MU6500 Curved Ultra HD television
Was $749, now $499
Save $250
32-inch CH711 curved PC monitor
Was $519, now $399
Save $120
Was $299, now $239
Save $60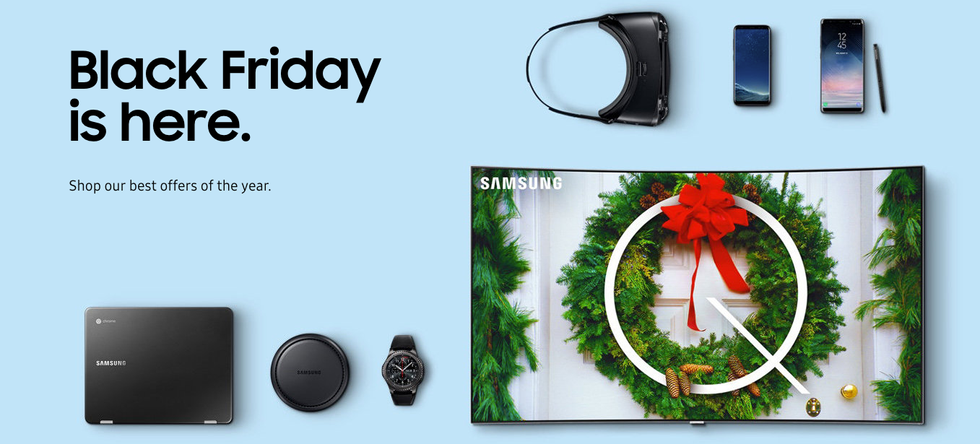 Samsung Black Friday deals have already begunSamsung
Was $199, now $129
Save $70
Galaxy Tab A 10.1-inch (16GB, Wi-Fi, Black)
Was $279, now $179
Save $100
Notebook 9 Pro 13-inch (128GB SSD)
Was $949, now $749
Save $200
Was $499, now $299
Save $200
Was $299, now $249
Save $50
Was $199, now $149
Save $149
Wireless Charging Pad and dual-port vehicle charger
Was $99, now $39
Save $60
Fast Charge Wireless Charging Pad
Was $49, now $24
Save $25
Was $349, now $449
Save $100
Click one of the categories below for more Black Friday deals from GearBrain: