Like GearBrain on Facebook
It looks like Samsung is about to get one up on Apple, by offering a smartphone which can wirelessly charge a pair of earphones when their case is placed on its back.
This is the claim made by a leaked marketing image said to be of the upcoming Samsung Galaxy S10 and the company's equally new wireless earbuds.
Read More:
Obtained by WinFuture (Google translation) and published this week, the image shows the new Galaxy S10 smartphone lying face-down, with a pair of earphones inside their charging case on top. The image appears to demonstrate how the phone can wirelessly recharge the earphones via their case, which has its own internal battery.
This is something Apple does not offer with the iPhone, which can be wirelessly charged but cannot deliver this power to another device. In addition to this, Apple does not yet offer a way to wirelessly recharge its AirPod earphones, despite claiming the AirPower — a device announced in 2017 but not yet on sale — would do exactly that.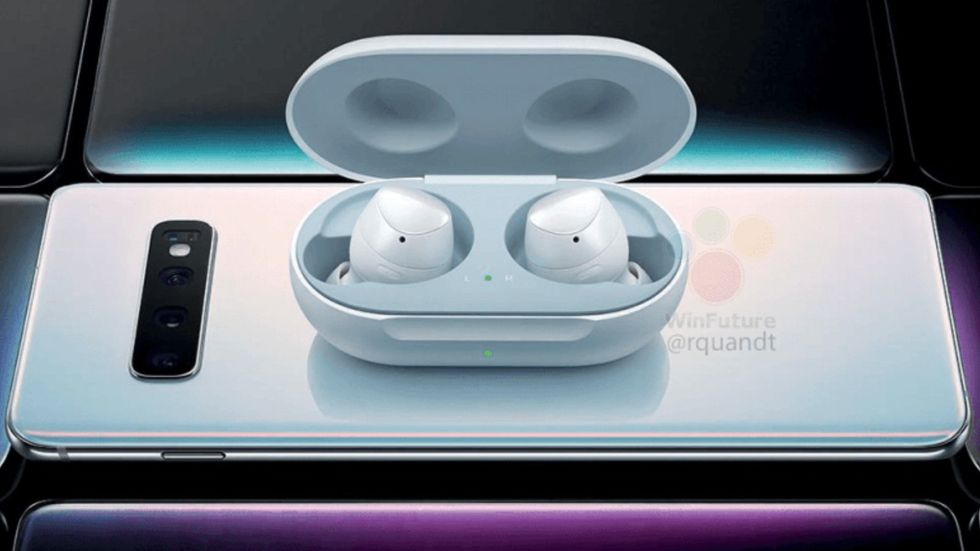 Leaked image shows Galaxy S10 wirelessly charging new Samsung earphonesWinFuture
The earphones shown in the Samsung image are expected to be called Galaxy Buds, and will in effect be an update to the IconX earphones from 2017. They are expected to cost in the region of $150 and will be announced alongside the Galaxy S10 at Samsung's Unpacked event, which takes place in San Francisco and London on February 20.

We can see this charging feature being useful when your earphones are running low on power, but you don't have a cable with you to charge them up. Huawei's Mate 20 Pro also offers backwards wireless charging, where it can top up the battery of a phone placed against its back. We think Samsung's approach, charging earphones, is a more useful demonstration of the technology.
As for the S10 itself, Samsung is expected to announce three versions at its Unpacked event, including a cut-price model called the S10E and a larger model called the S10 Plus. There is also expected to be a premium option with a ceramic back instead of glass, while a 5G-enabled S10 is due later in 2019.
Apple is expected to announce an updated version of its AirPods in 2019, with the ability to understand the 'Hey Siri' command and enhanced fitness tracking features. These are expected to arrive alongside new iPhones at Apple's annual launch event in the fall.
From Your Site Articles
Related Articles Around the Web
Like GearBrain on Facebook