Like GearBrain on Facebook
With the new Galaxy Buds, Samsung enters the hotly-contested wireless earphone market, lining up against Apple's hugely popular AirPods, along with alternatives from Sennheiser, Bose and Jabra.
Despite being priced below some rivals, the $130 Galaxy Buds includes a wireless charging case which, when placed on the back of the new Samsung Galaxy S10 smartphone, fills up the batteries of the Buds as well as its case.
The Galaxy Buds also include a smart Bluetooth pairing system, working with Galaxy phones as seamlessly as the AirPods work with iPhones.
With a compact and comfortable design, keen price, sweat resistance and touch controls, the Galaxy Buds are a well-rounded pair of wireless earphones which will be attractive to both Android and iOS users.
Samsung Galaxy Buds review: Design, hardware and comfort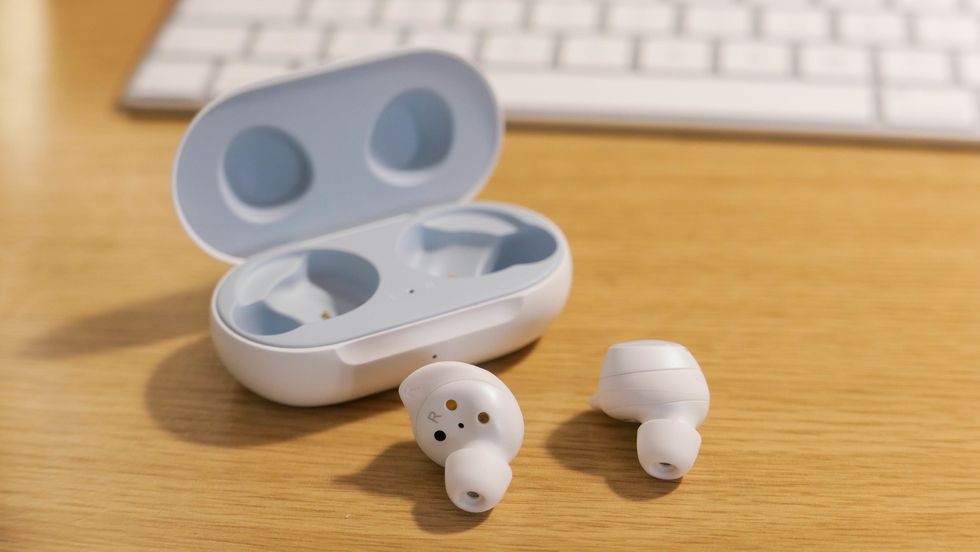 The Galaxy Buds come with a compact charging case
GearBrain
The Galaxy Buds are light and comfortable. They also come with a range of rubber tips and wings to ensure a good fit in different sizes and shapes of ear.
I found them most comfortable with the smallest tips and wings, and never felt like they were going to fall out of my ears, even while running on a treadmill at the gym. Samsung says the Buds are sweat resistant, so they shouldn't become damaged when exercising, but I wouldn't recommend wearing them while swimming or taking a shower.
The design of the Galaxy Buds is more compact than Apple's AirPods, as there is no stem; instead, they are broadly round in appearance and are more subtle than most other wireless earphones currently on the market. They are available in black, white and yellow.
Each Bud weighs just 5.6g and measures approximately 17 x 22 x 19mm. Their charging case, which Samsung calls the Cradle, weighs just under 40 grams and measures 70 x 39 x 26mm.
As with other wireless earphones like these, the Buds sit neatly inside the case and automatically charge their batteries. The compact case makes it very easy to carry in a pocket, and I found I'd carry the Galaxy Buds everywhere I went, just on the off-chance that I wanted to listen to music or a podcast.
For someone who has switched for the last couple of years between Bose QC35 on-ear earphones and the standard wired options that ship with iPhones, I loved the ease-of-use presented by the Buds. They're pocketable, easy to use, and there are no wires tying themselves in knots every time they are put into my pocket.
Samsung Galaxy Buds review: Software and features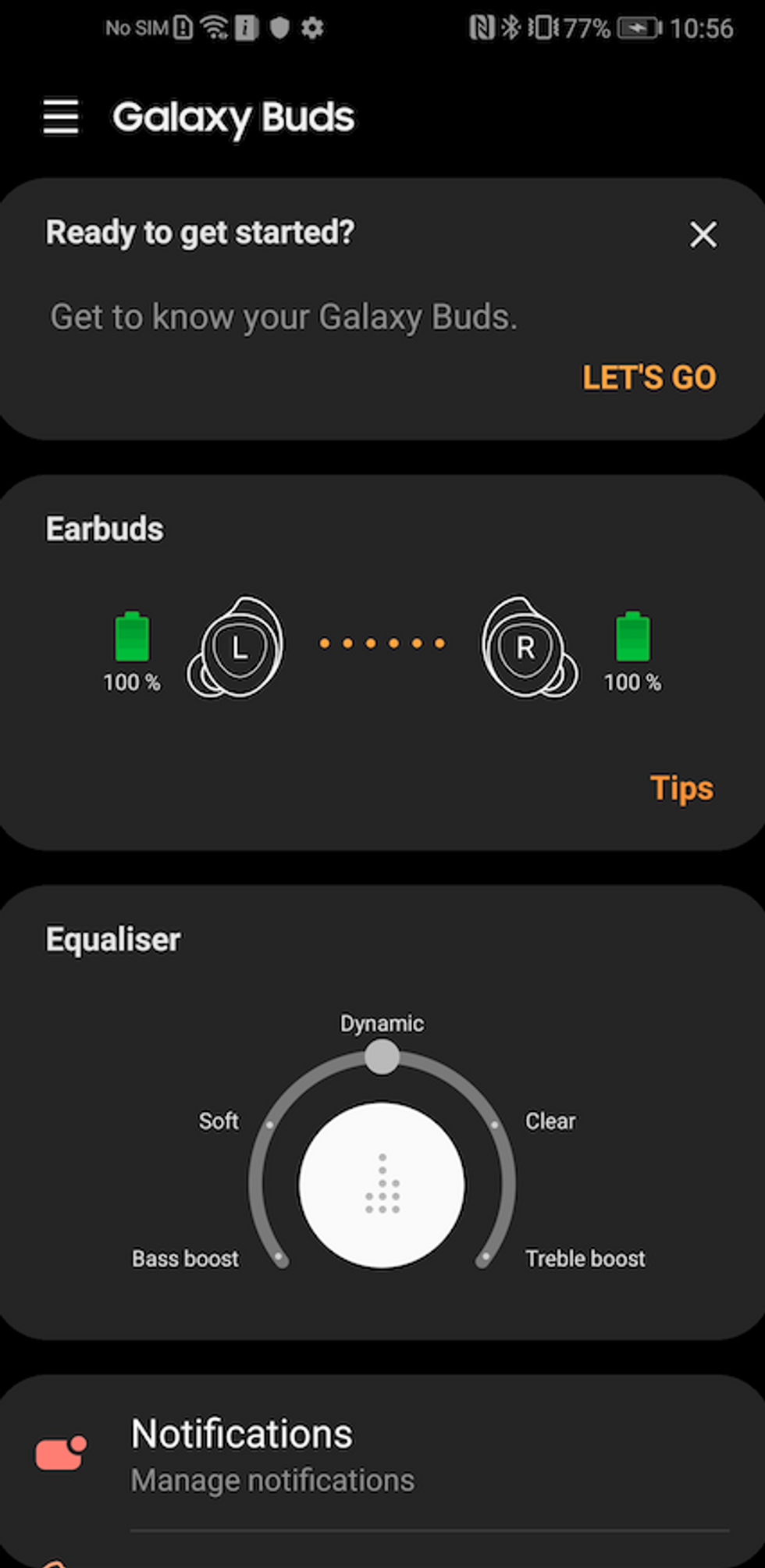 The Galaxy Wearable app is where you can adjust the Buds' settings and check on battery life
GearBrain
The Galaxy Buds can operate without any software at all. I used them this way with my iPhone for the first few days of conducting this review, pairing them to the Apple handset like any other Bluetooth earphones.
Once paired, they would connect to the phone whenever I took them out of their case. By default, the touch pads on the outside of each Bud plays and pauses music with one tap, skips forward a track with two taps, back with three, and summons your phone's assistant (in this case, Siri) with a long press. Unfortunately, there is no way to control the volume without reaching for your phone (or whatever device the earphones are connected to while in use.)
This will be fine for most users, but for those who want to adjust what the various tap controls do (as well as check the battery life of each Bud), there's the Galaxy Wearables app.
This app isn't yet available for iOS in my region (the UK), so I installed it on an Android smartphone. From this app, you are able to check battery life, and adjust the audio equalizer between the options of Bass Boost, Soft, Dynamic (the default), Clear and Treble Boost.
You can also adjust which phone notifications come through to the Buds, and enable a feature called Ambient Sound. This uses microphones on the Buds to feed sound from the outside world into your ears; that way, you are more aware of noises around you, like traffic, sirens and voices. This volume can be adjusted, and there's an additional setting for making nearby voices stand out more clearly.
Finally, a feature called Find My Earbuds can be activated from the app. This plays a very loud chirping sound through both Buds, helping you locate them; but be warned, don't put them on while this feature is enabled, as the noise is extremely loud when heard up close.
The app offers a useful range of features and customization, but I would like to have seen an element of health and fitness tracking here, such as a way to track steps and exercise without wearing one of Samsung's new Galaxy smartwatches. But given the price — some $30 less than the tracker-less AirPods — this omission is perhaps to be expected.
Samsung Galaxy Buds review: Sound and connection quality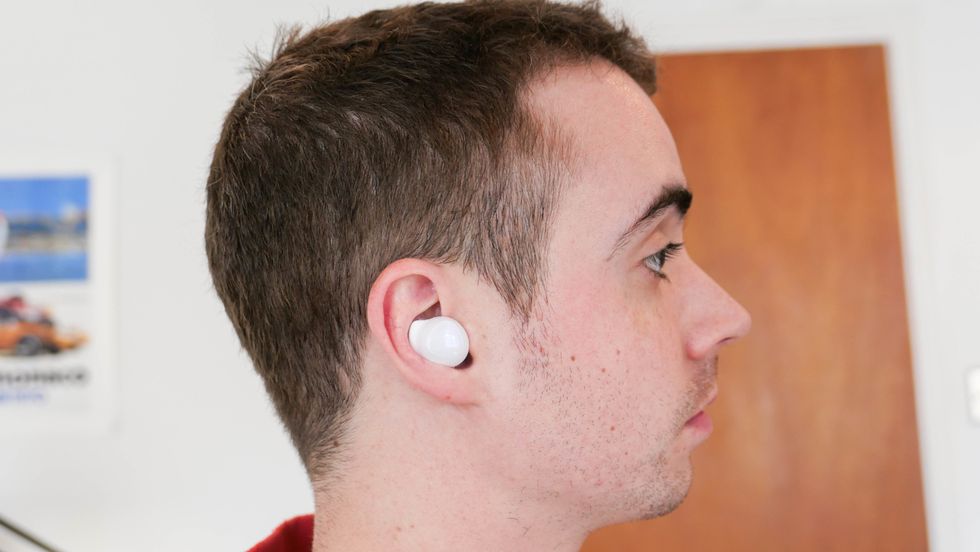 We found the Galaxy Buds to be comfortable and secure, even while running
GearBrain
The rubber tips and wings give the Galaxy Buds a great fit (at least in my ears), blocking out almost all ambient sound. There is no active noise cancelling, but honestly I wasn't bothered by this; the Buds do such a great job of passively blocking noise, I could hear music and podcasts just fine while on a loud subway train.
Music sound quality is good, especially when you consider the size of the Galaxy Buds, with decent bass and well-judged treble. I listened to a wide range of music during my week of testing the Buds, and didn't find anything that they particularly struggled with in terms of sound.
The wireless Sennheiser Momentum earbuds offer improved sound quality and clarity, but at $300 they are considerably more expensive than the Samsungs. For their price, just $130 or free with a pre-ordered Galaxy S10 and S10+, I think the Galaxy Buds offer very good value for money.
During my first few days with the Galaxy Buds I found its connection to each other would sometimes falter, causing the sound they produce to fall slightly out of sync, before fixing itself after a few seconds.
However, when hooking the Buds up to the Galaxy Wearable app a software update was available. Since installing this I've experienced no more connection issues.
Samsung Galaxy Buds review: Battery life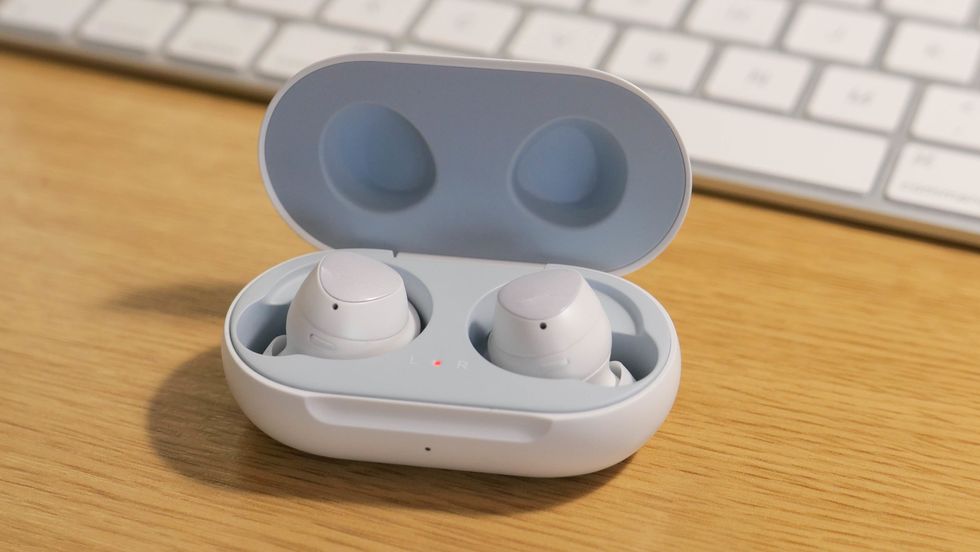 Battery life is six hours for the earphones, plus a further seven from the case.
GearBrain
Battery life for the Galaxy Buds is a claimed six hours, plus an extra seven hours from the charging case. This means, when fully charged, you could listen to six hours of music, then recharge using the case, listen for six more hours, then recharge again and have another hour of music before everything was depleted.
This should be plenty for most users — it'll cover most long-haul flights, for a start — but it lags behind the Apple AirPods, which offer a total of 24 hours of use before the case needs charging.
But where the Galaxy Buds excel over AirPods is how their case can be charged wirelessly. This means I can place it on the same charger I use for my iPhone X, and the battery is topped up. Owners of the new Samsung Galaxy S10 can charge the Buds by placing the case on the back of the handset.
As for the case itself, there are two lights — one inside and one outside — to show when the Buds are connected via Bluetooth, and when the case is charging.
There's also a USB-C port on the case for charging via a cable.
Verdict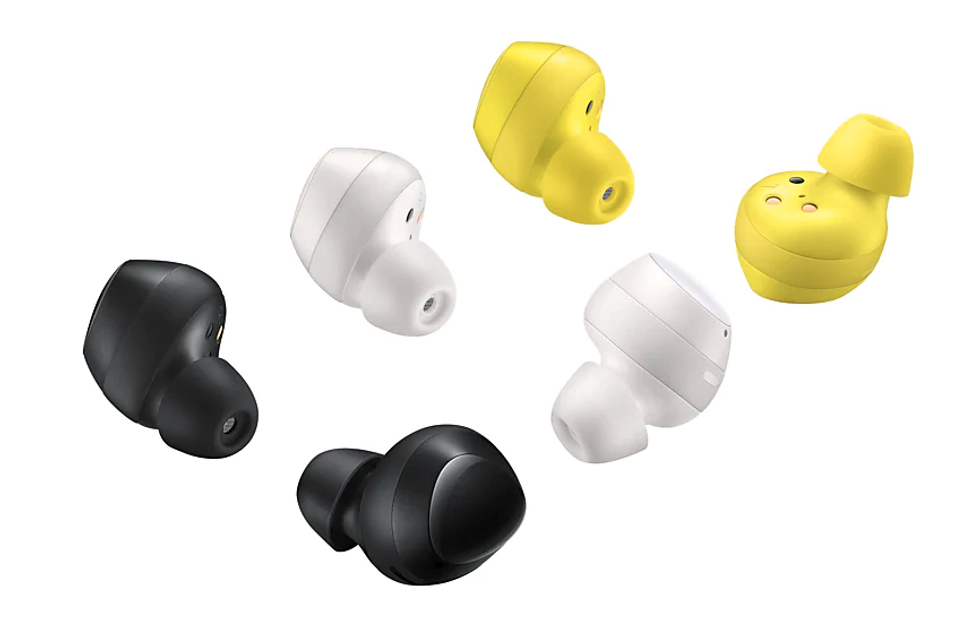 The Galaxy Buds are available in black, white and yellow
Samsung
The Galaxy Buds are a strong first venture into the wireless earphone market from Samsung. They connect quickly and easily to iOS and Android devices (plus anything else with a Bluetooth connection), are light, comfortable and secure in the ear, and produce good sound quality.
The charging case is small and very convenient to carry with you all the time, and having wireless charging adds a little extra convenience over what Apple offers with the AirPods.
Speaking of AirPods, Apple is rumored to be updating them imminently with a new model likely to include wireless charging. This will go some way to leveling the playing field, but even still I think the Galaxy Buds are a great alternative, given their lower price, passive sound cancelling and compact design.
Pros
Compact design
Wireless charging
Good sound quality and passive noise cancelling
Cons
Case battery life could be better
Lacks active noise cancelling
Doesn't have a heart rate monitor
Like GearBrain on Facebook