Like GearBrain on Facebook
Samsung has announced a new smartwatch, called the Galaxy Watch Active2. The new wearable comes just six months after the original Active, but packs a new range of fitness-focused features, and undercuts Apple by $120.
Sharing the same round-faces design as the original, the new model benefits from the reintroduction of a feature sorely missing from the first Watch Active — a rotating bezel. But instead of physically rotating like it does on older Samsung smartwatches, the Active2's bezel is 'digital' — it works by swiping around the edge of the circular touchscreen, and issues haptic feedback.
Read More:
Also new is an ECG app for taking an electrocardiogram — however it isn't clear yet if Samsung has received clearance from the FDA to activate this feature just yet. The watch goes on sale on September 27 but Samsung says the ECG app will be switched on later, once approval has been given. This was also the case with the Apple Watch Series 4 when it launched in 2018.
As well as being able to perform an ECG, the watch also has a heart rate monitor and feature sleep tracking out of the box — something the Apple Watch misses out on, unless you opt for a third-party app.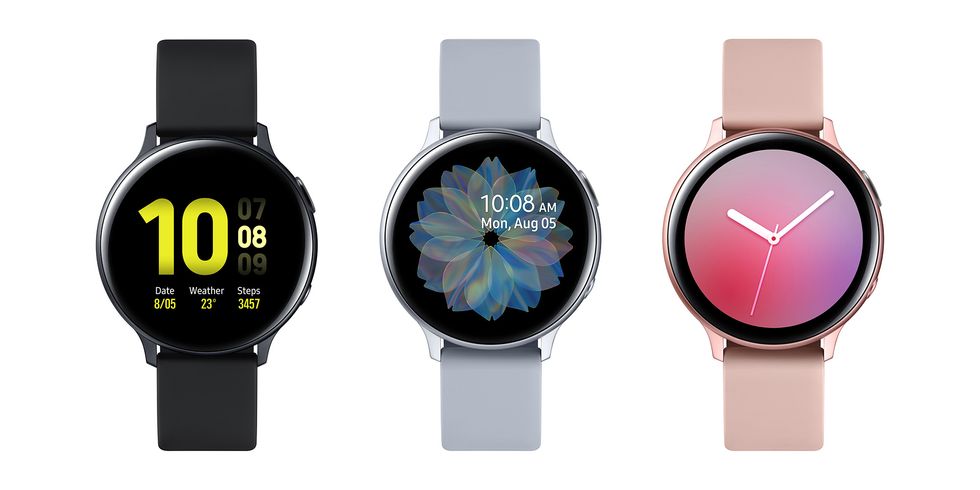 The Watch Active2 is offered in two sizes and six different finishesSamsung
Starting at $279.99, the watch costs $80 more than the original Galaxy Watch Active, which Samsung will keep on sale. The new model comes in two sizes — 40mm and 44mm, just like the latest $399 Apple Watch — with aluminum cases in silver, black and rose gold, plus a pricer stainless steel model in silver, black and gold. The displays of the 40mm and 44mm models measure 1.2-inch and 1.4-inch respectively.

Samsung will also sell a range of quick-release straps made from rubber and leather for the Watch Active2. Bulking out the product line even further, LTE is available on the pricier stainless steel models.
A focus on wellness sees the new Samsung watch alert the wearer when it senses they are stressed, along with sleep and fitness tracking, and guided meditation via a tie-in with the Calm meditation app. Samsung's Bixby voice assistant has been drafted in to act as a personal training, issuing real-time pace coaching when you are out for a run. GPS is also used to accurately track those runs, and you can pay for something on your way home via NFC — so no need to bring your wallet or phone with you.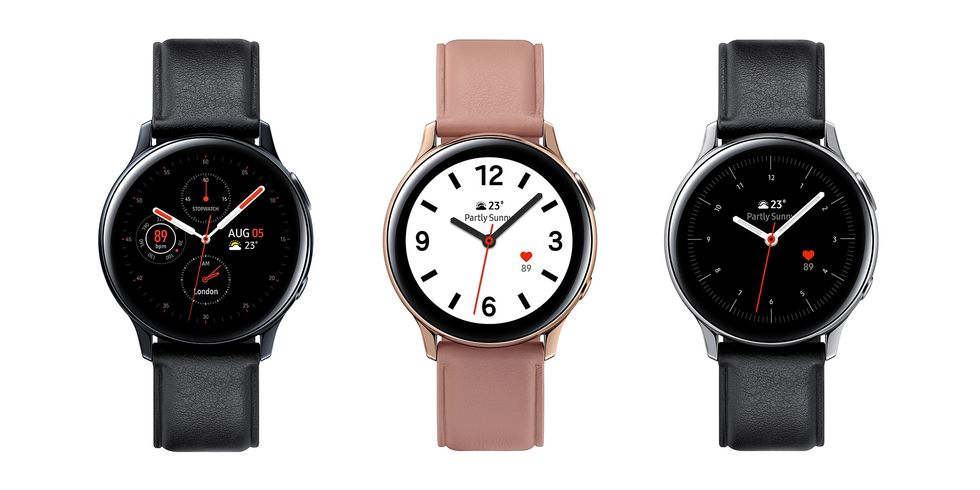 Traditional watch faces compliment the circular touchscreen displaySamsung
The watch can track more than 39 types of workout and exercise. Seven of these are detected automatically when you start. These are: running, walking, cycling, swimming, rowing machine, elliptical machine and dynamic workouts.

Although the main focus of this watch is health and fitness, the wearable has an eye on fashion too. Straps are easy to swap out, as they use the same 20mm lug bars as those of many regular watches. There is also the option to pick from and customize a wide range of watch faces, and there's a feature where you can take a photo of your outfit (with your phone) and create a new watch face to match.
All models of the Watch Active2 have 4GB of storage for taking music with you without a phone, they run Samsung's Tizen operating system, and use WPC-based wireless charging. They are also all water resistant to five atmospheres with an IP68 rating. The watches are compatible with Android and iOS phones, and goes on sale on September 27, priced from $279.
From Your Site Articles
Related Articles Around the Web
Like GearBrain on Facebook