When you think of smartwatches your mind's eye will likely summon up an image of the Apple Watch, or maybe a timepiece by Samsung or Huawei. But these aren't your only options.
Apple might now be the world's most popular watch company — something it has remarkably achieved from a standing start in just a handful of years. But this doesn't mean the Swiss are sitting back and ignoring Silicon Valley.
Read More:
Instead, several Swiss watchmakers have joined the connected party. While you won't see a touchscreen Rolex or Bluetooth-enabled Omega at your local jewelers, industry veterans like Tag Heuer, Breitling and Montblanc are getting in on the action.
Here are eight of the most beautiful Swiss smartwatches you can buy in 2020.
Tag Heuer Connected 2020 – From $1,800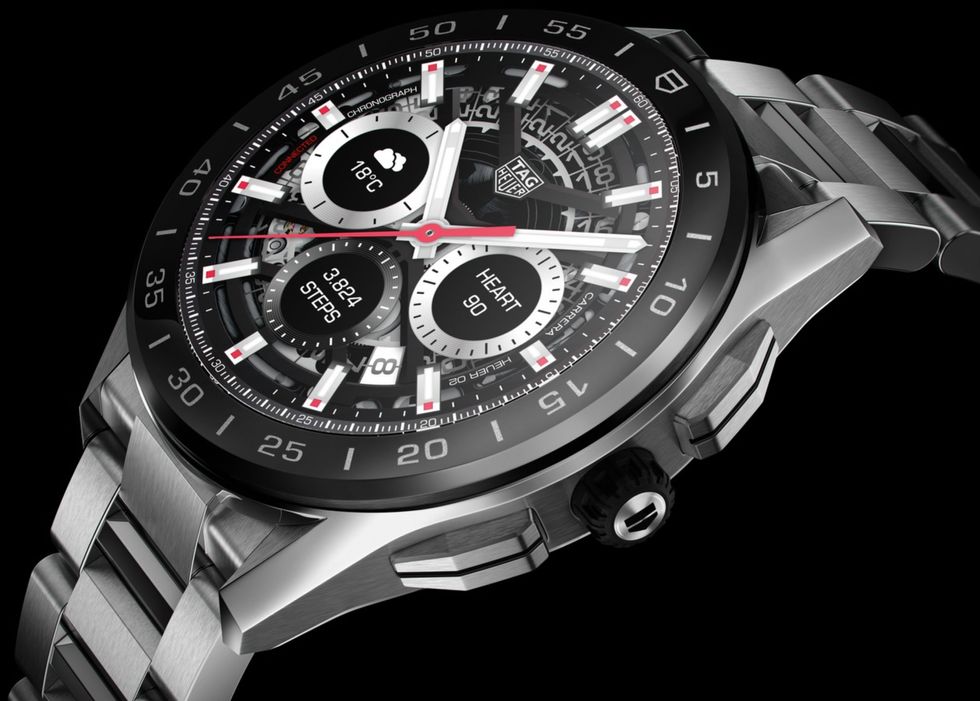 Tag Heuer Connected 2020 smartwatchTag Heuer
Updated for 2020, the latest incarnation of Tag Heuer's Connected smartwatch features a revised case, new blue color options, and an extra pair of push buttons at the two and four o'clock positions, giving quick access to certain apps and functions.

One of those is Tag's new, in-house sports application. Using onboard GPS and a heart rate monitor, the sports app of the Connected 2020 tracks running, cycling, walking, hiking, golf and general fitness. As this runs Wear OS, there is also access to the Google Fit suite of health apps.
The stainless steel watch is only available with a large 45mm case (Tag previously offered a slimmer 41mm version), and its design is very much borrowed from its non-smart relatives. Battery life is a claimed 20 hours, so you'll want to charge it every night, and water resistance is up to 50 meters.
TAG Heuer Connected Modular 45 Men's Smartwatch SBF8A8013.80BH0933
Mondaine Helvetica 1 Smartwatch - $385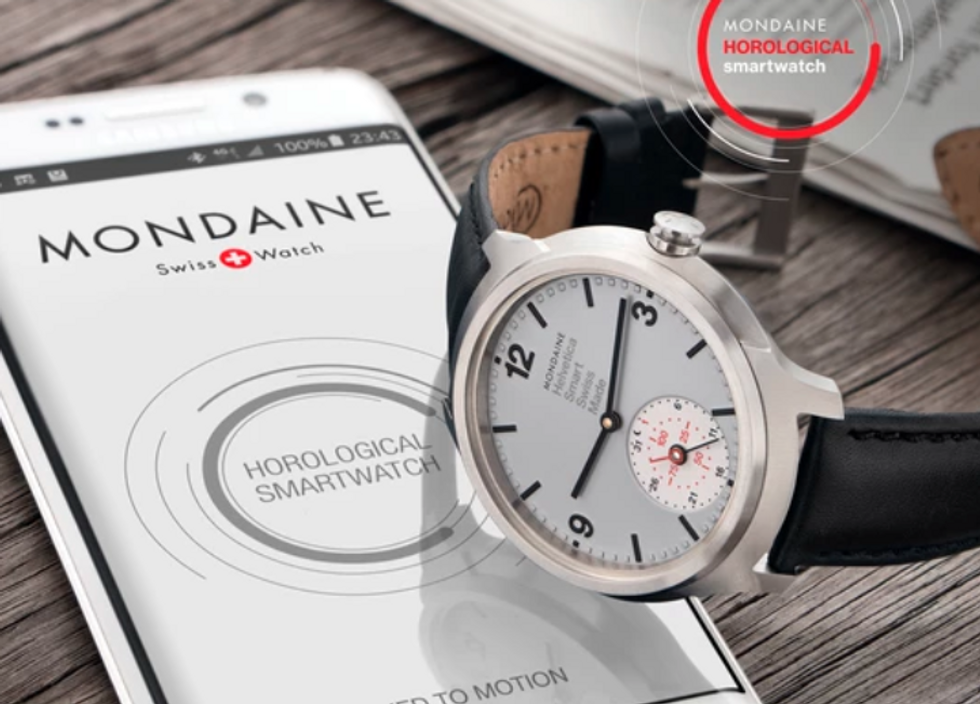 The Helvetica 1 connects to iOS and Android smartphonesMondaine
The flagship of Mondaine's Helvetica range, the 1 Smartwatch is available with a 40mm or 44mm case, and includes a range of different faces and straps to suit your style.

The watch connects to an iOS and Android app via Bluetooth and uses an accelerometer to track your daily steps, other exercise data and sleep details. Data captured includes time active, distance walked, calories burned (both at rest and while active), plus sleep is broken down into light and deep.
The app, which is also used by Swiss watchmakers Frederique Constant, Ferragamo and Movado, includes an artificial intelligent (A.I.) coach which offers advice based on the data your watch collects, and this data can be shared with Apple's Health app on the iPhone.
As for the Mondaine Helvetica 1 itself, the watch has a leather strap and brushed stainless steel case, a crown at three o'clock for adjusting the time, and a sub-dial with two hands for displaying your daily step count and date.
Frederique Constant Horological Smartwatch - From $800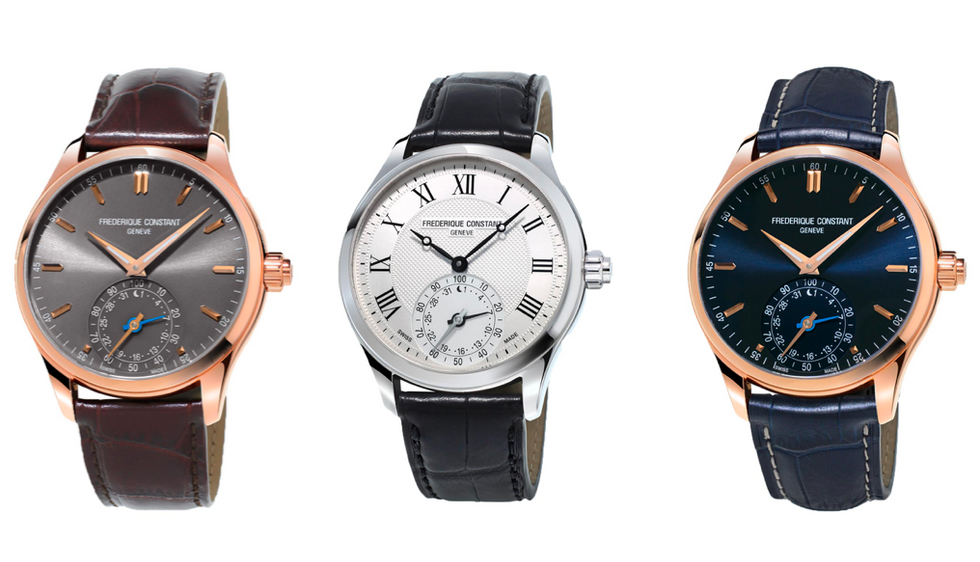 The Horological Smartwatch blends Bluetooth with a traditional self-winding movementFrederique Constant
This watch marries a traditional self-winding movement with an accelerometer and Bluetooth connectivity. The result is a watch that acts like a traditional timepiece, but it also logs your daily movement and sleep. The device sends this data to the same smartphone app as used by the Mondaine.

The Bluetooth Low Energy module is powered by a conventional watch battery, which lasts between two and four years before being replaced.
The mechanical watch movement will keep charge as long as you wear the watch, or store it in a rotating watch box. The case has a diameter of 42mm and is made from stainless steel, with a leather strap available in blue with white stitching. Straps with different colors and buckle designs are sold separately, along with a pair of rose gold-plated models.

Like the Mondaine, this watch's face includes two hands for the time, plus a sub-dial for displaying the date and daily steps, shown as a percentage of your personal target, which can be adjusted in the app.
Alpina Comtesse Ladies Horological Smartwatch – $995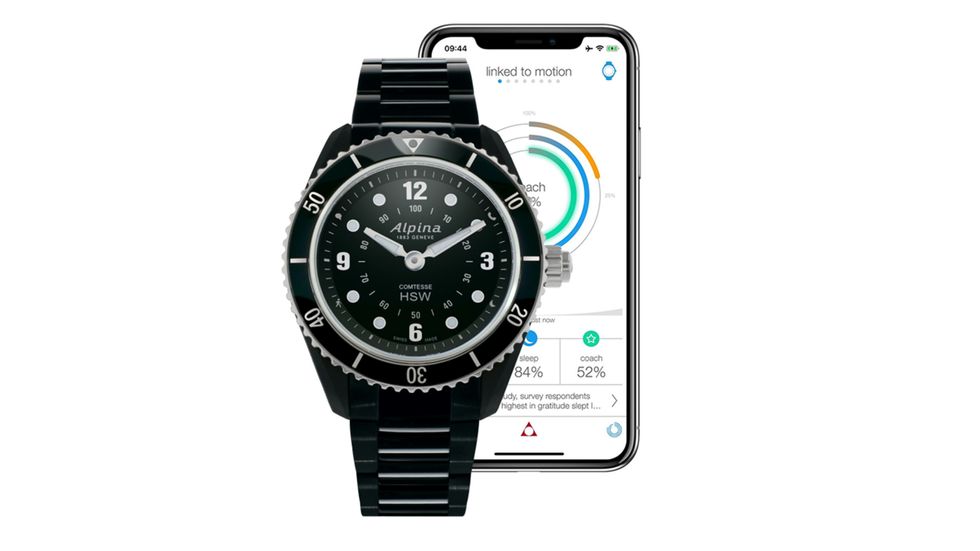 Alpina Comtesse Ladies Horological SmartwatchAlpina
A smartwatch that doesn't look like one, the Alpina Comtesse keeps its technology hidden beneath a traditional-looking dial. Accelerometers track your exercise, daily activity and sleep patterns, which are then sent to the companion smartphone app for analysis.

There's a dynamic coaching section of the app, plus sleep cycle alarms to wake you up when the watch senses you are least asleep, and notifications. The Comtesse has a compact 36mm stainless steel case with scratch-resistant sapphire crystal front and water resistance to 60 meters.
Alpina also sells the larger Seastrong Horological Smartwatch, which has the same functions and general design, but within a 44mm case.
Montblanc Summit 2 Plus - From $1,170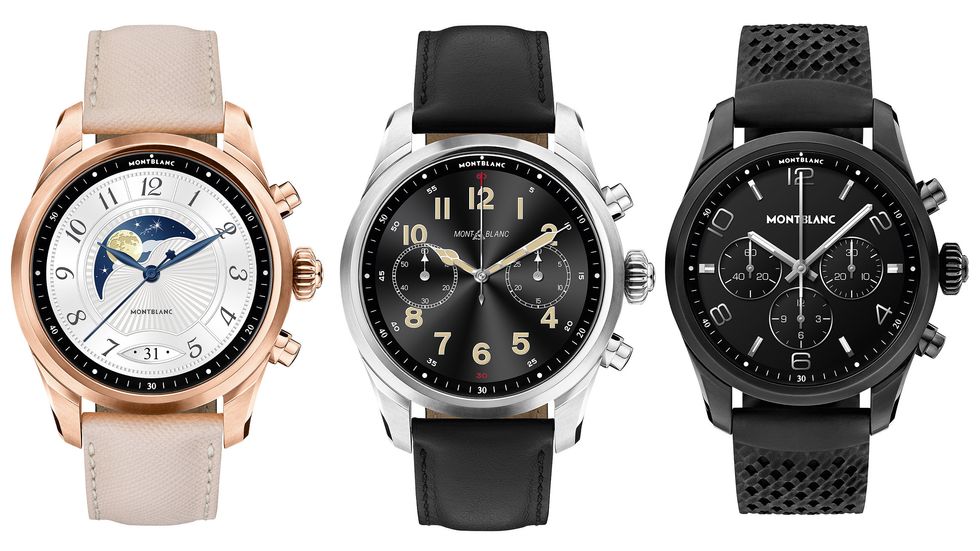 Montblanc Summit 2 Plus smartwatchMontblanc
Upmarket pen and watchmaker Montblanc offers a 'proper' smartwatch — in that it replaces analog dials with a touchscreen display. New for 2020, the Summit 2+ replaces the Summit 2 Plus and adds LTE connectivity for the first time. The watch is designed to be unisex thanks to its 43.5mm case diameter (up from 42mm for the Summit 2) and it runs Google's WearOS operating system.

The watch is aimed at frequent fliers and includes an app called Timeshift, which offers advice for combating jet lag. The app makes suggestions for caffeine intake, sleeping times and light exposure to help you adjust more quickly to your new timezone.
The Summit 2 Plus is water resistant to five atmospheres (approximately 50 meters), has GPS for tracking runs, NFC for card-free payments, a highly customizable digital watch face, and a rechargeable battery which is claimed to last up to one week.
Four models are available, finished in black steel, stainless steel, rose gold steel and bronze steel. All models come with industry-standard lugs bars for easily swapping out the straps when you fancy a change of style.
iOS and Android users connect to the watch via Bluetooth, and the Google Assistant in onboard for controlling your smart home devices and answering general knowledge questions. Two buttons at two and four o'clock are customizable, any regular strap can be fitted, and there is 8GB of storage for music that you can listen to with Bluetooth headphones.
Tissot T-Touch Connect Solar – $tbc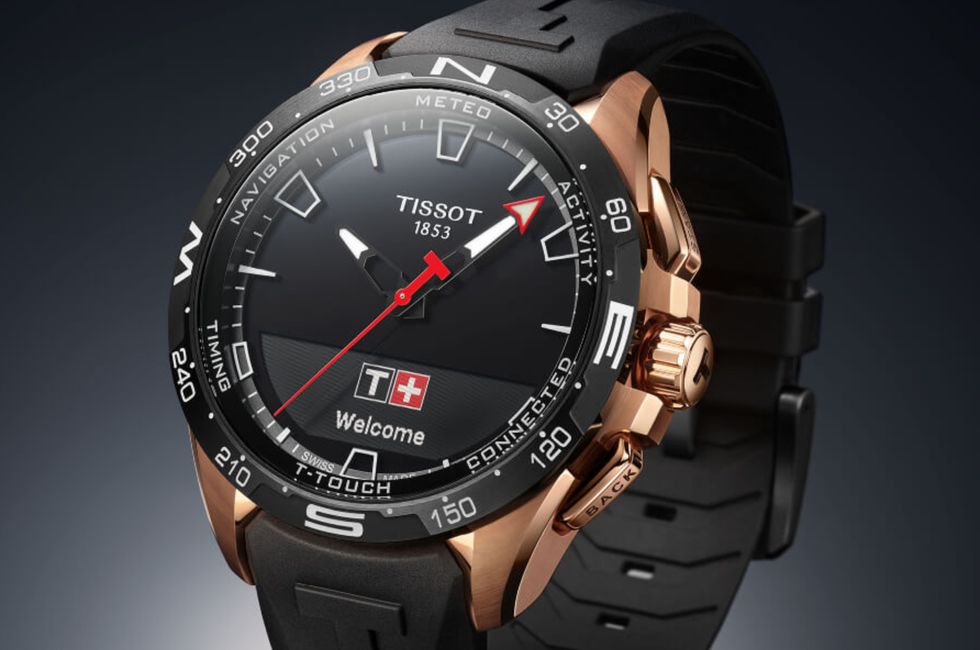 Tissot T-Touch Connect SolarTissot
A hybrid smartwatch that uses an integrated solar panel to enable six months of battery life, the T-Touch Connect Solar is the first smartwatch from Tissot. It's a large timepiece, with a 47mm case, and runs the proprietary, Swatch-designed SwALPS software. That stands for Swiss Autonomous Los Power System.

Although announced back in March 2020, the watch is yet to go on sale, or get a price. Tissot has said it will be offered with ceramic or titanium case options (so don't expect it to be cheap), and it will be compatible with iOS, Android, and the new Huawei Harmony OS, which is a smart move if the Swiss brand wants to succeed in China.
Ressence Type 2 e-Crown - $42,900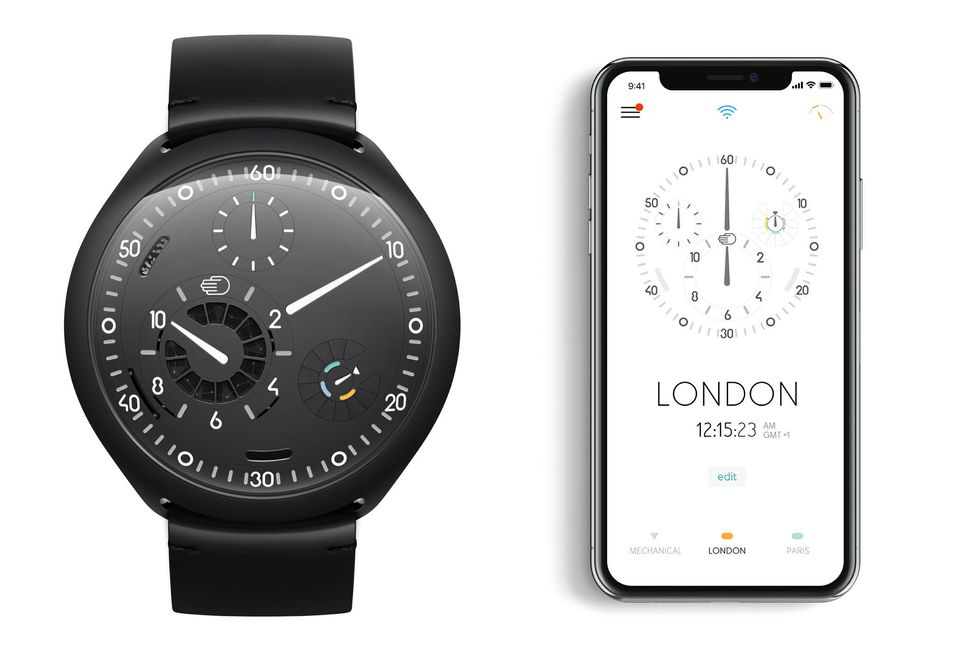 This watch was designed in part by iPod father and Nest founder Tony FadellRessence
With help from the so-called iPod father and Nest founder Tony Fadell, the Type 2 e-Crown by Belgian watchmaker Ressence combines a Bluetooth connection with a mechanical movement.

The watch doesn't have a touch screen, can't take phone calls nor display WhatsApp messages, but the device uses Bluetooth to always display the right time, as kept by the smartphone it connects to. If you move time zone, the watch automatically adjusts when your phone does.
But despite this technology, the watch is powered by a traditional self-winding mechanical movement, given energy as you move your wrist. This produces enough power to keep the Bluetooth chip running, and if the watch senses it hasn't been worn for an extended amount of time, the device will go to sleep. Put the Ressence back on, double-tap the glass, and the watch wakes up, reconnects to your phone, and automatically adjusts to the right time.
You can also set a second time zone via a smartphone app, and if the watch runs low on power it will automatically open 10 shutters on its face, allowing light to enter and be absorbed by a tiny solar panel. Pitched at the extreme end of the watch market, this timepiece has a suggested retain price of over $40,000.
Breitling Exospace B55 - $8,900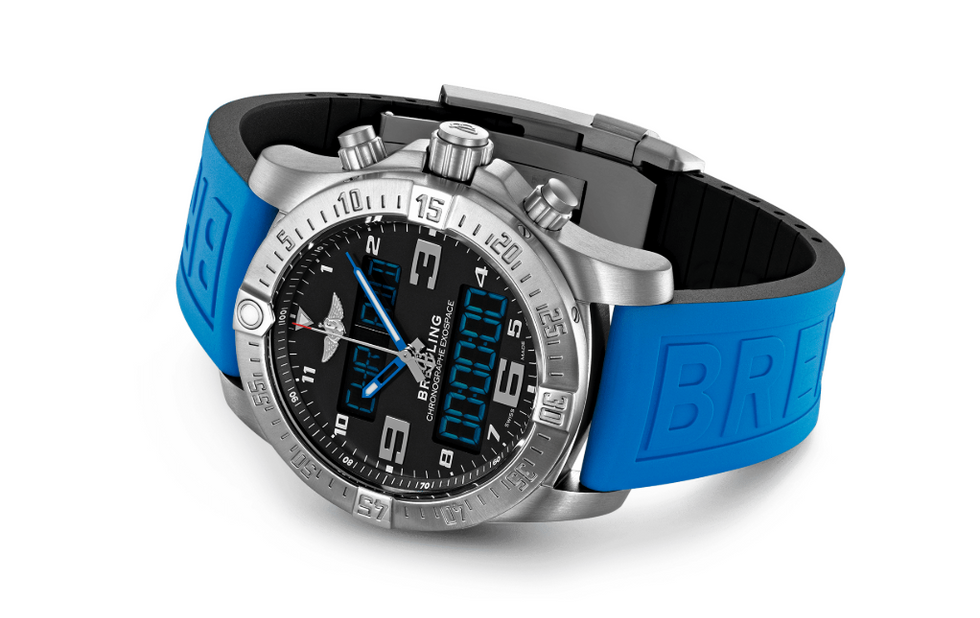 The Exospace B55 features two digital displays with a wealth of timing functionsBreitling
This smartwatch by Breitling blends a mechanical dial with two digital displays. The hands display the time as normal, while the two LCD displays can be used to show the 24-hour time, battery level, multi-function stopwatch, lap timer, calendar and countdown timer.

You can also add up to seven daily alarms (meaning a different alarm for each day of the week, if you so wish), and see the UTC world time.
The chunky 46mm watch connects via Bluetooth to a companion smartphone app for iOS and Android, and Brietling describes the B55 as a watch boasting features "tailor-made for pilots and yachtsman." The former means the watch has the option for loading in flight departure and arrival times, and for the latter there is a feature for entering yacht regatta times.
The face and dual displays are illuminated by tilting your wrist, and the battery life is a claimed 10 years, even with a constant Bluetooth Low Energy connection to your phone. Water resistance is 100 meters, and the face is protected by sapphire crystal.
Mobvoi TicWatch S2 and E2 review www.youtube.com