Like GearBrain on Facebook
Samsung has revealed the Odyssey, the company's first headset for use with Microsoft's new Windows Mixed Reality operating system.
More like virtual reality than augmented reality — although it will cover both in the future — Windows Mixed Reality serves up a virtual environment for users to walk around in. Here, they can play games or run Windows apps like the Edge internet browser. The apps and games are scattered across a virtual modern home, which acts as a 3D desktop.
Samsung is the latest in a long line of manufacturers to announce headsets for use with Mixed Reality. They include Dell, HP, Lenovo, Acer and Asus.
This is an interesting move for Samsung, which has until now made itself the flag-bearer of affordable VR with its Gear VR platform. With that, the $40 headset is powered by a smartphone and the picture is provided by the phone's screen. Meanwhile, the Odyssey is tethered to a computer, like the HTC Vive and Oculus Rift, and has its own screens, one for each eye.
By offering VR options at $40 (plus the cost of a compatible Galaxy smartphone) and $499 (plus the cost of a compatible PC), Samsung is bookending the VR market in a way no other manufacturer has done to date.

The Samsung Odyssey also aims to provide a higher quality virtual reality experience than other Mixed Reality headsets, more on par with the Oculus Rift and HTC Vive. The Odyssey features two AMOLED displays with a resolution of 1440 x 1600 each, slightly higher than the 1440 x 1400 of other headsets, and a wider 110-degree field of view, compared to 95 on its Mixed Reality rivals.
Unlike the Oculus Rift and HTC Vive, which require sensors placed around the room to track your movements through the virtual space, Mixed Reality headsets use outwards-facing cameras fitted to the headset itself, reducing setup time, clutter and cables to trip over.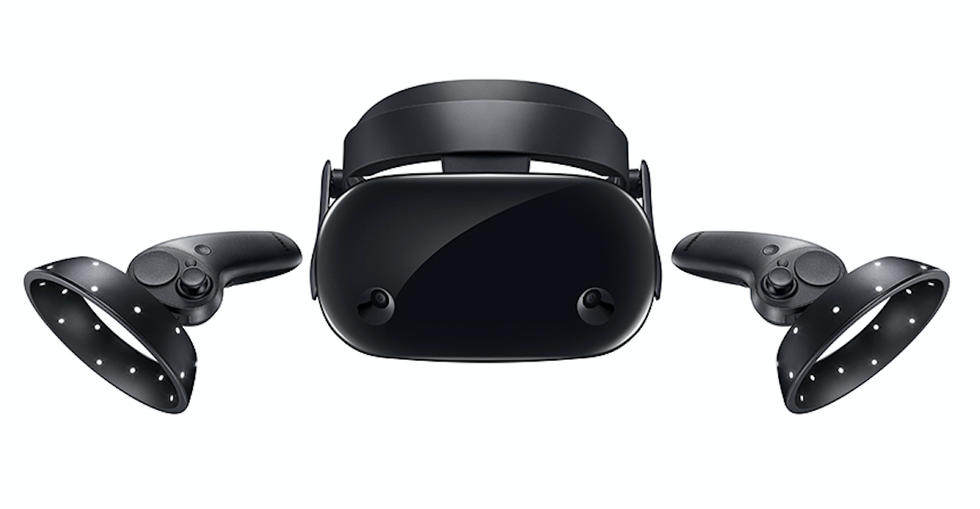 Samsung Odyssey comes with two controllersSamsung
The Odyssey comes with a pair of integrated headphones and two handheld motion controllers, which feature a ring of lights so their location and movement can be tracked by the headset's cameras.
Although the experience of using a Windows Mixed Reality headset is the same as virtual reality (VR) for now, Microsoft wants to use the brand for both VR and future AR experiences, such as those offered by its HoloLens AR headset. AR blends computer graphics with a view of the real world, placing digital objects and computer renderings on the physical table in front of you, for example.
Mixed Reality will be launched by Microsoft as part of a fall Windows 10 update due on October 17. Headsets from other manufacturers will go on sale then, while the Samsung Odyssey will arrive in November and cost $499, around $150 more than the competition.
Microsoft acquires VR social network AltspaceVR
In related news, Microsoft has taken over AltspaceVR, a virtual reality social network which hosts events like stand-up comedy gigs and presidential debate parties, where users strap on a VR headset and watch an event as if they were all in the same room.
AltspaceVR said in a statement: "AltspaceVR will stay AltspaceVR. Microsoft is most interested in preserving the current community that uses AltspaceVR to connect and interact with new and old friends. These first few months will focus on fostering our community and making sure AltspaceVR remains a friendly, welcoming and vibrant place to hang out in virtual reality."
Like GearBrain on Facebook