Like GearBrain on Facebook
Samsung has been sued over adverts showing its Galaxy smartphone being used in the sea and swimming pools, despite them not able to survive such treatment.
The lawsuit comes from Australia's consumer watchdog, which points out that the IP68 rating of Samsung phones does not mean they are safe to use in saltwater or the water of swimming pools. Typically, such a rating means the device can survive a limited amount of time in a shallow amount of freshwater.
Read More:
Samsung is accused of not doing enough research to see if such water would damage its phones before advertising them being used in those environments, the Australia Competition and Consumer Commission (ACCC) said.
The lawsuit, which covers over 300 different Samsung advertisements, alleges the world's largest phone maker "falsely and misleadingly represented Galaxy phones would be suitable for us in, or for exposure to, all types of water, including in ocean water and swimming pools, and would not be affected by such exposure to water for the life of the phone, when this was not the case."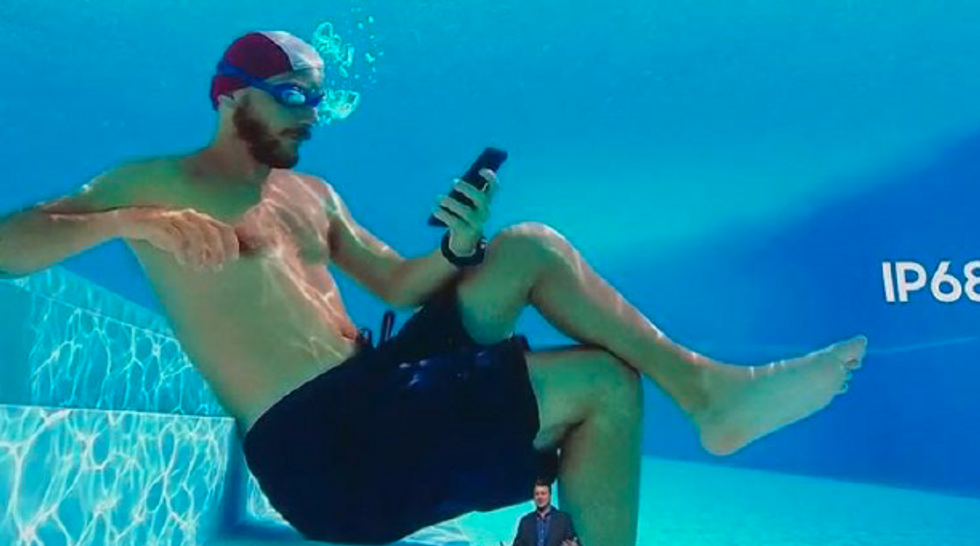 The lawsuit presented adverts where a phone is used where Samsung says it shouldn't be Samsung
The ACCC claims Samsung did not test or know of sufficient testing about how exposing a Galaxy phone to water would affect its usable life. Meanwhile, it also claims Samsung "held the view that using Galaxy phones in liquid other than fresh water could damage them."

Despite suggesting in its adverts that use in liquids other than fresh water would be fine, Samsung's own website states that the Galaxy S10 is "not advised for beach or pool use", the lawsuit points out.
ACCC chairman Rod Sims said: "Samsung itself acknowledged that water resistance is an important factor influencing Australian consumer decisions when they choose what mobile phone to purchase...Samsung's advertisements, we believe, denied consumers an informed choice and gave Samsung an unfair competitive advantage."
Under Australian law, companies cannot mislead consumers about their products' capabilities. If found guilty, Samsung could face a substantial fine of up to A$10 million ($7m) per infringement, and potential legal action in other countries too.
Samsung told
Reuters
that it stood by its advertising, complied with Australian law, and would defend itself against the lawsuit.
Like GearBrain on Facebook