Samsung has fixed issues with its flexible Galaxy Fold smartphone, two months after several review samples broke within days of being delivered. However, the phone still does not have a release date.
According to unnamed sources speaking to Bloomberg, Samsung has now completed a two-month redesign of the handset, which has a retail price of $1,980 and was due to go on sale on April 26.
Read More:
Several examples of Galaxy Fold loaned to journalists for review failed almost immediately, their folding displays breaking and rendering the phones inoperable. It was an embarrassing moment for the world's largest phone maker, which was in a race against arch rival Huawei to sell the first mass-market folding phone.
Since the failures, Huawei has also taken its folding Mate X partially back to the drawing board, with the phone now in a final testing phase of development and due on sale at the end of July. Huawei is yet to hand devices to journalists for review.

Issues with the Galaxy Fold stemmed from a protective film applied to the plastic display. This was not intended to be removed by the user (unlike similar covers used on non-folding phones). Removing this film caused the Samsung display to break.
In a bid to prevent this from happening, Bloomberg reports Samsung has redesigned the film so that it stretches across the entire screen and under the outer bezels, giving the user now obvious way to peel at it.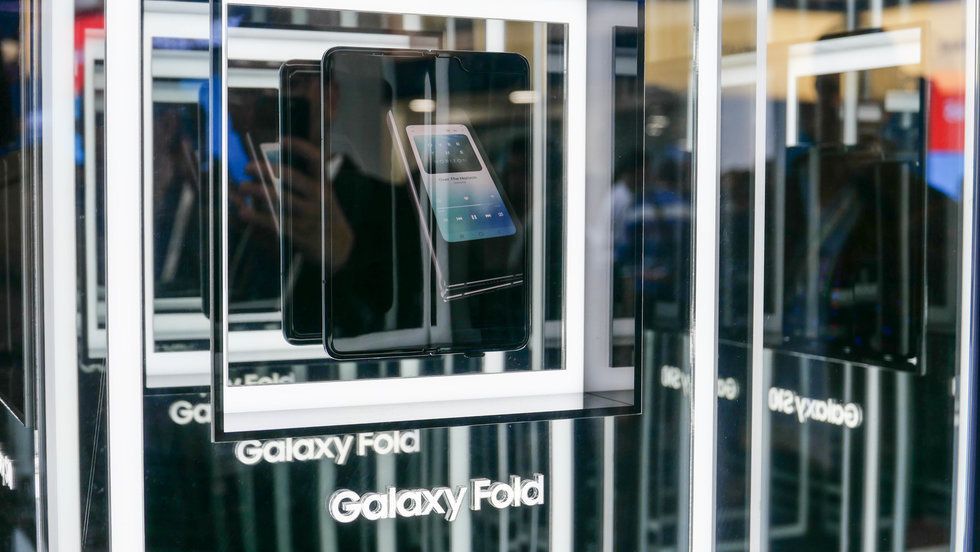 The Galaxy Fold on display at Mobile World Congress 2019 GearBrain
The hinge has also reportedly been redesigned. One review unit failed after a piece of dirt works its way into the hinge, then under the display, which caused it to fail. The updated version sees the hinge adjusted to that it sits flush with the display, helping to prevent debris ingress. By stretching the film more tightly over the display, it is also hoped there is less chance of the middle of the screen developing a crease over time - something which was evident immediately on the earlier versions.

The report claims Samsung will soon start shipping major components for the redesigned Galaxy Fold, including the display and battery, to its factory in Vietnam in preparation for assembly. However, the company is said to still be mulling over when to put the phone on sale.
Samsung is hosting one of its Unpacked launch events in New York on August 7, where it is expected to announce the new Galaxy Note 10 smartphone. It is unlikely that the updated Galaxy Fold will be revealed here, one of the sources said. Instead, we expect to see the Fold arrive towards the end of the summer, perhaps even in the fall, where it will be up against the iPhone 11 and Google Pixel 4, expected in September and October respectively.
Check out The GearBrain, our smart home compatibility checker to see the other compatible products that work with Samsung SmartThings.