Like GearBrain on Facebook
Samsung only released its latest smartwatch, the Galaxy Watch Active, in February, but the rumor mill already claims an update is on the way.
Normally we wouldn't expect this smartwatch, unimaginatively called the Galaxy Watch Active 2, to arrive until early 2020, but recent leaks — and a teaser from Samsung itself — suggest it is much closer to launching than that.
Read More:
Here is everything we know — and everything we think we know — so far about the Samsung Galaxy Watch Active 2.
Samsung Galaxy Watch Active 2: Price and release date
Logic would dictate that the second Galaxy Watch Active arrives around a year after the first, in February 2020. But there is increasing evidence to suggest Samsung is preparing a much sooner launch.
The company already has one its big Unpacked events in New York on August 7, where it will announce the Galaxy Note 10 smartphone. It wouldn't be out of the ordinary for a smartwatch to make a guest appearance at such an event.
However, if that is too soon for Samsung, then the IFA technology in Berlin in September could host the launch of the Watch Active 2, as it is a popular destination for new smartwatches and other wearables.
With all that said, it looks like Samsung could announce the watch — or maybe some other smartwatch — on August 5, according to this teaser trailer from the company's Korean YouTube channel.
As for the price, the original Galaxy Watch Active launched at $249, but is currently sitting around the $199 mark. We expect to see a similar $249 entry point for the Watch Active 2.
Samsung Galaxy Watch Active 2: Design

According to the Samsung teaser ad embedded above, it looks like the company's next smartwatch will have a circular case and display, traditional lugs for attaching interchangeable straps, and a heart rate monitor on the back.
This is par for the course when it comes to smartwatches in 2019. But a few extra details were spotted by DroidLife when the Watch Active 2 passed through the FCC. Not only is this a good indication that the device will go on sale imminently, but it seems that someone made a mistake when filing the watch, as instead of basic sketches, the watch's FCC entry includes full-color photos.
These photos show us the front of the watch and its Samsung-made Tizen operating system. There appears to be a small gap around the circular display, possibly home to a touch-sensitive bezel, which could scroll through menus with a swipe.
We can also see how the watch has buttons at two and four o'clock. An image of the case back reveals there will be a 40mm model of Galaxy Watch Active 2, which is the same as its predecessor. Samsung will offer the 40mm watch with both stainless steel and aluminum cases, as Apple does with its own smartwatch.
It has been rumored that Samsung offer two sizes of Galaxy Watch Active 2, with case diameters of 40mm and 44mm — the same as the Apple Watch Series 4. These watches are said to have circular AMOLED touch screens of 1.2 inches and 1.4 inches in diameter, with the same 360 x 360 resolution on all models.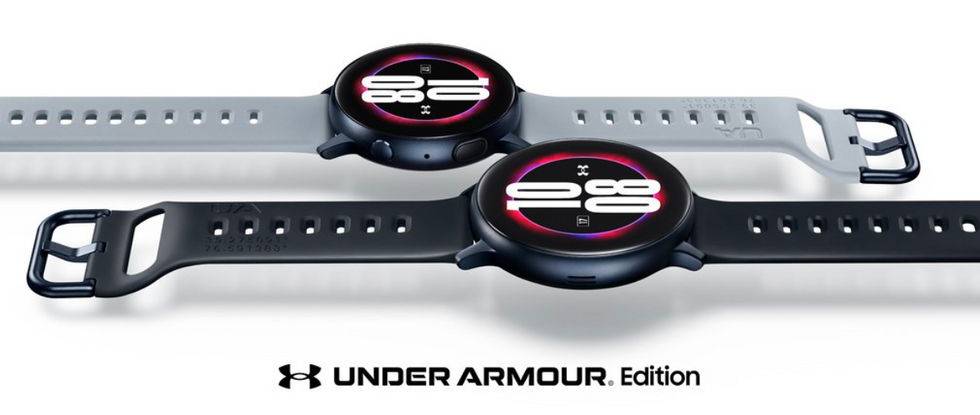 Image of Under Armour Edition was leaked on TwitterEvLeaks
There will be a fitness-focused model via a partnership between Samsung and Under Armor, and case colors will include black, gold and silver. This watch, shown above, was leaked on Twitter by the reliable tech tipster EvLeaks.

Finally on the hardware front, the watches are expected to have battery capacities of 337 mAh and 340 mAh for the 40mm and 44mm models respectively.
Samsung Galaxy Watch Active 2: Software
As per the FCC images, the Galaxy Watch Active 2 will run Samsung's own Tizen operating system, which is designed for smartwatches.
The watch is expected to feature a heart rate monitor, plus an ECG app for taking an electrocardiogram — again, just like the Apple Watch Series 4. A report by the often-reliable SamMobile claims the ECG app will notify the wearer of signs of atrial fibrillation.
Unless Samsung has quietly gained certification from the FDA and its equivalent in other countries, the ECG app will not be functional at launch.
It has also been reported that Samsung will offer a fall detection feature. Also reminiscent of the Apple Watch Series 4, this will detect when the wearer takes a heavy fall and does not get up. It will then alert them and ask if they are okay, or if they need to call for an ambulance; if they do not respond, the watch automatically notifies the wearer's pre-assigned emergency contact.
Wellness features are also likely, given current trends. You should expect to see a guided breathing app — like on the Apple Watch — and potentially apps for encouraging you to take a screen-time break, or go for a quick walk after long periods of sitting down.
Finally, leaked images of the watch show what looks like a microphone hole between its two buttons. This suggests the Galaxy Watch Active 2 will have Bixby, Samsung's voice assistant which has struggled to rival Amazon Alexa and Google Assistant. Unless there is a major update to Bixby very soon, we doubt it will get much use from Watch Active 2 owners.
From Your Site Articles
Related Articles Around the Web
Like GearBrain on Facebook