Like GearBrain on Facebook
Samsung is expected to give its new smartwatch an ECG monitor and fall detection, bringing the wearable in line with the Apple Watch Series 4.
Apple was among the first to offer an ECG (electrocardiogram) function on a consumer-focused device with its Watch Series 4, which went on sale in the fall of 2018. Since then, Withings has also announced a watch with ECG functionality, and it is expected to become an increasingly common feature.
Read More:
Samsung, whose Galaxy Watch Active arrived earlier in 2019, is yet to hop aboard the ECG bandwagon, but that is expected to change with the next model of Galaxy Watch.
The often well-informed SamMobile reported this week that, according to its sources, the Watch Active 2 will have the hardware and software required to perform an ECG. Just like on the Apple Watch, this app will let users keep tabs on their heart rhythm and record symptoms of atrial fibrillation, which if left untreated could lead to a stroke.
However, Apple had to be given permission to switch on its ECG app in every country the Watch Series 4 is sold in. This took some time, delaying the ECG app for several months in some of Apple's key markets. Samsung will have to go through the same process, which in the US will involve seeking certification from the FDA.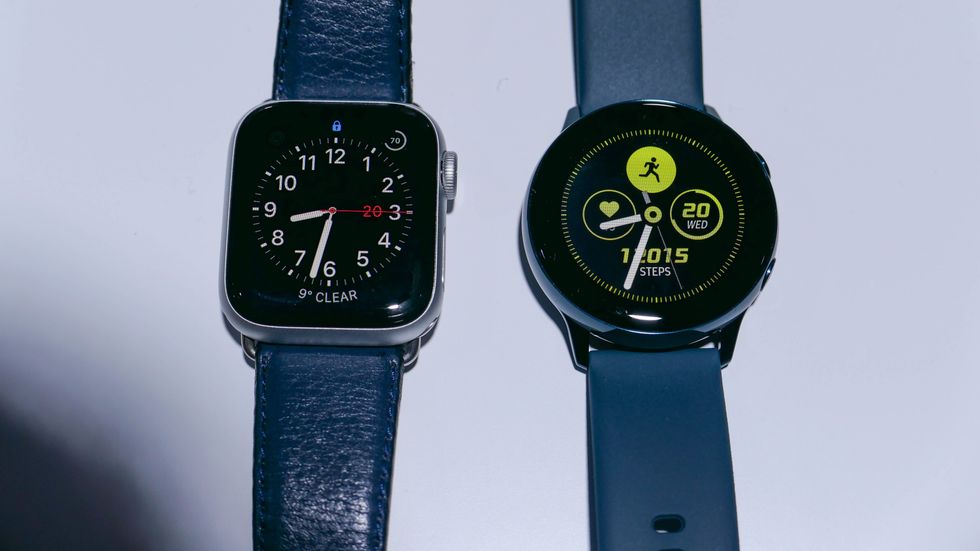 Apple Watch Series 4 (left) and Samsung Galaxy Watch Active GearBrain
Data collected by a smartwatch with an ECG app can be shared with a medical professional, should the owner feel their health is at risk. However, as the Apple Watch clearly states, such an app does not and cannot detect a heart attack, or any other form of health issue.

The report also claims the Samsung Galaxy Watch Active 2 will have a feature called fall detection. Just as on the Apple Watch Series 4, this will use the wearable's accelerometer to register when the owner has fallen over and not got up. In Apple's case, the watch then notifies the wearer, asking if they are okay, and if they need to call a contact or the emergency services for help. We suspect the Samsung watch will work in a very similar way.
As for when the Galaxy Watch Active 2 will launch and go on sale, this isn't clear. Samsung is hosting one of its big Unpacked launch events in New York on August 7 to announce the Galaxy Note 10 smartphone, so there's a chance a new wearable could be revealed - or teased, at the very least - there. If not, then we suspect the watch won't arrive until early 2020.
From Your Site Articles
Related Articles Around the Web
Like GearBrain on Facebook