Like GearBrain on Facebook
Consumer interest in smartwatches is still growing rapidly, as global shipments over the first quarter were up 48 percent compared to the same period last year.
This is the claim of Counterpoint and its Global Smartwatch Tracker. The research firm found that Apple and its Watch still has a healthy lead over all rivals, with a 35.8 percent market share and a 49 percent increase in shipments compared to the first quarter of 2018.
Read More:
But because the industry as a whole grew at almost exactly the same rate — 48 percent — Apple's share of the global smartwatch market increased by just 0.3 percent.
Apple's continued strength in the smartwatch market was down to he Watch Series 4's ECG feature, which is now available more widely than it was when the device launched in 2018.
Counterpoint research analyst Satyajit Sinha said: "Apple Watch shipments grew a solid 49 percent [year-on-year] despite the weak demand for its iPhones. Apple continues to focus on the health-related features like ECG and fall detection...The ECG capability in the Apple Watch is the most desirable feature, according to our latest Consumer Lens survey."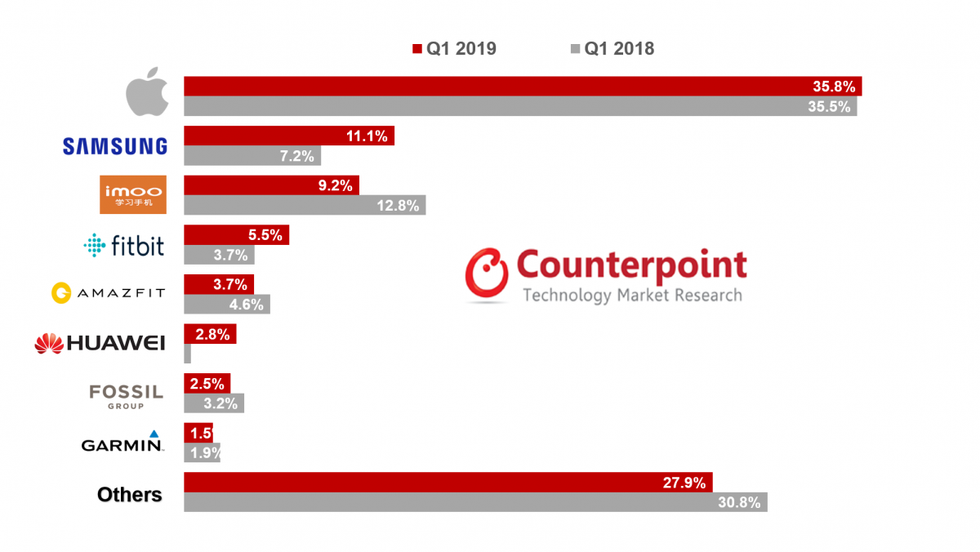 Apple retain a huge lead, but Samsung grew the most by farCounterpoint
The real winner over the last 12 months was Samsung, which thanks to its new Galaxy Watch saw smartwatch shipments increase by a massive 127 percent. This now means Samsung has an 11.1 percent share of the smartwatch market globally.

Samsung is followed by Chinese firm Imoo, which specializes in smartwatches for children and has a 9.2 percent share of the global market. However, this is down from 12.8 percent a year earlier.
Mobvoi TicWatch S2 and E2 review www.youtube.com
Senior analyst Sujeong Lim said of the Samsung Galaxy Watch: "It provides cellular LTE connectivity which gives it an edge over others targeting Android-based smartphone users. It is a great alternative to the Apple Watch for Android and Samsung's huge installed base of users."

Strong gains were also felt at Fitbit, which saw its share grow from 3.7 to 5.5 percent over the year.
Folding displays, which has already arrived on smartphones like the Huawei Mate X and Samsung Galaxy Fold (albeit with some early build issues), are set to appear on more smartwatches soon, Counterpoint believes.
Associate director Brady Wang said: "Foldable displays are coming to smartwatches...However, we are still in nascent stages in the evolution of smartwatch form-factors. These new form-factors will need to excel on various metrics. They need to be less bulky, ruggedized but stylish and also possess a less fragmented software which at the same time is also intuitive. We estimate flexible smartwatches will hit mainstream post-2025."
From Your Site Articles
Related Articles Around the Web
Like GearBrain on Facebook