Hear phone calls with your finger. The idea? Magic, something a child would invent. And that was the promise of Sgnl when the product launched on Kickstarter in 2016: a device worn on the wrist, that would conduct sound loud enough to hear someone talking to you on the phone. Better than Dick Tracy's watch. Better than a Star Trek communicator.

We're still waiting.
Innomdle Lab came to CES this week to show off its wearable — giving people a chance to try the device, and hear for themselves how Sgnl conducts sound through your hand.
Yet those who invested back in September 2016 on Kickstarter — and October 2016 on Indiegogo — have yet to receive their device. (Disclosure: This reporter is backer 1,702 on Kickstarter.)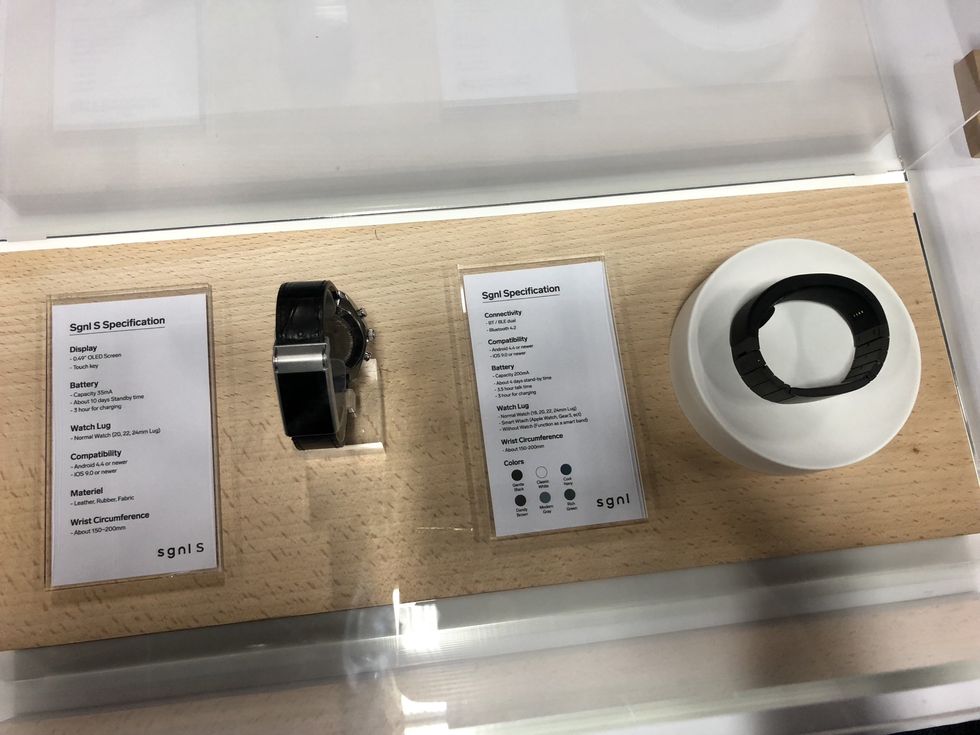 Sgnl and the new Sgnl S, which Innomdle Labs showed at CESGearBrain
Innomdle Lab's Kickstarter earned the company nearly $1.47 million dollars. On Indiegogo, Innomdle Lab raised more than $2.2 million. Sgnl initially offered an estimated delivery of February 2017. As of this month, its 8,777 backers were emailed and told that Sgnl is first going out to 60 beta testers, "picked randomly," to test issues the product is still facing. But there is still no date on when beta testing starts — or a new delivery date for backers.
Sgnl's 11-month-late delivery from its Kickstarter campaign— so far — did little to quell interest in the device at CES, however. Clustered around the table were people eager to test the product, a 100-gram wearable worn at the wrist, that does deliver sound. Wrapped around the wrist bone, Sgnl sends vibrations — which are felt — through the arm, into a finger that's pressed against the ear.
Sgnl offered visitors a chance to test the sound quality, playing music through the wearable, audible but muffled. Sgnl is not a high quality speaker — nor did it ever make that claim. Hearing someone on the phone, through your finger, is all the company ever promised.

But as to when that promise will come is still not known. When asked at CES, Jenny Choi, a business development manager for the product, said Sgnl is expected to go out to backers in the first quarter of 2018 — and go on sale to consumers in the second quarter.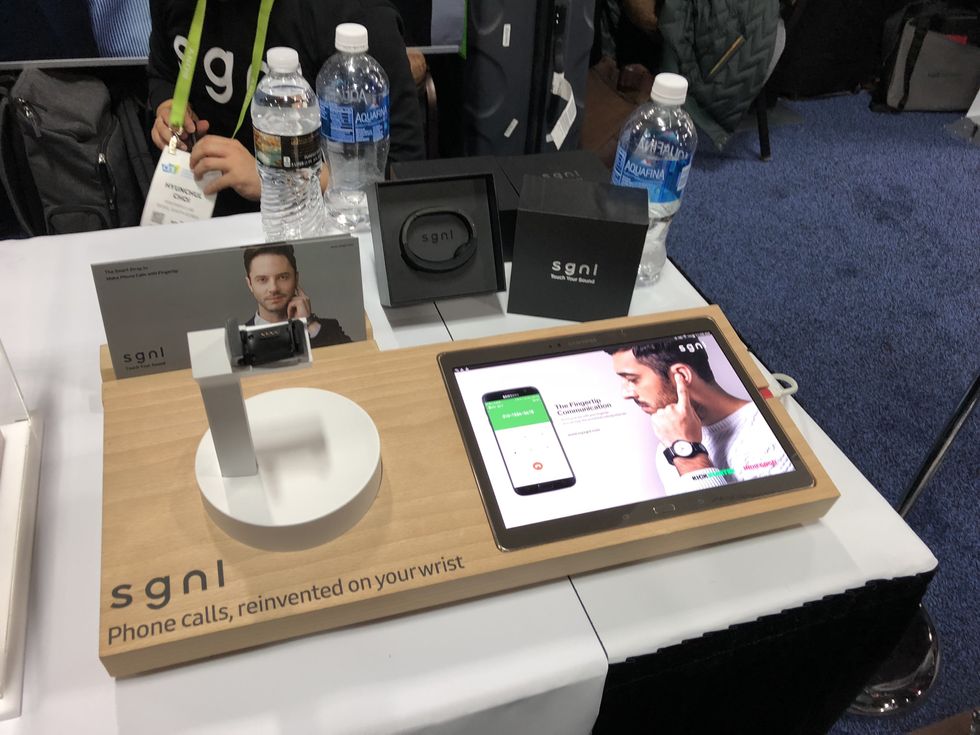 Sgnl's Kickstarter promised to let you hear phone calls through your finger in 2016. Backers are still waiting.GearBrain
Early bird pricing on Kickstarter offered a Sgnl device for $119, but the device will now cost $249, says Choi, and work with Android and iOS smartphones. A new wearable was also at CES called Sgnl S, a strap that connects with a smart watch. It won't make phones calls but will let wearers check notifications. Innomdle Labs has yet to set pricing for Sgnl S or say when, exactly, it will go on sale.
Yet the original Sgnl is already overdue. Yet getting a product late — or not at all — is a risk Kickstarter backers take. Many people see crowdsourcing sites as online stores — but filled with quirky, cutting-edge products. But Kickstarter is an investment site. And like any investment, you're never guaranteed a return.
Anyone wanting to launch a fundraiser on Kickstarter, is put through a very hefty process, particularly for those who want to create a physical product, says David Gallagher, spokesperson for Kickstarter. There needs to be a working prototype, and that has to be shown to people on the project page. It's actually tough to run a successful tech Kickstarter — only 20 percent of tech projects ever reach their funding goals, says Gallagher.

But delivering the goods in the end? "They have an out, essentially, under our terms of service," he says.
Creators, as Kickstarter calls them, "must make every responsible effort" to deliver, he says. And if there is a problem, they have to show what went wrong, how money was used and ultimately what is "preventing them from finishing the project," Gallagher adds. But Kickstarter actually expects that some projects will fail — and they want backers to know the risks involved.
"If there aren't projects failing, Kickstarter is a boring place and people aren't trying anything new," says Gallagher. "So we want there to be a way in the system for some things to fail."
That may sound great for start-ups — but there's a caveat: Creators who fail? They can't launch another Kickstarter.
Keeping backers in the loop then — and hoping to eventually deliver — is the better option. Gallagher says he remembers a video game project, where the creator finally popped back in four years later with the game.
Sgnl is keeping its backers in the loop with emails, sending Update #26 on January 4, just after the new year. The company clearly hopes to quell some of the concerns expressed in the 2,349 comments on its Kickstarter page — many of which express doubt they'll ever see the product in the end.
"Is there any possible way to claim a refund?," says one comment posted on January 9. "I guess not.."