Like GearBrain on Facebook
If you can't find cool and innovative connected gadgets at the annual IFA show in Berlin, you are clearly doing something wrong. This year's edition of the world's largest electronics and appliance show has yielded some exceptionally wondrous devices, some about to go on sale, some soon to go on sale, and some—well, maybe never will go on sale. But even if they don't, the concepts may find themselves in products that someday we won't be able to live without, and don't know how we did.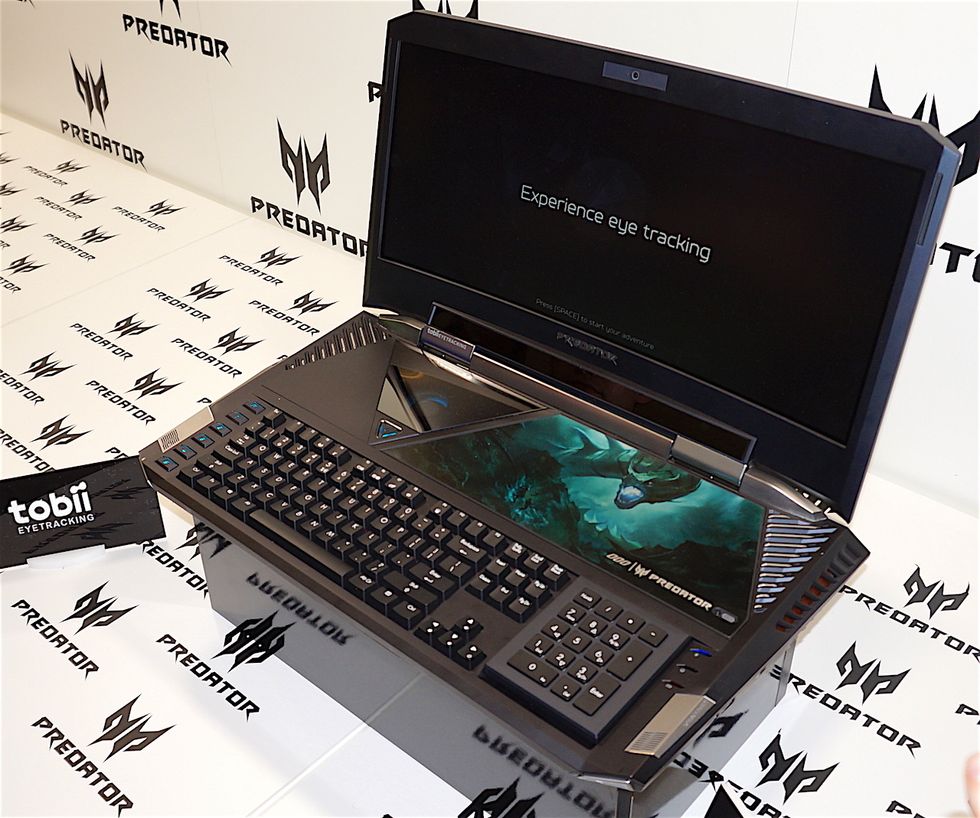 Acer Predator 21 X Gaming Laptop is going to turn your eye into a cursor.
Acer Predator 21 X Gaming Laptop (October 2016, price TBA)
Here is the world's first gaming laptop with a curved screen and eye-tracking control—you merely look at an object on screen, and your eye contact works like a cursor, letting you click to select or target said object. Plus, just avert your gaze to the top or side edge of the display's edge and the scene automatically pans up-and-down or across appropriately. This massive 17.6-pound laptop is stacked with the latest processing and imaging chips and five cooling fans visible through a glass top.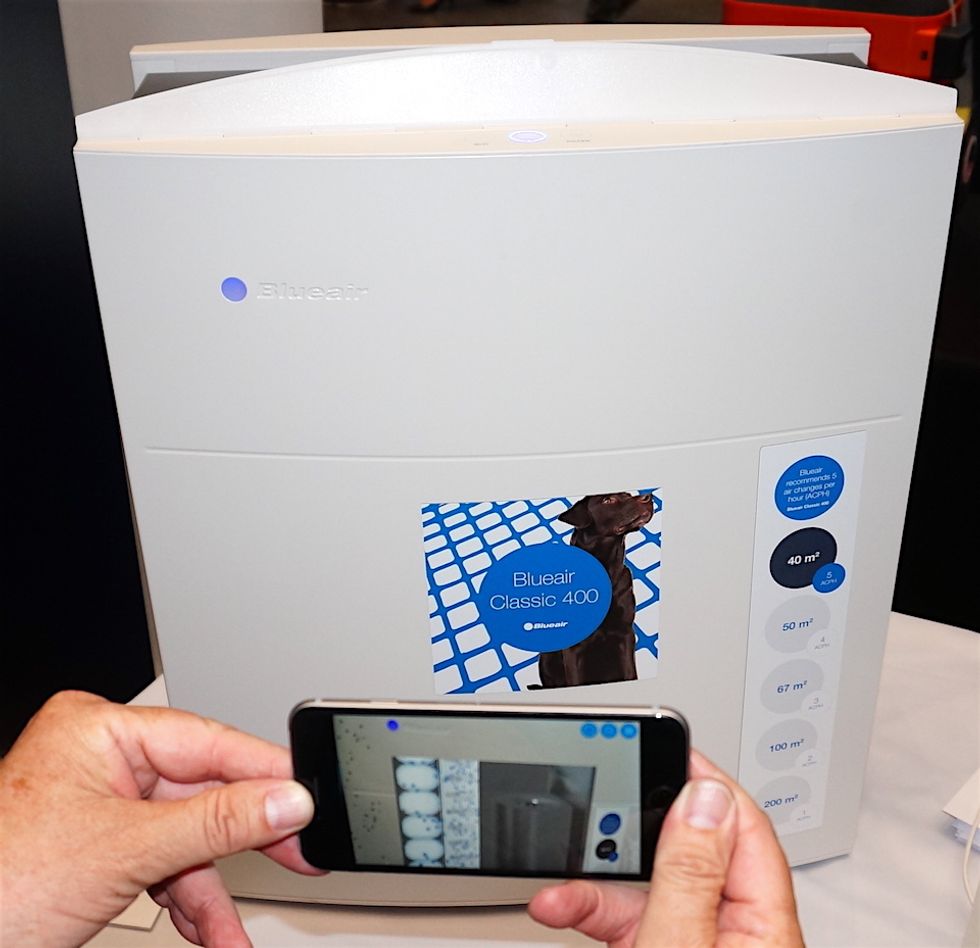 Clean the air at home from work—and monitor the progress from your smartphone.
BlueAir New Classic 400 Connected Air Purifier (October 2016, $450-$500)
Shockingly, many homes have air that's far more polluted than any big city. But this Wi-Fi-enabled air purifier can keep the atmosphere breathable and livable, either while you're in your home or remotely via the BlueAir Friend smartphone app. The device filters out large particles like dust and pet dander, smelly smoke from cigarettes, cigars or other smoke-generating vices—as well as kitchen smoke, and so-called volatile organic compounds (VOCs) from household products such as furniture polish, varnish and other aerosol products. You can monitor and clean the air while you're away so you come home to a sweet-smelling castle.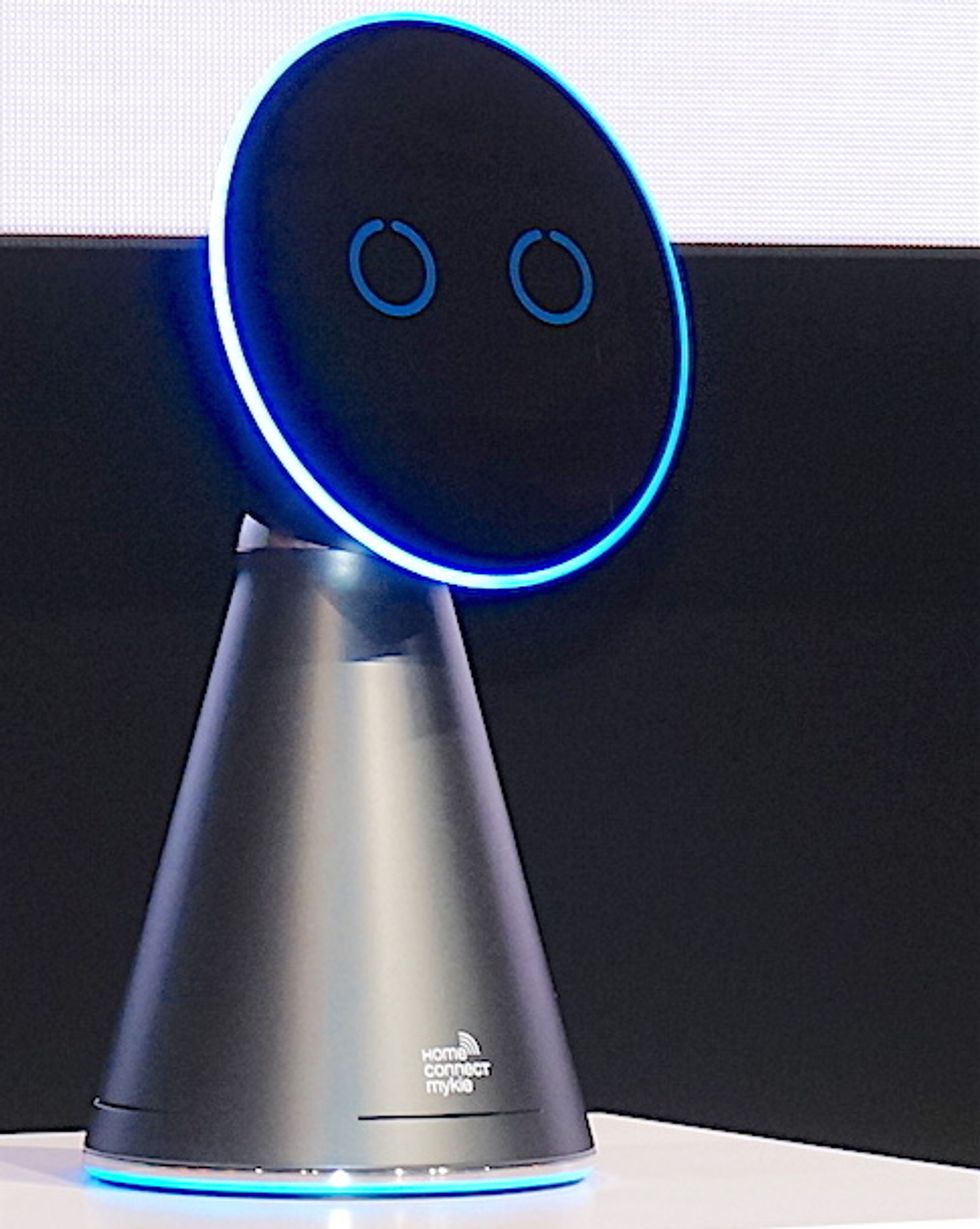 Think of Mykie as your robotic sous-chef—although he may not be good with knives.
B/S/H Mykie Kitchen Assistant (concept product)

Mykie—short for "My Kitchen Elf"—is a "sobot," a social robot, and is a cross between an emotive home robot and the Amazon Echo, but for the kitchen. Brought to you by the folks from the giant Bosch Siemens Home appliance conglomerate, the too-cute and conversational Mykie can find and dictate recipes, project a video call with a fellow chef and accept voice commands to add and order groceries. You can also communicate with BSH's Home Connect compatible smart kitchen appliances and, of course, answer general questions and play music via Bluetooth. B/S/H says Mykie may hit the market sometime later in 2017.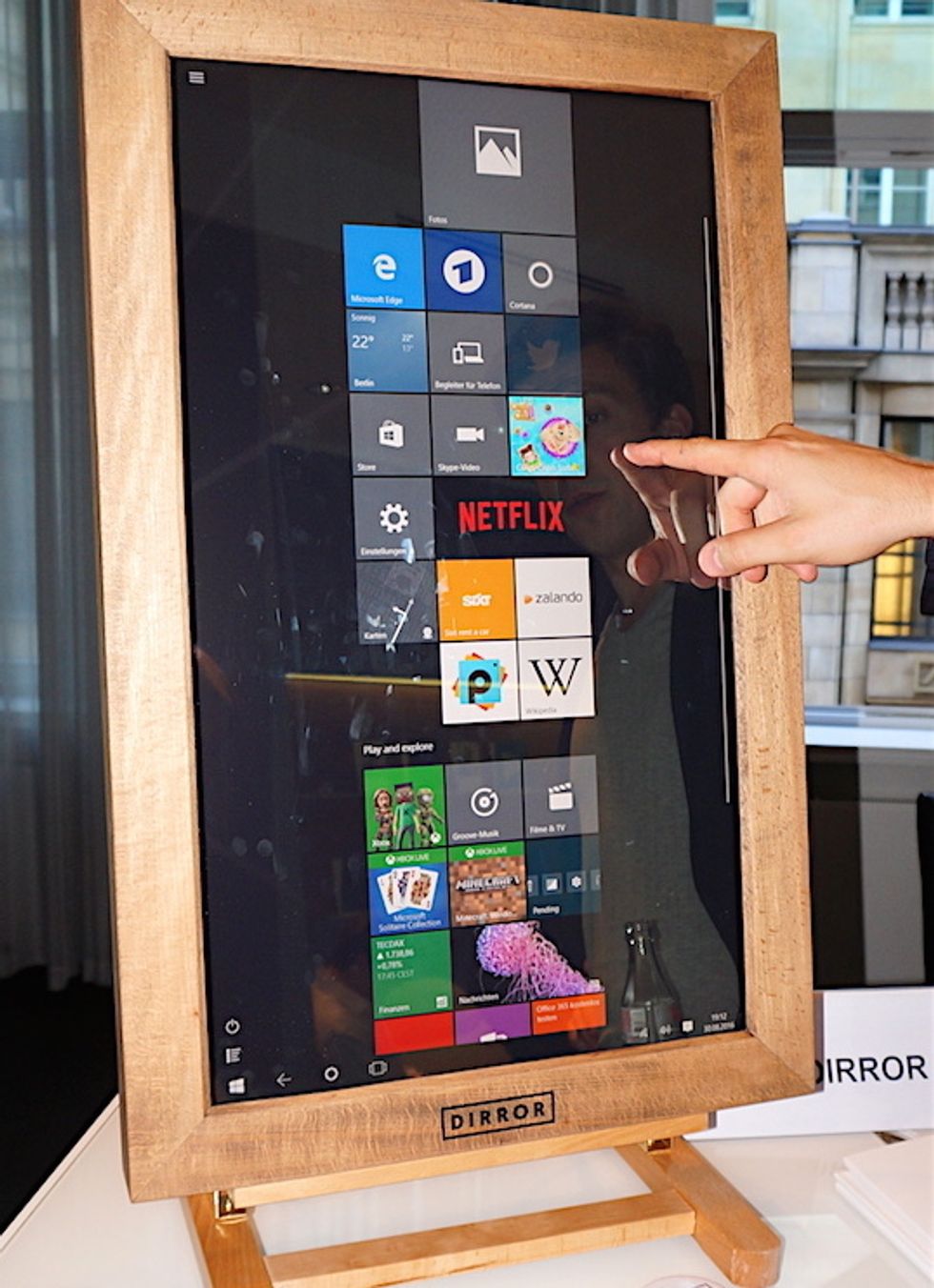 Dirror, Dirror on the wall, bring up Game of Thrones on Netflix, because you can.
Dirror Mirror/Tablet Combo (available now, approximately $1,500)
Dirror Mirror/Tablet Combo is a 27-inch diagonal mirror in a beautiful wood frame—but it's also a touchscreen Windows 10 tablet with a 1920 x 1080 full HD display. Anything you can do on a tablet, you can do on this wall-mounted touchscreen when you aren't preening or posing in front of it. It also comes in less pricey 23- and 10.1 versions, in three wood finishes. Unfortunately, it's only available in central Europe at the moment.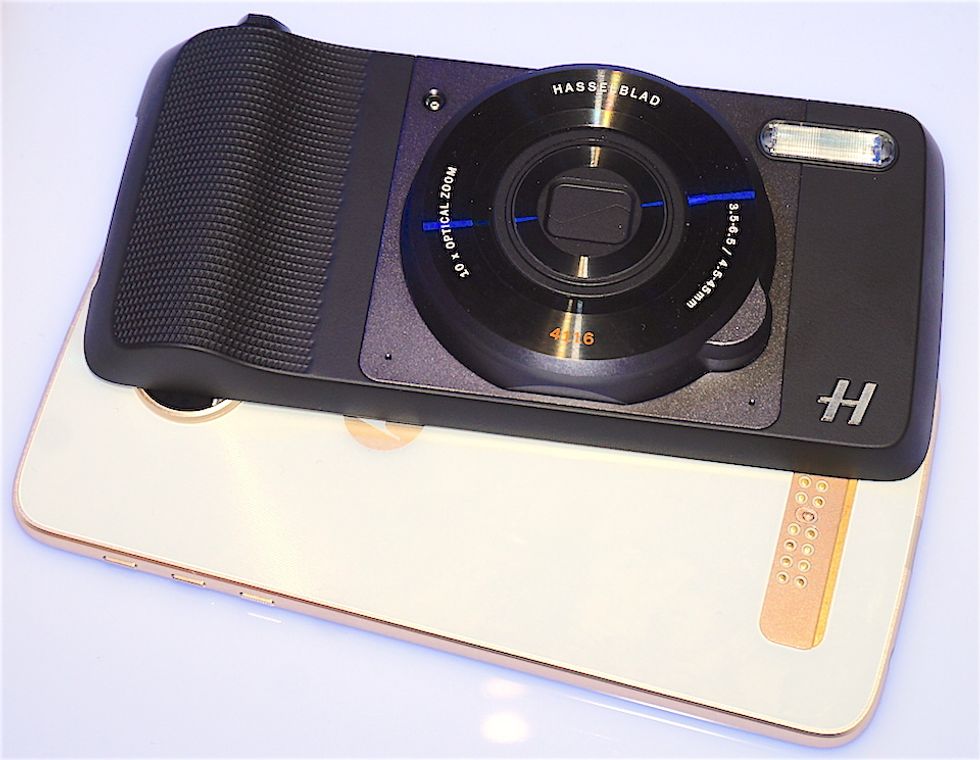 The Hasselblad 4116 is going to finally turn your smartphone into the camera you deserve
Hasselblad 4116 Add-On Smartphone Camera (September 2016, $299)
Smartphones are notorious for producing lousy photos in low light, not being able to zoom in, or shooting those RAW photos favored by pro photogs. Owners of Motorola's modular Moto Z phones will soon be able to snap an actual Hasselblad camera on the back. This model 4116 (named for the year of Hasselblad's founding, 1941, and its 75th anniversary this year) has a 10x optical zoom lens, a Xenon lens and can shoot RAW photos. All you need now is a Motorola Moto Z phone.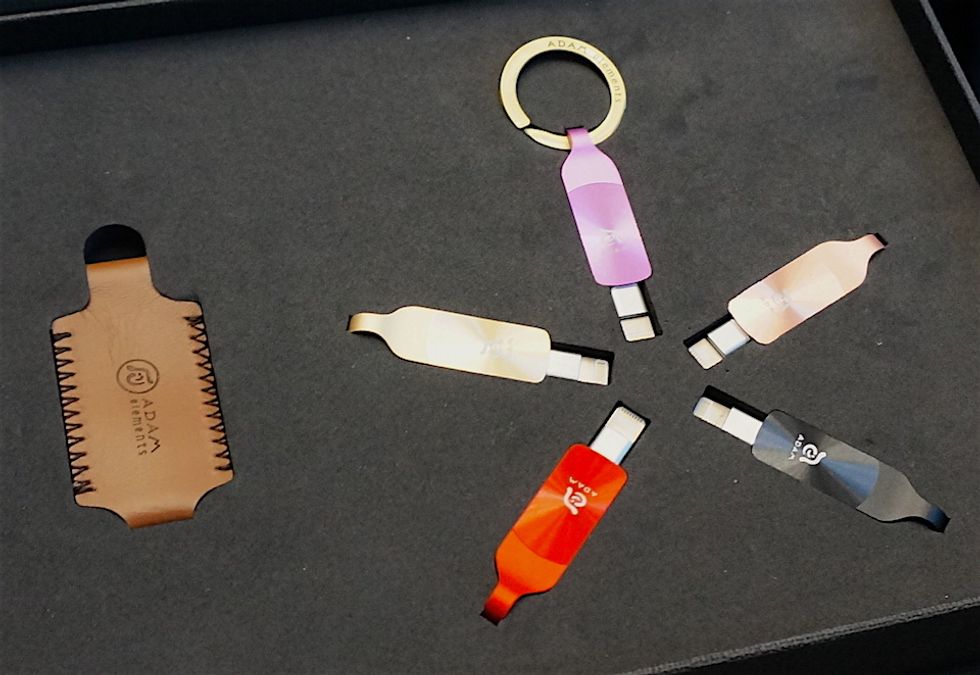 The iKlip Duo + iPhone Memory Drive will help your smartphone shed some data
iKlip Duo+ iPhone Memory Drive (October 2016, 32GB $79/64GB $99/128GB $179)
Running out of memory storage room on your iPhone? Off-load some memory-hogging photos and videos onto this handy and fashionable keychain flash drive. On one end is an Apple Lightning cable—just plug the Duo+ into your iPhone, fire up the iKlip app, and move fat files onto the drive. Then, flip the Duo+ around and get a USB 3.1 jack to plug into a computer to off-load the photos and videos. It comes in five pastel colors to match your sartorial splendor.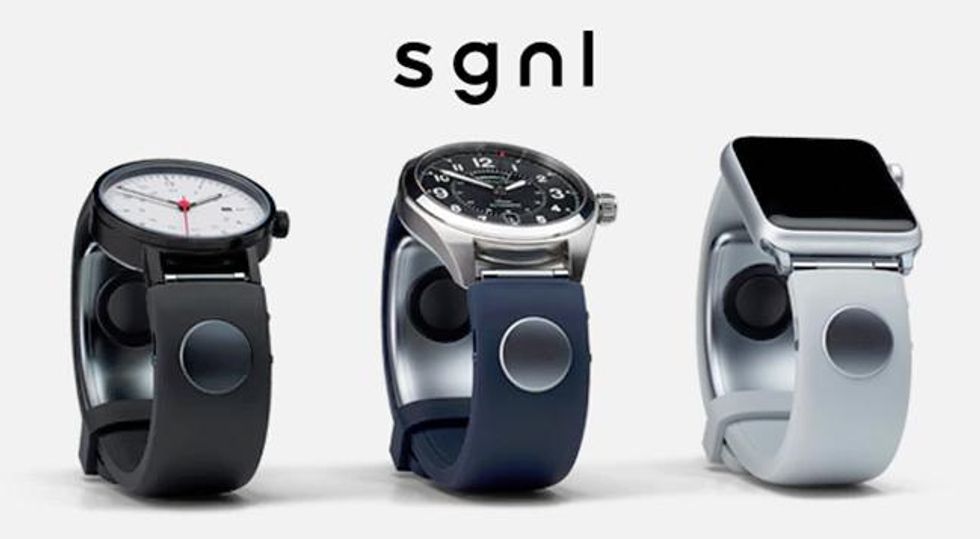 Sgnl will let you answer your phone calls with your finger. Yes. We mean that.Photo courtesy of Sgnl
Innomdlelab Sgnl Finger Speaker (February 2017, $139)
Your phone is in your pocket when it rings. Instead of fishing for it, just stick your finger in your ear to hold your conversation, like that guy in the picture at the top. That's not a joke. The key is the Sgnl wrist band that pairs with your phone via Bluetooth and somehow uses your body to conduct your callers conversation through your finger, while the band serves as the mike. The wrist band also doubles as a watchband for any phone, regardless of type, age or relative dumb or smartness.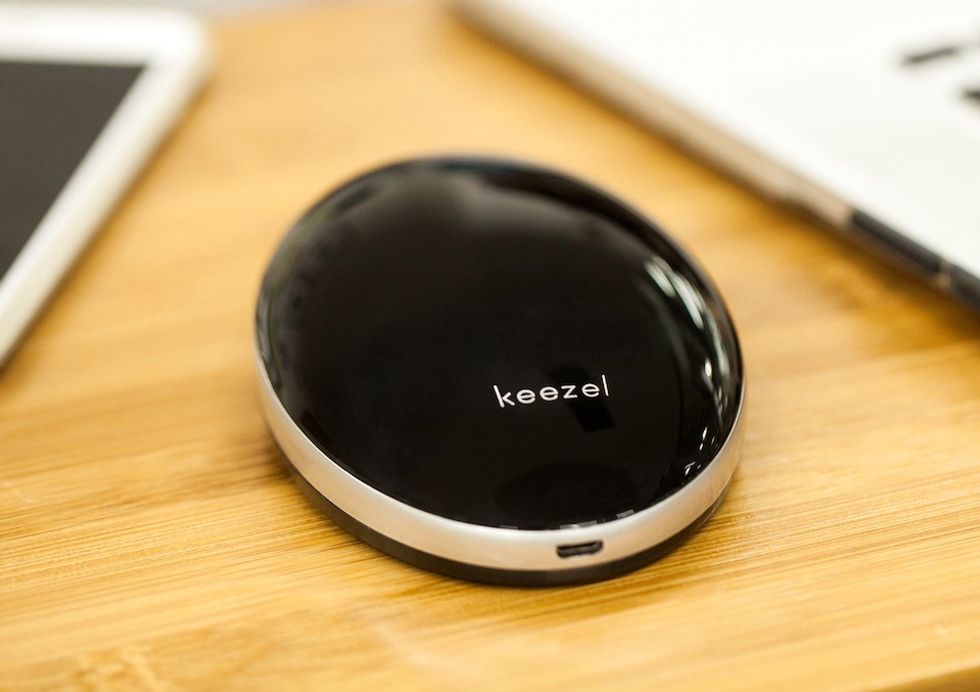 Think of Keezel as your Wi-Fi network's special forces.
Keezel VPN Protected Smart Home Network (early 2017, $129)
Worried about someone hacking into your home Wi-Fi via a less-secure smart home product that you have connected to network? This black oval soap-sized Keezel lets you create a safe Virtual Private Network (VPN) to which to connect your smart home devices or use while out-and-about connecting to untrusted networks. Keezel will run on an internal battery for around a day. Just like your current Wi-Fi network, you'll get 2.4 and 5GHz networks, and you'll be asked to create much safer passwords to keep your virtual home safe.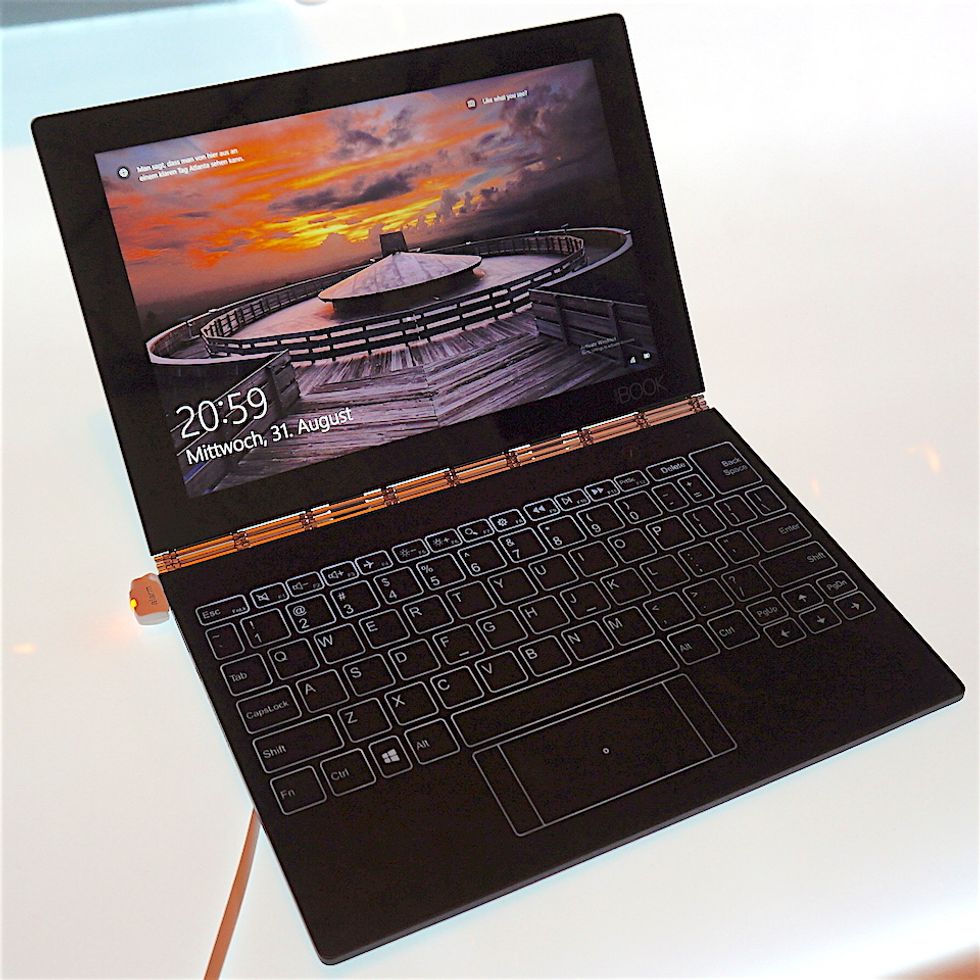 Lenovo Yoga Book brings a touchscreen keyboard to your tablet.
Lenovo Yoga Book Laptop/Digitizer
This new thin and light 10.1-inch 2-in-1 convertible laptop is two devices in one: You get a cover that's both a backlit touchscreen keyboard and, at the push of a button—or when the two ends are laid flat—goes blank and becomes a drawing pad that transfers drawings or written notes into the Yoga Book. The accompanying Real Pen is both a stylus and is filled with ink so can be used as a real pen.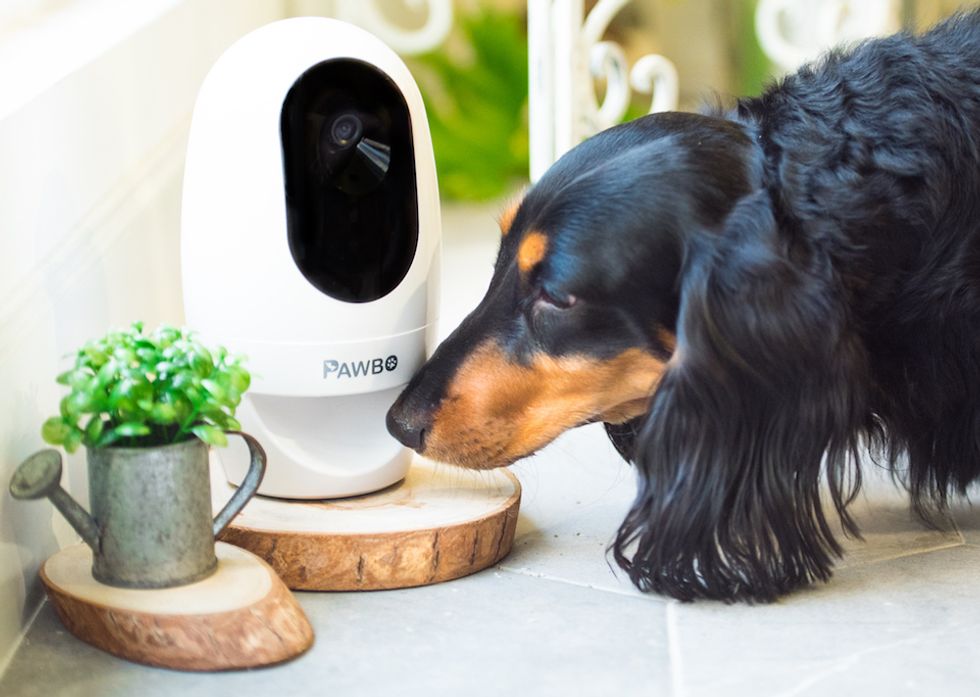 Pawbo+ lets you feed your dog, watch your dog and even play with your dog while at work. Who needs a dog walker?Photo courtesy of Pawbo+
Pawbo+ Pet Wi-Fi Camera (pre-orders start Sept 1, 2016, $169)
Miss your dog or cat while you're at the office? Well, they miss you too! Reach out, see, talk to your pets, and even feed them, with this new Pawbo+ Wi-Fi camera. Just connect with the Pawbo+ via its smartphone app, and you'll be able to see and talk to your furry loved one (or anyone else in your abode). You'll also be able to use Pawbo+ to play with them via a built-in laser pointer, or remotely dispense them treats stored in the Pawbo+ storage tray.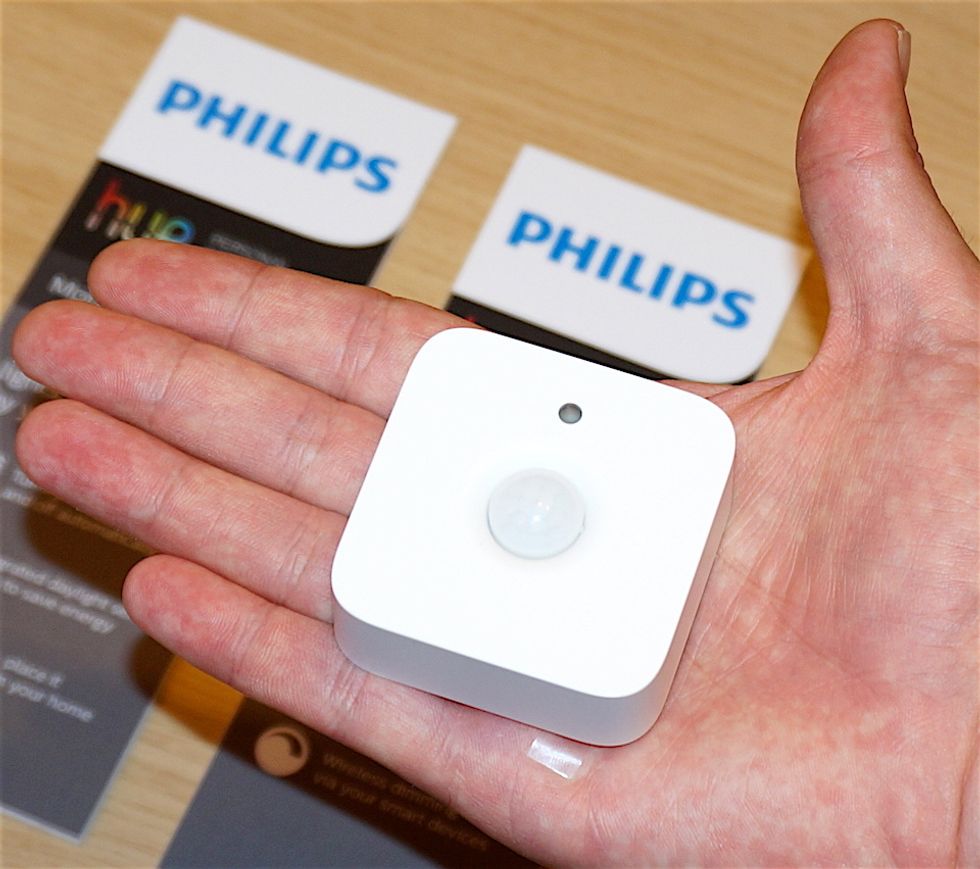 With Philips Hue Motion Detector you'll never stub your toe again in the dark.
Philips Hue Motion Detector (October 4, 2016, $39.99)
Instead of digging out your smartphone to turn your not-so-smart Hue lights on or off, this motion detector senses your movements or gestures and turns on, off or adjusts the Hue light according to settings you customize in the Hue app. It's magnetic so Philips Hue Motion Detector will stick to any metal surface, or you can screw in a mount to magnetically attach the sensor to in your home.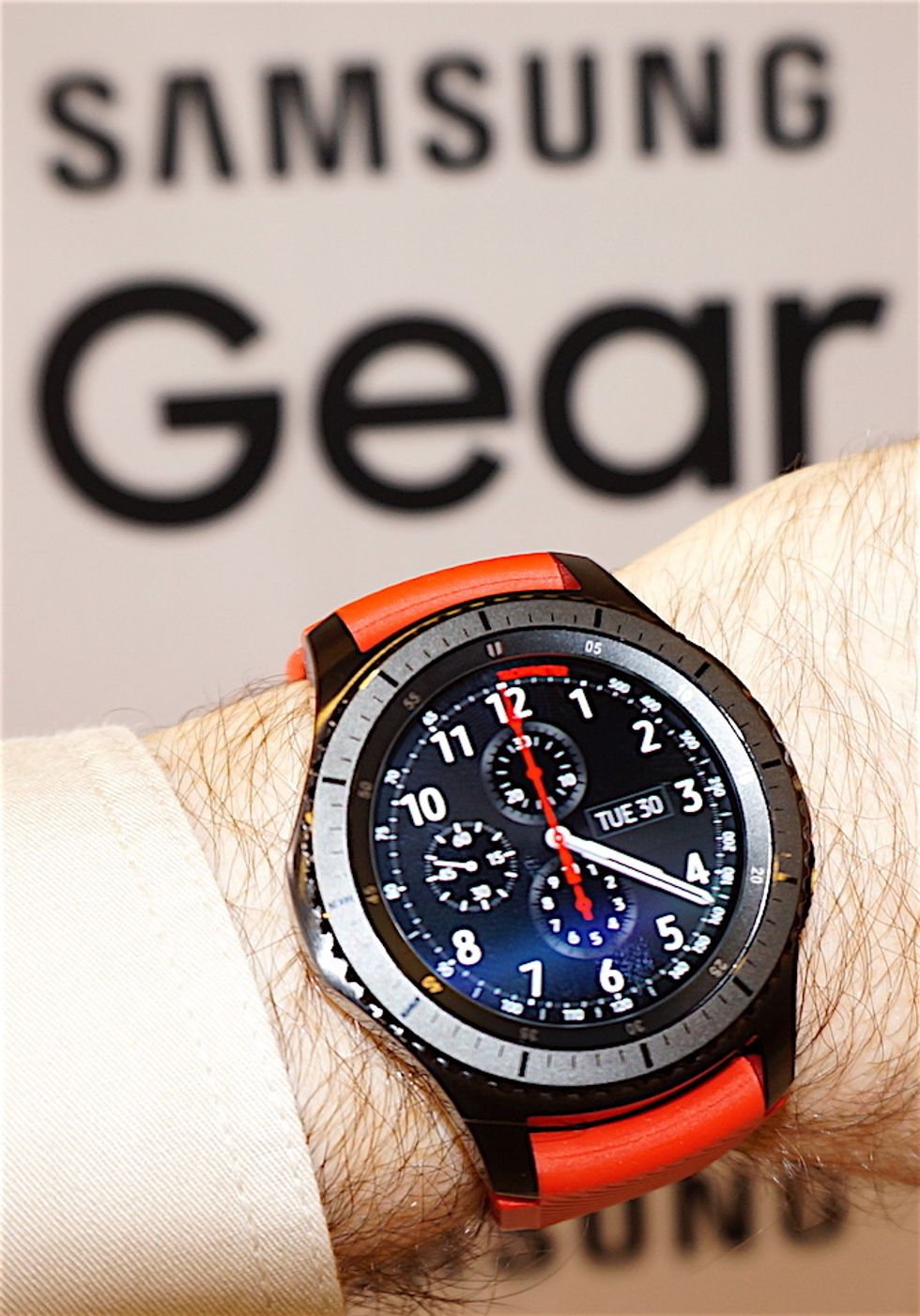 Samsung Gear S3 is really going to let you make calls—without the smartphone.
Samsung Gear S3 Classic Smartwatch (fall 2016, price TBA)
Samsung is inching closer to Dick Tracy's two-way wrist radio. One of the two versions of this third-generation smartwatch, designed to look like a classic Swiss watch (hence its name), is the first ever with full LTE cellular connectivity. This means the Gear S3 Classic can be used without a phone to engage in phone calls via the built-in microphone and speaker, and stream music you listen to via Bluetooth headphones.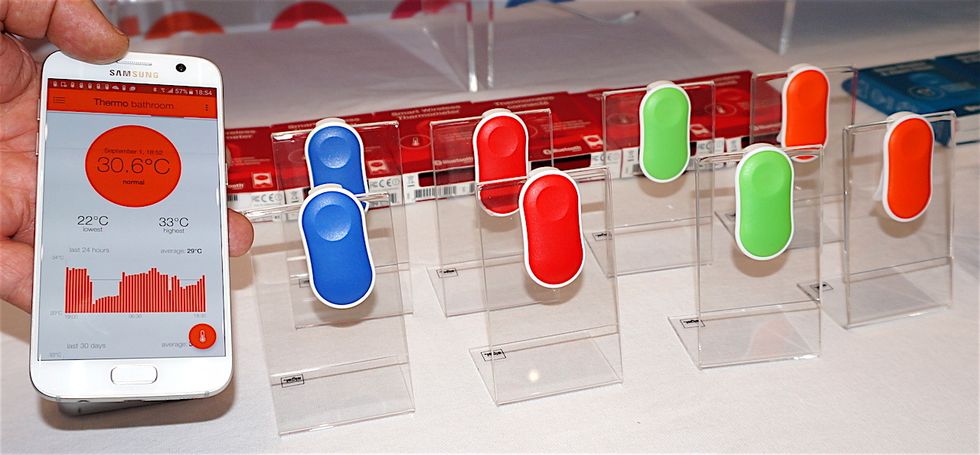 Sense Peanut is cute, colorful and takes control of your alarm, music system and even when you need to take your medicine.
Sense Peanut Smart Buttons (October 2016, $29)
Clip one of these four thumb-sized pastel-colored Bluetooth buttons to a medicine bottle, your bed sheet or pillow, a dog collar or crib, or just lay one on your table top, to monitor and/or control medicine intake, sleep and waking up, ambient temperature, or a smart light or music system. There are four Peanuts: Thermo (available now), Sleep, Med and Button, each available in one of four colors.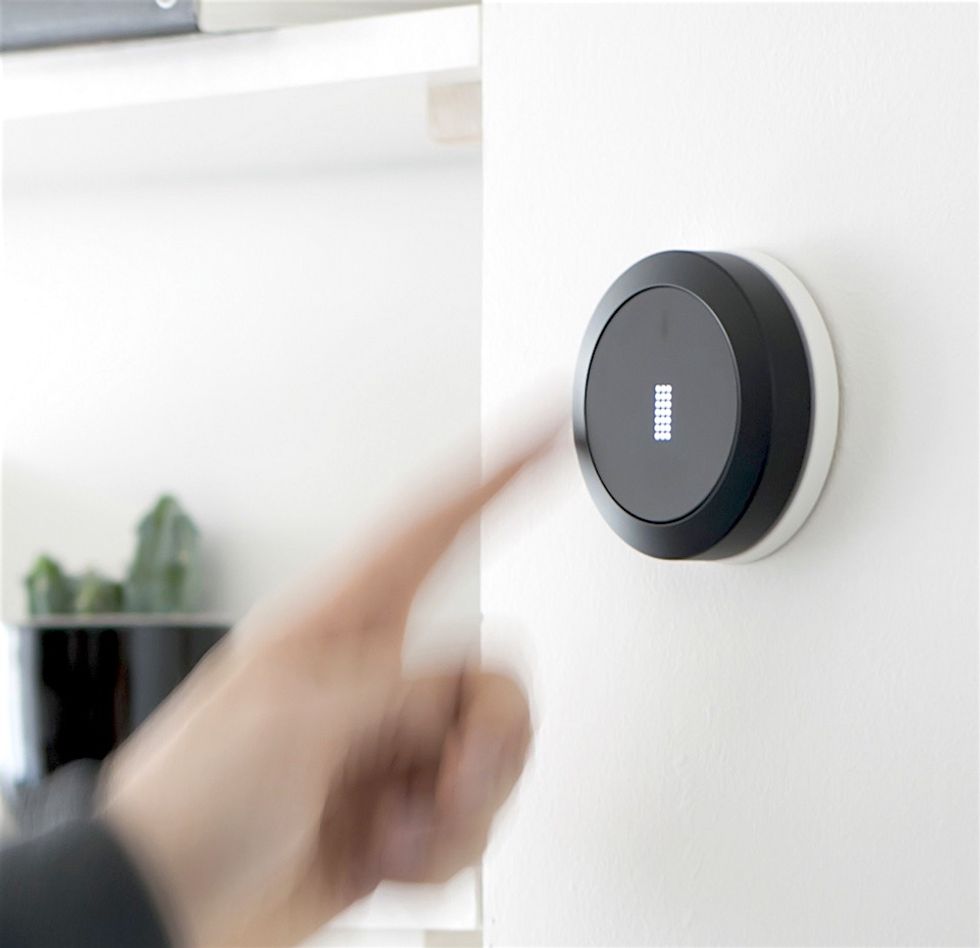 Nuimo will let you tap to run your lights and music.Image courtesy of Nuimo
Senic Nuimo Home Controller (October 2016, $199)
Instead of whipping out your smartphone to control remote music devices or lights, this hockey puck-sized device lets you just tap the table or wall it's mounted on to play, pause or turn devices on or off. You simply pair your Bluetooth smart bulbs or music system or any Bluetooth-controlled gadget to the Nuimo. On Nuimo's face is a 9x9 LED grid that displays that device's functions. Once set-up with the app, you can simply tap the table or wall to start or stop the connected gadget, and the Nuimo's knob can be used for volume or dimming.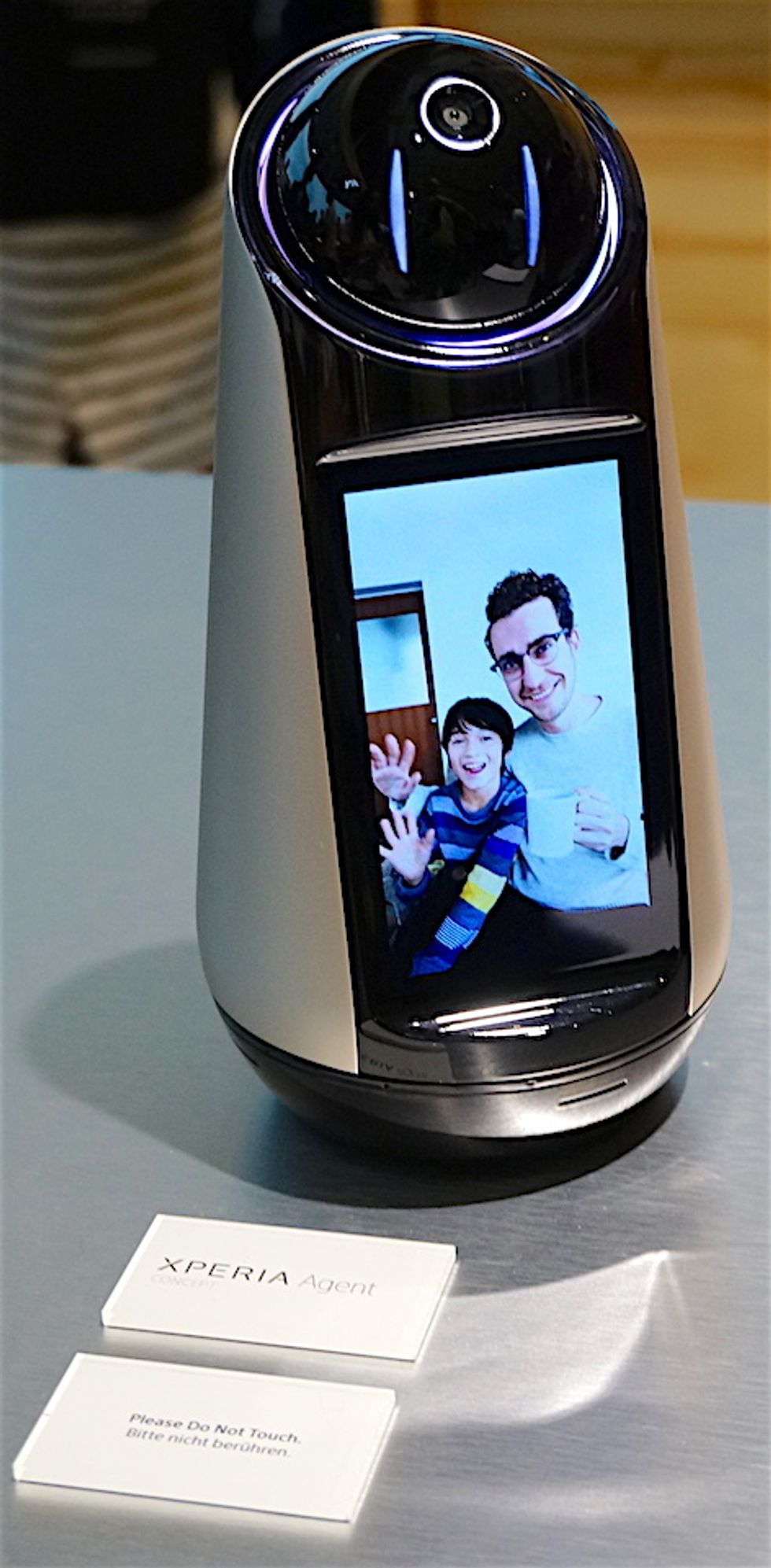 Sony Xperia Agent Home Assistant will let you make video calls—and control your AV devices.
Sony Xperia Agent Home Assistant/Video Phone (concept product)
This 10-inch tall tubular gadget seems to be a cross between the Amazon Echo and a video phone. But unlike the bare Echo, the Sony Xperia Agent is equipped with a smartphone-sized screen, a pivoting ball "head" with two slits for "eyes" and a camera in the middle, and a pivoting base. Like Echo, Agent will give you voice control over varying AV gear, play music and answer simple questions, and will also serves as a video camera—if and when this concept product ever appears.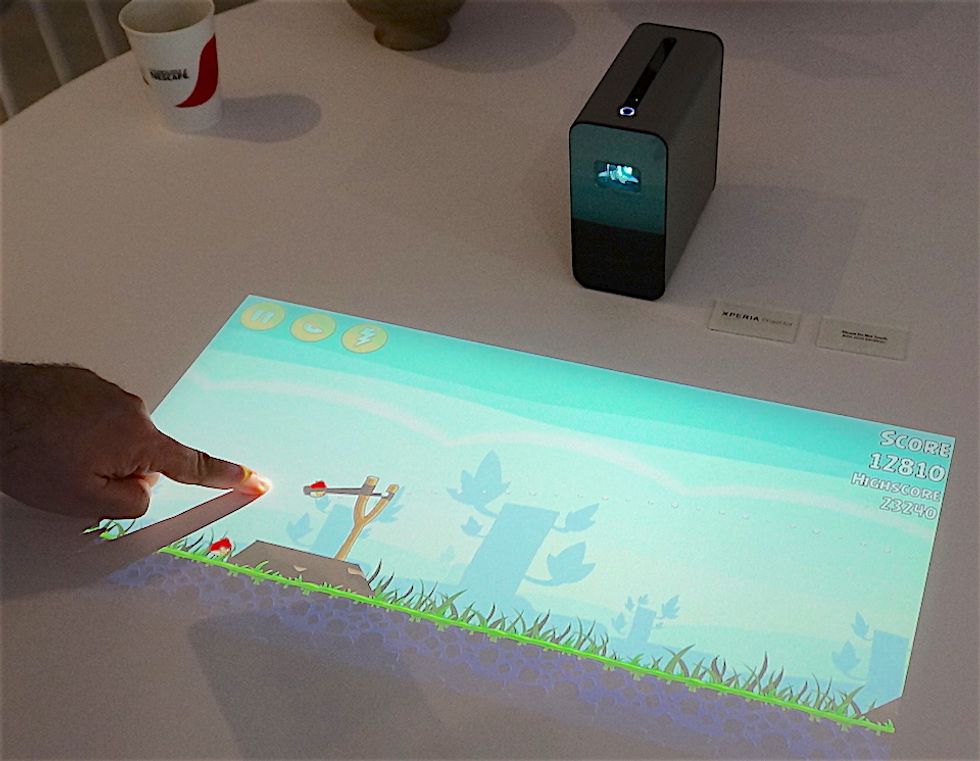 Sony Xperia Projector will shoot an image on to your desk—that you can control like a touchscreen.
Sony Xperia Projector (concept product)

This hardcover book-sized Android-powered mini projector projects an image on a table or wall that can be touch-controlled. This means the family could gather around a table to play a projected game instead of a boring board game, or do group shopping just as if they were touching, tapping and dragging objects on a large tablet—if, like the Xperia Agent, this device ever appears. Finger crossed!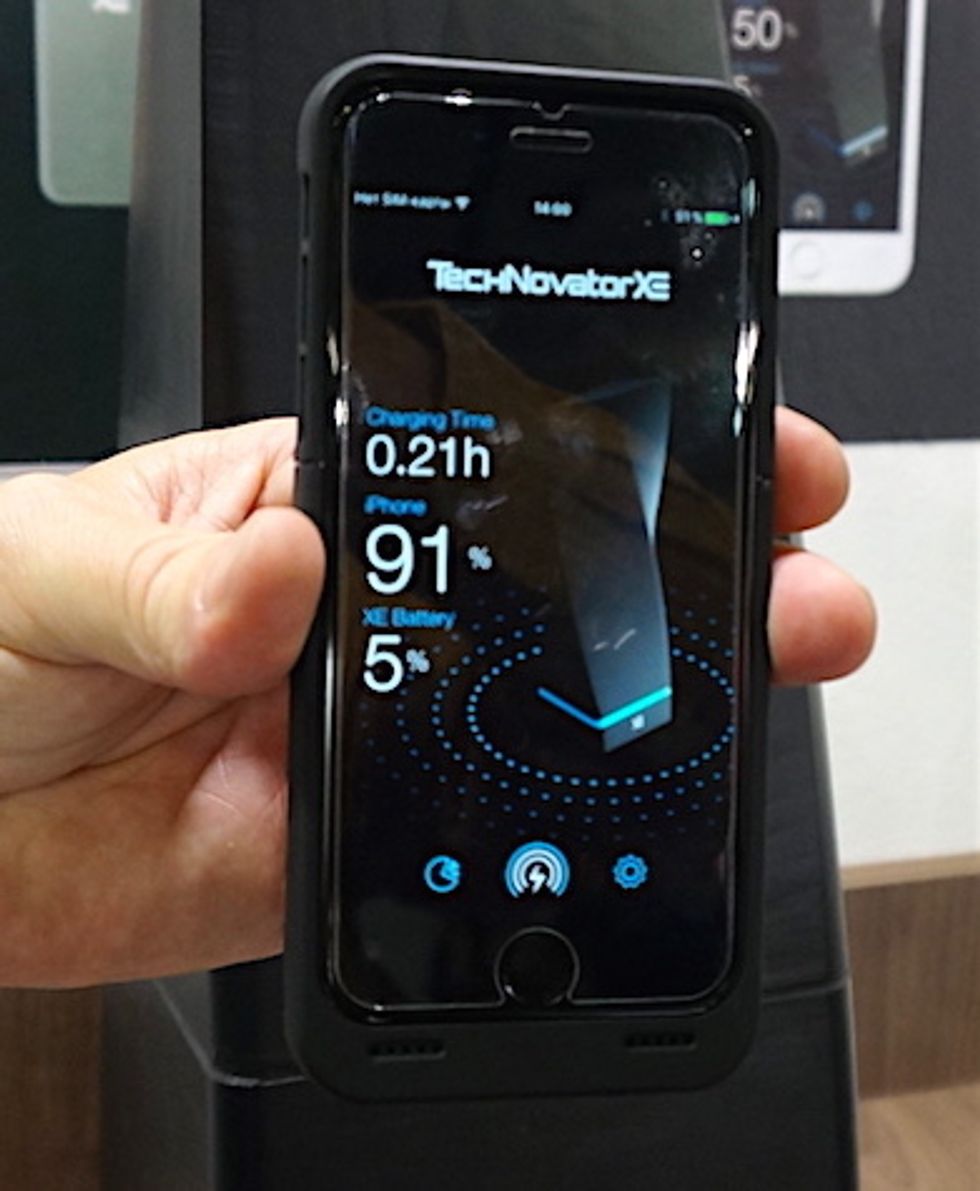 TechNovator XE will revolutionize the way you charge your smartphone—powering via a wireless signal instead.
TechNovator XE Wireless Charging (mid-2017, $200-$250)
Tired of constantly having to plug your smartphone in to charge? Get one or a couple of these XE towers and never plug in again. The tower broadcasts wireless power to charge any phone wearing the special case, and is located within 15 to 17 feet of the tower. Yes, your device will need around twice the amount of time to charge as a jacked-in phone. But since your phone will always be charging, who cares how long it takes? The case, initially available for iPhone 6s and 6s+, and included with the tower, also contains a 600mAh battery.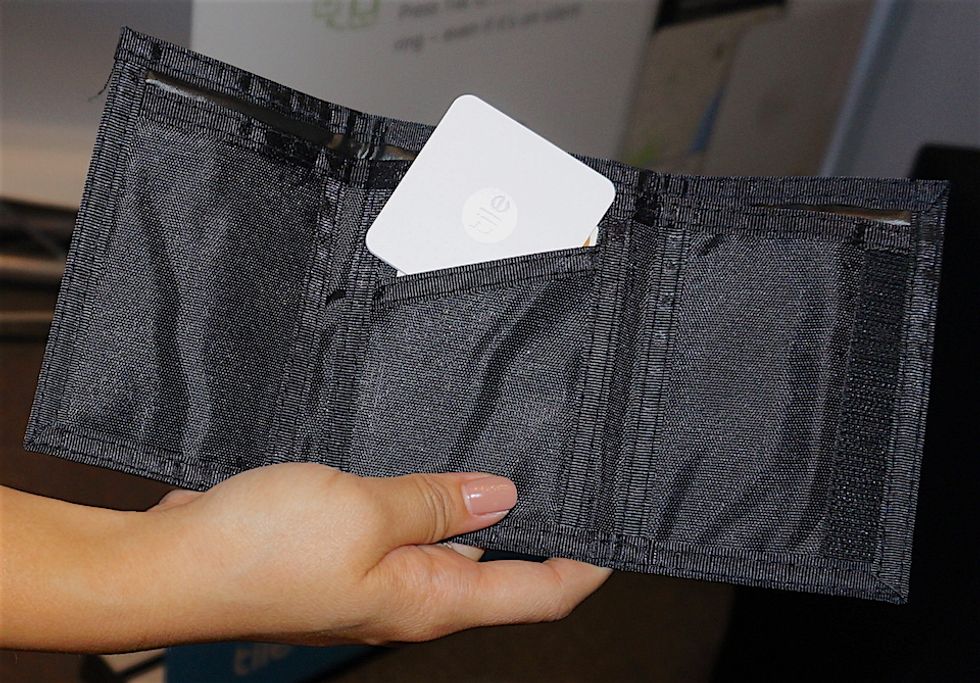 We know you lose things. Tile Slim will help you locate anything that carries this thin credit card-sized device.
Tile Slim Bluetooth Locator Card (September 2, 2016, $30, four for $100)
From the company that brought you the keychain with the Bluetooth locator tag, comes this slim version of the same technology. Only as thin as two credit cards, Tile Slim can slip into a wallet—or any object you're afraid to lose or misplace—and you'll be able to locate it via the Tile smartphone app. There are six million keychain Tiles in the world. That means anyone with the Tile app—that passes by one of your lost objects—automatically and invisibly sends a ping through the Tile system to let you know where your lost object is located.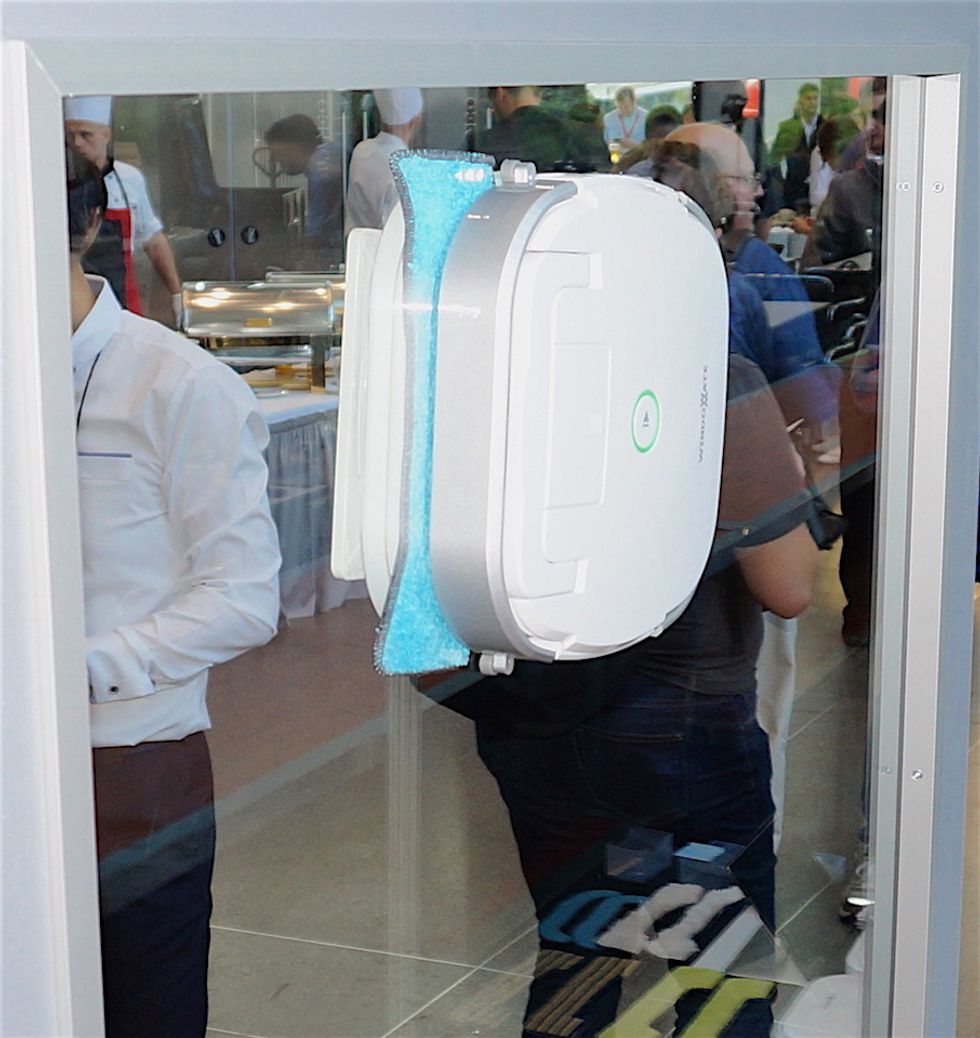 Who wants to wash windows? No one. Which is why Window Mate Automated Window Cleaner will be your new favorite device.
Window Mate Automated Window Cleaner (October 2016, $550-$600)
No one except window washers want to wash windows. You can now completely automate the process with this two-piece automated system. The two sides connect magnetically on either side of a pain of a dirty pane and systematically glides over and cleans it, then automatically returns from where it started. If you miss a spot, you can use its IR remote to direct it where needed.
*All photos by Stewart Wolpin unless otherwise noted.
Like GearBrain on Facebook