Like GearBrain on Facebook
Cycling and technology are pretty much joined at the hip. Serious cyclists will spend thousands on high-tech components and materials for a millisecond faster shift, degrees of frame flex or stiffness, or to shave a few grams off their ride. But the marriage of the smartphone and the bike has always been an awkward one, which probably explains why the smartphone hasn't killed off cyclocomputers, which perform increasingly sophisticated tasks from the handlebar. Enter the SmartHalo , which promises to turn any bike into a "smart bike." Cool.
Launched on Kickstarter in September 2015, the device is now sold in Apple Stores for $149. To test it out, I decided to slap it on the least technologically-advanced bike I own: a 40-plus pound Schwinn cruiser with a front-spring fork I use for commuting, errands, and most importantly, I'm fine with locking up outside in New York City.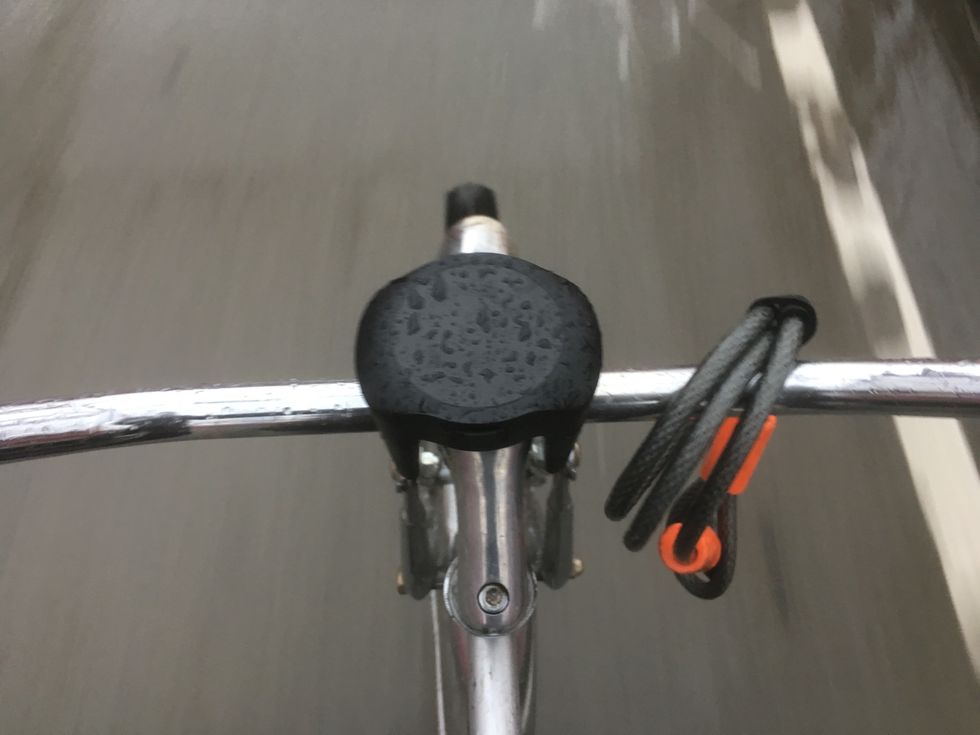 SmartHalo in action as I ride across the Williamsburg Bridge. Michael Learmonth
That last bit is important because one key feature of the SmartHalo is it is supposedly theft-proof (it has its own lock and an alarm). As anyone who commutes by bike can attest, stripping all the lights and other electronics off to lock up is a pain. In brief testing I can say that aspect worked: after two full days locked up in Brooklyn I still have a SmartHalo.
The device is an attempt to roll together a lot of things bikers need: a light, navigation, odometer, average speed, calories burned, etc, along with a notification for incoming calls. It pairs with a smartphone and is controlled through the SmartHalo app, which is available for both iOS and Android devices. It certainly looks different than a typical cyclocomputer. There is no digital display; just warm lights that let you know it's automatically turned on and sending information to your phone.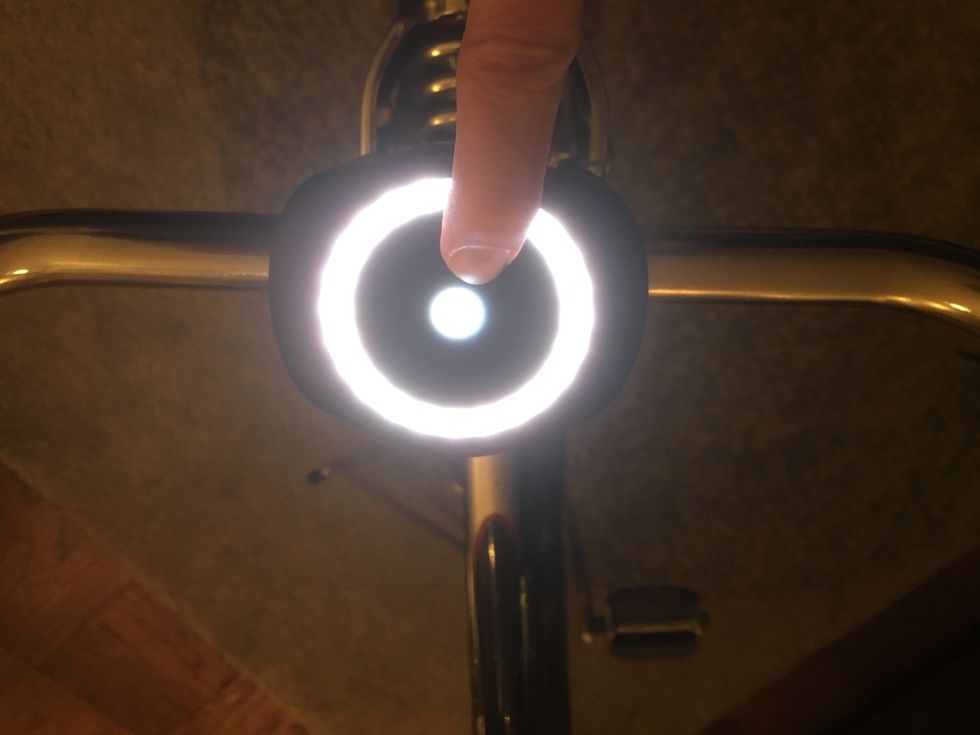 SmartHalo doesn't have a digital display — using a light to indicate that it's working GearBrain
The device is no harder to install than a high-end cyclocomputer, with allen screws and rubber-lined brackets. The unit itself locks on with its own magnetic key. It's a lot bigger than a cyclocomputer, but perhaps not bigger than a cyclocomputer and a light, both of which it can replace.
It has to be said the designers of the SmartHalo really do get cyclists. The unit turns on with a warm green glow when you approach, but turned off it looks like nothing; no high-tech screen or buttons or anything else that would be attractive to thieves. Another way the SmartHalo folks get cyclists is it gives you key information, like when to turn with a directional light, but not too much that it will distract you. That a pretty important safety feature because using a smartphone while cycling is just not smart.
But that might be a disappointment to people used to a cyclocomputer and the constant visual feedback of data through a screen. With SmartHalo, you have to pull out your smartphone to see your stats, and you get it with time, trips, mileage, average speed, calories burned, carbon dioxide not pumped into the atmosphere. All of that seemed pretty accurate, which definitely puts it ahead of most standard fitness trackers (including the phone) which generally can't tell if you're on a bike or not.
The downside is that cycling apps do actually do most of this pretty well like Strava, Map My Ride and Cycle Tracker Pro, no special equipment required except for a smartphone. That brings me to the fundamental question all cyclists ask about another increment of technology: Do I need it? You certainly do not need the SmartHalo for the data, but combine it with a light, a worry-free theft-resistant design, a bike alarm, and idiot-proof navigation and it will become at least a strong maybe for an avid cyclist or commuter, or else a really nice gift.
-Michael Learmonth
Pros: Easy to use and install, theft-proof design, a really obnoxious bike alarm, automatically activates and turns on lights, and delivers must-have info where you need it.
Cons: Bulk and weight, relatively weak front light, doesn't do a lot more than a light and a smartphone, less data than a high-end cyclocomputer and is a nother thing to charge.
Like GearBrain on Facebook