Like GearBrain on Facebook
A new study has found that the vast majority of smartphone interactions are initiated by users themselves and not by an attention-grabbing notification.
It was found that 89 percent of smartphone interactions are initiated by the user, compared to just 11 percent due to being alerted by an attention-grabbing notification like a message, call or email.
Read More:
The study also discovered that many smartphone interactions are unconscious and are not noticed by users absentmindedly picking up their handsets. Regardless of context, it was found participants in the study interacted with their phones about every five minutes.
Called Computers in Human Behavior and published on November 21, the study's findings go against what was understood about smartphone behavior. It has previously been reported that smartphone notifications are the problem, pulling our attention away from work, family and friends.
The study followed the use habits of 37 smartphone owners in the UK, Germany and France, with an average age of 25 and just over half being male. The participants were each given wearable video cameras which recorded 200 hours of first-person footage and 1,130 smartphone interactions. The study was led by Max Heitmayer and Saadi Lahlou, both from the London School of Economics.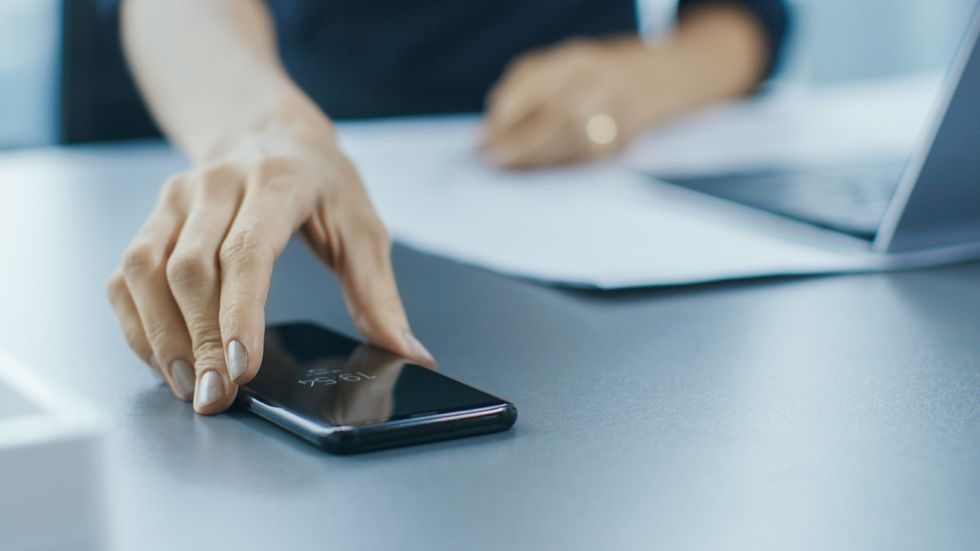 Each phone interaction lasted an average of 64 secondsiStock
The authors wrote: "Previous research suggests [smartphone notifications] can be a major disruption to the professional and private lives of users...We show how smartphone interactions are driven by a complex set of routines and habits users develop over time. We furthermore observe that while the duration of interactions varies, the intervals between interactions remain largely invariant across different activity and locations contexts, and for being alone or in the company of others."

Interestingly, the authors add: "We find that 89 percent of smartphone interactions are initiated by users, not by notifications. Overall this suggests that the disruptiveness of smartphones is rooted within learned user behaviors, not devices."
This finding echoes the longstanding liknesses drawn between smartphone applications, especially social media apps like Twitter and Instagram, and gambling machines. Their never-ending columns of content and constant potential for positive feedback in the form of messages, 'likes' and other messages from others, is likened to the psychological pull of slot machines and their promise or reward for little effort.
Reported further by Psych News Daily, the study found the average duration of a smartphone interaction was 64 seconds, with about half being 23 seconds of less. It also found that checking WhatsApp for new messages accounted for 22 percent of interactions – however it should be noted WhatsApp is far more popular in Europe than in the US.
Phone calls accounted for just 1 percent of handset interactions, while a "lock screen check," picking up the phone for a moment to check for notifications, made up 17 percent of interactions and was the second most popular behind WhatsApp.
It was even found that participants felt compelled to check their smartphones even when notifications were switched off. "Seeing this has made me realize That I don't even remember picking it up," one participant told the study's authors.
From Your Site Articles
Related Articles Around the Web
Like GearBrain on Facebook