First cards overtook cash, then apps began to supplant physical cards. Now the smartphone app is replacing money transfers between friends and family — and businesses and their customers. What would once have required an ATM visit, a check or a bank transfer is now possible in seconds with a phone app.
You don't even need to use a financial app like PayPal and Venmo anymore. Snapchat and Facebook both support money transfers in their social networks.
Here is a quick look at seven of the most popular peer-to-peer money transfer apps available in the US today.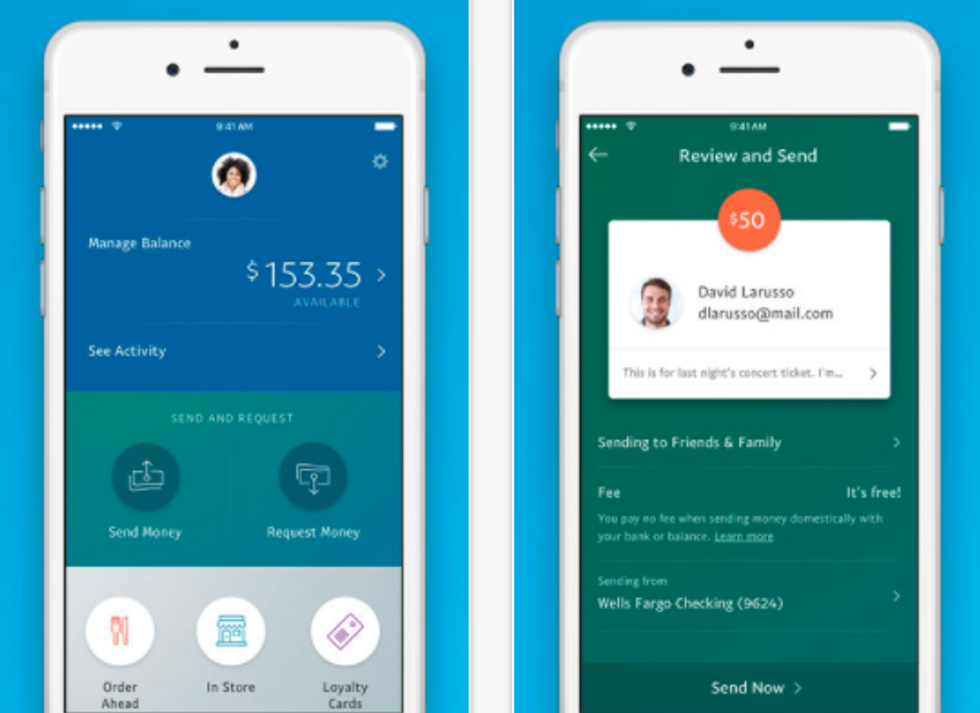 PayPal
In the money transfer game since the 1990s, PayPal has a level of trust and brand recognition that few of its contemporary rivals can match.
PayPal offers protection when buying and selling to strangers, and has more relaxed transfer limits than some of its rivals. This means any payment made for goods and services is protected and refunds will be issued if the goods are missing, defective or fraudulent.
A neat feature is how you can be paid by anyone — whether they have a PayPal account or not. Just share the address of your PayPal.me page and they can send the money across right away. While this works fine for individuals, there is no bill-splitting feature so paying for your share of last night's bar tab isn't as straightforward as it is with other apps.
Limits
PayPal lets you transfer more money than its rivals — up to $10,000 per transaction — while withdrawals from your PayPal account to your bank are capped at $1,000 per month.
Fees
All this security and peace of mind comes at a cost. While money can be freely transferred from your bank account, paying with a debit or credit card will cost you every time. The fee for sending money to someone using either type of card is 2.9 percent plus 30 cents per transaction.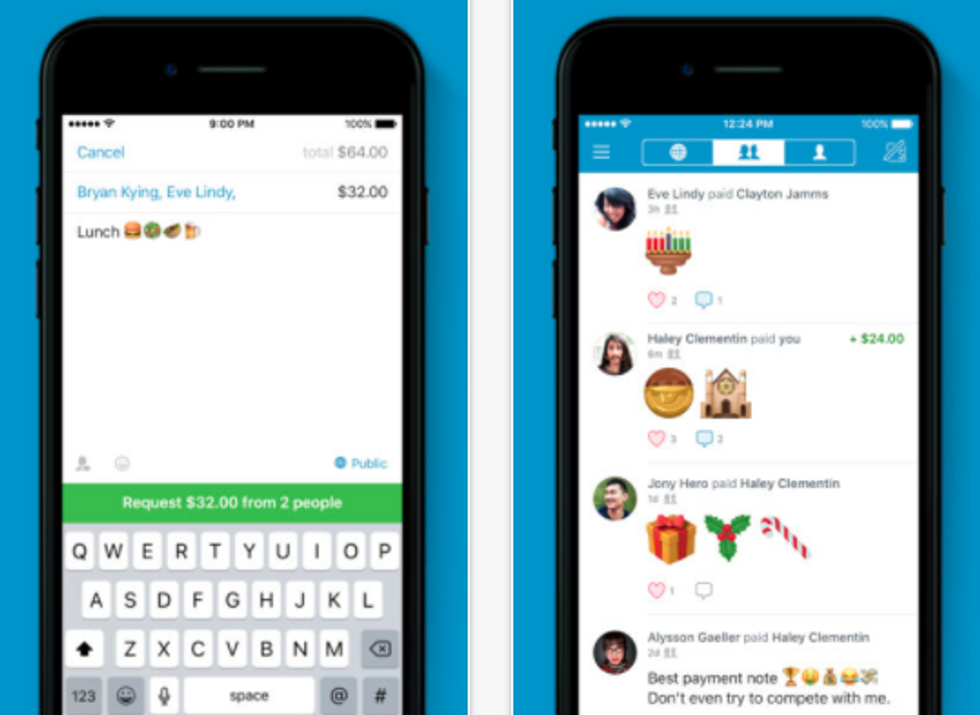 Venmo
Bought by PayPal in 2013, Venmo is part-social network, part-money transfer app. During setup you are invited to add your Facebook friends and contacts, so they're loaded into the app and ready to receive your payment next time you owe them.
The social network side of Venmo lets you share news of your payments with other Venmo users around the world. Say you charged a friend for last night's pizza — this will, if you want, appear in the news feed of other Venmo users, minus the amount that was spent. However, the social aspect isn't a compulsory part of using Venmo: you can opt out and just have the payments (minus the amount) shared with participants only.
Bills can be split with an integrated calculator, but only equally — so if one owes more for dinner they will have to transfer that separately.
For added flexibility, Venmo lets you add up to six debit and/or credit cards to the app, plus a bank account.
Limits
Transactions are initially limited to $299.99 per week, but verifying your identity increases this by $2,999.99. Confirming your identity is done by providing your ZIP code, date of birth and the last four digits of your Social Security Number.
Fees
Transfer from a debit card and bank account are free, but sending money from a credit card will cost 3 percent of the transaction amount. However, if you pay a Venmo-affiliated merchant this fee does not apply.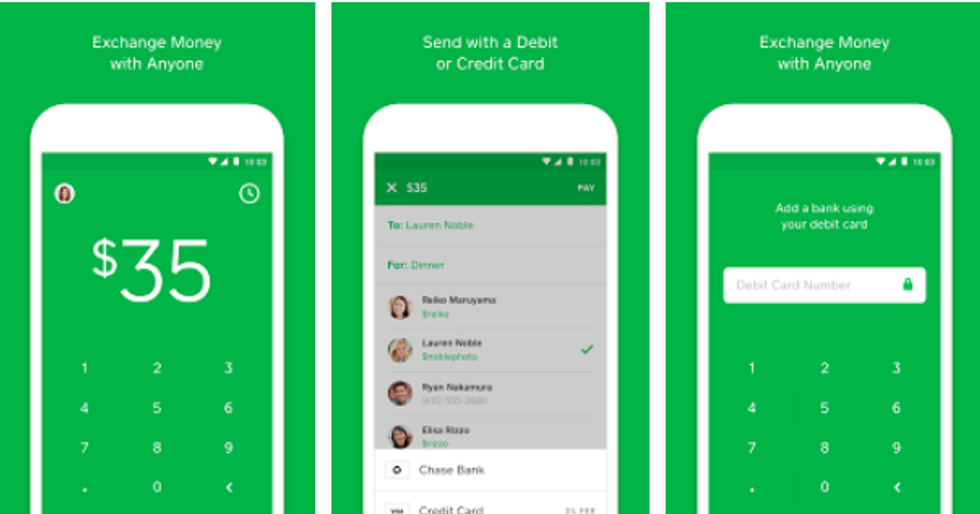 Square
Run by Twitter chief executive Jack Dorsey, Square began life as a company producing pocket-sized card readers for merchants to accept payments through iPhones. Now it also offers Square Cash, an app for sending money to friends and family without the need to swipe a card.

Simply called Cash, the app is set up with your phone number or email address and needs a debit card to function. Credit cards can also be added, but fees apply.
Money can be requested from anyone with the $Cashtag feature, where those who owe money but don't have a Square Cash account are directed to your $Cashtag page, where they can pay with their debit card.
Bills can be split within the app and money can be requested from several people at once — when you ask for their share of dinner, for example. However, bills can only be split evenly and cannot be edited.
Limits
Unverified users can send up to $250 per month through Square Cash, however this is increased to $2,500 once you verify yourself with your full name, date of birth and the last four digits of your Social Security number. There is no limit to how much money you can receive through the app, but verification is needed if you receive over $1,000 in 30 days.
Fees
There are no fees for using a debit card, but credit cards are subject to a 3 percent fee on each transaction.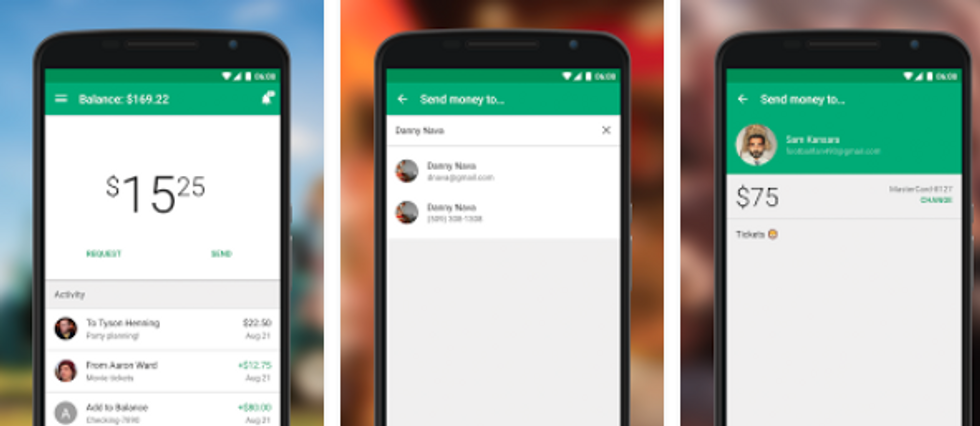 Google
Google Wallet works through your pre-existing Google account — and any debit card and bank account already associated with it — although credit cards cannot be used. Your Google contacts are also immediately accessible through Wallet, making it easy to find the right person to pay or request money from.
You can split a bill with up to five people at once, then alter the amount each of them pays — useful if someone had an extra drink at dinner compared to everyone else. Money can be requested from anyone, including those who don't have Google Wallet or even a Google account.
A smart feature is how you can send or request money in a Gmail message by tapping on the 'Attach' symbol then tapping 'Send Money' or 'Request Money.'
Limits
Up to $9,999 can be sent through Google Wallet in a single transaction, and there is a $10,000 cap for money sent in a seven day period.
Fees
There are no fees for using Google Wallet because it does not accept credit cards. While this means no fees, it also means none of the fraud protection offered by credit card companies. This applies to all money transfer apps which do not offer credit card support.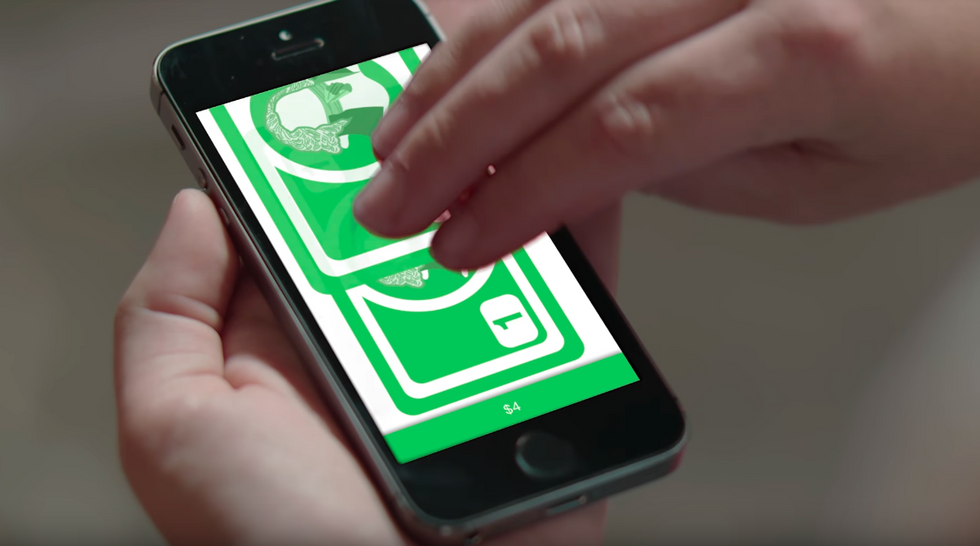 Snapcash lets you flick dollar bills to pay your friendsSnap
Snapchat's integrated money transfer system is powered by Square and lets you send money to Snapchat friends with a couple of taps. Once your debit card is linked to Snapchat, you just need to type the dollar amount you want to send in a chat to the recipient, then tap Add Cash and the money is transferred.
The 'swipe-to-send' feature lets you send money to friends by flicking dollar bills at them. Open a chat with your friend, tap $
"Fun as that may be, there are no more features to Snapcash. You cannot split bills and you cannot request money."
Limits
Initially you can send just $250 per week. But after verification (name, date of birth, last four digits of Social Security number) this increases to $2,500. You can receive up to $1,000 every 30 days.
Snapcash cannot be used to pay for Snaps or Stories, usernames or access to an account, adding someone as a friend, or "unlawful things" like drugs and guns, Snapchat says.
Fees
There are no fees for using Snapcash with a debit card, and it cannot be used with a credit card.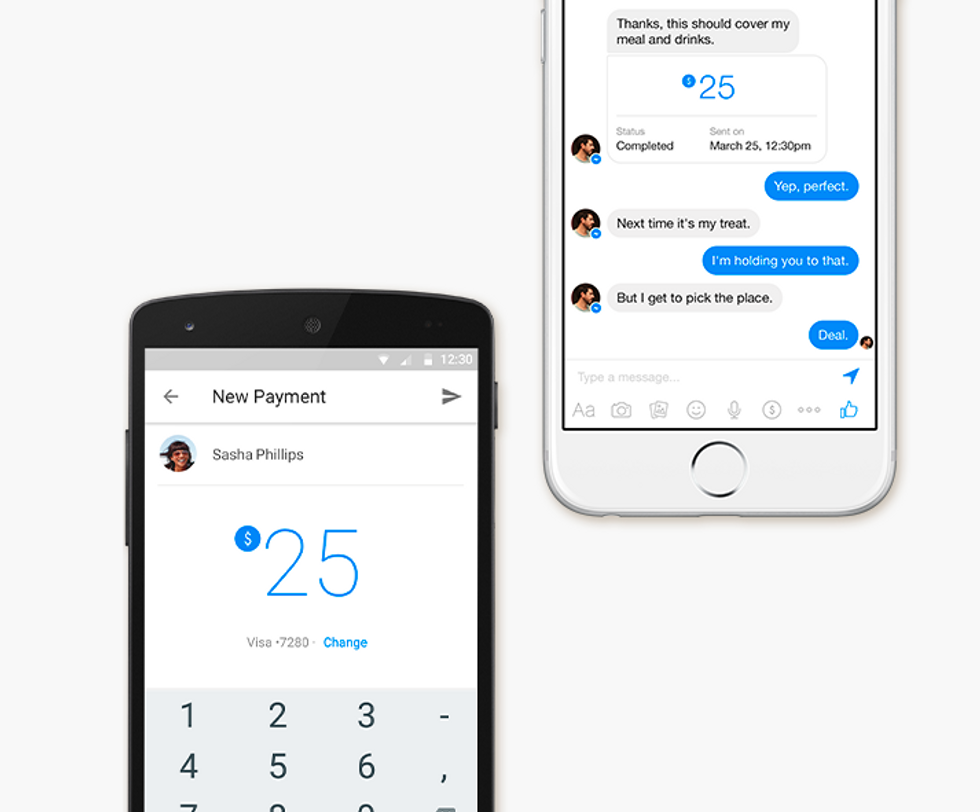 Facebook
With over one billion active monthly users, chances are that whoever you need to pay — or request money from — is already a Facebook Messenger user. It's less likely that both parties will have added a debit card to their Facebook account, however, but doing so is simple and once you have you can exchange money in Messenger chats.
Just tap the blue '+' button next to the chat box, tap the green Payments icon, then enter the amount and tap 'Send' or 'Request.'
Bills can be split by starting a group chat with the friends you are splitting with, then enter how much each person owes and tap request. Unfortunately, you cannot split bills unevenly and Facebook won't do the maths for you, so this is only really useful if the friends each owe you the same amount and you've already worked that figure out in advance.
You do not need to be friends with someone on Facebook to send money or a cash request to them.
Limits
Facebook does not say what its limits are, but acknowledges that if you reach them it will ask you to verify your identify with — you can probably guess by now — your birthday, ZIP code and the last four digits of your Social Security number.
Fees
There are no fees for using a debit card with Facebook Messenger and credit cards with their fraud protection services are not supported.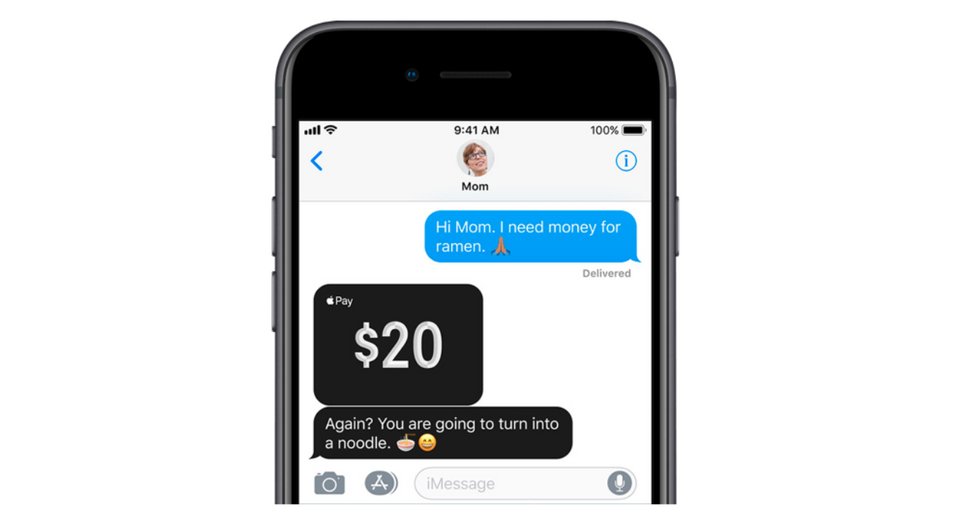 Apple
Finally, the newest money transfer app comes from Apple. Residing in the iMessage app, Apple Pay Cash lets you pay contacts in a similar way to Facebook Messenger. Start a chat, open the message app drawer, select Apple Pay, enter the amount, confirm via Touch ID or Face ID, then tap send. Requesting money works in the same way.
Instead of transferring money directly from a debit card or bank account to your friend, you have to first transfer money to your Apple Pay Cash account, which lives as a virtual bank card in the Wallet app.
You can then send money from that account to contacts, or receive money into the Apple Pay Cash account, then transfer that back into your bank account. Credit cards cannot be used with Apple Pay Cash.
Limits
You can send or receive up to $3,000 per transfer and up to $20,000 within a seven-day period between your Apple Pay Cash account and your bank account. The minimum you can top up your Apple Pay Cash account with is $10.
Fees
There are no fees for transferring money from your bank account to Apple Pay Cash, or vice versa, as it does not allow the use of credit cards.
then 'Add cash' and a dollar bill will fill the display. Swipe upwards, flicking the bill off the screen, and you have paid them a dollar.{replace46}{replace47}{replace48}{replace49}{replace50}{replace51}{replace52}{replace53}{replace54}{replace55}{replace56}{replace57}{replace58}{replace59}{replace60}{replace61}{replace62}{replace63}{replace64}{replace65}{replace66}{replace67}{replace68}{replace69}{replace70}