Like GearBrain on Facebook
Improved year on year, today's smartphones have excellent camera systems. But sometimes the camera applications they come with can be restrictive.
The iPhone 12 Pro, for example, has a superb camera capable of taking great photos in almost any situation. But, as has always been the Apple way, the iPhone's camera application is quite basic. The aperture, ISO and shutter speed cannot be adjusted, and although very good, the phone's night mode is automatic.
Read More:
Apple relies on artificial intelligence that recognizes what you are trying to photograph, then invisibly adjusts the camera settings to take the photo it thinks you want. This mostly works, and makes taking great photos almost effortless. But for those who want more control over the iPhone camera, there are plenty of third-party applications to help out.

Some of these apps are free, some cost a few dollars, and others are free at first then charge for additional features or to remove adverts.
Here we will be looking at four applications to improve your smartphone photography game. But instead of pasting highly artificial filters on your selfies, we have chosen applications that bring useful manual control and powerful, interesting photography features to your phone.
Focos – Free, with options for in-app purchases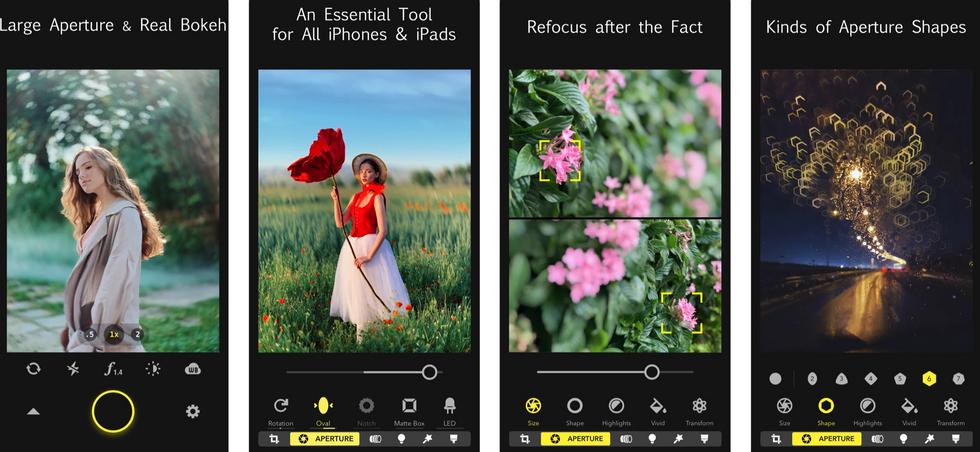 Focos photograph app for iPhoneXiaodong Wang
The first app I've chosen is called Focos. The app is free to download but some features are only unlocked by paying $0.99 a month, $7.99 a year or $12.99 for lifetime access. But don't let that payment structure put you off, because the free version contains a good selection of useful and powerful photography tools.

The most prominent is how photos taken with Focos can have their point of focus and depth of field adjusted after they are taken. Smartphone fans might remember this feature from the HTC One (M8) from 2014, which had a depth sensor for adding 3D data to photos.
Focos lets you move the focal point to anywhere in the photo, with wherever you tap snapping immediately into focus. There is also a slider to adjust the lens aperture and therefore depth of field of an image – again, after it is taken. That way, you can select just a small area to be in focus, or for the entire photo to be sharp. This editing works with images taken. the Focos app itself, but also by any photo you have taken using your iPhone's portrait mode, as the data Focos needs to manipulate images is retained.
Another powerful and free tool of Focos is how artificial light sources can be added to a photo after it is taken. First you are shown the image in 3D, where the app accurately plots the depth of the image, with subjects further from the camera appearing behind those at the front of the shot, all in a deep 3D model. You can then add a light source, like a bulb, flashlight, fluorescent tube or a soft box, to light any part of the short. The position, direction, brightness and color of the light source can all be adjusted.
All of the usual photo editing tools are available in Focos, including exposure, brightness and more. But the focus, if you'll pardon the pun, is on adjusting the focal point of your photographs.
Focos is a powerful photography app that is best suited to those who have at least some experience with aperture, focal length, and other advanced camera settings. With focusing being manual, this isn't a camera app to quickly snap photos without a second thought, or you will end up with them mostly being out of focus.
Night Camera – Free, but $0.99 to remove ads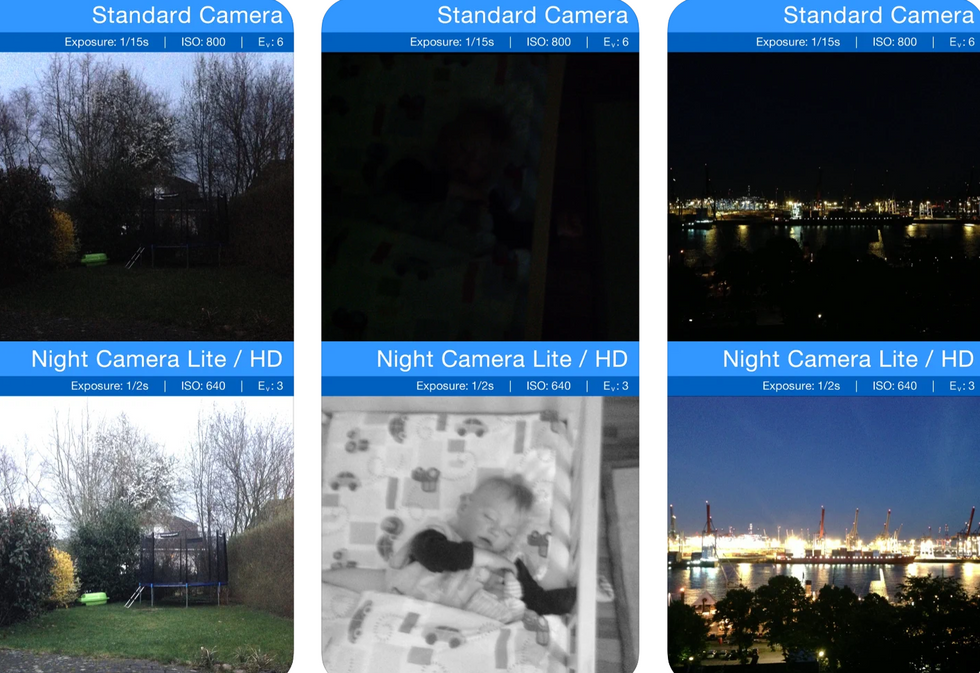 Night Camera photography app for iPhoneNico Schroeder
A simpler photography app, Night Camera does exactly what you would expect — it lets you adjust the ISO and shutter speed to take brighter nighttime photos. With the iPhone's own camera app sometimes keen to show off by excessively brightening low-light images, Night Camera can help knowledgeable photographers capture exactly the shot they want, with just the right amount of light.

I can see this app being particularly useful for astrophotography, and for capturing nighttime images with a deliberate amount of motion blur, perhaps of a camping fire.
There are a lot of settings to tweak, and even a live histogram, but there are also automatic options for those who trust the app to do the right thing with their shots. There is a fair bit of lag when moving the phone and setting up your shot, but only because the app is trying to show a live preview of what your photo will look like, so naturally the iPhone's processor is being worked hard.
ISO can be adjusted from 50 to 2000 and shutter speed can be set from 1/30th of a second to one second. This means very long exposures aren't possible with this app, but one second with a high ISO and the app's 'low light enhancement' setting switched on all help to bring more light to your shots. Exposure and white balance can also be adjusted or left on automatic.
Night Camera is free but shows an advert for three seconds each time it is opened. To remove this the app asks for a one-off payment of $0.99.
ProCam 8 – $6.99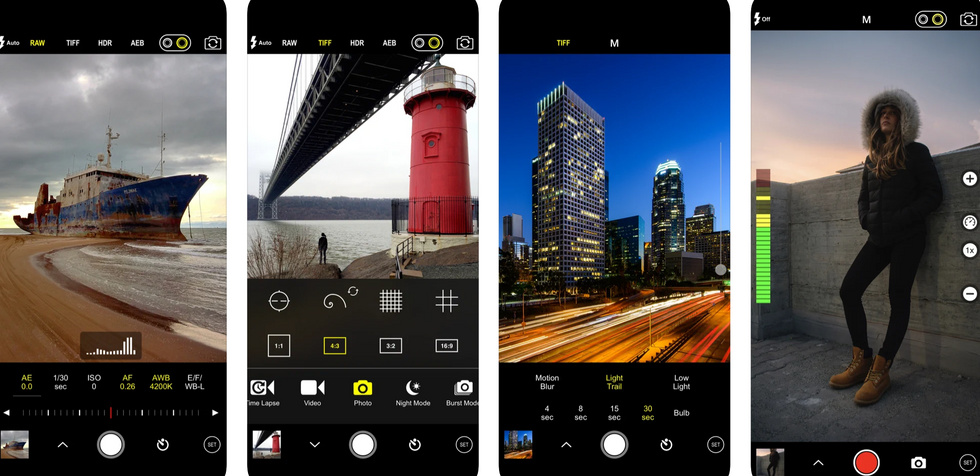 ProCam 8 iPhone camera appSamer Azzam
Stepping things up a gear, we have ProCam 8. This app is priced at $6.99, putting it above many others but I feel this is still an acceptable price point. White balance, focus, ISO and shutter speed can all be adjusted, while lossless RAW image capture means your photos retain much more data than those taken with Apple's own app – at least until Apple's new ProRaw file format arrives on the iPhone 12 Pro and Pro Max later in 2020.
Shooting in the RAW format means photos can be edited more comprehensively in an application like Lightroom, and without causing damage or reducing an image's quality. Lossless TIFF image files are also supported by ProCam 8, and there is a smart HDR mode that take three photos at a time to help balance shadows and highlights.

There are also options for picking the aspect ratio (including 1:1 for Instagram fans), and four grid overlay options, including one that helps you hold the phone exactly level (or at 90 degrees) when taking a photo. Further settings let you switch the iPhone's image stabilization system on or off, show or disable a live histogram, and even add a copyright to your photos.
ProCam 8 is equally adept at shooting video, with the choice of shooting with the H.264 or H.265 codec, and picking from a wide range of Full HD and Ultra HD video formats, with numerous frame rates to choose from including several not offered by Apple's own app.
There is also a time-lapse mode, burst mode, portrait mode, and the option to set a slow shutter. With that there are pre-sets for shooting in low light, shooting images with deliberate motion blur, and finally snapping shots with an artistic light trail.
Photoshop Camera – Free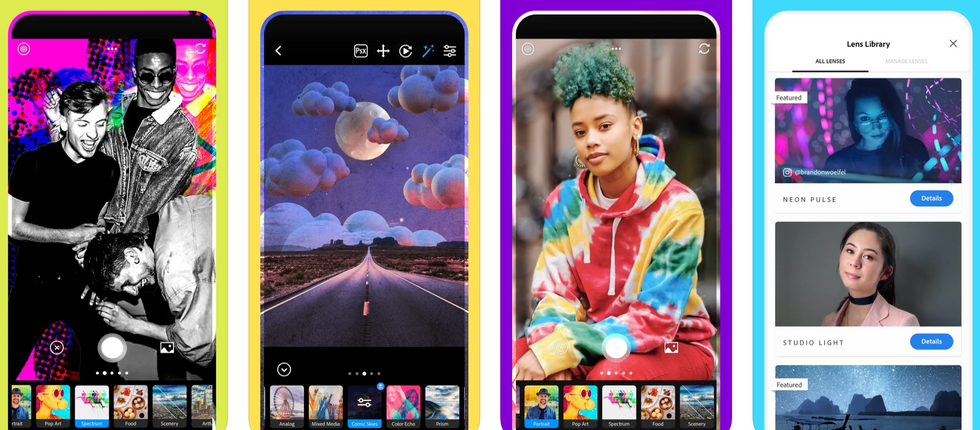 Photoshop Camera app for iPhoneAdobe
Finally, a bit of photography fun in the form of Photoshop Camera. Much simpler than its name suggests, this is a free app that uses Photoshop's power to apply a set of fun filters to your images.

I'm not talking about beautifying selfie filters here, but so-called lenses that show off what Adobe is capable of. One adds an artificial blue sky to your photos, replacing whatever the sky actually looks like with surprising realism. Another adds an artful, Vincent van Gogh-esque look with paint swirls intelligently added to your photos, and one adds a pop art theme.
I recognize that these have a limited use case, but they work really well and are far more impressive than the numerous portrait-enhancing/ruining filters that otherwise litter the App Store photography section. Adobe also adds more lenses every week, for free. The key here of course, is remembering you have all those lenses — and the app itself — and not just defaulting to the iPhone's own camera app.
Influence Series Case Designed for iPhone 12/12 Pro, Compatible with MagSafe, Patented Rotated Mute Switch, 10ft Drop Proof, Crux Accessories Attachment System, by Catalyst - Stealth Black
Like GearBrain on Facebook