Five months on from admitting it lost almost $40m in unsold Spectacles, Snap, the parent company of social network Snapchat, is preparing to launch a successor.
Evidence for the new wearable, which has been rumored for some time, came to light late on April 10 via an FCC filing. Although not absolute confirmation that a new Snap product will go on sale, this news means the company has been cleared to sell the device to the public.
Among the files submitted to the FCC, many of which contain redactions, is a packaging label for sticking to the retail box. It includes a barcode, the 'Made for iPhone' and Android logos, Snap Inc's name and London address, and the name 'Model 002', which makes sense given this will be Snap's second hardware product.
The label also states that "Spectacles, charging case, cable" are included in the box, and this particular box is for a black pair of Spectacles. FCC documents also reveal the new model will support the faster 802.11ac Wi-Fi standard, which the previous model did not, and Bluetooth 4.2.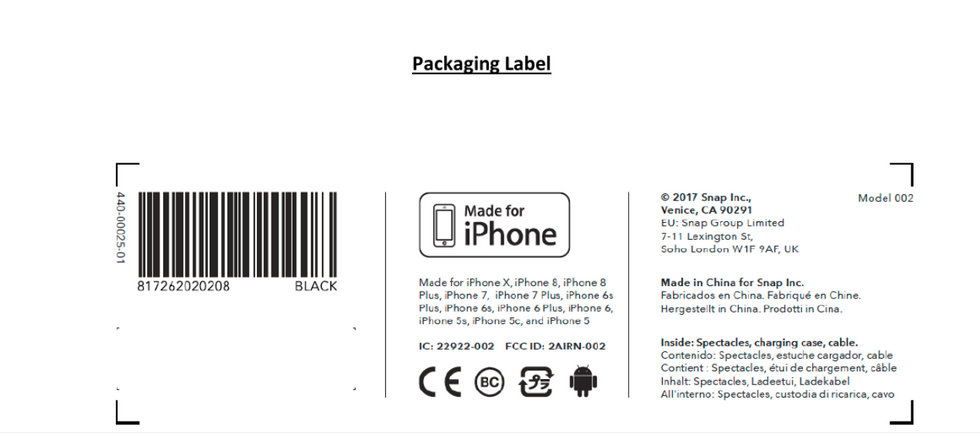 Packaging label suggests version two is close to launchFCC
Snap's first pair of Spectacles were a pair of non-prescription glasses with a small camera installed in a corner of the right-hand lens. Wearers linked the glasses to the Snapchat app on their phone and, with voice commands, could capture images and short videos with the glasses before sharing them with friends through the app.
Content uploaded to Snapchat deletes itself after 24 hours, a feature since adopted by Instagram Stories.
First spotted by Varsity, the FCC filing suggests Snap has learnt from the mistakes it made with the original Spectacles. As outlined in the company's third-quarter financial results in November 2017, the near-$40m write-down was due to "excess inventory reserves and inventory purchase commitment cancellation charges". In simpler terms, Snap built more devices than it could sell. A month earlier, in October, it was reported that hundreds of thousands of units were sat unsold in warehouses due to a fall in demand.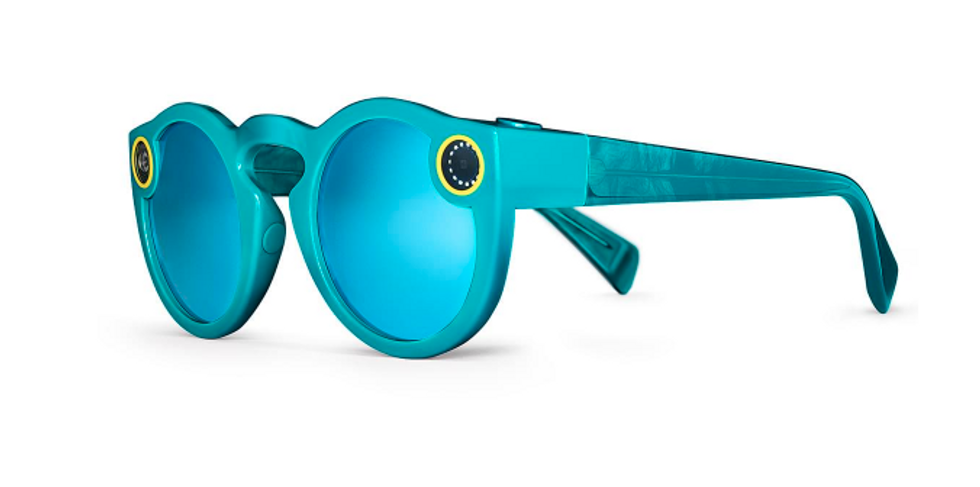 The current version of Spectacles, pictured, costs $130Snap
According to Snap chief executive Evan Spiegel, the company sold just 150,000 Spectacles in the 12 months from their launch in November, 2016.
It was an unfortunate end for the first generation of Spectacles, after Snap initially gained huge publicity by selling the glasses in small numbers through pop-up vending machines in large cities. These drew huge crowds who queued up in the hope of bagging the $130 gadget before they sold out. The demand also saw a grey market emerge, where Spectacles were sold for beyond their retail price to desperate buyers.
A price for the new model hasn't been confirmed, although it was reported by Cheddar in March that Snap was working on two new models. One would be a small upgrade to the originals, with new colors and water-resistance, while a third model is said to have GPS, a second camera to create 3D video effects, an aluminum frame and a $300 price tag.