Basic tasks as people grow older, such as remembering to take daily pills, can be difficult. Sometimes it's the memory that's an issue, sometimes there are mobility concerns. But as the population starts to age — 77 million people are expected to be 65 years and older by 2034, according to the U.S. Census — technology companies are seeing this shift as an opportunity to find solutions to support older adults, so they can continue to have the dignity to take care of themselves, and live alone if they choose.
From pill dispensaries that deliver the right meds, to robots that purr and wag their tail, but never need a walk or a trip to vet, these devices are bringing some comfort and support to adults who may not be able to climb Mount Kilimanjaro, but are still enjoying the adventure.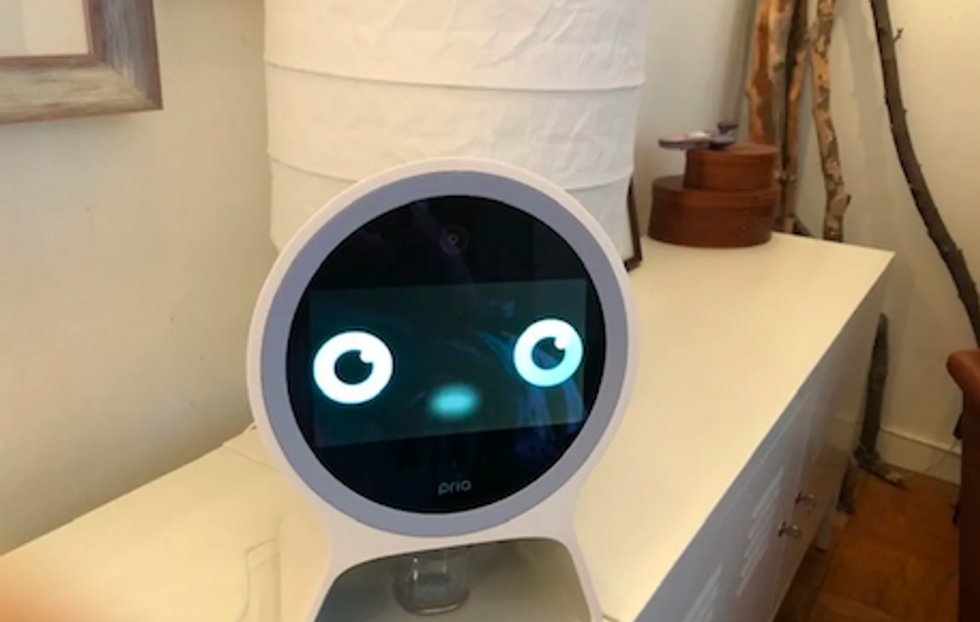 Black & Decker Pria can remind you to take your medication and chat with you as well.GearBrain
Pill reminders

Black & Decker's Pria launched at CES 2019, and combines a pill manager with a communication device. Filling it once a month, Pria dispenses medication daily, but also has an A.I. persona, which people can talk with, reminding them about health information they need to stay on top of as well. There's also two-way calling available.
Omron has a simpler and smaller version, which it showcased at CES 2020. The company's new app called Connect 2.0 will launch this summer, and works with RX Cap, a device that looks like a regular pharmacy-issued pill bottle. But this bottle comes with an app that allows caregivers and family members to see when someone opened the bottle to take their medication — and when they did not.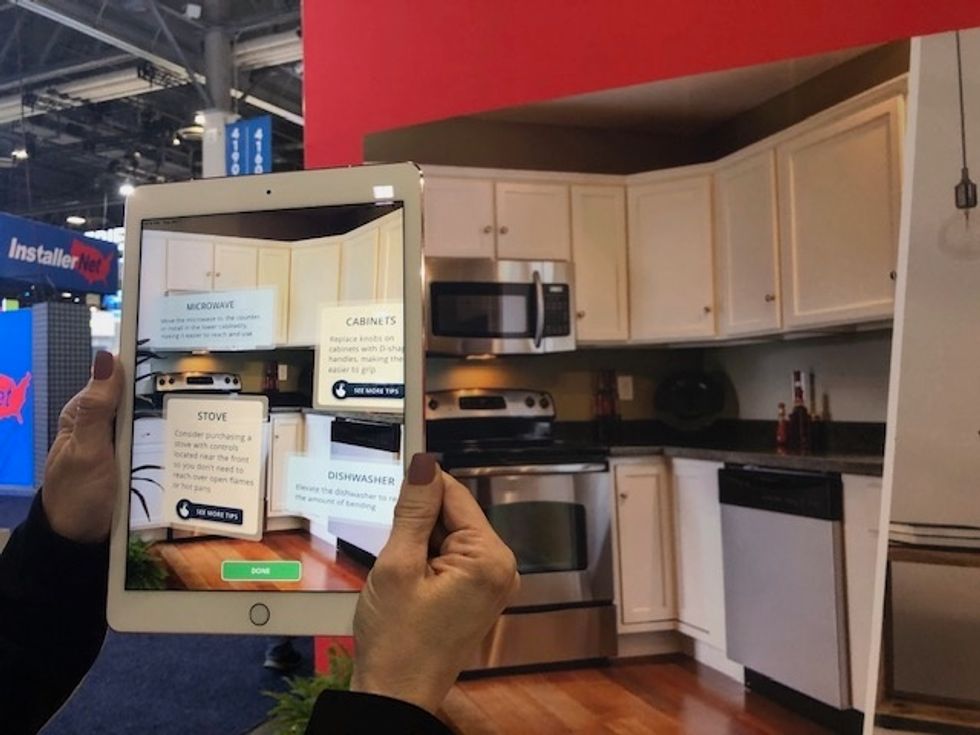 The AARP Homefit AR app can highlight areas of a home that need adjusting for those aging at homeGearBrain
Securing a home

The AARP, a non-profit group aimed at those 50-years-old and up, has a new app it's testing called Homefit AR, which takes tips from the American with Disabilities Act on how to retrofit a home. You can use the augmented reality app, which AARP's senior vice president of innovation and product development Andy Miller showed us at CES 2020. On an iPad, for example, little bubbles pop up when the tablet is aimed at certain areas of the home.
Maybe a microwave is too high and should be brought down to the counter level, or knobs on kitchen cabinets may want to replaced with U-shaped handles. These are some of the tips people can glean through the AR app, which are sent as a report via email, and then can be shared with family members. The AARP is also thinking of partnering with outside organizations, like realtors, so home-buyers could see how a new apartment or house would, or would not, work for them. Miller says the app should appear sometime in 2020.

The Lovot robot is designed to bring comfort and friendship to people aging at homeLovot
Robotic pets

Robots as elder-care companions were a big focus at CES 2020, designed for those who want companionship, but may not be able to handle the physical responsibilities of a pet.
That's the aim of Qoobo, a robot that looks quite a bit like a cat, save for the fact that it's missing a head. But there is a tail, which slips and twitches like an engaged feline. The robot works on rechargeable batteries, that last about eight hours, and an updated version is expected this year which will have a heartbeat, look like it's breathing, and respond to human voices through a microphone. The original version from 2018, which does not have a heartbeat nor breathing features, sells for about $149. But the new, smaller version, should be available this year at under $100.
You'll pay quite a bit more for Lovot, a robot on wheels with big eyes and clothes that can be washed. You can also cuddle this larger robot, which is about the size of a large beagle. The device has facial recognition built inside, said the company, and as you carry it around, and Lovot will start to recognize you. The robot is primarily on sale in Japan, and sells for about $3,000.
Is a $3,000 robot necessary for maintaining someone's independence as they grow older? Hardly. But certainly more companies are looking at smart technology to give people additional options so they can have assistance, at home, as they age — a smart decision for adults and families alike.