A fatal car crash near Houston, Texas involved a 2019 Tesla Model S, with apparently two passengers — but no one behind the wheel. Both passengers passed away after the car hit a tree and then went up in flames.
The car was moving at a high speed, according to a Reuters report, and went off the highway after failing to negotiate a curve. Local authorities stated no one was behind the wheel, and instead found two people — one in the back seat and the other in the front passenger seat. Authorities had to call Tesla for help in knowing how to extinguish the flames, because the battery kept catching on fire, reported local channel KPRC.
Teslas have been involved in other car crashes over recent years. One in 2018, involved the fatal crash of Apple engineer Walter Huang, when his Tesla Model X veered into a concrete barrier on Highway 101 in Mountain View, California. A two-year investigation by the National Transportation Safety Board (NTSB) put some of the blame on the car's Autopilot driver assistance.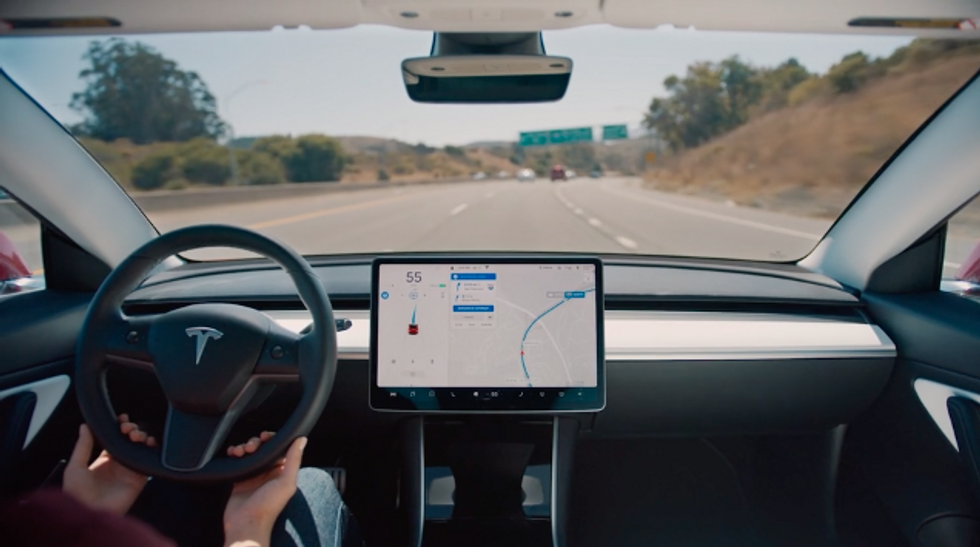 Tesls recently rolled out a beta test for Teslas that offered full self-driving capability Tesla
Teslas are known for their autonomous features, and has just started to roll out what its CEO Elon Musk calls a beta for full self-driving capability. This would allow the car to drive itself, without a driver's hands on the steering wheel nor having to focus on the road.

But consumer Teslas — aside from those reportedly in the beta test — nor any other consumer car on the road today is considered fully self-driving, and still require a person to be seated behind the wheel in the driver's seat. That would require what's considered primarily a Level Five automation, which Tesla and other companies like Waymo have been working towards for years.