PepsiCo placed the largest public order yet for the new Tesla Semi electric truck. The company behind Pepsi, Doritos, Mountain Dew and Tropicana has reportedly handed over a $2M deposit for 100 trucks.
The Tesla electric truck, revealed by Tesla boss Elon Musk in November, claims a 500-mile range, will be 20 percent cheaper to run than a conventional diesel semi, and goes into production in 2019.
The order may sound impressive, but the trucks are a mere drop in the ocean of 10,000 trucks PepsiCo currently operates. Still, the investment certainly helps the food conglomerate reach its own target to reduce greenhouse emissions across its supply chain by 20 percent by 2030.
PepsiCo's order, confirmed by Reuters, is by far the largest public Tesla Semi order yet, coming the same week that Budweiser parent Anheuser-Busch ordered 40 of the electric trucks. The beer maker hopes to lower its own carbon footprint by 30 percent. In all, Tesla has reportedly received close to 300 orders for the Semi to date.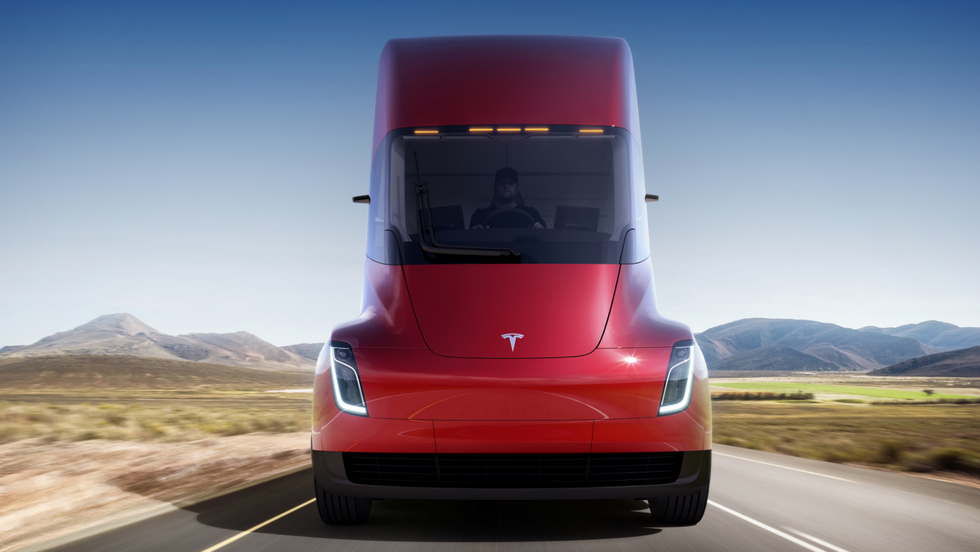 The Tesla Semi features a central driving positionTesla
Over a dozen companies have already placed orders for the vehicle, which requires a $20,000 deposit. Tesla says the truck is expected to start at $150,000 when it goes on sale, keeping the Semi in the same ballpark as diesel-powered alternatives.
The vehicles will be charged, according to Musk, via a new network of Tesla Megachargers, giving the Tesla Semi a 400 miles range in just 30 minutes — and will include Tesla's Autopilot, its driver assistance and safety system.
Walmart ordered 15 trucks for a pilot program shortly after it was launched. At that time, just a $5,000 deposit was needed per unit because of a promotional offer. Food wholesaler Sysco has ordered 50 Tesla Semis to join its fleet of 7,500 trucks currently in service.
Transporter JB Hunt ordered 40 trucks from Tesla shortly after the vehicle's launch. The company said the move "marks an important step in our efforts to implement industry-changing technology. We believe electric trucks will be most beneficial on local and dray routes, and we look forward to utilizing this new, sustainable technology."
Other companies in Tesla's order book include DHL, Loblaw, Girteka Logistics, Ryder, Fortigo Freight Services, Best Transportation and Mecca & Son Trucking.