Like GearBrain on Facebook
Elon Musk has revealed the new Tesla Semi, a Class 8 truck which is all-electric, has a central driving position, a futuristic interior and a claimed range of 500 miles at highway speeds.
Musk also claimed the truck is capable of accelerating from zero to 60mph in five seconds without cargo, which is unlike anything the haulage industry has ever seen. The Tesla CEO went on to say the truck takes 20 seconds to reach 60mph when carrying 80,000 lb, the highest weight allowed on US roads. Described as "trailer-agnostic", the Tesla Semi can haul any type of freight.
Although the truck's range is some way short of the 1,000-plus miles a diesel semi truck is capable of, Musk claims his vehicle is 20 percent cheaper to operate per mile than a diesel alternative - and that figure, said to be the "worst case scenario" for the Tesla, takes into account the cost of leasing the vehicle, plus insurance and other factors.
It is unclear if this includes the cost implications of long-haul deliveries taking longer due to recharging.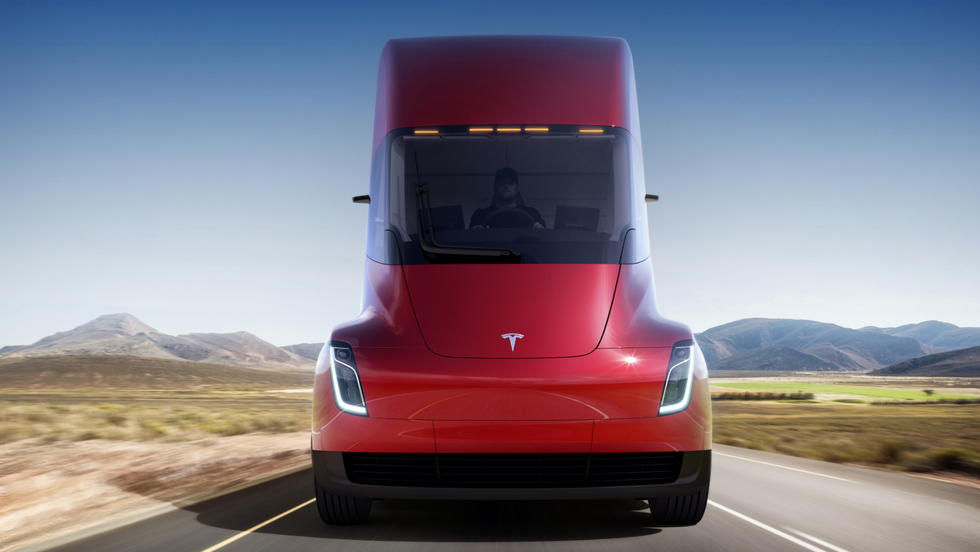 Tesla Semi is claimed dot be more aerodynamic than a supercarTesla
Part of that cost saving comes from the truck's aerodynamic shape, which the chief executive said creates less drag than a Bugatti Chiron. However, he failed to explain that trucks are designed to be as aerodynamically slippery as possible, while supercars like the Chiron are designed to generate downforce.
Musk said the truck will feature some self-driving technology, including automatic braking, lane guidance and collision warnings; "this is a massive increase in safety" the Tesla boss said. Musk also claimed Tesla's autonomous technology makes platooning - where trucks closely follow the lead of the one in front on highways - ten times safer than human drivers.
There is nowhere for the driver to sleep in the Tesla Semi - something other trucks fit in the roof - but instead the two-seat cabin is light and airy, and designed to maximize space to move around inside. The truck has a central driving position - Musk said it feels like a race car - and the passenger seat is mounted behind and to the side of the driver. There is a front truck, or "frunk" under the truck's nose for additional storage and access for routine servicing.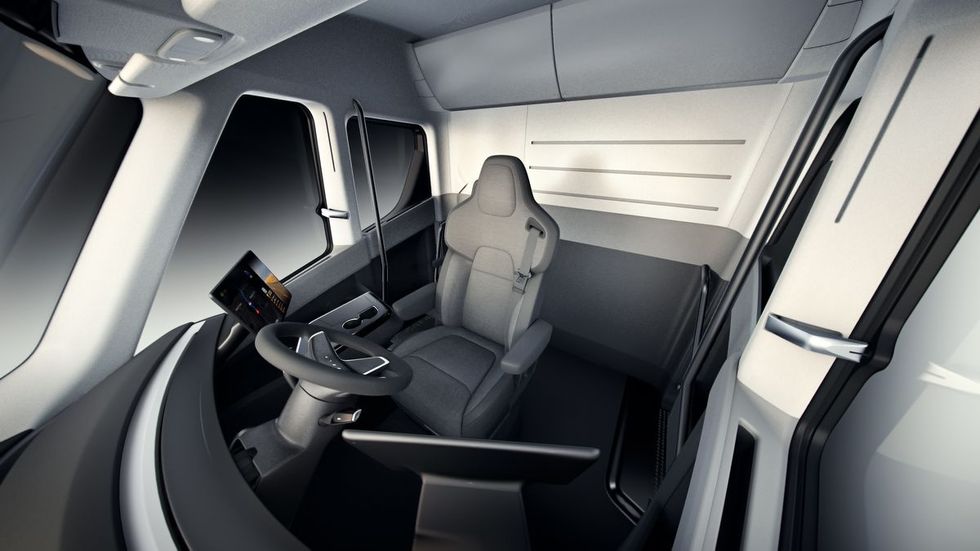 The cab features a central driver's seat and two touchscreen displaysTesla
"I can drive this thing and I have no idea how to drive a semi," Musk joked during the truck's launch, which took place at a Tesla facility in Hawthorne, California.

The dashboard features the same display panel as the Tesla Model 3, only this time there are two, with one either side of center. Other items borrowed from the company's cheapest car include the turn signal and gear selector.
Tesla says the truck's drivetrain - the motors and hardware built to deliver power to the wheels - is guaranteed for one million miles. Musk said the brake discs never need to be replaced. because much of the energy required to slow an 80,000 lb truck comes from turning the drive motors into generators, just like how Tesla cars slow down with minimal use of the brakes.
The truck has a battery pack in its floor which sends power to four motors located on two axles, making it four wheel drive. By adjusting the amount of torque delivered to each driven wheel, the truck will automatically work to prevent itself from jack-knifing in difficult conditions; Musk went so far as it claim that jack-knifing is "impossible".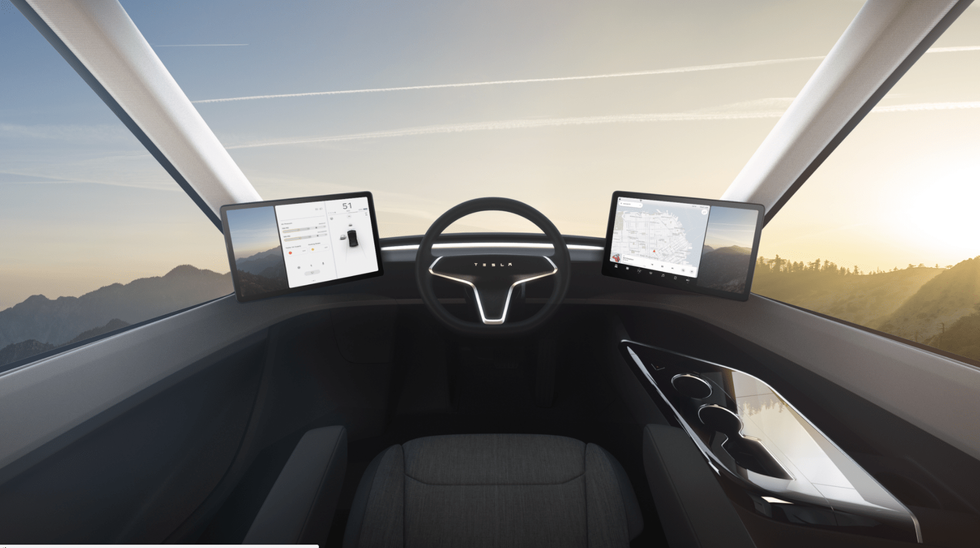 Touchscreens comes from the Model 3, along with other controls and switchgearTesla
As for re-charging, Tesla claims the truck can be given enough electricity for 400 miles of range in just 30 minutes. However, the company has not yet said how the truck's charging network will operate. Tesla's car-focused Supercharger network does not provide parking spaces large enough for a semi truck.
Musk claims that orders placed today will be delivered in 2019 - the same year some who ordered the Model 3 18 months ago will receive their car. It is a tall order for Tesla, which is currently in what Musk has repeatedly described as "production hell". The company is trying to mass-produce the Model 3 on a scale it has not encountered before, as shipping times for the 500,000-order waiting list begin to slip while production gremlins are ironed out.
Like GearBrain on Facebook