Like GearBrain on Facebook
Pros: Easy to install, stylish design, low price point

Cons: Works over Bluetooth network only, three month battery life
The simplicity of ThermoPeanut, and the whole Sense Peanut line, is one reason we named them to our Best of CES picks this year. For many, smart home products are daunting. People believe they need specialized experience or equipment just to bring a smart product into their home. But Sense has figured out a way to link smart product-like uses into the consumer space for a reasonable price point. We think of them as training wheels into the smart home space. When Sense offered us an opportunity to test its ThermoPeanut, we took them up on the offer.
To start, Thermo Peanut is easy to launch. You download the iOS or Android app, and then physically attach the Peanut to where you want it to live. This can be on a wall, a tabletop or even outside. Because the device is so small you can take it with you: in a car, on a vacation, on a bike ride. And you can use multiple Peanuts for different spaces in a home such as a garage, bedroom and even the refrigerator. The device comes with a clip holder, key ring, putty and adhesive tape to attach ThermoPeanut to walls or even to your clothing.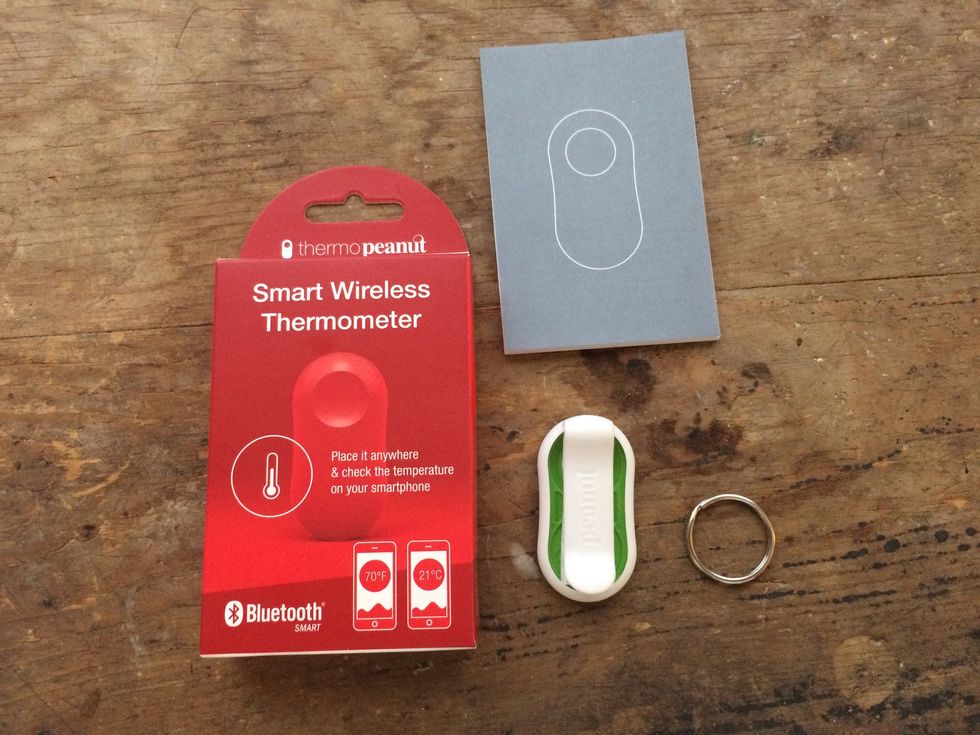 I live in a two-bedroom apartment where temperatures rarely fluctuate wildly from room to room. That said, I have yet to spend a winter in my apartment where I don't have the windows thrown open. To say we roast in the winter is not inaccurate. Until now we haven't had an opportunity to accurately measure the temperature. Daily, sometimes hourly, checks of my apartment produced wide temperature ranges.
After three days, I found the apartment temperature ranged from a high of 83°F to 72°F. I got alerts—a lot—when ThermoPeanut sensed the apartment was running outside the temperature range I had preset: 59°F for the low (which we never even got close to touching) and 75.4°F for the high limit, which was breached daily.
ThermoPeanut also offers many ways to customize your settings on how often the device would read the temperature, to how often I would get notifications (I set this for two hours). I could also set readings in Celsius or Fahrenheit. There are also sound alerts you can add: Three rings sound if the temperature is too high. Two rings if the temperature is too cold. The Sense app can also read other Peanuts that the company makes including GuardPeanut, a motion detector, the SleepPeanut, now in pre-order and MedPeanut which hasn't launched as of yet.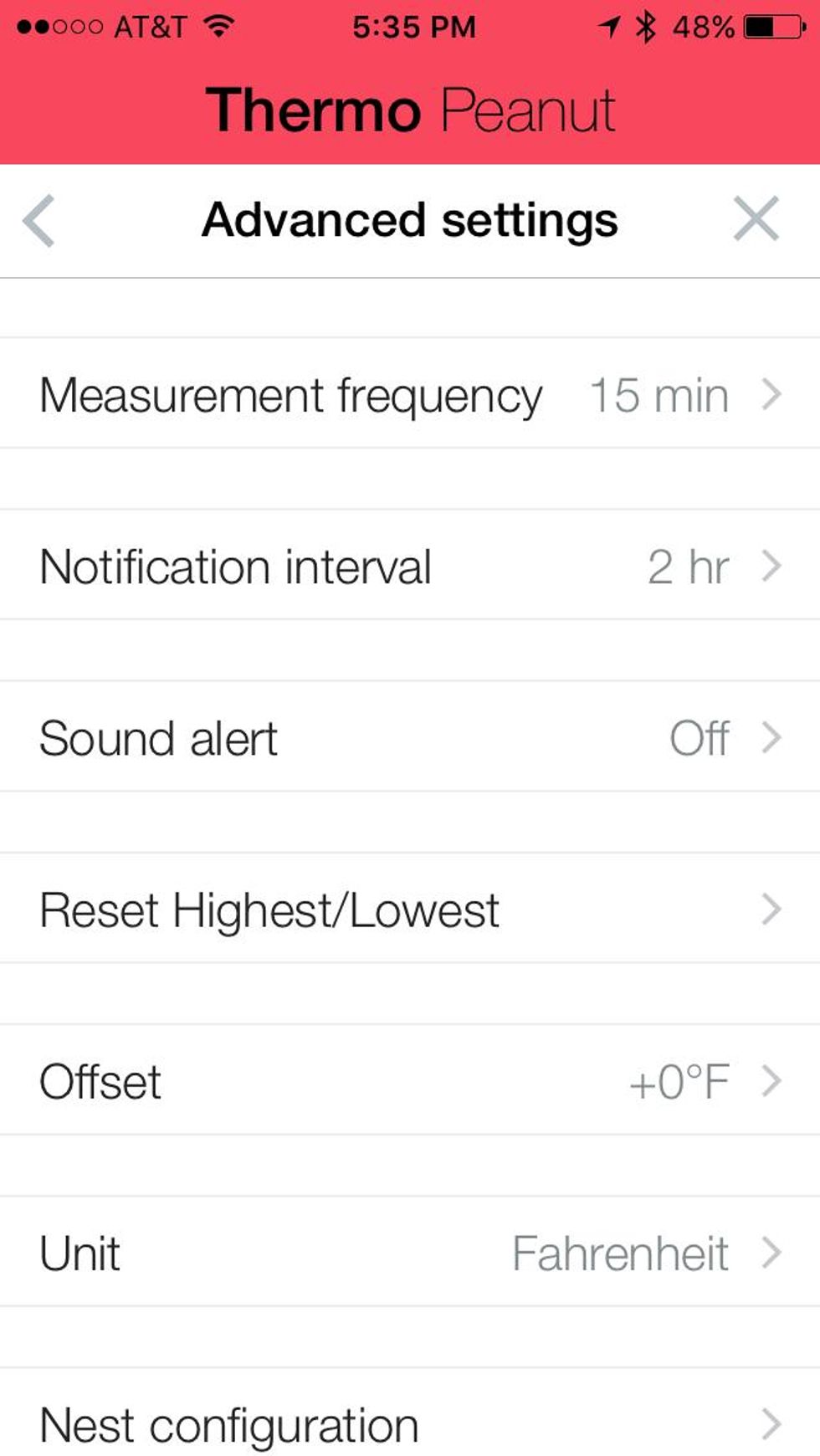 I loved checking the temperature—if only because for me, this was a perfect way to know I wasn't losing my mind, and no, wearing tank tops in January in a New York apartment is not the norm.
My phone had to link to Peanut via Smart Bluetooth—which meant I had to be within a decent range. Even in my neighbor's apartment, I couldn't get a read from the wireless ThermoPeanut. I could pull up old data—but only readings last picked up when I was in Bluetooth range of the device. A live temperature scan is not possible unless you're in the same space as the product. Note: this isn't a smart thermostat. ThermoPeanut monitors your temperature but can't regulate the heat or cold in a space. So for anyone looking to use the device to keep tabs on how the current temperature of their home while they're at work or on vacation—and maintain that setting—this isn't the right product for you.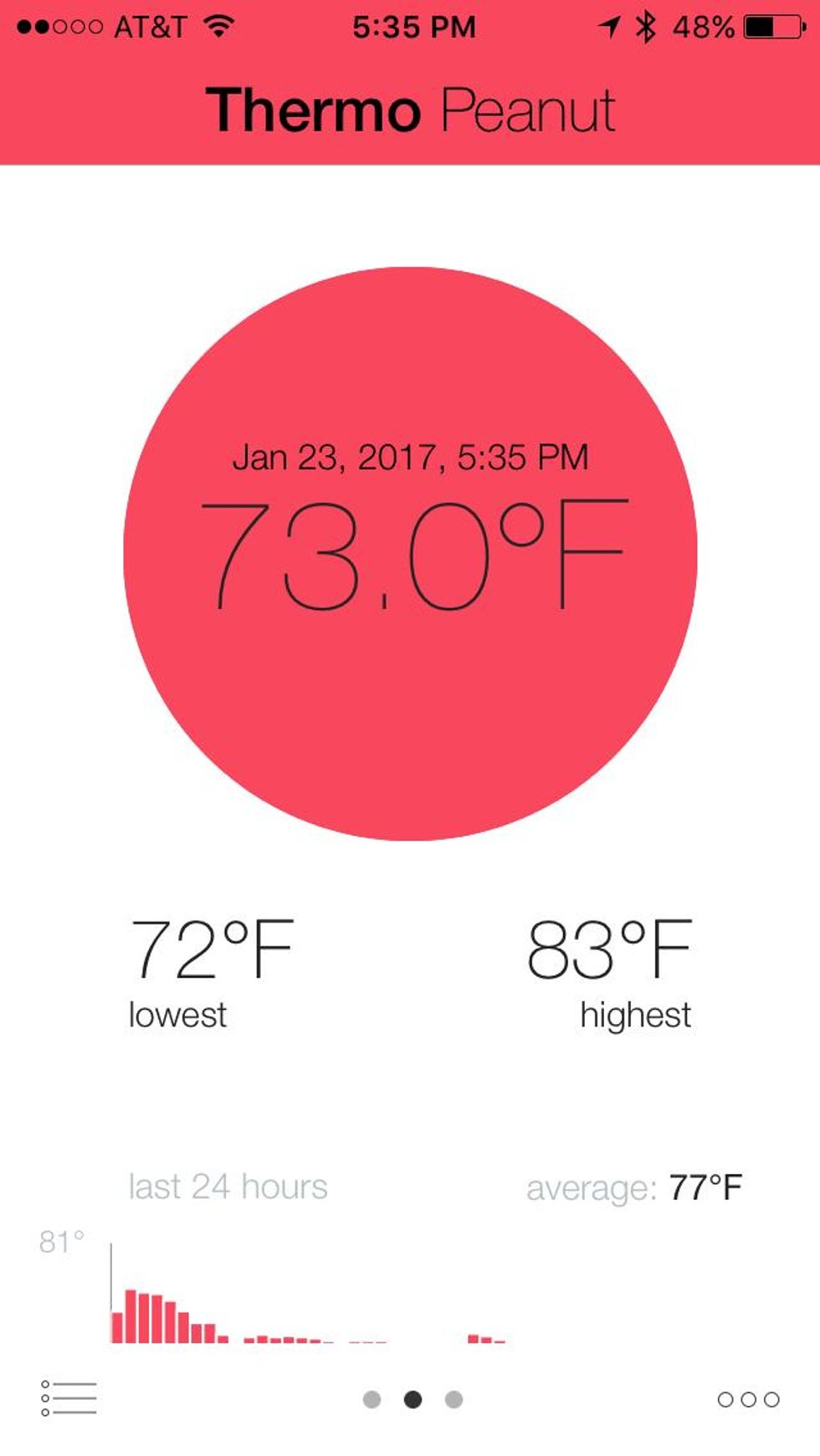 We left one weekend, and I forgot that ThermoPeanut wasn't attached to the Internet, and therefor unable to send me temperature readings via my phone. In that way, this fell short of a true smart device. However, you can configure ThermoPeanut to Nest. Specifically, you can have ThermoPeanut link to your Nest thermostat, and send alerts when temperatures go higher or lower than targets you've set there.
Priced at $29, ThermoPeanut is a decent device. It's runs on a battery, which lasts about three months, says the company. We didn't test the device for longer than that and can't vouch if it's true or not. But the battery is easy to replace. For those who want to be able to
monitor their home temperature
ranges while in the house—and try out the idea of a smart device—I found ThermoPeanut a solid first option for anyone looking to step their pinkie toe into the smart home world.
Like GearBrain on Facebook