Like GearBrain on Facebook
GearBrain's compiled what we think are the Top Ten Gear VR Apps to get you started. Some are free, some cost a bit more. All are worth it.
Did you get a Samsung Gear VR over the holidays? Congratulations. You now have the best mobile virtual reality headset on the market. You also get access to some of the coolest, if not odd, VR apps on the market today—many of which are found through the Oculus app. (Follow your Gear VR install instructions to download Oculus, found inside Gear VR's app store.)
Sure, Gear VR has a limited selection of apps when compared to the 1,000-plus Google Cardboard apps flooding the market today. And yes, the Gear VR store is also not particularly easy to navigate. (Yes, we're talking to you Samsung.) But not to worry.
You can download any of the following apps from within the Gear VR headset by following the headset installation instructions, then searching for the apps in the "Store" section of your home screen. Another, faster way to download Gear VR games and experiences is through the Oculus app on your smartphone. As of yet, there is no website for the Gear VR app store.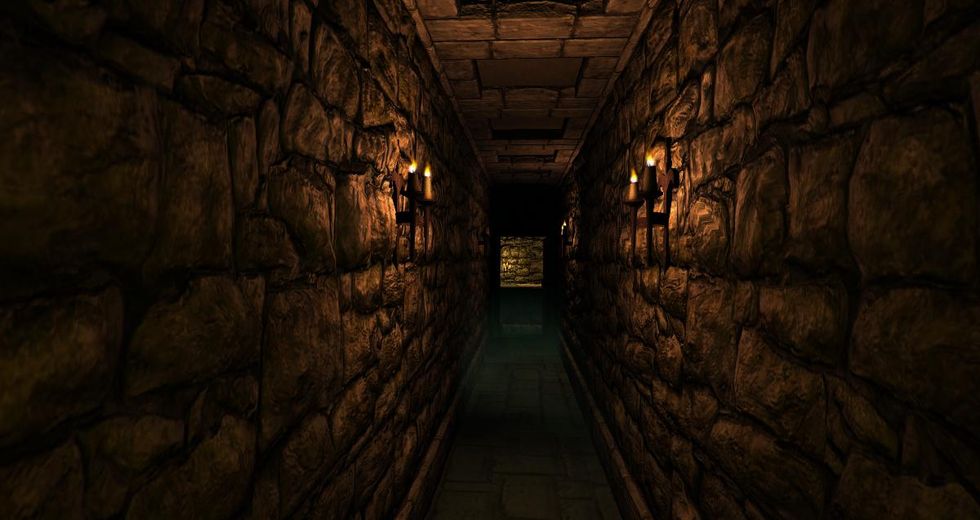 10. Dreadhalls ($4.99)
Unlike the more passive experiences above, virtual reality games are, so far, more of a hit-or-miss experience. Games can take a long time to create, so there are few good ones on the market yet today. Plus, developers haven't quite worked out all the movement mechanics, so some games may make you feel queasy. Dreadhalls, where you explore dark corridors filled with monsters, is likely to either become your favorite game, or your least favorite one. I'm not a fan of horror games, so if you're like me, do not buy this game. Do not play it. And certainly don't play it with the lights off when annoying friends can sneak up behind you. Or, at least, try the free demo version first. Besides being scary, another problem I had with this game is the motion. You can walk and run through corridors in the game. In real life, however, you're sitting in a swivel chair. If you have a sensitive stomach on top of being easily scared, like me, then this game is definitely not for you.
Other horror games you might try include Into the Dead ($8.99) and Sisters (free).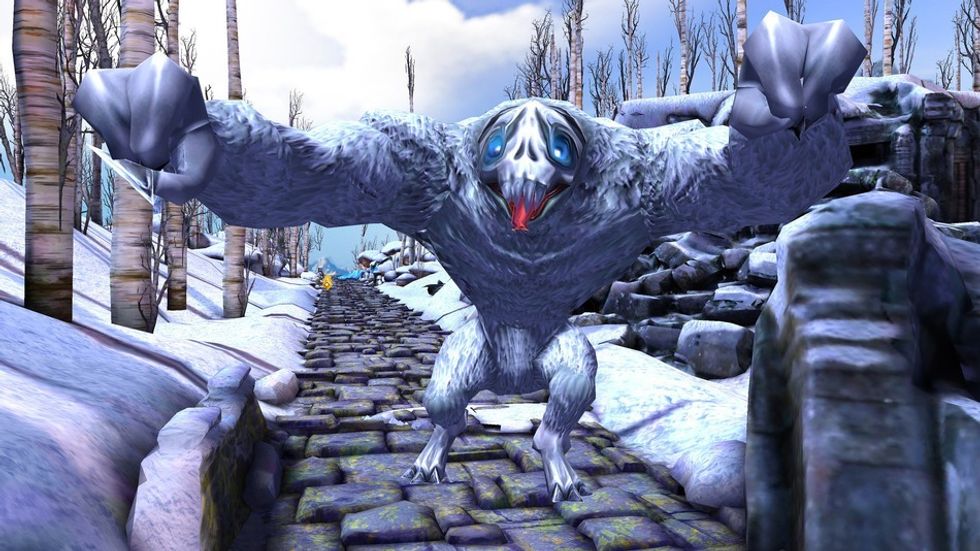 9. Temple Run VR (free)
Like the name suggests, this app is a virtual reality version of the popular mobile running game, except now you are the runner. Look back and see if the gorillas are gaining on you. Ideally, I think this game would be great for a treadmill. Other people report a lot of fun with this game. But the constant motion didn't sit well with me. Fortunately, the game is free, so you can try it out and see how you like it.
Other fast-moving games you could try are Lamper VR: Firefly Rescue ($2.99) and Smash Hit (free).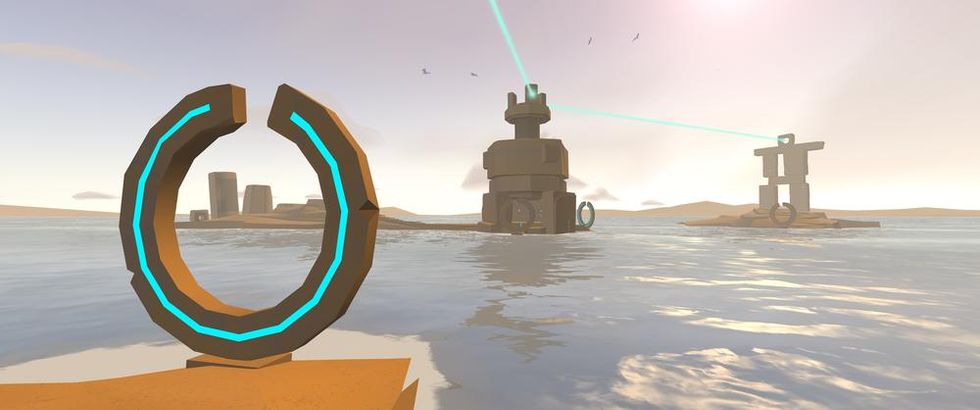 8. Land's End ($9.99)
Here Gear VR moves into the puzzle game arena. Reviewers have gushed over the quality of the landscapes, which players look around to find puzzles to solve—such as a connect the dots, only using lightbeams. The game gently builds to more and more complicated puzzles as you move around rocky hills on a group of small islands in the middle of the ocean. The experience is soothing and slightly surreal. You do move throughout the game, but the motion is gentle enough that it didn't affect me much. Plus, you spend most of the time standing still, just looking around, solving puzzles.
Other puzzle games you might enjoy are Esper ($4.99) and Dead Secret ($9.99).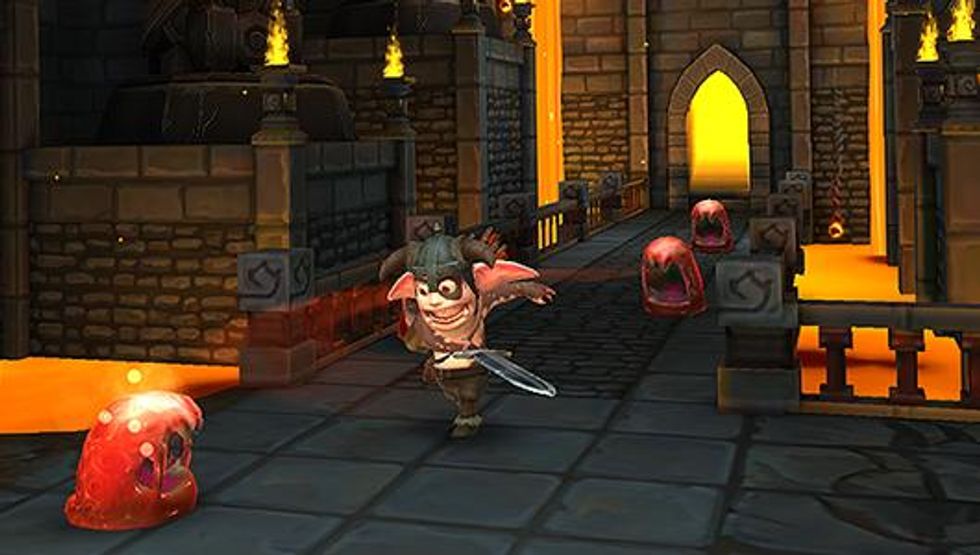 7. Herobound: First Steps (free)
Herobound offers a traditional fantasy adventure game experience, where you control (and view) a little goblin character. The stationary point of view reduces queasiness, while you still have the freedom to look around in all directions. There are cute graphics, plus lots of puzzles and fights. You do need a separate controller to play this game, though. If you like the game, try the full version, Herobound: Spirit Champion ($9.99).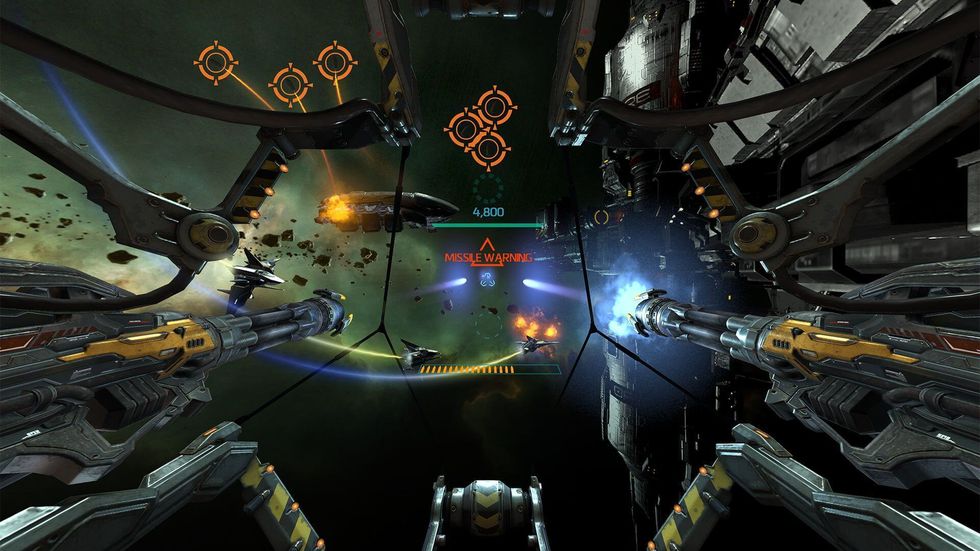 6. EVE: Gunjack ($9.99)
My favorite game for the Gear VR is EVE: Gunjack, a game with high production values and a seated, cockpit-based playing environment that felt comfortable to me no matter how long I played. You're supposed to be able to play Gunjack with just the built-in touch controller that comes with the Gear VR. But I found the controls not as responsive as I would have liked, especially when it came to reloading. Get an external controller instead, which will not only serve you well in this game, but in many others.
For other space shooters, try Anshar Wars (free) and Anshar Wars 2 ($7.49).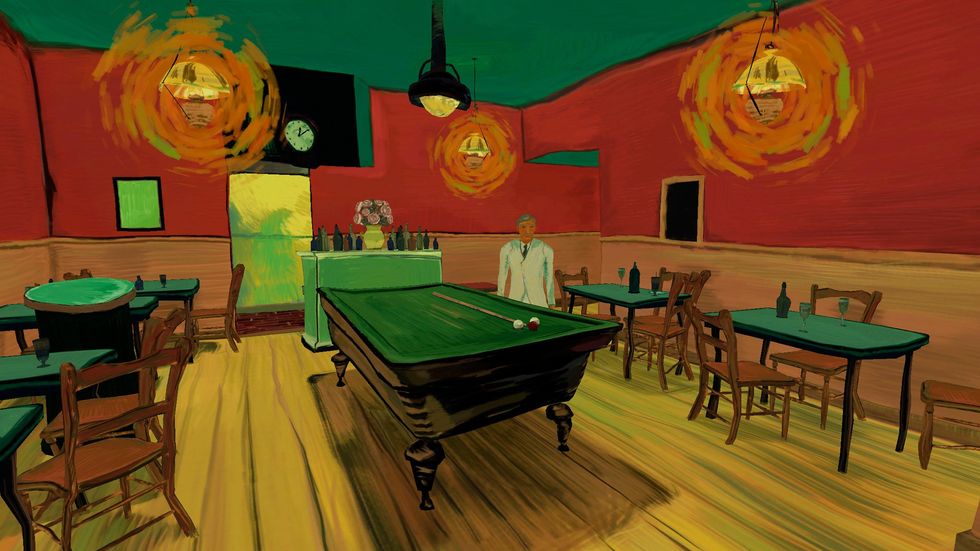 5. The Night Cafe (free)
Have you ever wanted to step into a painting? This app fleshes out Van Gogh's The Night Cafe as a virtual reality environment. Go through the main room, turn to the right, and watch the piano player. There's also a door that opens here, and a window you can peer out of as well. But, over all, this is a contemplative experience. There are no big explosions, just a beautiful environment and calming music. This is an experience clearly not possible in real life that demonstrates the power of virtual reality.
For more visual pleasure, search for Cirque du Soleil in the app store, which currently has two performances that put you right in the middle of the stage.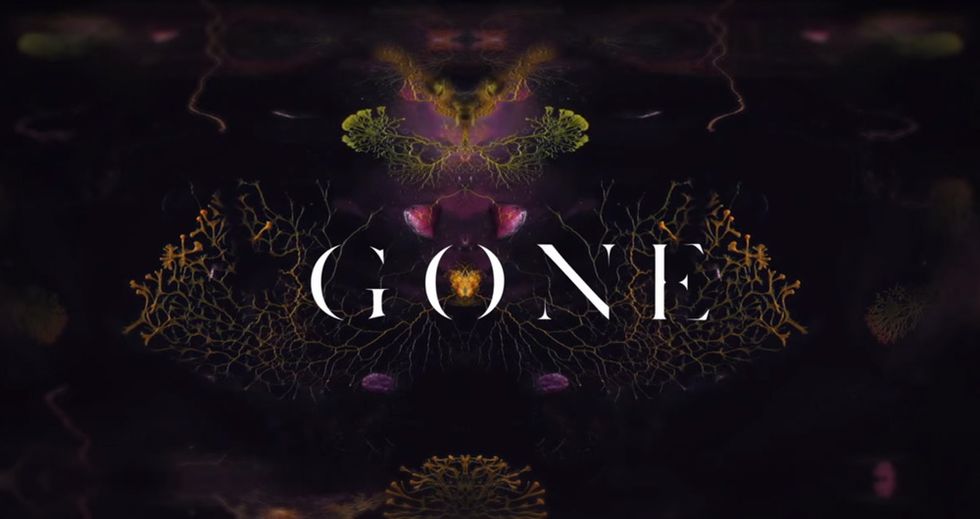 4. Milk VR (free)
Load up this app to watch Gone, an episodic thriller from the makers of The Walking Dead. Here you get to search for a missing character, through a 360 degree look of every scene. There are plenty of other virtual reality videos here as well. An added bonus? If you already have other VR or 360 videos that you'd enjoy watching, you can move them into the Milk VR folder, inside the "Phone" folder on your Samsung device, to watch them.
Other video platforms to check out include NextVR (free), which livestreams sports and news events. Penrose (free), which is an app that features animated short films, and VRSE (free), which features VR documentaries. There's also Flickr (free), for enjoying 360-degree panoramic photographs.
3. Samsung Internet (free)
If you think surfing the web while wearing the Gear VR headset, this app is made for you. Since typing on a virtual keyboard is not a pleasant experience, the Samsung Internet app has a built-in voice recognition to help you speak your commands aloud instead. You can even watch YouTube videos, both the traditional videos that play on a large virtual screen, and the 360-degree and virtual reality videos, though the quality of the latter varies greatly. If you're used to using the YouTube app with Google Cardboard headsets, you'll be disappointed, but this is bound to improve over time, however.
Meanwhile, there are several other apps in the Gear VR store for watching videos and photos. In addition to the ones mentioned elsewhere on this list, there's Oculus Video (free), 360 Photos (free) and Littlstar, a 360 and VR cinema app. (free).
2. Netflix (free)
This app puts you on a couch, in a comfortable living room, in front of a large-screen television, with, yes, the familiar Netflix screen. You still have to have a subscription to Netflix. And logging in to the app is a bit of pain because you have to use the virtual keyboard. But other than that, this is a great way to watch all your favorite Netflix shows and movies on a giant private screen if, say, you don't happen to own a TV, or if you're stuck on a long airplane flight, or if you just want to watch your movie in private.
The experience is so engrossing that I kept trying to put my feet up on the virtual coffee table—-which wasn't actually there in real life. Netflix does not currently have any 360-degree or VR movies, and the few 3D movies it has in its collection do not show up in 3D in this app.
As for other channels? As of this writing, none of the major TV networks have Gear VR apps. Hulu's Gear VR app was originally scheduled for a Thanksgiving release, but has reportedly been pushed back to later this spring.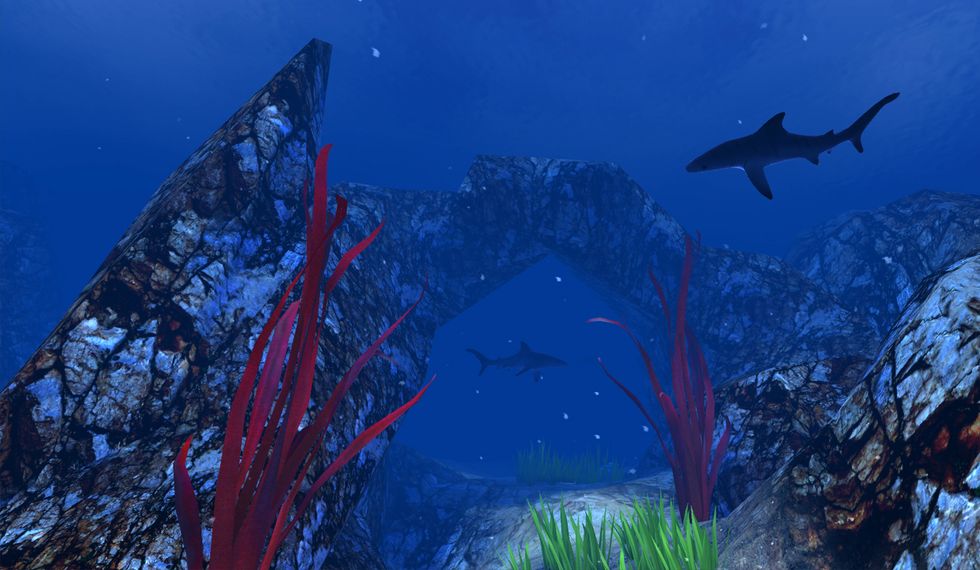 1. Ocean Rift (free)
This is my favorite app when showing off the Gear VR headset to friends. I load Ocean Rift up, and choose the great white shark option. That puts you inside a shark cage as the sharks try to bite through the bars and get to you. There's no swimming around——the bars of the cage are in the way. But when you turn around and see a shark coming at you, let's just say it's okay scream. This app is great fun. Plus the lack of virtual movement inside the app means you don't need pre-training on using the touchpad--and no one gets queazy from the motion. After you're done scaring your friends, check out some of the other experiences in the app, where you can see whales swimming as well. Ocean Rift's free version has most of the good stuff, including the shark cage. The paid version adds a couple of other undersea locations. But I'd save my money.
For more ocean action, also check out theBluVR (free).
Like GearBrain on Facebook