Like GearBrain on Facebook
At GearBrain, we test many connected devices that have multiple features — such as smart connected hubs that also double as home security systems. TRENDnet's new Indoor HD Wi-Fi light bulb is another example — a 2-in-1 connected device that combines smart light and HD security camera functions. We put TRENDnet's new smart light to the test — here is what we found.

TRENDnet's new Indoor HD Wi-Fi light bulb and surveillance camera is a 6W LED bulb (40W equivalent) with 360LM brightness (4000k Warm White). The device also has a built-in security camera with 720p HD resolution, 185-degree field of view (FOV), PIR sensor — which can detect motion up to 4 meters (13.1 feet) — and a built-in two-way speaker. There is also a microSD card slot where you can locally store video (up 64GB). The design is simple, and the light can be controlled by a mobile app which you can download for free from either the App Store (iOS devices) or from Google Play (Android devices.)
Features

Setting up TRENDnet's HD Wi-Fi LED light bulb is very easy: Just screw the light bulb into a standard recessed light socket and use TRENDnet's mobile app, ReadyView. If you need any additional help, you can go to TRENDnet's web site to view videos that show how to install the light, use the ReadyView app and also provides an overview on the bulb's features.
Since the camera can be easily installed into your room's ceiling light socket, the HD camera can cover up to 185 degrees diagonally, while delivering a 360-degree fisheye overview of the room. If you have a large room you want to monitor, the smart light bulb can not only screen activity but also alert you when unwanted visitors might arrive.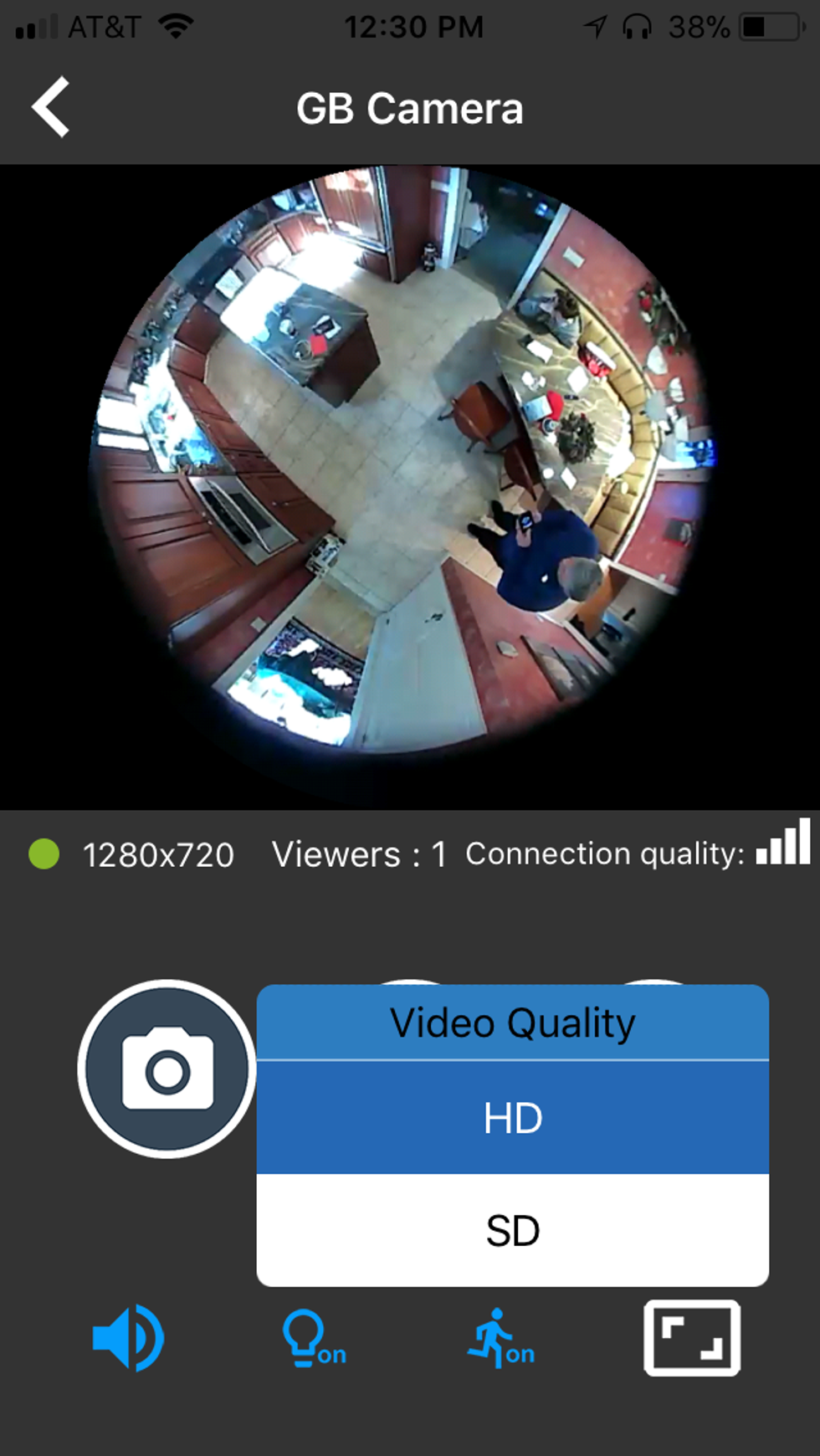 TRENDnet's ReadyView mobile app provides 185 degree FOV and 360 fisheye view of the room. Also HD or SD quality video resolution which you can control through the app.GearBrain.com
The bulb also allows you to zoom in and out of a room. Using the ReadyView mobile app, you can get close-in to objects or rotate the camera angle in the mobile app by using your fingers. The camera has 1.8x digital zoom capability, a focal length of 0.95mm, F2.0 and both SD (640x480) and HD (1280x720) video resolution (H264: 1280 x 720 up to 30 fps). When we tested these features, we found the video to be not only clear — but were able to see objects very easily during the day. At night, however, we had a problem: The device lacks night vision, and you will need a light to see any activity from the camera.

We did like the light's telescopic arm. Since many light sockets have different depths, TRENDnet's HD Wi-Fi Light Bulb comes with an arm that extends from 10cm to 15cm (4" to 6.25"), letting you to adjust its length so you can choose, if you want, to have the light flush against your ceiling.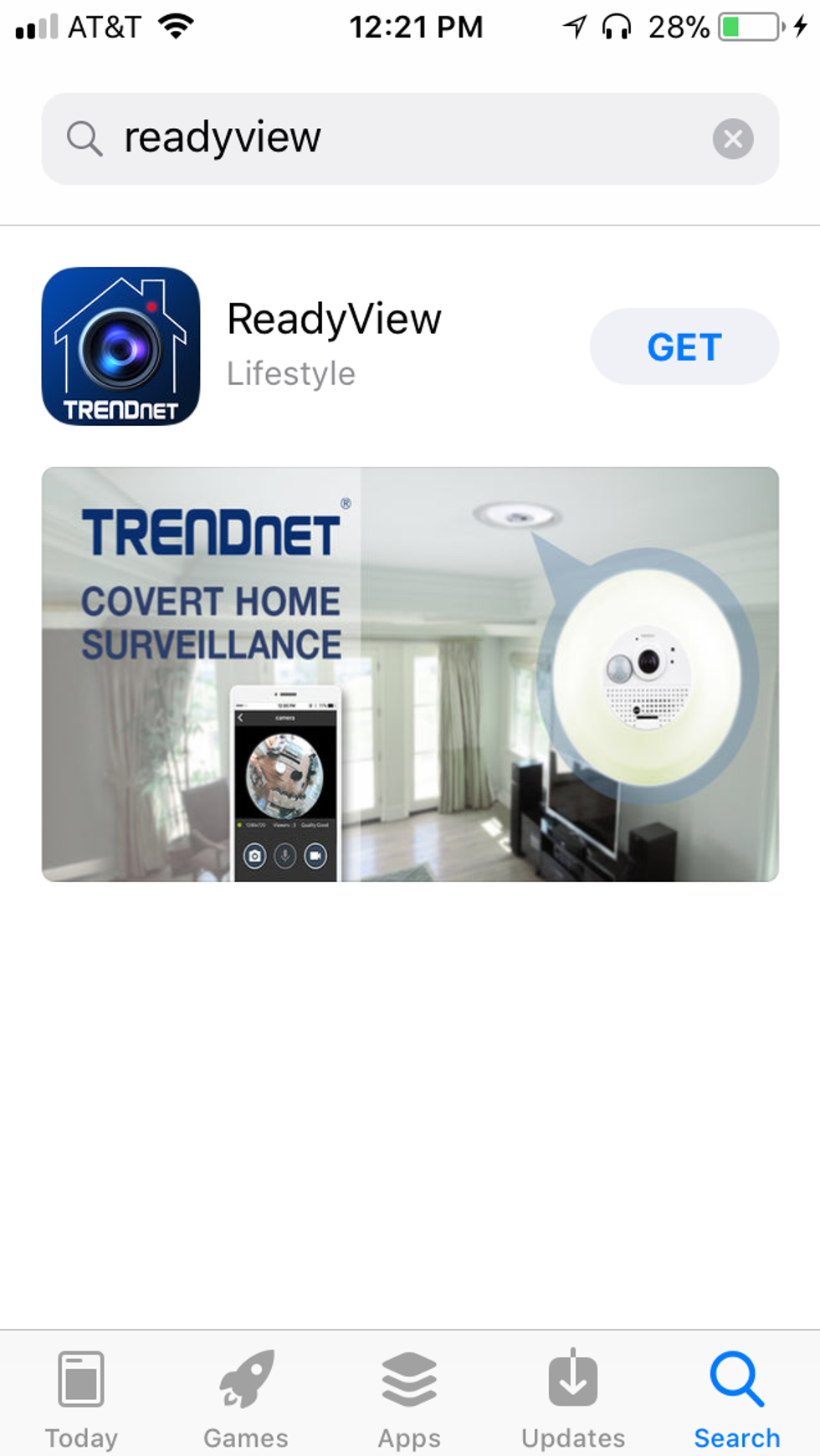 TRENDnet's lmobile app, ReadyView is available in App Store (iOS) and Google Play (Android). GearBrain.com
App use

Through the mobile app, you can setup notifications and alerts to go off when motion is detected. The notifications are sent through email, with alerts appearing on your smartphone through the ReadyView app.
In the box, with the light, is a card that's attached including the default Wi-Fi and smart light passwords which you will need to pair the device with your home Wi-Fi router. Your light works by being connected to your home Wi-Fi network.
Once you download the ReadyView mobile app, follow its instructions from the mobile app to pair to your network. Once paired, you'll get a verbal confirmation from the TRENDnet Light Bulb. We would recommend choosing a room with a strong Wi-Fi signal, and installing the bulb there. You'll find it easier to monitor video which is stored locally on a microSD card. The card itself is not included with the bulb — so when you buy one, make sure it can store up to 64GB. But keep in mind the ReadyView app stores video directly to your mobile device — allowing you to save only the videos you need and discard the rest, all for free.
Challenges
In testing the TRENDnet Indoor HD Wi-Fi Light Bulb we did encounter several issues. Depending on the light socket you choose for your TRENDnet bulb, make sure no other light sockets are connected to — or linked to — that specific light socket. Why? You need to have the switch powering your TRENDnet light always on or the camera function will not work.
While you can control the light function on your TRENDnet light with the ReadyView mobile app, you need constant power to the light in order to record video from the surveillance camera. If other lights are tied to the switch, they'll have to remain constantly on in order to record video. In our test room, for example, we have multiple lights connected to one switch — this caused a problem for us.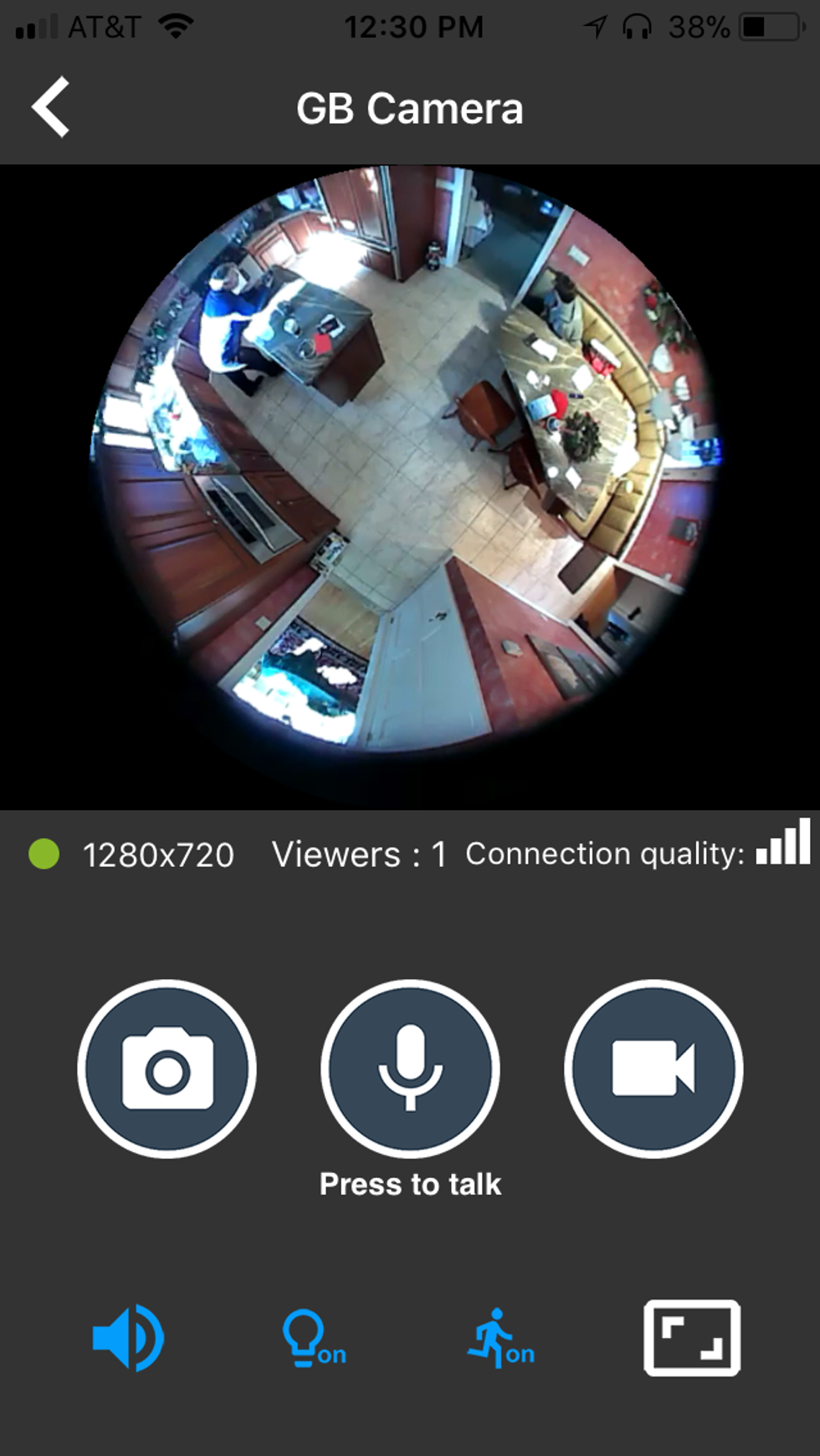 TRENDnet offers two-way communications through ReadyView mobile app but sound quality is weak.GearBrain.com
Another challenge we found is the two-way audio on the device. The sound is delayed and not very clear. We had a hard time understanding what was coming out of the light's speaker. And on our mobile device, the sound was delayed and soft. There is no volume control in the app, either — you can only turn the sound on or off. We would have liked to have seen some sort of volume control for sound on both the app and the bulb itself.

Finally, TRENDnet does not support any smart home integrations. Though the device is a Wi-Fi connected smart light bulb — with a built in HD camera — it is not compatible with any Wi-Fi smart connected hubs and can't work with any other smart home integrations.
We checked to see if IFTTT had applets for TRENDnet, and there were none. We also checked Stringify and Yonomi, mobile apps which can control your smart home connected devices. We found neither of these apps are compatible with TRENDnet products. Connectivity and compatibility are essential for today's smart home products and we would like to see TRENDnet become compatible with other best of breed smart home gadgets or systems, especially home security systems since it is a HD Wi-Fi connected surveillance camera.
TRENDnet retails for $119.99 and is available on the company's website for $109.99 today. You can also buy the product on Amazon for only $99.99.
Summary
At GearBrain, we have a saying, "if a gadget doesn't have a purpose, it's just another gadget. And we don't need any more gadgets." After testing TRENDnet's Indoor HD Wi-Fi Light Bulb Surveillance Camera, this product is close to becoming just another gadget. Though the bulb offers good HD quality videos with a large FOV and a 360 degree fisheye view of the room, we think there need to be quite a number of improvements before this a viable smart home product. The need for a switch to always remain on, for example, limits many home owners who have multiple lights tied to a socket in a room.
However, the biggest challenge facing TRENDnet is its compatibility. While we think this product has good HD quality video resolution — and can cover a big area due to its large FOV and fisheye view — its inability to pair with any other Wi-Fi connected devices or Home Security systems is a problem.
Yes, you can use TRENDnet as a DIY home security system — and get notified when motion is detected — but it's one dimensional. The type of DIY home security systems GearBrain recommends come with more than just a smart light that can function as a surveillance camera. These systems have alarms, motion sensors and alerts that can notify the authorities right from the mobile app. These systems serve a purpose for smart homeowners. We think TRENDnet Indoor HD Wi-Fi Light Bulb Surveillance Camera serves a limited purpose today. But we think the bulb could do much more if other products could pair with it, including best of breed smart home devices and home security systems.
Pros: HD video resolution, 185-degree FOV, 360 fisheye view, easy to install, extendable arm and price.
Cons: Not compatible with other smart home Wi-Fi connected devices, needs to work on a single socket, limited zoom capabilities, sound quality, indoor use only, no integrations with home security systems and lacks night vision.
Like GearBrain on Facebook