Like GearBrain on Facebook
A plan to give 100 self-driving cars to families in Sweden over four years has been delayed by Volvo — the company had originally hoped to provide the vehicles before the end of 2017.
Called Drive Me, the Swedish automaker debuted the program in 2015, which was meant to test Level Four autonomous cars on public roads. Similar trials would then be conducted in the UK and China.
Level Four — out of five — is where a vehicle is capable of driving itself in almost all situations with no human involvement or supervision.
A Level Four vehicle still includes conventional controls, and would rely on human help in challenging conditions — heavy snow and ice, for example. But for everyday driving, the car would be in control, with passengers able to check their phone, watch TV or read instead of watching the road.
However, the goal of delivering these vehicles has now been delayed until 2021 after the company, famed for its advanced vehicle safety, decided it cannot meet its original deadline without removing risk from the equation.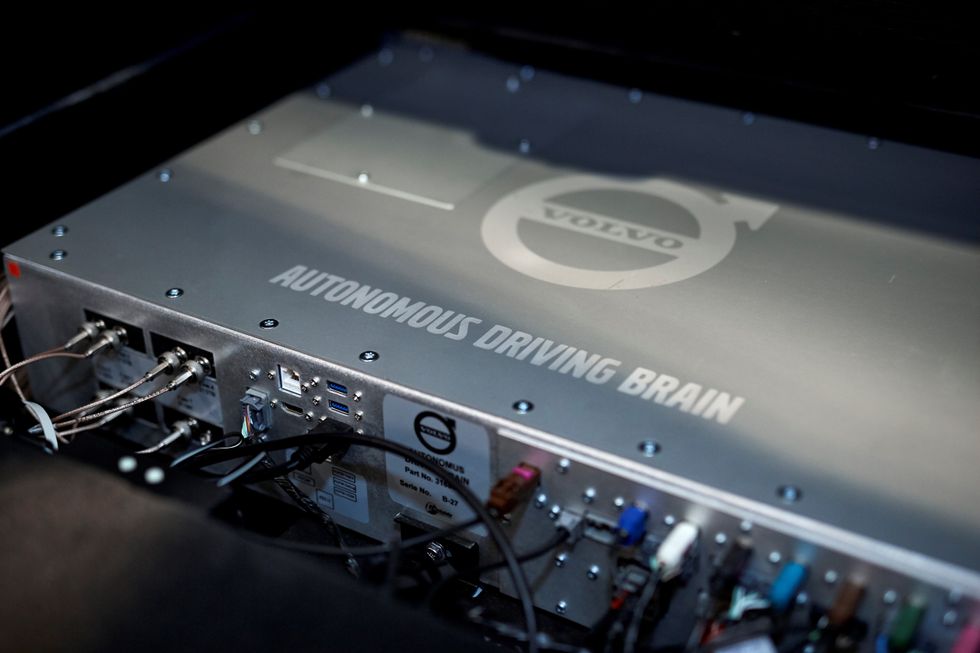 The 'brain' of a self-driving VolvoVolvo
In particular, Volvo found the rate of improvement in sensors used by autonomous cars to be so great, that it does not yet want to pick the final hardware, for fear that it will quickly be outdated.
"On the journey, some of the questions that we thought were really difficult to answer have been answered much faster than we expected," Marcus Rothoff, Volvo's autonomous driving program director, told Automotive News Europe. "And in some areas, we are finding that there were more issues to dig into and solve than we expected."
Rothoff added: "The development in sensor performance and processor capabilities is going so much faster than we expected in 2013. Because advancements are being made at such a rapid pace, we want to make this decision as late as possible."
The first families to take part in the trial have already received their vehicles. But to start, these will be fitted with the same Level Two autonomous features as sold on Volvo cars worldwide, legal to use on public roads in the US and Europe. The technology is similar to that of Tesla's Autopilot. A key difference, however, is that the cars are fitted with cameras and monitoring devices to observe how the self-drive systems are used.
Volvo will then analyze how the systems are used and work out whether customers are happy to hand more control over to the car, or not. The goal here is to offer the most autonomy that car buyers want to pay for and feel comfortable with — not the most that is technologically possible.
Like GearBrain on Facebook