Like GearBrain on Facebook
By Jimi Stine
Pros: Simple design, great soundtrack, easy to get lost in the experience.
Cons: Controls are poor, can get stuck in environment, lacks an in-game restart.
Denis Kropov's VR Car Sim is a meditative driving app for Google Cardboard and other virtual reality devices, available on the App Store and Google Play. The simplicity of the game is a welcome surprise in a genre that tends to bombard the player with color and sound, but that same simplicity can, at times, get in its own way.
After a quick download and launch,VR Car Sim puts you behind the wheel of a big red pickup truck in the middle of a desert with paved and unpaved roads. There's one button: accelerate. You steer the car by tilting your smartphone from side to side. To reverse you need to turn your head all the way around. You then have to look out the back of the truck and then press the Cardboard's trigger and you start moving in reverse. The design, is, ah, interesting.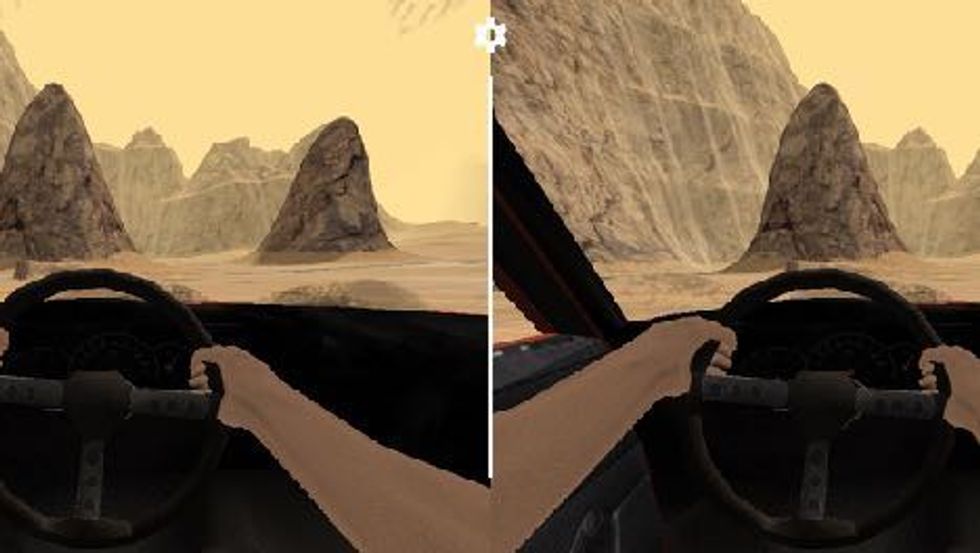 VR Driving Sim lets you drive a pick-up truck through the desert.
Having just a few inputs make this game easy to start and understand, but they also create a few problems. Despite how common tilt-to-steer has become in mobile driving games, VR Car Sim's steering remains unresponsive and often difficult to handle. Both steering and looking around are done by moving the phone itself, and while these are effective controls on their own, putting them together make a frustrating pair. It's easy enough to look where you're going, but trying to gaze out the window while continuing in a separate direction becomes nearly impossible.
Of course you are driving a heavy pickup-truck across loose sand,—so that's going to be difficult in a real-world setting. But more traction and responsiveness, particularly in the narrow tunnels that dot the landscape, is desperately needed. Car Sim does a good job of immersing the player, but that immersion is instantly broken the moment you lose control, get stuck, or are forced to restart. Restarting can't be done in-game either, which means you'll have to quit the game and start it up again entirely.
Driving zen
Visually, VR Car Sim is good enough. This is far from the prettiest game on the app store, but it doesn't really need to be either. Car Sim is explicitly a game about driving, not racing or setting new records, and that's a nice break from the usual in-your-face attitude most games in the genre adopt. VR Car Sim instead offers no goals. After the three-line explanation of the controls, the game puts nothing on the screen but the open world before you. The minimal information that is given comes by way of the truck's own gauges, meaning if you want to check your speed you'll have to glance down as you would driving a real car.
Add a moody and dynamic soundtrack by Voytek Pavlik, and VR Car Sim becomes a nice little escape, despite its lack-luster controls. Though some might enjoy this title for hours because of its zen-like qualities, the content itself can be explored in well under an hour.
Thanks to excellent integration with Google's VR interface, VR Car Sim is super easy to get working across most devices. To download and get specific system requirements, check it out on the App Store for iOS devices and Google's Play Store for Android devices.
—Jimi Stone studies Narrative Design for Interactive Media at New York University and has never lost at any pole-vaulting-centric video game.
Like GearBrain on Facebook