Like GearBrain on Facebook
I've written about open-sided, folding virtual reality headsets before and wasn't going to buy any more ... until I saw this cute one, Pocket 360, from I Am Cardboard for $9.99.

And yes, I spent my own money on it. And you know what? Pocket 360 was worth it.

The VR headset is super cute, easy to use, and comes with a very nice, sturdy plastic case.

I took Pocket 360 with me to a big family event, along with some other headsets, and this was the only one that worked on every smartphone phone since you just clip the device on to the phone. Plus, people could easily touch the screen to switch apps—and I could look over their shoulder to help them out.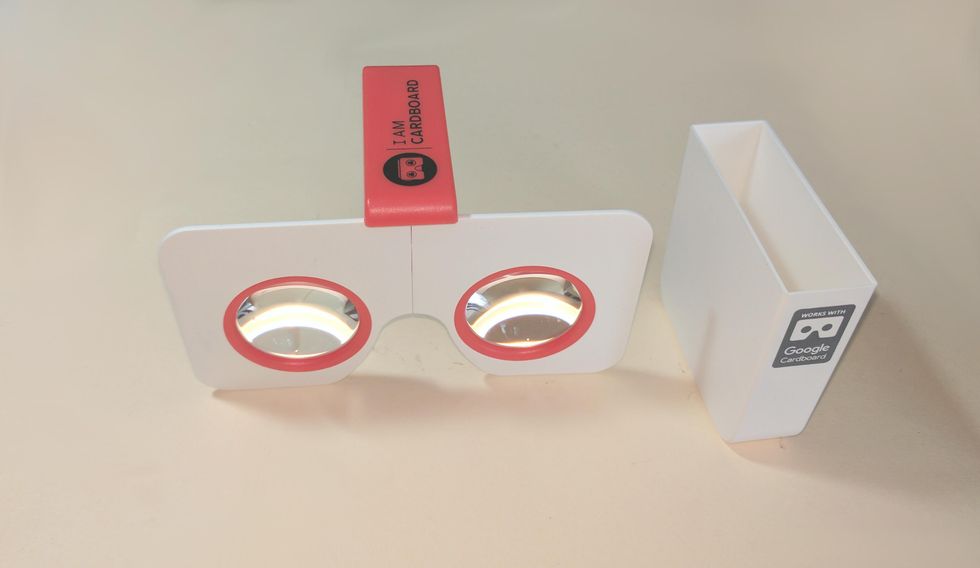 The Pocket 360 virtual reality headset and case, from I Am Cardboard.Photo by Maria Korolov.
There are some down sides to the open-sided approach. Most importantly, an open-sided headset lets in the surrounding light, as well as anything in your peripheral vision. So if you're in a bright space, you're going to be able to see the room out of the corners of your eyes. That makes the virtual experience less immersive since the surrounding light and activity will distract you. (On the plus side, though, you'll see if anyone is coming up to you—at least, if they come up at an angle.)
Another problem with open-sided headsets is that, with a few exceptions, there are no headstraps. That's mostly because there isn't enough weight to the headset to keep it on your face and the phone positioned correctly. Instead, the weight of the phone will tip the headset forward.
With open-sided headsets, like Pocket 360, you'll need to hold them up to your face with your hands. This could get annoying, if, say, you're watching a long movie. But it's fine for quick virtual experiences, such as checking out a new 360-degree music video from the Gorillaz. In the case of short VR flicks (or music videos) a headset like Pocket 360 is actually ideal. You don't want to have to queue up the video, find your big, bulky virtual reality headset, get the phone into it, strap it to your head, adjust the straps, take the whole thing off to hit the play button on the video and then put the whole thing back on again. Instead, you could just pull the Pocket 360 out of your pocket, unsnap it, and clip it to your smartphone.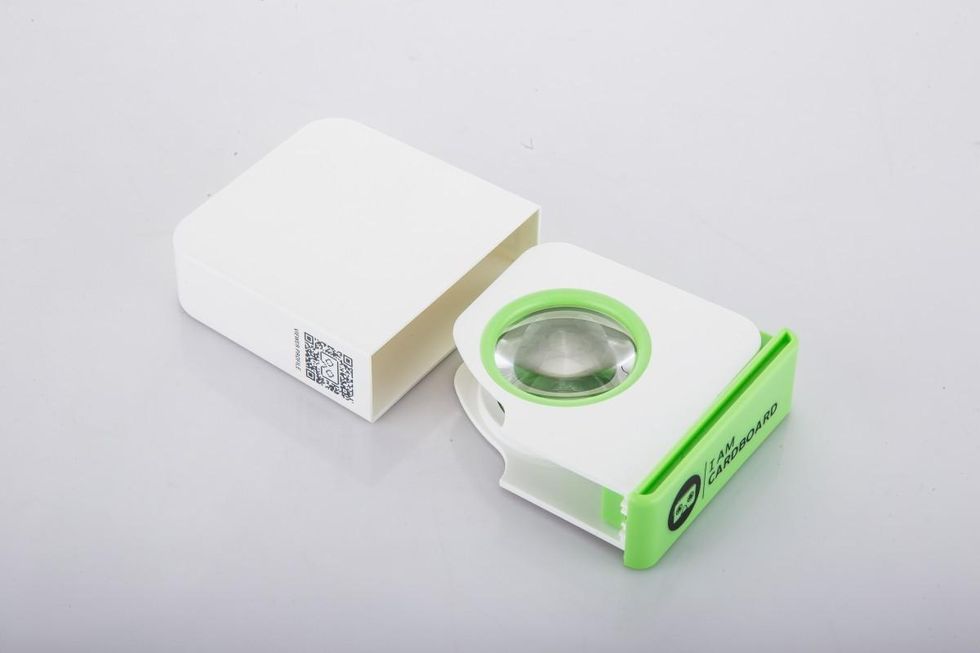 I Am Cardboard's Pocket 360 folds up so well you can slip the device into your pocket.
Of course, with a device as easy to use as Pocket 360, everyone around you will want to try it as well. YouTube's app even has a virtual reality mode built right in, so your friends won't even have to download and install anything new on their smartphones. You'll look great in having such an easy-to-use VR device. And this is why I always have a folding headset in my purse when I go anywhere.
The Pocket 360 works with on both iPhones and Androids, and the QR Code that you need to calibrate the headset is conveniently printed right on the case. You might not believe it, but many manufacturers—especially the ones selling the least expensive headsets—don't include these QR Codes. Or, if they include a code, it's one that goes to their website, not one that calibrates the headset.

But of course, I Am Cardboard is one of the best-respected companies in the low-cost virtual reality headset space. They were one of the first to partner with Google to release commercial versions of their cardboard headsets, and upped the game with DSCVR, an easy-to-use plastic headset.
Pocket 360 comes in multiple colors including orange, green and light blue.
I own one of the DSCVR headsets and regularly take it to events with me because it's so cute and easy to use. But while the DSCVR does have a little bit of telescoping action built in (so that it takes up less room,) it's not as tiny and portable as the Pocket 360.

Will the Pocket 360 become my new carry-it-everywhere headset? Maybe, if I can find it. That's the problem with small things that you share with people. It's very easy to lose track of them. In fact, the same thing happened to my other tiny little folding headset, the Homido Mini. I took it with me to a presentation at an area school with about 20 other headsets, and lost it somewhere.
So there you go. You've been warned.
Like GearBrain on Facebook