Like GearBrain on Facebook
In a bid to keep pace with Amazon's AI-powered retail stores, Walmart has just opened an artificial intelligence-equipped store of its own.
But, where Amazon uses cameras and computer vision to track what items customers pick up, allowing for automated billing without a check-out as they leave, Walmart uses hundreds of cameras and sensors to give its staff a helping hand.
Read More:
The concept store, called the Intelligence Retail Lab (IRL) and located in Levittown, New York, is fully operational and works just like any other branch of Walmart, as far as shoppers are concerned. But staff who work there benefit from the AI and computer vision system, which monitors stock levels on shelves.
That way, staff know when items need replenishing, and when perishable food items which have been out for too long need replacing with fresh stock. The aim is to remove some of the repetitive and tedious tasks many retail workers have become accustomed to. Instead of aimlessly walking the aisle to check where stock needs replenishing, they can have the AI system tell them exactly what's required, and where.

The system uses rows of cameras installed above each aisle, looking down at every one of the 30,000 items this particular store sells across 50,000 square feet of retail space.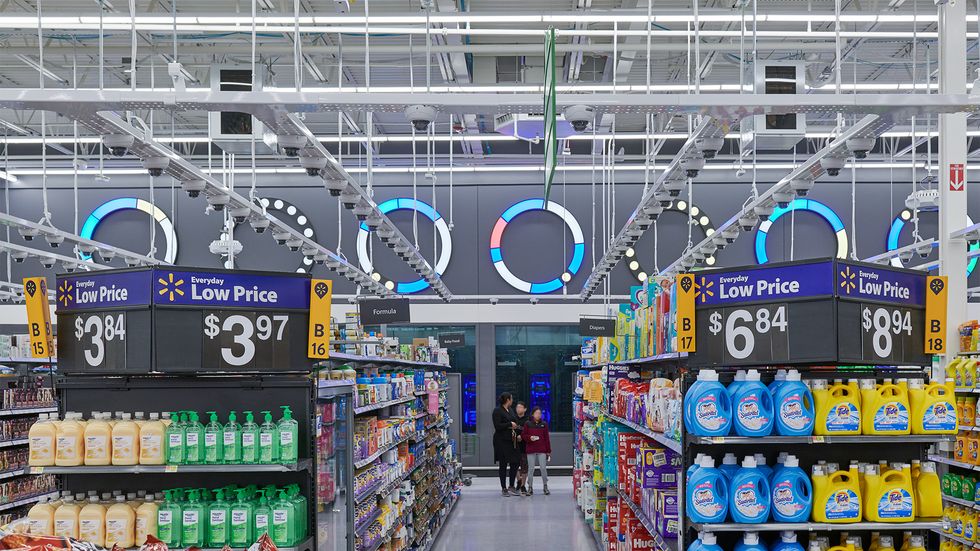 Hundreds of cameras keep an eye on stock levelsWalmart
But instead of just feeding this video to a store worker, the system uses sensors and artificial intelligence to identify every item and work out what needs replacing. It is smart enough, Walmart says, to understand the difference between different weights and quantities of the same item - the difference between 1 lb of ground beef and two, for example.

The AI can also be made aware of upcoming sales demand - perhaps the weekend will have barbecue weather - and compare what's on the shelves with the expected demand from customers.
Walmart says the system in this particular store gathers 1.6TB of data every second (that's 1,600GB, or three years' worth of music). All of this data is crunched by an on-site server room, which Walmart proudly displays behind glass and illuminates with blue lighting - all part of a strategy to make the computer vision system seem less intimidating for shoppers.
The store's hardware is connected by enough cabling to scale Mount Everest five times, Walmart says.
Mike Hanrahan, chief executive of Walmart's IRL store, said: "The scope of what we can do operationally is so exciting. Technology enables us to understand so much more - in real time - about our business...you can create really powerful experiences that improve the lives of both our customers and associates."
Although not naming Amazon's AI store system, which does away with check-outs, Hanrahan notes how some new technologies are not all they're cracked up to be. "You can't be overly enamored with the shiny objects element of AI. There are a lot of shiny objects out there that are doing things we think are unrealistic to scale and probably, long-term, not beneficial for the consumer."
From Your Site Articles
Related Articles Around the Web
Like GearBrain on Facebook