Google sibling Waymo has published a video showing reactions of the first passengers to ride on the public roads in its driverless cars.
These vehicles, part of a fleet of 600 Chrysler Pacifica minivans modified by Waymo, have no one sat behind the steering wheel, although there is a Waymo employee and a camera operator onboard. The company says this will remain the case during the 'Early Rider' test period, but eventually the cars will be free to carry passengers with no supervision.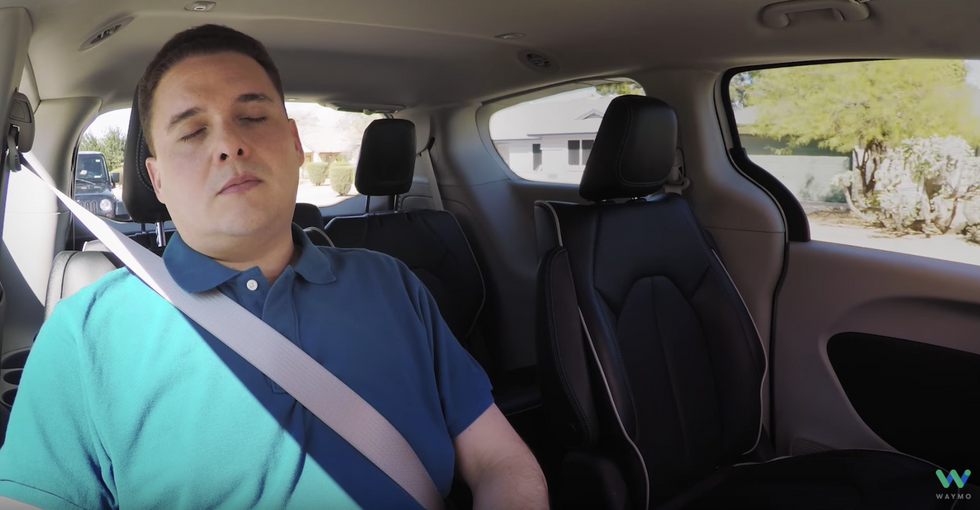 This man appeared to sleep during his ride in an autonomous Waymo carWaymo
Instead, passengers are seated in the second row and the video shows their reactions to being driven around by the robotic cars on public roads. These people signed up to be among the first members of the public to try out the cars back in 2017, as Waymo looked for volunteers.
Their reactions begin as you might expect - nervous giggles and mild terror at the sight of an empty driver's seat and freely rotating steering wheel. But, just as companies like Waymo, Uber and car manufacturers are hoping will happen, the passengers began to zone out. Some looked at their phones, a child stuck her head out of the window for some fresh air, a man yawned and another appeared to be asleep.

Waymo has been testing these vehicles on public roads in San Francisco, Atlanta, Washington state and Michigan, and Arizona has recently granted the company a permit to operate a driverless ride-hailing business.
These reactions are exactly what Waymo wanted to happen. As much as driverless cars seem like futuristic pieces of science fiction to get hugely excited about, the end goal is for them to be as mundane as a regular human-driven taxi is today.
Having sat in far less intelligence autonomous vehicles, I can relate to the passengers in Waymo's video. Excitement and intrigue quickly turns into comfort and familiarity. In many cases, I suspect the fear and uncertainty of these vehicles is at its strongest before passengers get on board, then disappears almost immediately. Of course, this will not be the case for everyone, and I - plus those who volunteered to ride in Waymo's cars - are interested by the technology and more willing to try it out than someone who is sceptical of its abilities.
Getting over this hurdle and convincing the masses to trust autonomous technology to the same extent they trust taxi drivers and train operators is key to the success of Waymo, Uber, Tesla and almost every car maker which is working on driverless tech.