Like GearBrain on Facebook
Ford drivers will soon be able to use the Waze community-based navigation app on the touch screen of their car, potentially making their commute easier, quicker and less stressful.
Owned by Google, Waze offers up different directions to conventional navigation apps, using crowd sourcing to offer up traffic conditions. The new Ford compatibility with Waze is on the iPhone for now. Android support is due at a later date.
Read More: The best products of CES 2018
Those using the Waze app on their phone, either as a driver or passenger, feeds the system with their location and the movement of their car — feeding real-time traffic information to, theoretically, make everyone's journey quicker.
Announced at the CES technology show in Las Vegas this week, Waze support will work in Ford vehicles equipped with the automaker's Sync 3 infotainment system. For 2018 models, Waze compatibility will be automatic, while 2017 vehicles will require a software update either over-the-air, or via the car's USB port.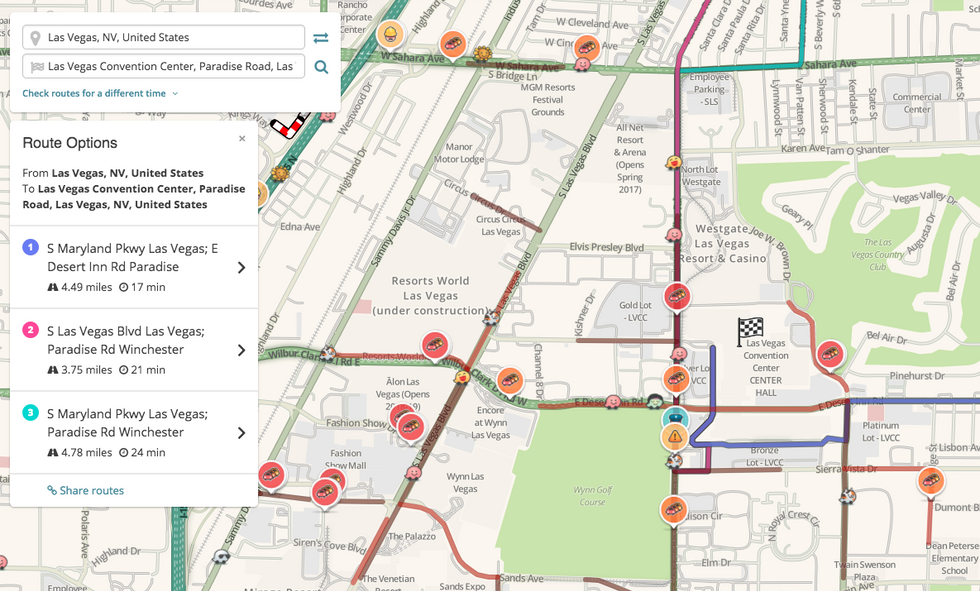 Waze's live map gives directions to the Las Vegas Convention CenterWaze
Once installed, the update will run Waze on the car's touchscreen whenever an iPhone running the navigation app is connected to the car. Waze can then be controlled via voice commands or the car's touchscreen — just like any other Sync app.
For Waze users who want to help the community by doing more than sharing their location, they can manually input information about breakdowns, heavy traffic, road closures and more through the Waze app.
Ford is also using CES to show off the recently announced Ford+Alexa app, which brings the Amazon Alexa personal assistant and its 25,000 skills to Ford cars.
"Our goal is to bring a human-centered approach to technology in the vehicle, making it as easy as possible for people to integrate the tools that matter most to them," said Don Butler, Ford executive director, Connected Vehicle and Services. "With the flexibility of our Sync 3 software and AppLink, customers can easily use Waze to get all the traffic and navigation help they need – on a big screen and without having to fiddle around with their phones while driving."
From Your Site Articles
Related Articles Around the Web
Like GearBrain on Facebook