Like GearBrain on Facebook
Ford's Sync infotainment system has been with us since 2007, and in that time there have been three distinct generations, plus a fourth due imminently with the launch of the electric Mustang Mach-E.
Sync is one of the simplest vehicle systems we have ever used, yet is still packed full of features like navigation, voice control, wireless phone connectivity, digital radio and a range of applications for media, weather forecasts and more.
Read More:
There are also additional services like Amazon In-Car delivery, where parcels can be left in the trunk of your parked vehicle, Waze navigation, and Alexa voice control. Finally, FordPass is the car maker's smartphone app, for remotely controlling certain vehicle functions.
Echo Auto Air Vent Mount
What is Ford Sync and what can it do?

As with our earlier articles on the connected systems of Audi and BMW, we will first look at Sync in isolation and without Apple CarPlay or Android Auto (both of which are included).
Sync 3 offers a simpler user interface than many other infotainment systems. Some might see this as an unattractive design, full of stark white screens with simple digital buttons. But when we reviewed the third generation of Sync in 2018, we found its simplicity made perfect sense. We described it as a lesson in function over form.
There are currently two versions of Ford Sync. The first, simply called Sync, is offered as standard on Ford's cheaper cars and is displayed on a small dashboard screen. This system offers voice-activated phone calls (through your Bluetooth-connected smartphone), music, radio, and some mobile apps. But it looks somewhat dated by today's standard.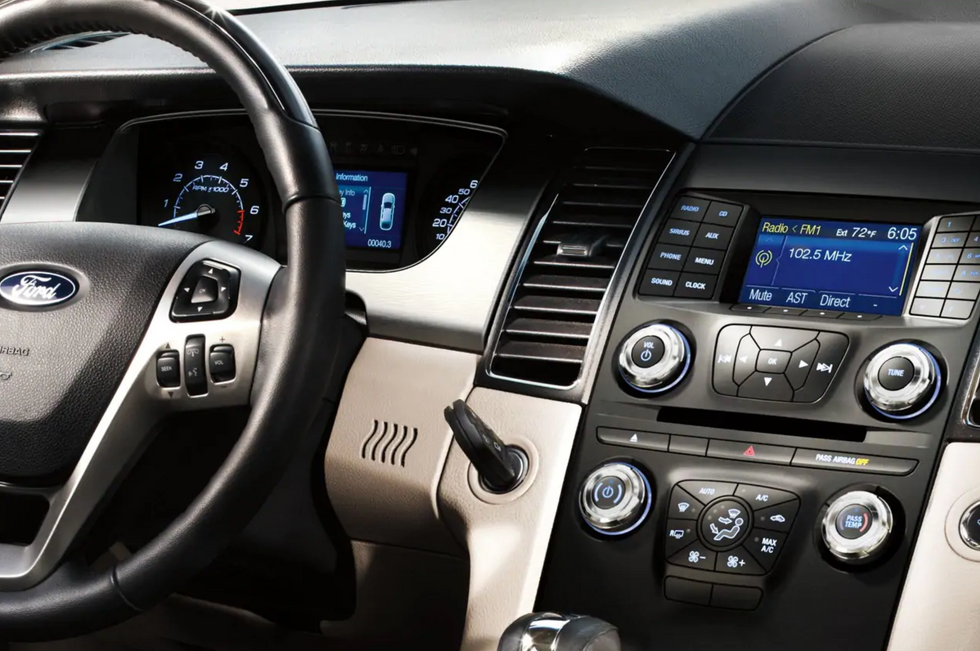 Ford's most basic Sync 1 infotainment systemFord
Thankfully, upgrading to Sync 3 (soon to be joined by Sync 4 and 4A) sees the small display replaced by a much larger, all-color touchscreen which you can tap, swipe and pinch-to-zoom like a smartphone. As with many new cars, the display also replaces many physical climate controls. And – also like most other systems – this takes a bit of getting used to, with tapping the display not as initially intuitive as tactile buttons, knobs and dials.

The Sync 3 interface keeps shortcuts to key apps like Music, Climate, Phone, Nav and Settings on-screen at all times, making it easy to jump from one to the other. The screen also permanently shows the cabin and ambient temperatures, and the time.
Features of Sync 3 include connected navigation with real-time traffic and weather updates for your route, a voice control system that understands natural language, SiriusXM radio and wireless support for both Apple CarPlay and Android Auto.
There is also the option to use the Google-owned Waze navigation system instead of Ford's own. This works using Ford's AppLink platform, where certain compatible applications on your smartphone can be accessed through the car's own system, and controlled with voice commands initiated by a press of a button on the steering wheel.
Another key AppLink application is Amazon Alexa. If you have it installed on your Bluetooth-connected smartphone, the assistant can be controlled using the steering wheel button, giving you the exact same Alexa experience as at home.
As for connected safety systems, all new Fords will automatically call 911 through the free 911 Assist system if an airbag is deployed. The vehicle uses your connected phone to make the call, then automatically shared your GPS location.
Live, data-fed functions like local traffic and weather reports – plus the ability to control certain vehicle functions remotely from your smartphone – are free for the first 12 months of ownership, then cost $14.99 a month if you want to keep using them.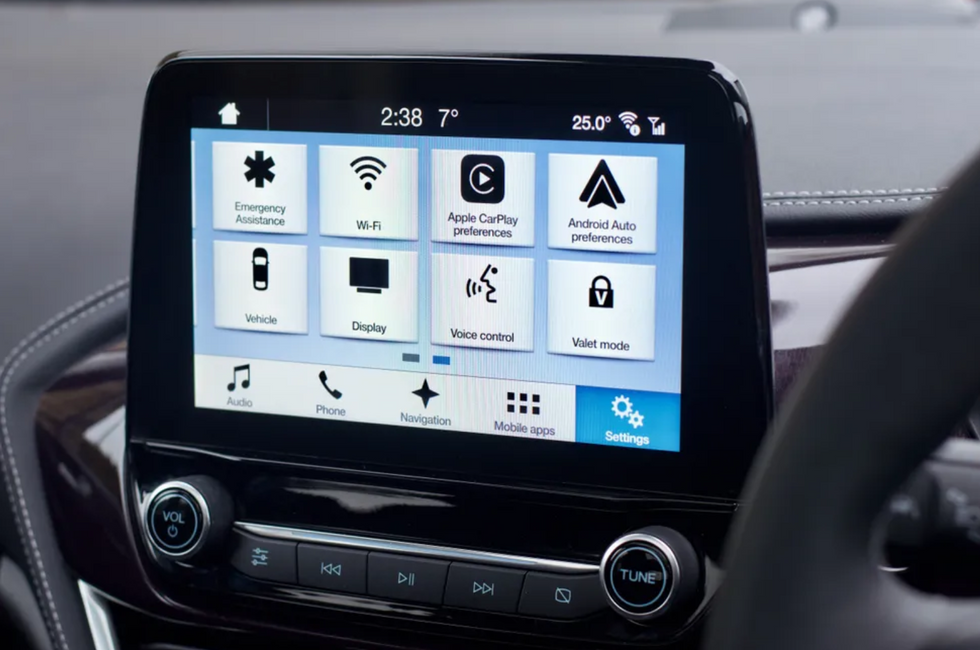 Ford Sync 3 isn't beautiful, but it is very simple to use at a glanceFord
What is Ford Sync 4 and how is it different to Sync 3?

Sync 4 is Ford's latest infotainment system. There are two versions; Sync 4 will run on cars with regular-sized touchscreens, while Sync 4A is the system installed in the upcoming Mustang Mach-E, with its large portrait touch screen.
For the first time, Sync 4A in the Mach-E runs on a pair of large all-digital displays. One sits behind the steering wheel for speed, range, gear selection and other key readouts. The other is a huge 15.5-inch, portrait-orientated touchscreen that sits on the dashboard like that of a Tesla Model S.
This runs a heavily modified version of Sync, but which still sticks to the original philosophy of being simple and easy to read at a glance. The Mach-E screen also has a physical dial on top of it, see image below, for quick, eyes-free volume changes.
Sync 4A and the more traditional looking Sync 4 are expected to gradually appear on more Ford vehicles over the coming months and years, including those with small displays than that of the Mustang Mach-E.
A key feature of Sync 4 and 4A is over-the-air software updates. Where Sync 3 requires a Wi-Fi connection or USB stick to be updated, Sync 4 uses the car's own internet connection. Ford said earlier this year how, with the Mach-E, software updates will take just a few minutes, compared to the 20-plus minutes of some rivals.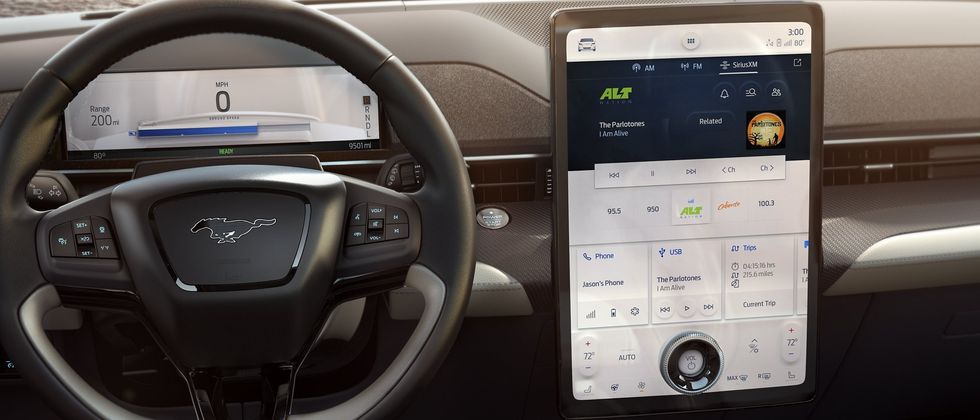 Ford Sync 4A in the electric Mustang Mach-EFord
Do Ford cars have Apple CarPlay and Android Auto?

All Ford vehicles with Sync 3 also have Apple CarPlay and Android Auto. Just plug your handset into a USB port (or place it on the wireless charging pad if available) and follow the prompts to get started. As normal, these systems take over the car's dashboard display. You can return to the Sync home screen by tapping on the Ford app icon with CarPlay and Android Auto.
Is there a smartphone app for Ford cars?
Yes. With Sync 3, the driver can also use the FordPass smartphone app (free for iOS and Android) for checking on the fuel or battery level, receive health alerts about the car (including tire pressure), schedule a service, lock or unlock the vehicle, and start the engine to get the cabin defrosted on a cold morning. There is a version of the app called FordPass Pro for managing up to five commercial vehicles at once.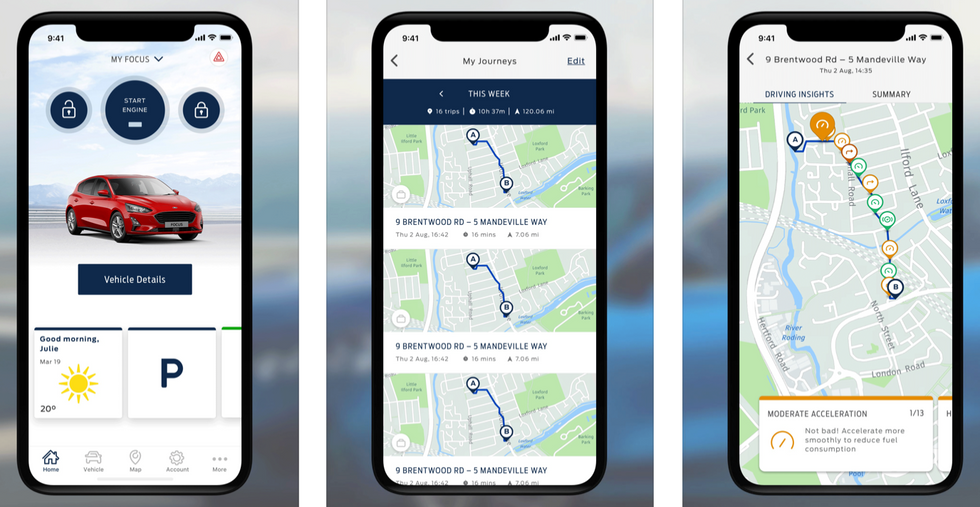 The FordPass app is available for iOS (pictured) and AndroidFord
The FordPass app is also used to set up Amazon In-Car Delivery. This is done by linking the FordPass app with Amazon's Key app; after that, qualifying items can be ordered for in-car delivery, where the Amazon delivery driver has the temporary ability to unlock your car's truck and place items inside without your being present.

Finally, the FordPass app is used to set up Connect, the name Ford gives to its optional in-vehicle 4G Wi-Fi hotspot. This network is powered by ATT and allows for up to 10 devices (like smartphones and tablets) to be connected at once, in the car and from up to 50 feet away. As with all car WiFi networks, data charges apply.
FordPass
Practical, Ridiculous & Crazy Things You Can Ask Android Auto www.youtube.com
Like GearBrain on Facebook