Withings is rolling out a new feature for its Body Cardio scale, a reading that measures the arterial health of the user. The new data point is called Vascular Age.
Withings' Vascular Age is read by determining the flexibility or stiffness of arteries, and the scale does this by using technology that can pick up the difference in time between the blood ejection from the heart's aorta, and then the point of the blood's arrival in the feet. The creates a data point called Pulse Wave Velocity (PWV) which is then interpreted to give someone what Withings calls their Vascular Age.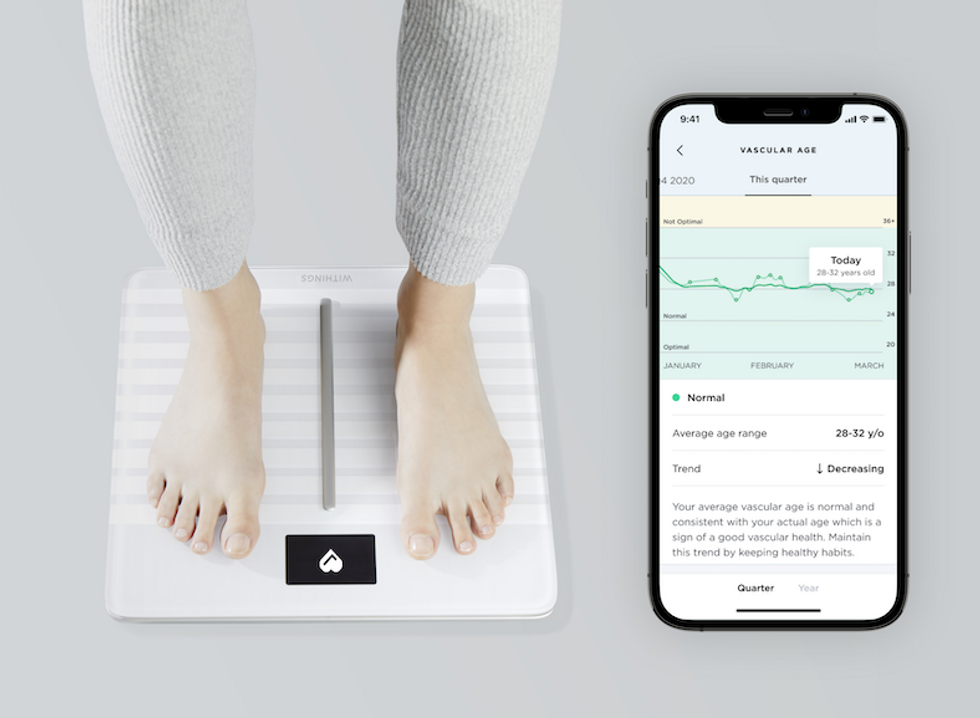 The new Vascular Age feature takes into account someone's age and details about their blood flow to give back a heart health readingWithings
The company the looks at this data and compares it to norms in a person's age bracket, and then gives what they estimate as someone's heart health reading back details from optimal, normal or sub-optimal.

Stiffening of the arteries can be a sign of how healthy a heart is, and can also be a marker for other issues from hypertension to cardiovascular conditions.
Withings claims to have one of the largest databases of PWV readings from its own data collected through devices.
The Body Cardio scale can already provide people with weight and BMI readings, as well as details on fat, muscle, water and bone mass readings. The device can also read back someone's heart rate.
"Body Cardio redefines how people use connected scales by providing them with a tool to manage their weight as well as their cardiovascular health," said Mathieu Letombe, Withings CEO in a statement. "By simply stepping on their scale each morning, Body Cardio will provide the type of cardiovascular assessment people normally only receive at a doctor's office. By linking the information to age, an index everyone understands, we are making it easy for people to stay informed and motivated to make healthy choices."
The new Vascular Age readings are now available as of May 4, 2021 on both the Body Cardio scale and also the Nokia Body Cardio devices.