Like GearBrain on Facebook
Security key company Yubico now has a simpler way for companies to order, deliver and even manage its YubiKeys, with two new services. The first is a new annual option, with companies charged per-user through a subscription, with the second focused on how the keys are actually delivered and even replaced.
Read More:
Yubico - YubiKey 5C Nano - Two Factor Authentication USB Security Key, Fits USB-C Ports - Protect Your Online Accounts with More Than a Password, FIDO Certified USB Password Key, Extra Compact Size
Security keys are a physical way for people, and companies, to protect and lock-down their data stored on hardware like computers but also on servers. These devices can be used by consumers as well as enterprises, and are sold by firms including Google, Solo and Yubico, and can work on smartphones and other devices.
Yubico is launching the first of its new services aimed at companies, which is called YubiEnterprise Subscription. It's a pricing model, set for each user, and will be based on specific service tiers, said the company. The goal, with this option, will be to help companies be better able to predict their spending. The new service is designed for companies with 750 YubiKey users or more and will work with new products coming from the company including YubiKey Bio and YubiKey 5C NFC.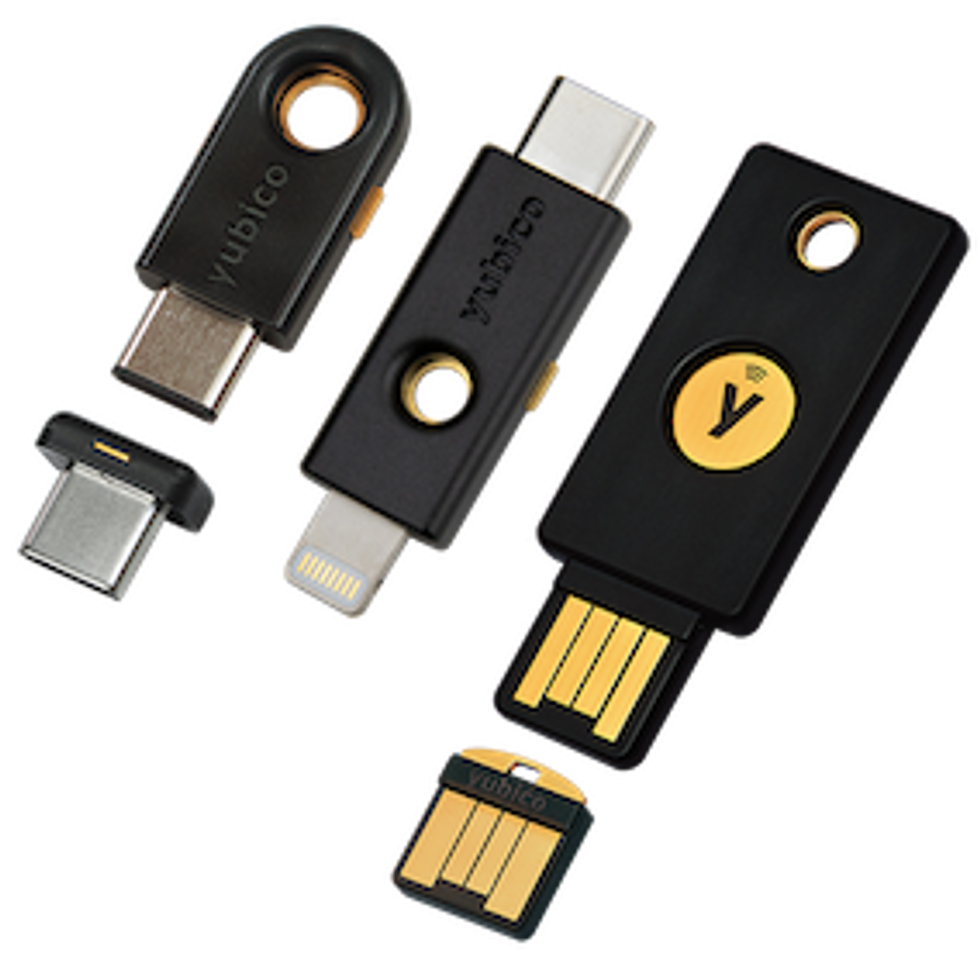 Companies will have a more streamlined way to order and manage their YubiKeys with two new services.Yubico
The second of the new services is called YubiEnterprise Delivery. This is cloud-based, and is specifically focused on the distribution and management of YubiKeys. With this option, the security keys can be sent directly to employees, with IT departments able to check the delivery status, handle returns and replacements — even with employees who are located at remote locations.

"YubiEnterprise Services take the planning, budgeting, and logistical complexities out of the equation for enterprises and lets them focus on securely growing their core business," said Guido Appenzeller, the chief product officer for Yubico. "Customers don't need to think about which YubiKeys they'll need, how many, or how they'll be distributed. They simply request a subscription for a certain number of users, and Yubico handles the rest. This is the type of flexibility and consumption-based purchasing power that IT departments have come to expect and demand."
Yubico - YubiKey 5 NFC - Two Factor Authentication USB and NFC Security Key, Fits USB-A Ports and Works with Supported NFC Mobile Devices - Protect Your Online Accounts with More Than a Password
From Your Site Articles
Related Articles Around the Web
Like GearBrain on Facebook