Security keys are an actual physical key that you carry around, much like the one to your front door. In the age of digital technology, when we use our smartphone to now unlock out front door, it may seem odd to think of carrying a physical key to unlock web sites. But these physical keys use a open authentication standard called FIDO (Fast Identity Online) that is a form of cryptography, and prevent people from hacking into an account or even accessing one, from a passcode that's been stolen or phished.
Corporations have had these in place with employees for years. It's only more recently that companies like Yubikey and Google Titan have made security keys seem more reasonable for regular people to carry them around.
There have been some hiccups with security keys. Notably some needed to send their Google Titan Keys back to Google because of a Bluetooth issue, and YubiKey had a recall of keys used by government personnel earlier this year.
These devices, still, are growing in use driven by lower prices aimed at consumers, and also concern about growing data hacks of companies, which then put user names and passwords out in the open. Here then are four companies which offer consumer-facing security keys, which devices they work with, and prices you can expect to pay.
YubiKey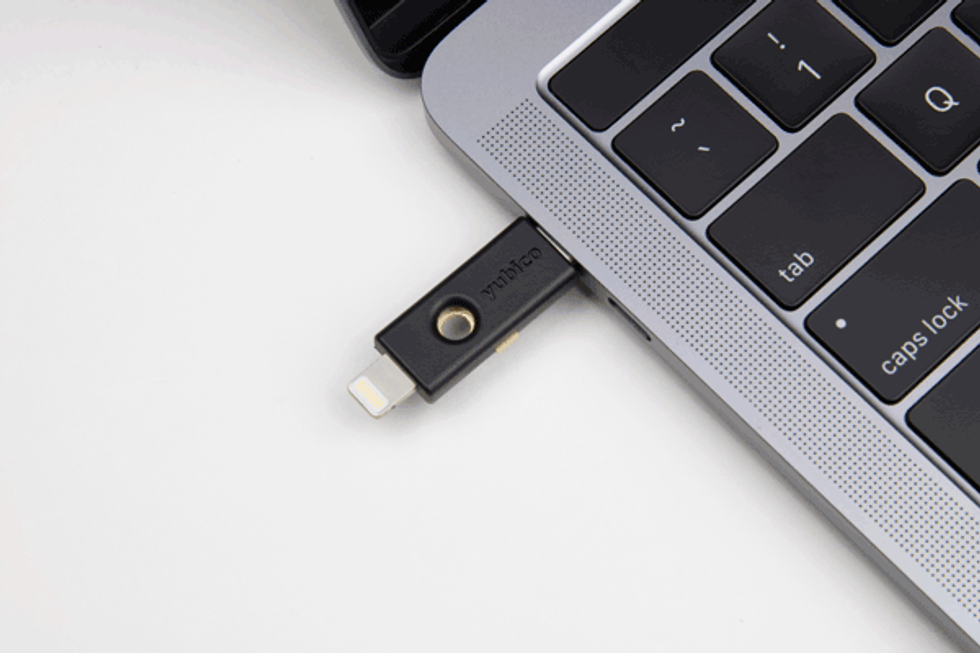 The YubiKey security key plugs into a port on a mobile device or computerYubico
The YubiKey works by plugging it into a port, and creates a two-factor authentication just by touching the key. That touch is important — it's not a fingerprint scanner, but honestly just a touch which tells the key you're not a computer hacking, but a human. It bypasses other two-factor authentication needs once you've registered your YubiKey with your account.

The company actually makes a number of different keys, all under $100, and they work with different ports including USB-A, USB_C and Lightning ends.
You can even grab a cheaper option, called the Security Key, which works specifically on services including Google Accounts, Microsoft accounts, Dashlane, Keeper, Github, Dropbox, Facebook and Twitter. More robust sites like LastPass, which is a password manager of its own, will need a stronger YubiKey. But the company has an entire catalog on its site of what sites YubiKey works with, or doesn't.
Yubico also makes mobile security keys for iPhones, iOS devices, Android products and Windows products. Yubico offers a one-year warranty, and what's cool is you can actually take a Product Finder Quiz to find out which one is ideal for you.
Yubico - YubiKey 5 NFC - Two Factor Authentication USB and NFC Security Key, Fits USB-A Ports and Works with Supported NFC Mobile Devices - Protect Your Online Accounts with More Than a Password
Google Titan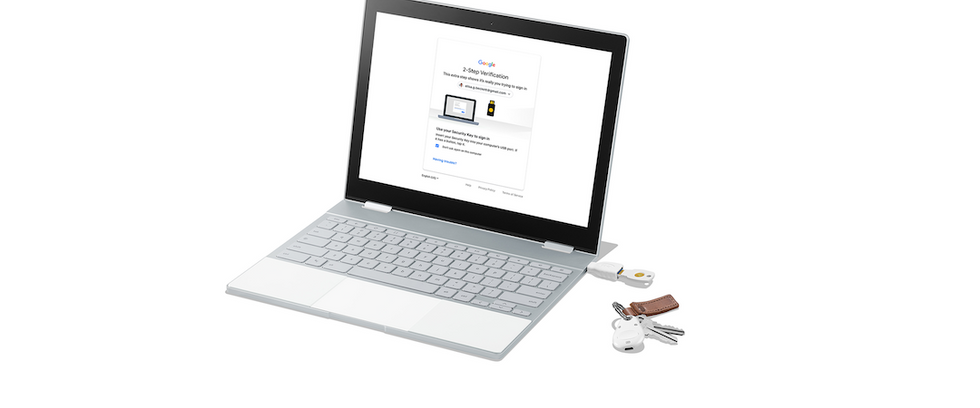 The Google Titan security key start at $25Google
Google, not surprisingly, has a security key as well called Titan, and although designed by Google the key will work with a number of sites. The keys are priced much like its competitors, starting at just $25 and are available for USB-A, USB-C and Bluetooth.

Like other security keys, the Titan Security Key helps to lock down an account, so just knowing a password and user name won't open it. The same technology is actually inside Pixel 4, Pixel 3, and Pixel 3a smartphones with the Titan M security chip, which is also inside the Titan Security Key.
Currently, Titan Security Keys only ship to Canada, France, Japan, the U.K. and the U.S.
Thetis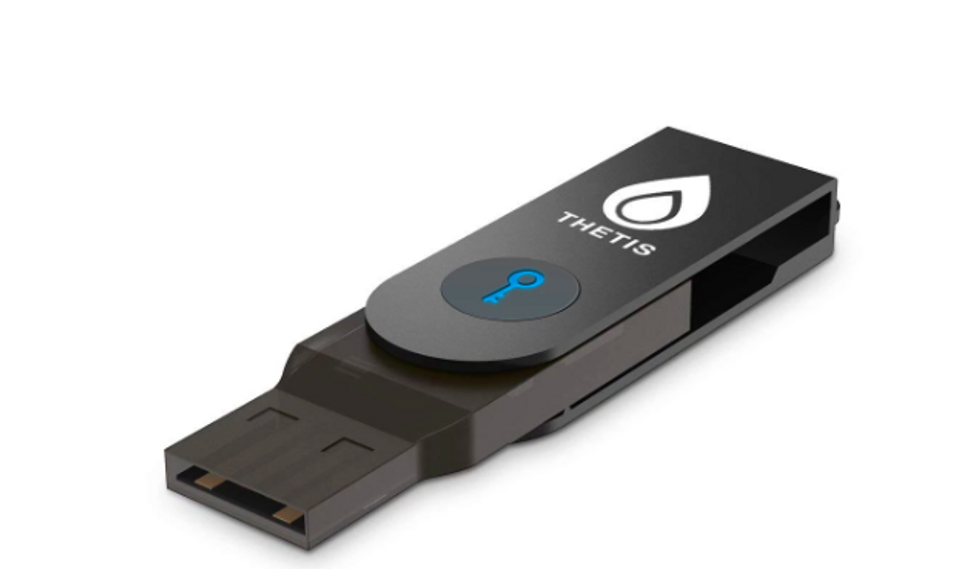 Thetis also has a Bluetooth key that works with a mobile deviceThetis
Thetis has multiple security keys that work for different devices including mobile and computers. Its Bluetooth key, the Thetis BLE U2F Security Key, does not get plugged into a mobile device but works by connecting via Bluetooth Low Energy. The company also makes keys that work via USB

The keys, which are priced between $19.99 to $29.99, do not support LastPass, the password manager, but do support Dashlane, 1Password, CoinBase and a variety of social media sites. You also get a one-year limited warranty from Thetis when you buy one of their keys.
Thetis FIDO U2F Security Key with Bluetooth ENBL, Two-Factor Authentication [Extra Protection] Compatible with Windows/Linux/MacOS, Gmail, Facebook, Dropbox, SaleForce, GitHub and More
SoloKeys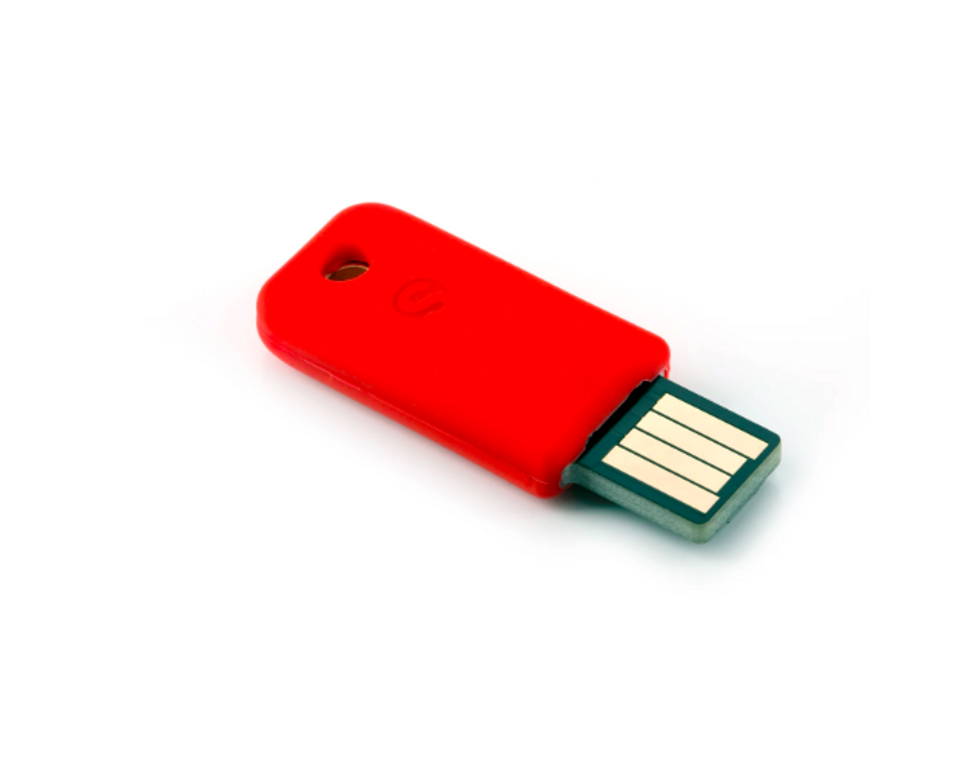 Solo security keys do not work with iPhonesSoloKeys
Solo launched as a Kickstarter, but people can now buy their keys through the company's web site. They make keys that also work with a variety of connections including USB-A, USB-C, and two that work through NFC.

You can find a SoloKey for mobile devices, like smartphones, as well as computers. But one thing to note: Solo will not work with Safari as of right now, nor will it work with the iPhone, according to the company's web site. The product range in price from $20 to $40 — which, again, is very similar to its competitors.
Solo Tap - NFC Security Key, Two-Factor Authentication, U2F and FIDO2 - USB-A + NFC