Like GearBrain on Facebook
Apple's Podcasts app is hardly the most friendly, a service that often leaves me unable to listen to my favorite shows on my Apple Watch while heading out for a morning run. Luckily there are other podcast app options, some that are designed specifically for the Apple Watch.
I tested three apps, specifically trying them on an Apple Watch 5 that doesn't have cellular connected. My crucial needs include being able to grab my device when I immediately woke up without needing to update the app. Apple's Podcasts app almost never has the most recent podcast cued up for me, and instead requires that I spend a few minutes getting the podcasts on my phone, down to my Apple Watch. It's not a terrible solution — but the longer I delay getting out in the morning for a run, the more likely I know temptation will try to argue me out of exercising at all. I need a grab and go solution.
With these criteria in mind, here's how the three apps that I chose handled my needs, and what ended up as my favorite.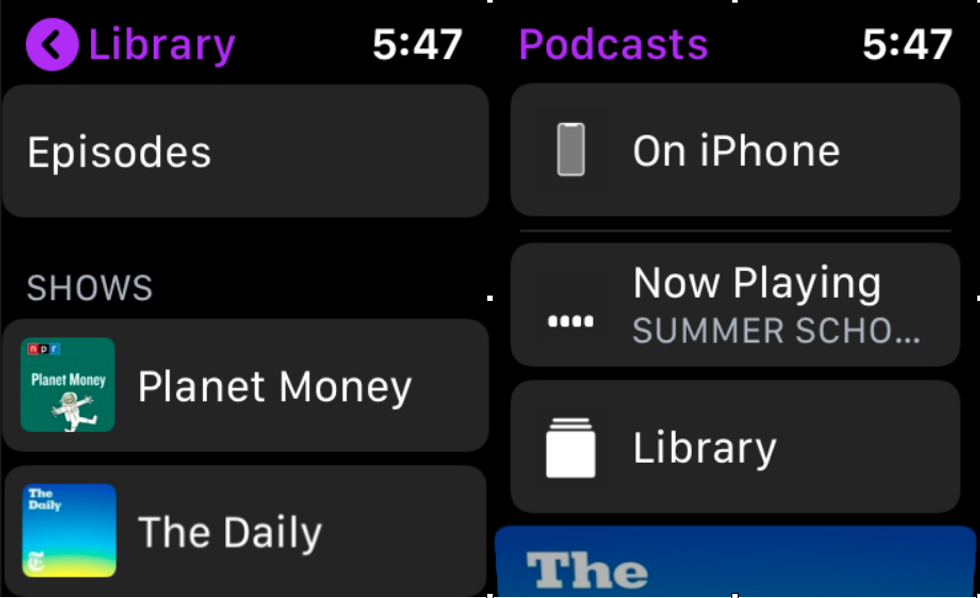 Apple's Podcasts app is the native app on the Apple Watch and iPhoneGearBrain
Apple's Podcasts app

This is the app I've been using for months. Apple's Podcasts app is not a bad solution an it's native to Apple. It's easy to find podcasts I want to listen to through the app, and the interface on the Apple Watch is very easy. I can see what on my iPhone, what's cued up to play and what is in my Library — even giant cards with the image of the Podcast which when I'm running is a boon: I can see it and click.
But the problem for me is that Podcasts for the Apple Watch is not simple for me. Again, I need a solution that downloads the actual podcast to the smartwatch because when I'm running I don't always have Wi-Fi around and not cellular. (I didn't spring for the extra cellular service.)
I've had to spend months opening the iPhone, opening the Watch app, going to podcasts, and then opening the podcasts app on my Apple Watch. Both devices also have to be plugged in to their chargers, and only then can I get the two to sync. And because one of the podcasts I like to listen to is a morning show, "The Daily," to ensure I have actually that day's show, I have to spend some minutes making sure it's downloaded before I run. Often I can get one show, but then the other favorite, "Planet Money," is not updated.
It's enough of irritation that I feel there has to be a better solution. In the meantime, I'm giving the Podcasts app a 6, primarily because I can never count on it working. And that's a seriously problem for me.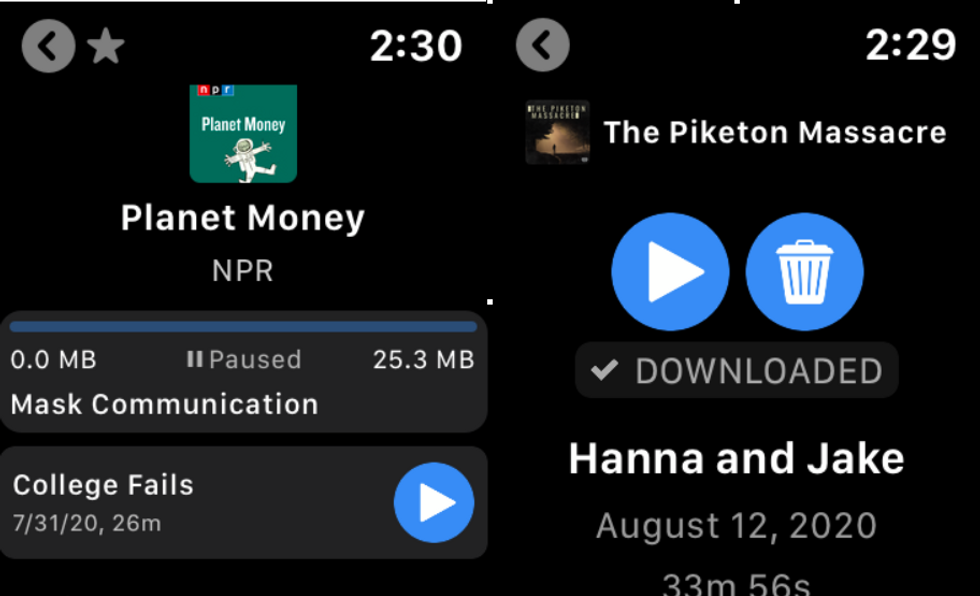 The Outcast podcast app is free, has a clean interface, and worked 4 out of 5 times I tested it.GearBrain
Outcast

I started with what most consider the be their favorite of all podcast apps — Outcast. The app has a version specifically designed for the Apple Watch, which I could brilliantly download directly on to that device. I had to pay for this app — $.99 — which seemed paltry if it would mean I would have my podcasts ready when I woke up.
To add podcasts to my Apple Watch, all I need to do is press one single button, a giant "+" sign, and from there I can find podcasts by searching for them by name or through categories, including Top 40. You can download the podcasts directly to your Apple Watch or just play if you're connected to Wi-Fi.
I chose to download podcasts in advance because I'm going to be using these on a run when I'm nowhere near Wi-Fi. Plus my Apple Watch doesn't have cellular service.
It does take about a minute or two to fully download each podcasts, and you do need to keep the Apple Watch screen on — and also on Outcast — to fully download. That means staying focused on the process. In other words, it's not an instantaneous situation. Also, I need to plan ahead to get the podcast on to my Apple Watch in advance, or spend a few minutes in the morning to prep.
The real test comes during a morning run. I head outside, find the episode of "Planet Money," and hit the play button. We're in business. For 15 minutes, the episode plays — no problems at all, and then I see a friend and pause the show for a moment to catch up, and then hit play again. Nope. Nada. All I see is a spinning wheel, and I hear nothing.
The next day I go out, and the podcast starts right up. Easy. I can play, pause, move to another app, stop that, and go back, start it, and it works. We may have a winner.
Outcast won points for having a dedicated Apple Watch download, an easy to use interface, and a wide catalog, it lost points on forcing me to spend time pre-downloading my podcasts, but then wins for almost (almost) always working.
We're going to give it an 8. This is a genuine keeper.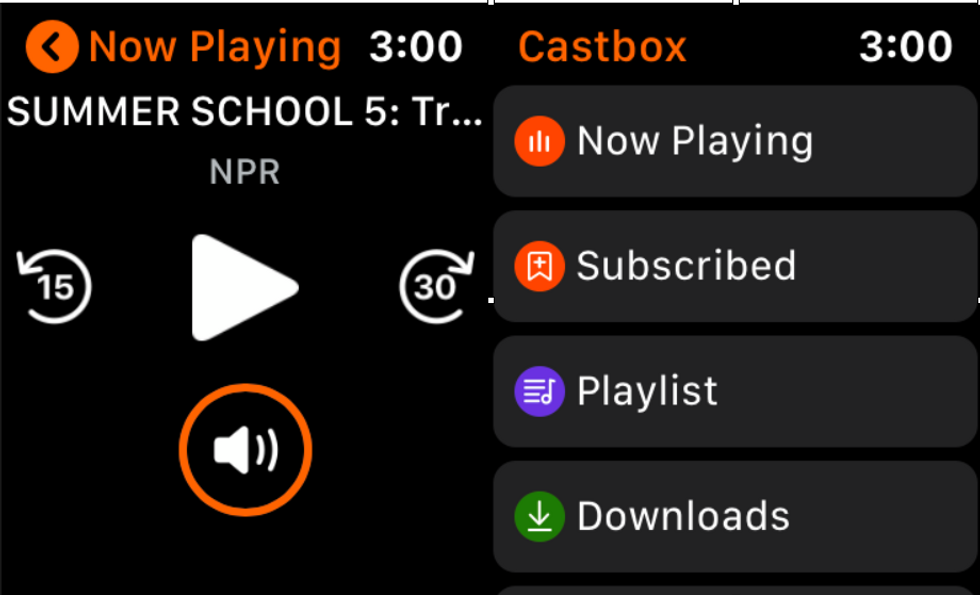 I had high hopes for the Castbox free app, but it wouldn't work unless tethered to my iPhoneGearBrain
Castbox

While Castbox will work on the Apple Watch, it needs to be downloaded first to the iPhone. From there, the iPhone will mirror the app to the Apple Watch, which is typically how many of the apps work.
In downloading the app, I am pushed a bit to download Castbox Premium. I almost think this is what I've signed up for, but go back to check that yes, Castbox is a free app, and I have to click out of that. I'm also pushed to immediately subscribe to about a dozen of what it considers its most popular podcasts. I don't want to do this either so I click to search for some news one (I'm always willing to try something different.)
With Castbox, you also have to download the podcasts to the app. But here, on the iPhone, this happens very quickly. I also like the interface on Castbox which is incredibly clear to me, even on the tiny real estate of the Apple Watch. I can see which podcasts have downloaded , which ones I've subscribed to and more. I like this one.
Of course the real test is going to be how this works outside, and if I need to make a special effort to get the podcasts on to my Apple Watch to play without being near Wi-Fi. I put on my running shoes, and test the app.
Castbox is an immediate disappointment. I am told repeatedly I have lost the connection to my iPhone. In other words, I can't use it. That's clearly, then not going to work for me, in a situation where I want to be able to run with just my Watch and not my iPhone.
For me, this makes the app a 5.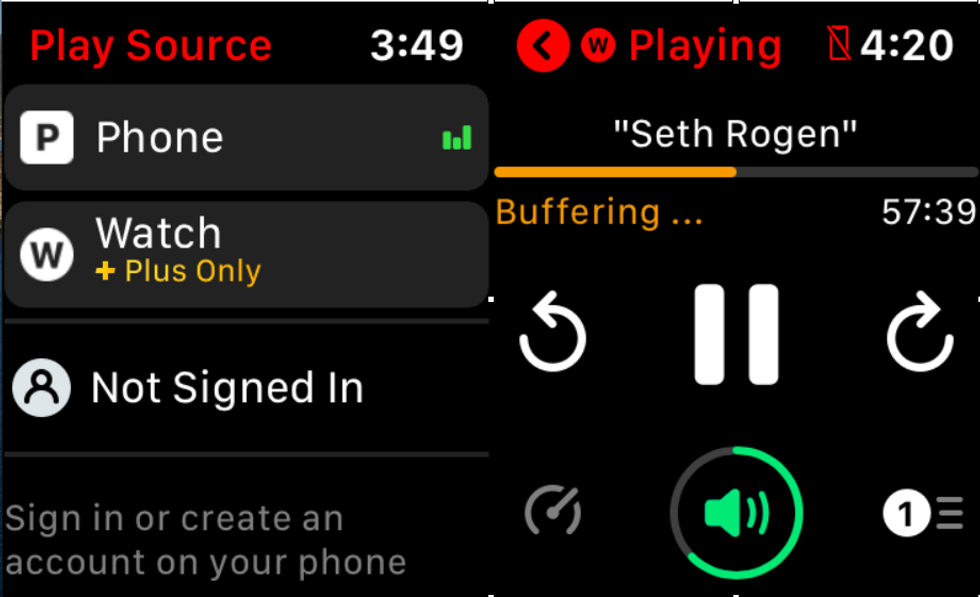 The Pocket Casts app disappointed me, even after I signed up for the premium versionGearBrain
Pocket Casts

I downloaded this app on the recommendation of the App Store. 1800 positive reviews made me think everyone else knew something I didn't. The app mentions it support the iPad and Apple Watch — boom — so I added it to my iPhone first.
The app immediately mirrored on to the Apple Watch, but when I went to open it, I discovered I had to sign up for Pocket Cast+ to get support for the Watch. That felt a bit like a bait and switch. The premium version is also $.99 a month, which is a hefty price to payor $9.99 a year for a way to listen to my shows. Upgrading also meant I needed to create an account (which Castbox, Outcast and Podcasts do not require.) which was yet another negative.
But I had committed. Because the app renews automatically, I also made sure I knew how to cancel the subscription. (Something I always recommend doing before you subscribe to any service or app.)
Within seconds, the Apple Watch app unlocked, and podcasts I had added into the iPhone app were available. But would they be available when I ran outside?
I open the app and start to play. It starts up immediately, success. But then I stop it about five minutes in, and switch to another podcast. It doesn't work. Instead, I'm told that title is "buffering." I try to switch back to the other podcast, the one that had been working, and immediately I'm told it's now "buffering" too. While this would be fine in theory, it's not fine since I'm now paying $.99 a month for this app.
So even though I do like the interface, and how quickly the podcasts download, the fact I had to pay for the service — which isn't working correctly — makes this a 6.
So there you have it — the pick, for me, is Outcast. It works on my Apple Watch on its own, without needing to be tethered to my iPhone. It works when my Apple Watch is off Wi-Fi. It works sometimes, most of the time, not always. But enough. Plus it's free. And that makes it a winner.
From Your Site Articles
Related Articles Around the Web
Like GearBrain on Facebook