One of the great benefits of the Apple Watch is its use as a fitness device. Not only does the wearable track your workouts, it can play music and podcasts during your workout. But podcasts are a timely bit of content. Music playlists certainly can be updated, but it's annoying to say the least to start listening to a podcast during a run — and find you're hearing something from the day prior.
If you're into morning workouts, and tend to grab a run before your first coffee, then you also want to grab your watch and just know content has been updated too.
I had some trouble with this, finding my podcasts were sometimes two to three days off — telling me it was Wednesday, for example, when it was already Saturday. I had to do a few checks to get the two to mirror, and here's what I finally did so when I set off for my morning run, I got that day's podcast playing during the workout.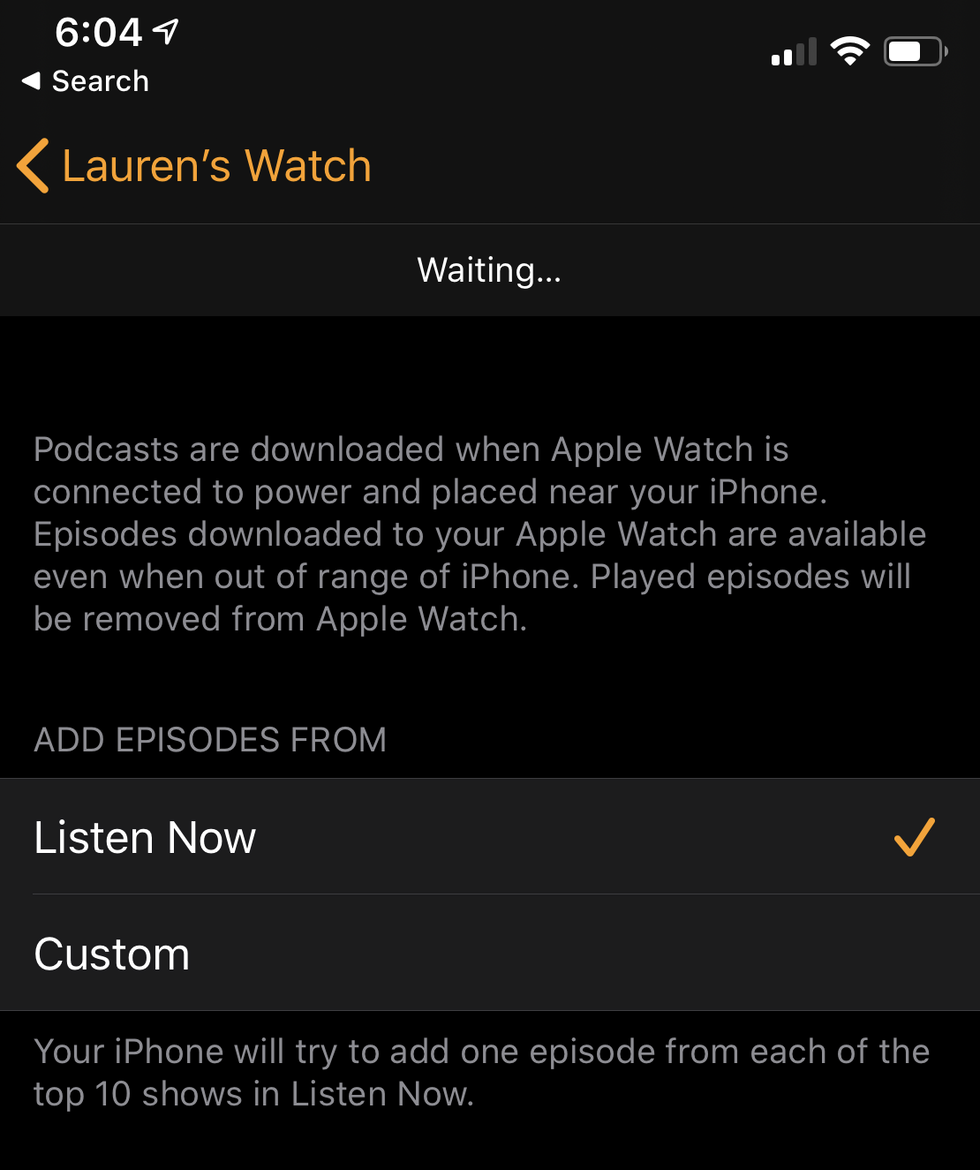 Listen Now will help bring up the most current podcasts to your Podcasts app on the Apple WatchGearBrain
How to sync your Apple Watch to podcast downloads from your iPhone:

Start with your iPhone.
Open "Settings."
Click on "Podcasts"
Under "Podcast Settings," click on "Sync Podcasts"
Now go to your Watch app on your iPhone
At the bottom of the screen, make sure you're on the "My Watch" tab
Scroll down to "Podcasts"
Here you will want to click "Listen Now" and you're going to want to select the podcasts you want to prioritize to your Apple Watch.
Here's the wrinkle. Apple doesn't promise all of the podcasts will end up on your Apple Watch. In fact, it actually says it "will try to add as many unplayed episodes as possible."
This is key. If you don't listen to each podcast, and they remain unplayed, they may stay on the Apple Watch until you listen to them. And that may prevent the newest one from updating. (At least it did for me.)
Changing the settings as I did above, did help to push the newest episodes to my Apple Watch, and help to prevent the coronavirus confusion we've all had, on remembering the actual day of the week.
If your Apple Watch is still not updating to the most recent podcast, you may need to push the issue. You can do this by:
Have your Apple Watch and your iPhone on their chargers, and close to each other.
Open the Watch app on your iPhone
Click on Podcasts
At the top it will tell you whether the Apple Watch is "Waiting" or "Updating" your podcast queue.
You may need to wait a few minutes to get the latest podcast episode downloaded to your Apple Watch
Apple Watch Series 5 (GPS + Cellular, 44mm) - Silver Aluminum Case with White Sport Band
How to Setup an Apple Watch www.youtube.com