High speeds won't just be set by the downhill skiers and speed skaters at the winter Olympics this month, as Intel brings a super-fast 5G network to the games in PyeongChang, South Korea.
Built to transfer video from cameras to screens in spectator viewing areas as quickly as possible, the prototype 5G network will give thousands of visiting sports fans a taster of what fifth-generation mobile networks will be capable when they go commercial over the next decade.
What will 5G be used for at the 2018 Winter Olympics?
Weeks before the games open, Intel installed what is being dubbed as the 5G Village. The epicenter for this is a modest two-floor cafe in Uiyaji Wind Village, Daegwallyeong. Here, visitors arriving by the bus-load will be able to experience 5G, see how it is capable of transferring data 50 times faster than 4G, and learn more about the technology.
Where 4G was merely a speed upgrade on 3G, 5G is set to be truly game-changing. It will be used to connect a city's infrastructure, broadcast Ultra HD and even 8K video into our smart homes, and help make truly driverless cars a reality by giving them a platform on which to communicate.
"As mobility evolves beyond the smartphone, 5G is becoming one of the most impactful technology transformations we are likely to see in our lifetimes," Sandra Rivera, senior vice president and general manager of Inte's Network Platforms Group, said in a company blog post.
Once the games get underway, after the opening ceremony on February 9, Intel's 5G networks will be used to transmit live video from HD and Ultra HD cameras, drones and — for the first time — cameras attached to the front of bobsleighs at the Alpensia Sliding Center.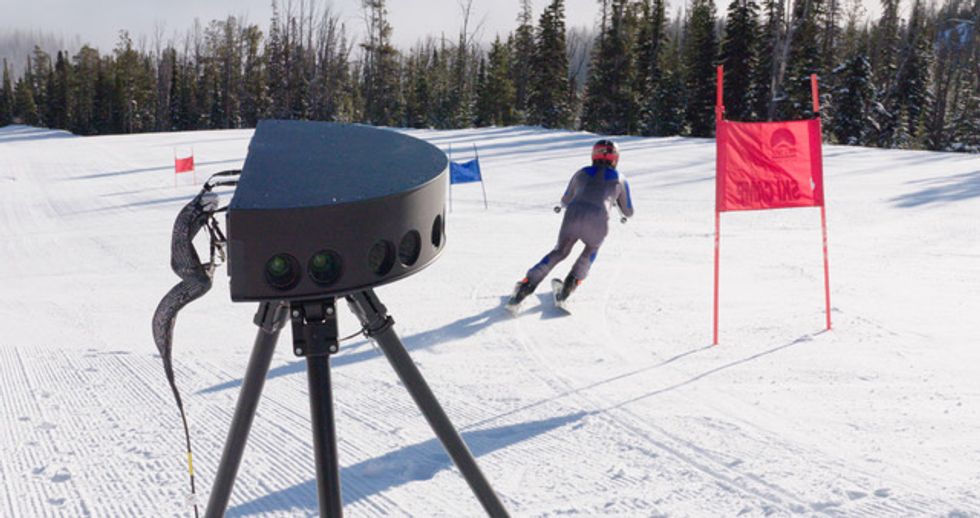 VR cameras will broadcast 55 hours of live footage from the gamesIntel
Matrix-style 'bullet-time' action replays
Fans attending the games will be treated to Matrix-style 'bullet-time' footage — also known as time slice — where live video is dramatically slowed down and the camera appears to 'move' around the scene, before speeding back up to real-time. It is a trick more commonly seen in Hollywood movies. But the speed of Intel's 5G network means it can be applied to live footage and shown in instant replays moments later.
The speed of 5G also enables broadcasters to produce live virtual reality footage. Captured by rigs each with up to 12 HD cameras, the 360-degree footage is beamed across the 5G network to Intel servers, where it is stitched together and streamed to the internet. Fans wanting to watch in VR can do so through the NBC Sport VR app, where 55 hours of live VR footage will be broadcast from over 30 events during the games.
Finally, Intel will be using drones to capture footages from the games, as well as the opening and closing ceremonies. Safety here will, of course, be paramount — not least after the infamous incident where downhill skiing champion Marcel Hirscher was almost hit by a falling drone (below), live on television in 2015.