Like GearBrain on Facebook
Fitbit vs. Garmin vs. Jawbone: Fitness Tracker Features And Form Factors
Fitness trackers are a helpful addition to creating a healthy lifestyle. But many of us are overwhelmed at the sheer size and number of manufacturers and models on the market. Features too can seem endless offering read-outs on everything from heart rate to sleep habits.
Some devices already have fitness details folded into their makeup. The Apple Watch, for example, incorporates Apple's Healthkit software suite which ties together health information collected from the Watch as well as the iPhone. Google also offers the Android Wear suite of devices from a number of different manufacturers, with a similar service called Android Fit that organizes health data from both the smartwatches and Android smartphones.
But if fitness is your primary concern, then many of the products below will likely be a better fit than smartphones themselves. Some also offer smartphone notifications to fill the gap between a fitness band and a smartwatch. At GearBrain, we took a look at the details of some of the better known models to help you find a better fit for your workout needs.
Fitbit had the best-selling line of fitness trackers in 2015, largely thanks to the sub-$100 Fitbit Flex. The wristband tracks a user's steps with a built-in pedometer, and also record distance traveled, the number of minutes spent in motion, calories burned and sleep time. The Flex is popular among corporate wellness programs, which sometimes allow employees to obtain the device for free or at a reduced cost.
For athletes and consumers who want a basic display, there's the Fitbit Charge ($129). While it tracks the number of floors climbed, the wristband is mainly a souped up version of the Flex. There's a small screen that shows the time, which is also capable of acting as a caller ID. Fitbit also offers an upgraded model with a heart rate monitor called the Fitbit Charge HR ($149). And at the highest end, the San Francisco-based company offers the Fitbit Surge ($249), a fitness tracking watch with a larger display, GPS, plus smart notifications for text messages and emails. You can even control your music.
Jawbone is one of Fitbit's major competitors in the wristband space, offering a line of fitness trackers including the Jawbone UP Move ($49), Jawbone UP2 ($99) and Jawbone UP3 ($179).
The Jawbone UP Move is a dongle with basic step and sleep tracking that can be used with the included clip, or placed in wristbands which come in multiple colors. The UP2 is a standard wristband with a sleeker design plus rubber wristband. It's slimmer and more accurate than the chunkier, circular UP Move, thanks to more sensors embedded in the band.
Both the Jawbone UP2 and UP3 offer a smart alarm wakeup feature, vibrating when it detects the wearer is no longer in REM or deep sleep. The UP3 includes all of the same features as the UP2, but has a heart rate sensor. Note that none of the models in Jawbone's UP series include a display.
The Garmin Vivofit 2 ($99) has one year of continuous battery life, compared to 2-4 days for the Fitbit Charge, and less than two weeks for Jawbone's Up series. That's a big perk. Further? The wristband includes activity and sleep tracking, as well as a "move" meter — an alert if you've been inactive for more than an hour, requesting you get up, and flex your muscles for a few minutes.
The Garmin Vivosmart ($149) includes the same features as the Vivofit 2, but that year-long battery life? It's down to one week. However the sacrifice of longevity is not in vain. The Vivosmart includes vibration notifications, a touchscreen, caller ID, and can display text messages and emails from a connected smartphone.
Misfit specializes in dongles, coin-sized trackers with LED displays. The device connects to smartphones but uses a standard watch battery, meaning it doesn't have to be charged.
The Misfit Shine ($69 - $169) is an aluminum version, that can track sleep and activity but doesn't include a heart-rate monitor. But the tracker can be customized from low-end fabric straps to Swarovski special editions. Misfit also sells a plastic version called the Flash ($29) and an even cheaper model called the Link ($19) so small you can attach it to your shoe, and swaps out sleep-tracking for a touch-button that can be used to control music or take a selfie.
Withings is one of the earliest watch manufacturers to build a connected, or "smart" watch. Rather than a bright, full-color display like the Apple Watch, the Swiss watchmaker's Activité ($449) looks like a standard analog timepiece, albeit on your elegant grandfather may have worn.
A Swiss-made watch in a stainless steel case, Activité features a standard hour and minute hand, as well as a third that tracks steps. Vibrations and sleep are recorded, and fitness data is exported back to a smartphone. The watch face is covered with sapphire glass, extremely scratch and crack resistant, and comes with a calf-leather strap in black or brown.
A lower cost version, Withings Activité Pop ($149) is in metallic-coated plastic case, comes with a silicone band and swaps the sapphire glass for plastic as well.
Still confused on which tracker is right for you? Consider checking out Gear Brain's "Before You Buy Guide" of important things to consider before you make a purchase.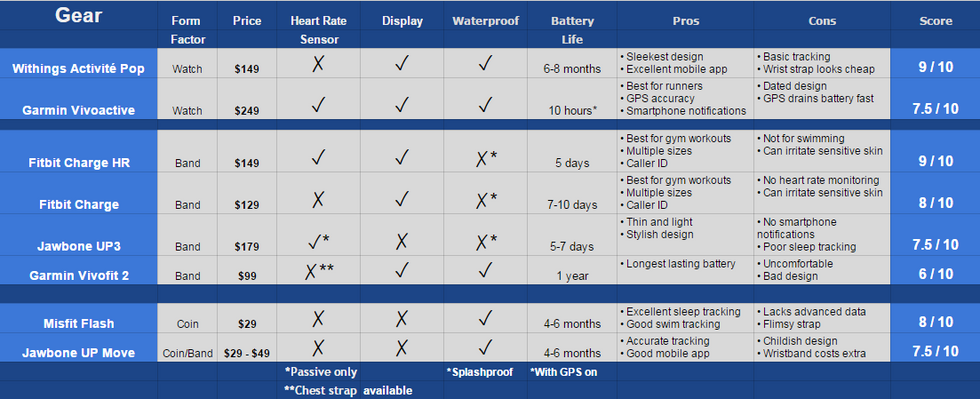 From Your Site Articles
Related Articles Around the Web
Like GearBrain on Facebook