Like GearBrain on Facebook
The smart gym market has exploded in the last year or so – not least due to gyms closing the doors due to the pandemic. Where your options were previously limited to semi-smart rowing machines and Bluetooth-connected dumbbells, there are now numerous options that subscribe to the Peloton business model of high prices, monthly subscriptions, and live or on-demand video exercise classes.
None of these options will give you much change from $2,000, and most carry a fairly hefty monthly subscription in order to work properly. They are unashamedly aimed at those with deep pockets but who haven't the time to regularly attend a gym or other exercise classes. They instead bring the equipment, classes and personal trainers to your home via video streaming and the live sharing of your workout performance.
Read More:
Here are some of the most feature-packed smart home gym options to pick from in 2020.
Peloton Bike – Starting at $1,495 (or from $49 a month) plus app subscription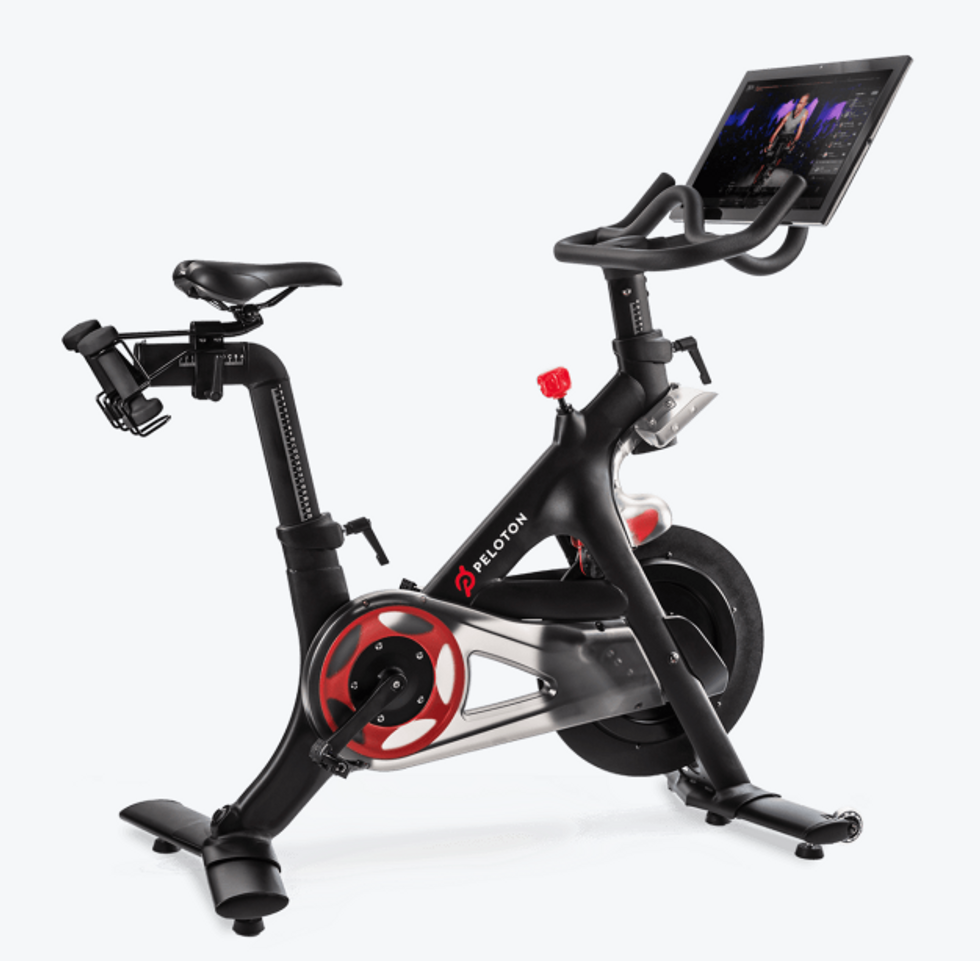 The original Peloton Bike has has a price cut from $2,245 to $1,895Peloton
One for the hardcore spinning fans, the Peloton is billed as the ultimate home cardio machine. It includes a 22-inch touch screen display, which is where users can watch over 5,000 on-demand workouts, and take part in 14 live studio classes streamed from New York every day and presented by professional instructors.
A belt-drive system means the bike is quiet to be used at night without disturbing the rest of your household, clip-in pedals mean you can wear your own cycling shoes, and there's a dumbbell holder just behind the saddle for when cycling alone somehow isn't enough.
Like we said, this is one for the real enthusiasts - because not only does it cost $2,245, but the exercise videos and live streams require a $39 per month subscription. Alternatively, if you already own a bike then Peloton offers an iOS app which delivers the live and on-demand exercise videos for $12.99 a month.
Peloton Bike+ – $2,495 (or from $64 a month) plus app subscription
The Peloton Bike+ has a rotating display and improved audioPeloton
Peloton's second-generation Bike+ has a slightly larger 24-inch display, plus improved four-channel audio thanks to a pair of tweeters and two subwoofers. Most importantly is how the touchscreen rotates 360 degrees; this means you can turn the screen around and face it from across the room to do exercises that don't involve the bike. The Peloton app caters for this, giving you a a more complete workout than just cycling. This model of bike also has integration with Apple GymKit, so your exercise data is automatically transferred from the bike to the Health app on your iPhone.

Read More: Top Peloton alternatives: Save money and stay fit with these bikes and sensors
Tonal – $2,995 (or from $149 a month) plus app subscription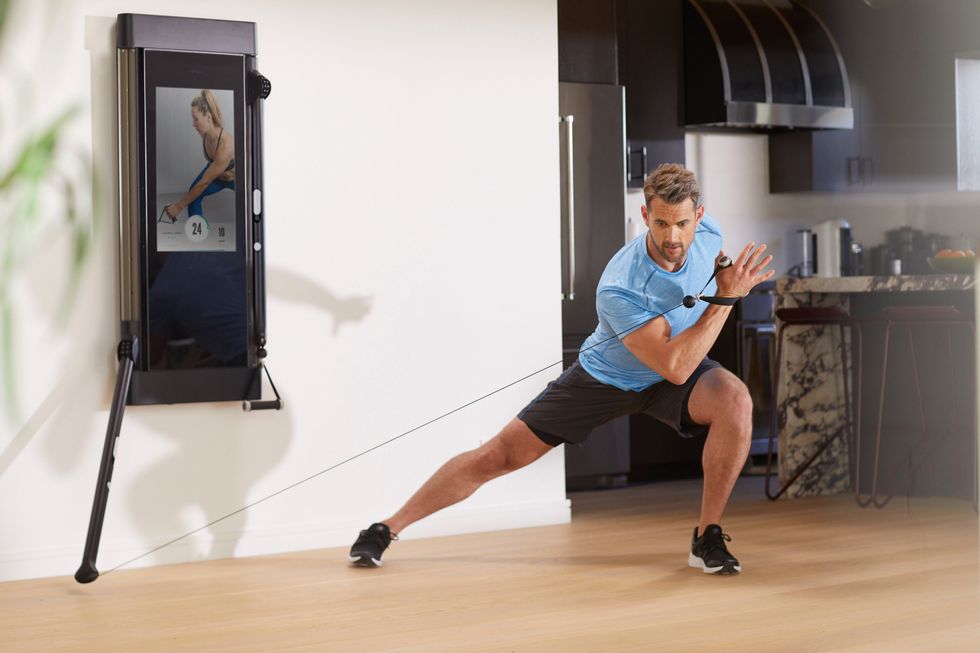 The Tonal is wall-mounted and offers up to 200 lbs of resistanceTonal
Focused on strength training, Tonal uses a pulley system and integrated bench to offer a wide range of weight-lifting and resistance workouts. Instead of relying on weights which take up space, the Tonal adds resistance to the pulleys using electromagnets. The wall-mounted system can create up to 200 pounds of resistance, despite being the size of a television.

Your exercise progress and tutorials are displayed on an integrated 24-inch touch screen. Tap to select a workout and video tutorials and animations will show you what to do, and track your exercise.
A pair of adjustable arms are used to move the position and direction of the pulleys, meaning you can work out your legs as well as upper body.
Tonal is priced at $2,995 for the equipment, plus $49 a month for membership to a range of pre-recorded training sessions and tutorials. The system is also offered with a finance plan from $149 a month.
Peloton Tread – $2,495 (or from $64 a month) plus app subscription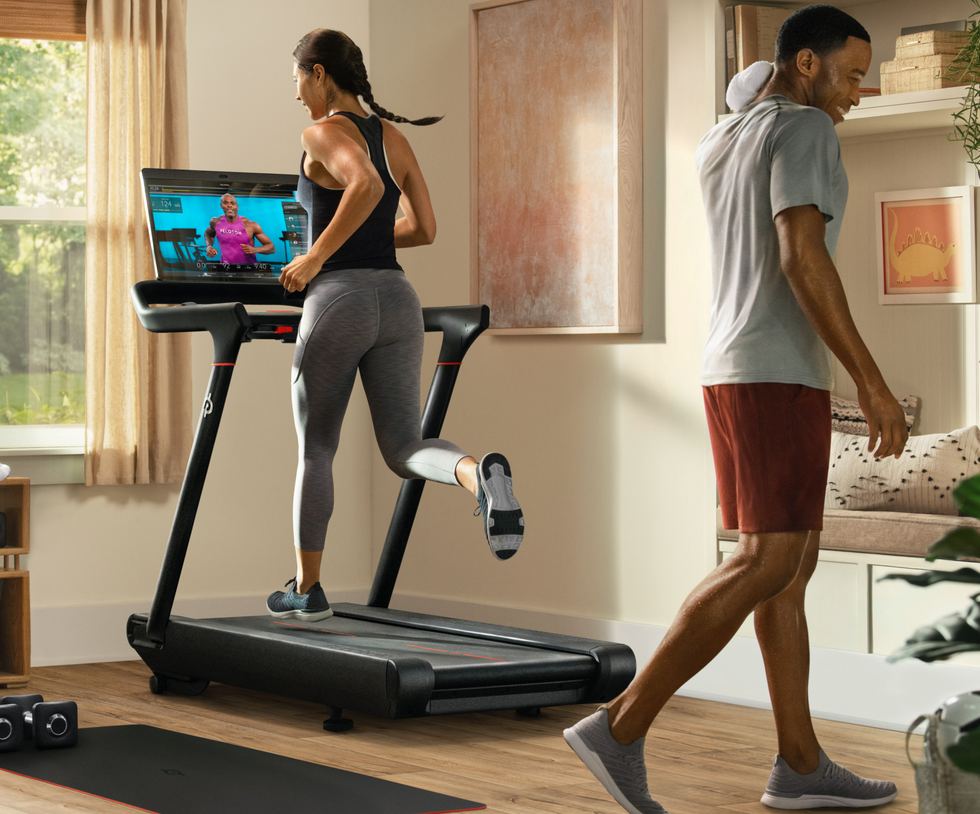 The Peloton Tread is slightly smaller than the Tread+Peloton
Peloton's newest treadmill is also its cheaper model, comfortably undercutting the renamed Tread+.

The regular Tread uses a traditional running belt with 59 inches of running space. There's a 23.8-inch HD touchscreen and it can operate at speeds from zero to 12.5mph, and with an include from zero to 12.5 percent. Like the company's connected bikes, the Treat can be used with the company's live and on-demand exercise classes
being the newer of the two Peloton treadmills, and despite being the cheaper one, the regular Tread has an 8-megapixel camera for video chats with friends compared to five-megapixel on the Tread+. This model also has Bluetooth 5.0 compared to 4.0 for the Tread+. The display of both treadmills can be used with Peloton's other exercise classes too, including HIIT cardio, stretching and strength training.
Peloton Tread+ – $4,295 (or from $111 a month) plus app subscription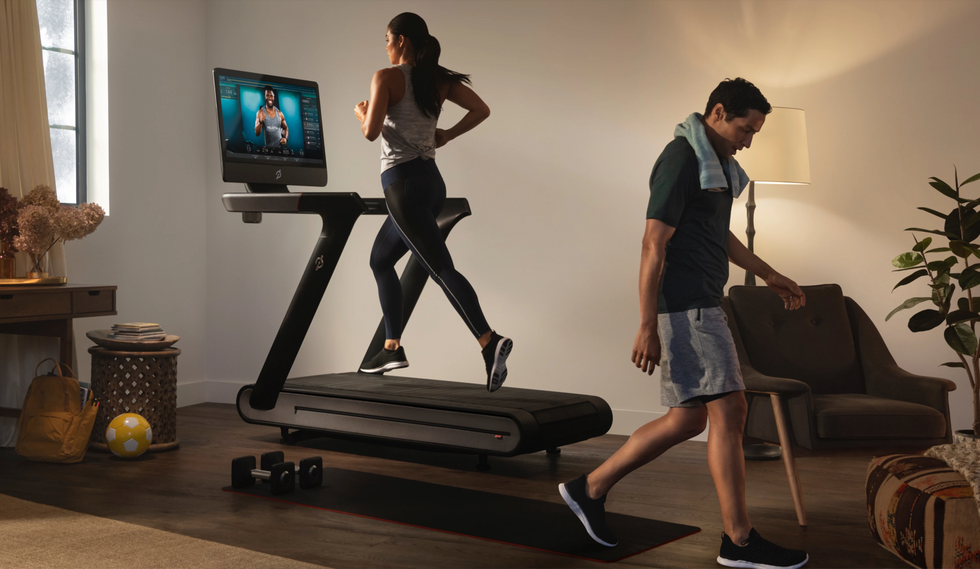 The Tread is a treadmill with a 32-inch HD touchscreenPeloton
Peloton's original Tread is now called the Tread+. Compared to the regular Tread, it has a shock-absorbing slat belt for increased comfort on longer runs, with 67 inches of running space and a 32-inch HD touchscreen. The Tread+ is larger than the regular Tread, measuring in at 72.5 inches long, 36.5 inches wide and 72 inches tall (compared to the Tread's 68, 33 and 62 inches respectively). It's 12.5mph top speed is the same, while the maximum include is slightly more at 15 percent.
Like with the Bike+, the Tread+ has improved audio thanks to a 20-watt subwoofer, enhanced bass response, voice clarity and overall loudness, Peloton says.
Mirror – $1,495 plus (or from $42 a month) plus app monthly subscription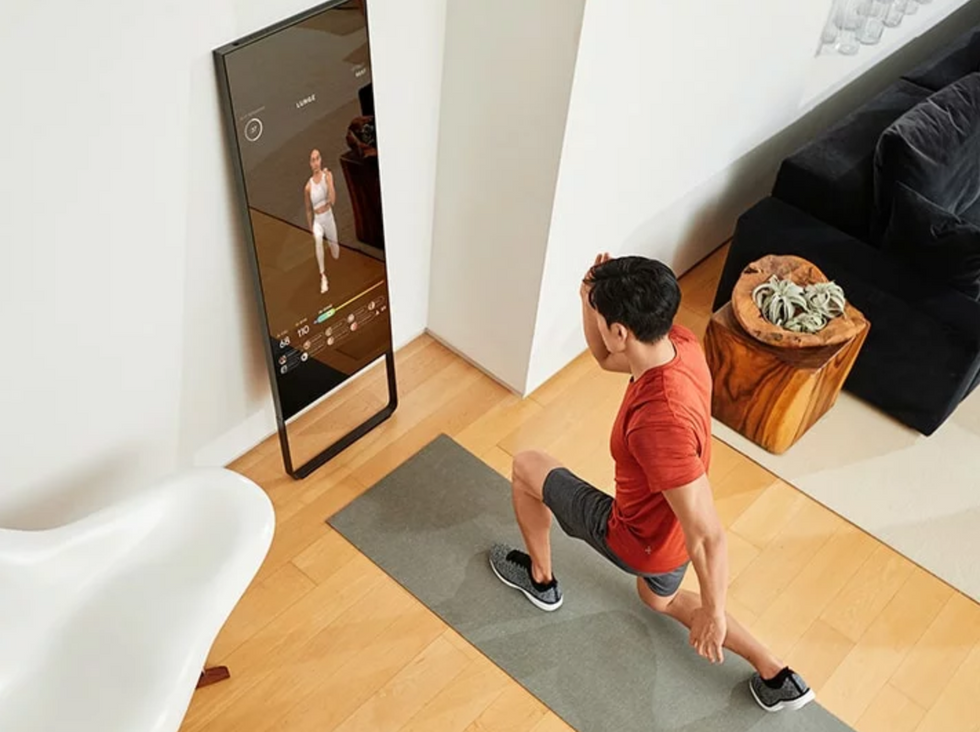 The Mirror includes live classes as part of a $39 monthly subscriptionMirror
The Mirror is, quite literally, a reflective mirror. But switch it on and the surface becomes a display for showing workout routines and live or on-demand exercise classes. The product can be wall-mounted or propped up against a wall using its included stand.

Because you can see yourself while working out, the Mirror aimed to help improve your posture. Guides include live-streamed and pre-recorded exercise classes, plus animations showing you what to do. The system records your heart rate and calories burned. The goal is to earn points by achieving, maintaining, then recovering quickly from a target heart rate.
Up to six members of the same family or household can use the Mirror with their own account for no extra cost. But even still, the Mirror is $1,495, plus a $39 monthly subscription.
Tempo Studio – $2,495 (or from $69 a month) plus $39 monthly subscription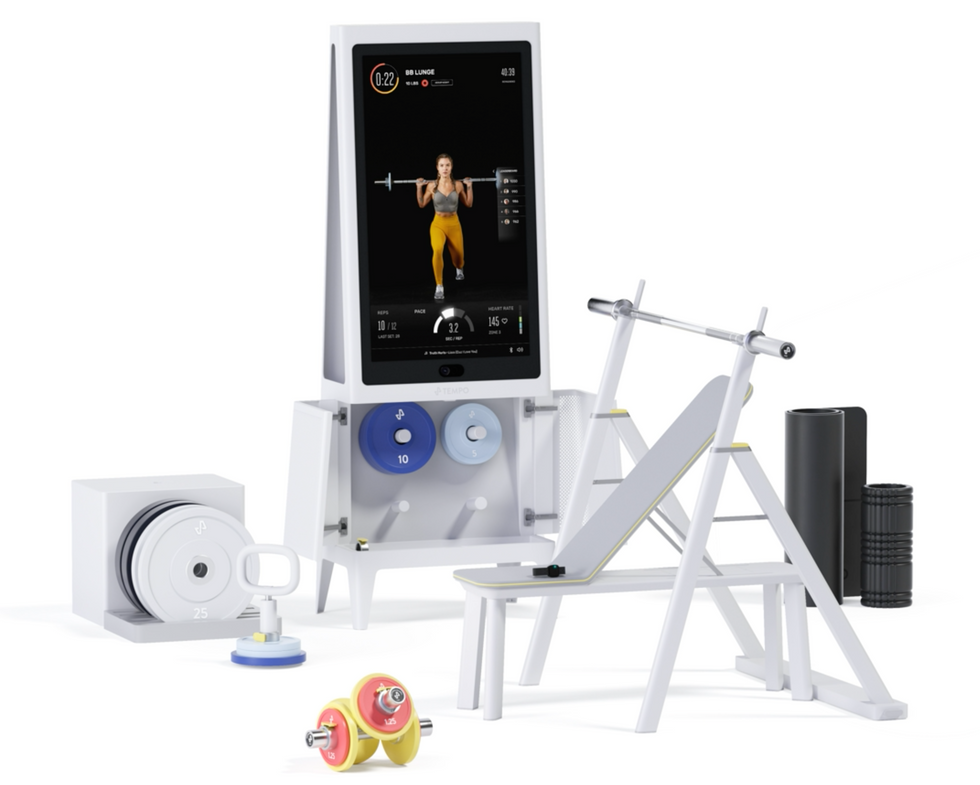 The Tempo Studio aims to offer a whole-body workoutTempo
Announced in early 2020, the Tempo Studio is similar in form factor to the Mirror, but uses a regular display instead of one behind an actual mirror. The display measures 42 inches and below it there's a cupboard for storing included accessories including a barbell, two dumbbells, a yoga mat, foam roller, and a range of weight plates for the bars. It's a somewhat comprehensive home exercise package.

As with other systems, the Temp Studio shows exercise tutorials and live or on-demand classes. What's different is how the Tempo Studio uses an integrated Microsoft Kinect Azure camera and sensor system to closely monitor your movements, then provide feedback to make sure your posture and technique is correct, improving performance and preventing injury.
The goal here is more about perfect technique rather than rushing through each session as quickly as possible, which we think makes a nice change.
Hydrow Rower – From $2,245 (or from $63 a month) plus app subscription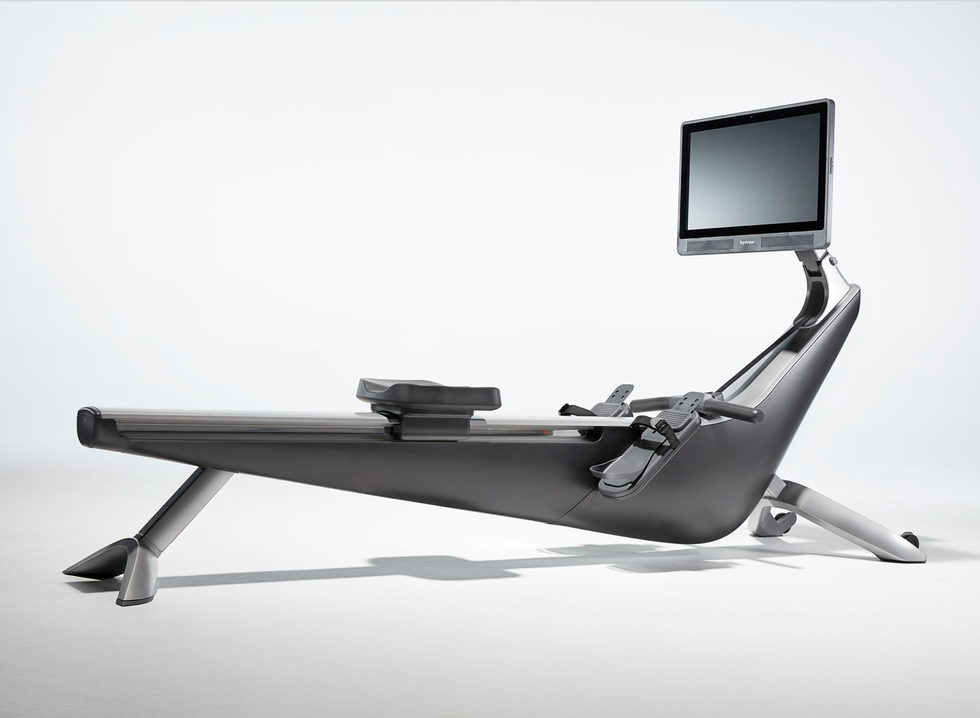 The Rower costs $2,200Hydrow
Taking the Peloton model and applying it to a rowing machine, we have the Hydrow Rower. Live and on-demand rowing classes are available to watch on the screen, which also shows your stats for each session, and where you are compared to others rowing in the same class.

The system boasts of offering life-like visuals and sounds to help make the experience feel more realistic, and Hydrow offers hundreds of rowing classes to suit your style, with new workouts recorded daily.
If you want something more relaxing, the rower also offers a free-row mode where you explore scenic rivers and waterways at your own pace.
Climbr – $2,299 (or from $99 a month)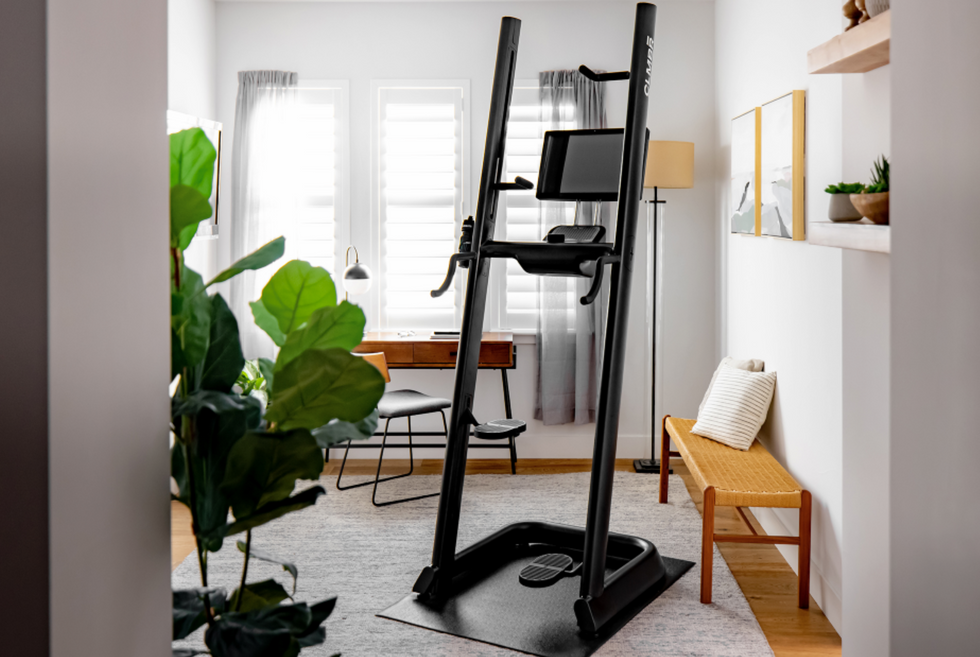 The Climbr is designed to take up less space than other smart exercise equipmentClimbr
Climbr is a newcomer to the smart home gym market. This is a device that aim to offer a stair stepper workout, but which trains your arms and legs equally. The system aims to combine cardio with strength training to create a whole-body workout, but with a relatively simple and compact piece of equipment. There's a touchscreen HD monitor to watch on-demand fitness classes (although none are live) and view your exercise data, plus a companion smartphone app.

FightCamp – $1,219 (or from $90 a month) plus app subscription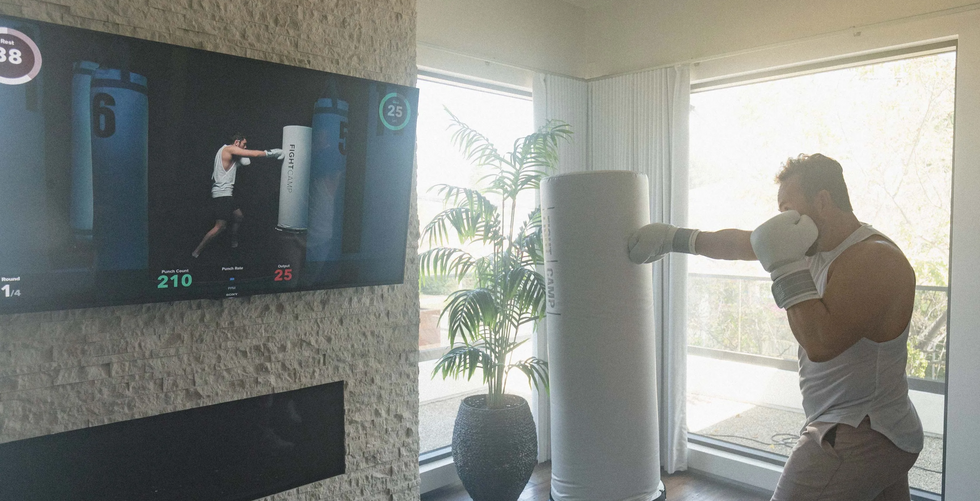 Punch sensors link to an iPhone app for on-demand boxing classesFightCamp
FightCamp is a smart boxing system that includes a floor-standing punchbag and gloves that contain sensors for tracking your performance. Instead of having its own display, boxing classes and your fitness data are shown on the companion iOS app. This can then be shown on your TV using an HDMI-to-iPhone cable or by using AirPlay.

For those who already own a punchbag and gloves, FightCamp sells its punch trackers and quick wraps on their own, with a pair priced at $439 (or from $57 a month for 24 months).
JaxJox Kettlebell Connect – $229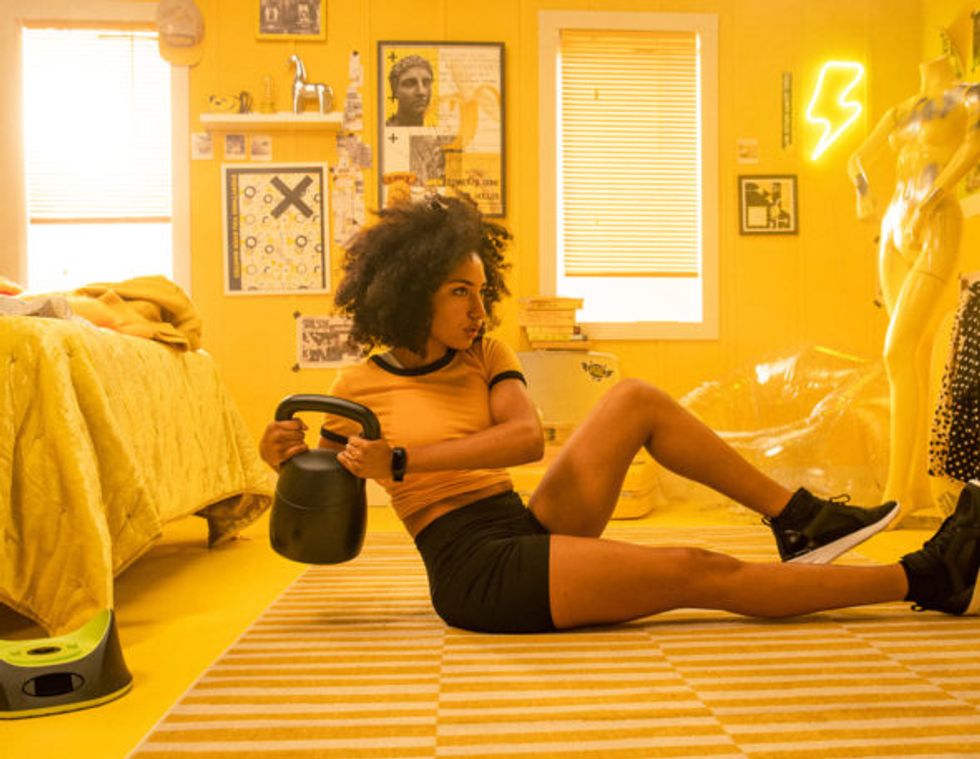 The kettlebell can weigh between 12 and 42 poundsJaxJox
Now for something much more affordable, and without the need for a subscription. The Kettlebell Connect by JaxJox is a smart exercise weight that connects to a companion smartphone app via Bluetooth. An adjustable six-in-one kettlebell, it can be set to weigh from 12 to 42 pounds, and up to nine users can connect to it using their phones.

The battery lasts 14 hours and data collected by the kettlebell can be shared to the Apple Health app if you are an iPhone user. Alternatively, the data is stored in JaxJox's own app, which tracks reps, sets, weight and rest time.
If you want to workout from home with online classes, but don't want to invest on expensive connected equipment, then you could try a subscription to Apple Fitness+, which we have reviewed here.
From Your Site Articles
Related Articles Around the Web
Like GearBrain on Facebook