The smart gym market has exploded in the last year or so. Where your options were previously limited to semi-smart rowing machines and Bluetooth-connected dumbbells, there are now numerous options which all subscribe to the Peloton business model of high prices, monthly subscriptions, and live or on-demand video exercise classes.
None of these options will give you much change from $2,000, and most carry a fairly hefty monthly subscription in order to work properly. They are unashamedly aimed at those with deep pockets but who haven't the time to regularly attend a gym or other exercise classes. They instead bring the equipment, classes and personal trainers to your home via video streaming and the live sharing of your workout performance.
Here are some of the most feature-packed smart home gym options to pick from in 2020.
Peloton bike - $2,245 plus subscription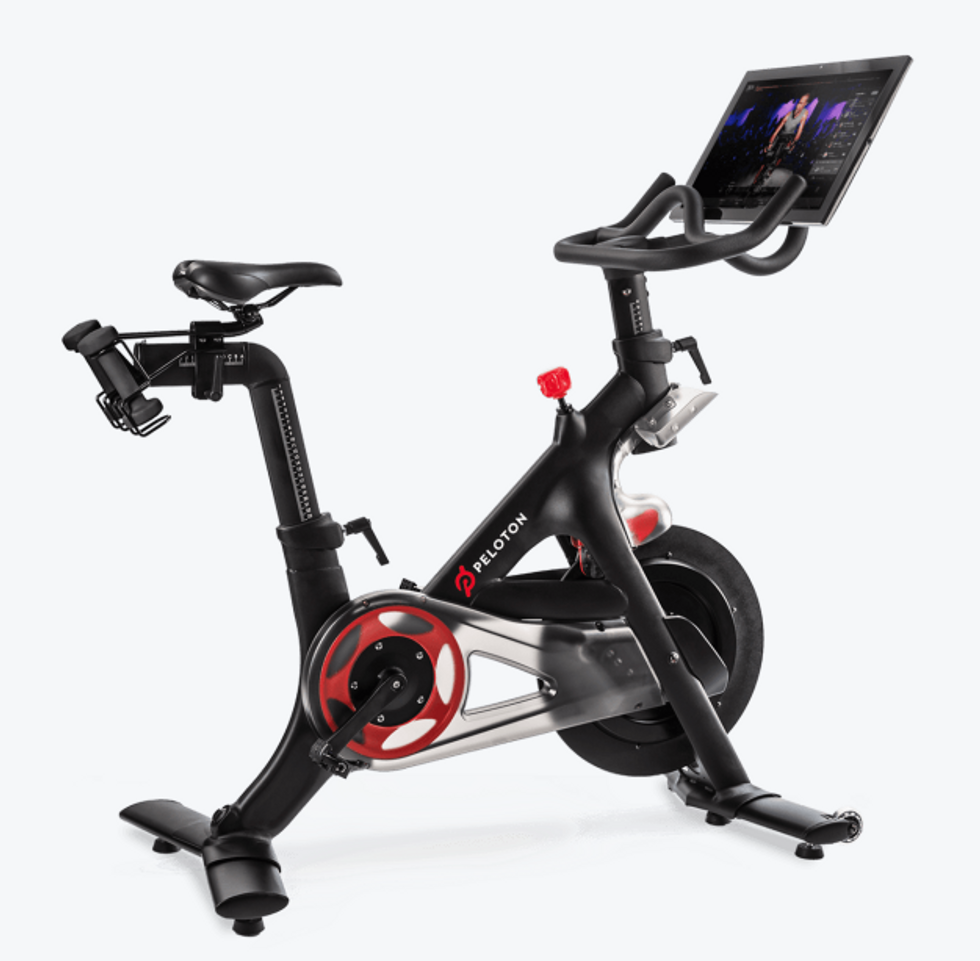 Peloton
One for the hardcore spinning fans, the Peloton is billed as the ultimate home cardio machine. It includes a 22-inch touch screen display, which is where users can watch over 5,000 on-demand workouts, and take part in 14 live studio classes streamed from New York every day and presented by professional instructors.
A belt-drive system means the bike is quiet to be used at night without disturbing the rest of your household, clip-in pedals mean you can wear your own cycling shoes, and there's a dumbbell holder just behind the saddle for when cycling alone somehow isn't enough.
Like we said, this is one for the real enthusiasts - because not only does it cost $2,245, but the exercise videos and live streams require a $39 per month subscription. Alternatively, if you already own a bike then Peloton offers an iOS app which delivers the live and on-demand exercise videos for $12.99 a month.
Tonal - $2,995 plus subscription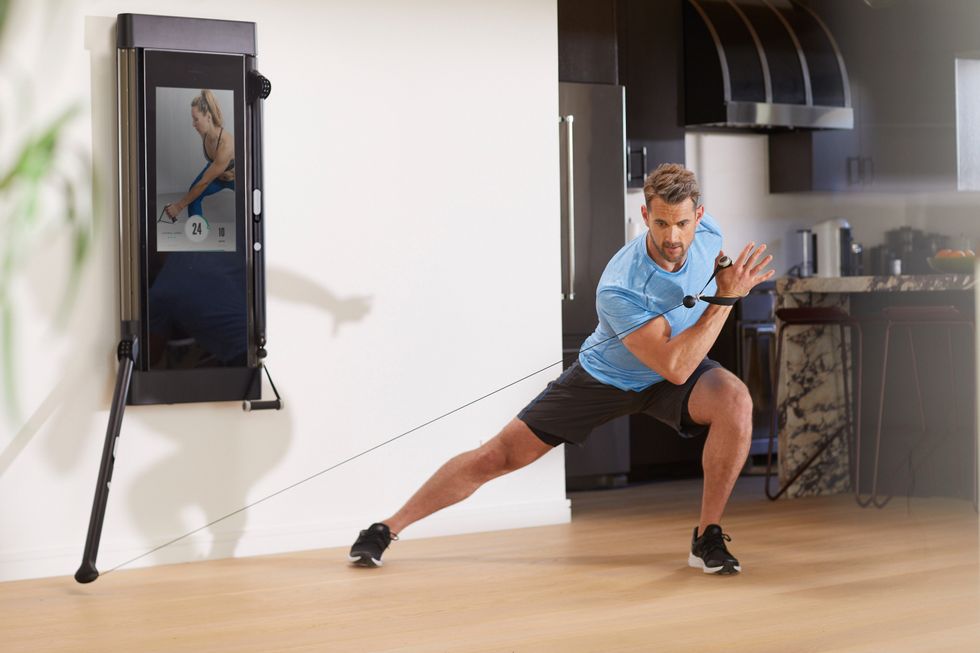 The Tonal is wall-mounted and offers up to 200 lbs of resistanceTonal
Focused on strength training, Tonal uses a pulley system and integrated bench to offer a wide range of weight-lifting and resistance workouts. Instead of relying on weights which take up space, the Tonal adds resistance to the pulleys using electromagnets. The wall-mounted system can create up to 200 pounds of resistance, despite being the size of a television.

Your exercise progress and tutorials are displayed on an integrated 24-inch touch screen. Tap to select a workout and video tutorials and animations will show you what to do, and track your exercise.
A pair of adjustable arms are used to move the position and direction of the pulleys, meaning you can work out your legs as well as upper body.
Tonal is priced at $2,995 for the equipment, plus $49 a month for membership to a range of pre-recorded training sessions and tutorials. The system is also offered with a finance plan from $149 a month.
Peloton Tread - $4,295 plus subscription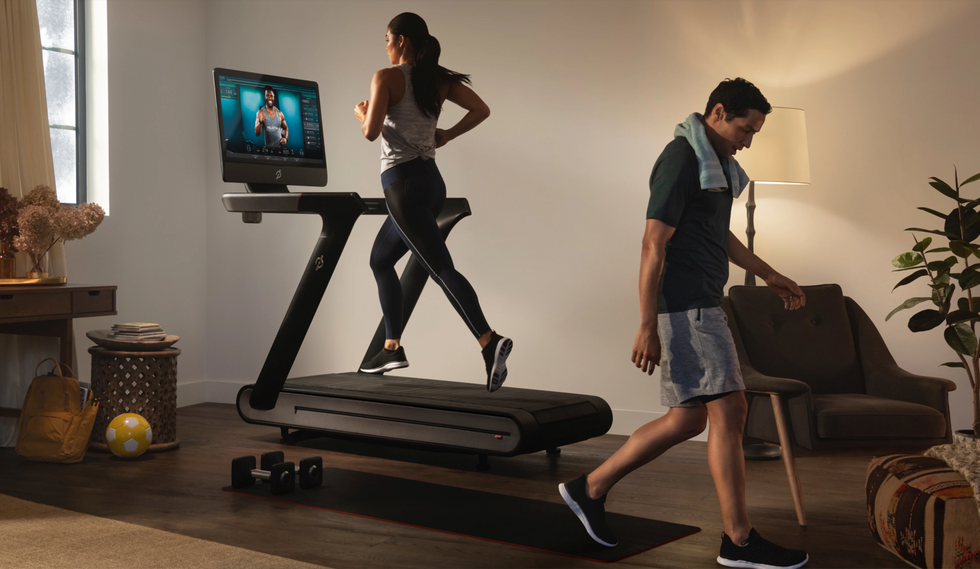 The Tread is a treadmill with a 32-inch HD touchscreenPeloton
If you prefer running to cycling, then Peloton's second product is a smart treadmill called the Tread. The general concept is the same as with the bike; there's a large touch screen atop the treadmill, which can be used to select exercise routines, track progress, adjust settings, and join live or pre-recorded classes.

Metrics like heart rate, distance, speed and output are all presented live on the 32-inch, HD display, and your performance can be tracked over time. As well as treadmill-specific exercise classes, the system offers. wide range of pre-recorded fitness videos using your body weight alone to build core strength. Yoga classes are also included.
Naturally, you're going to need a lot of free space for a home treadmill. The Peloton Tread is 72.5" long, 36.5" wide and 72" tall, and weighs 455 pounds. The speed can be adjusted from zero to 12.5mph and the include can be set to anything from flat to 30 degrees.
The Tread costs $4,295 plus $39 per month for the app subscription.
Fitbit Inspire HR Heart Rate & Fitness Tracker, One Size (S & L bands included), 1 Count
Mirror - $1,495 plus $39 monthly subscription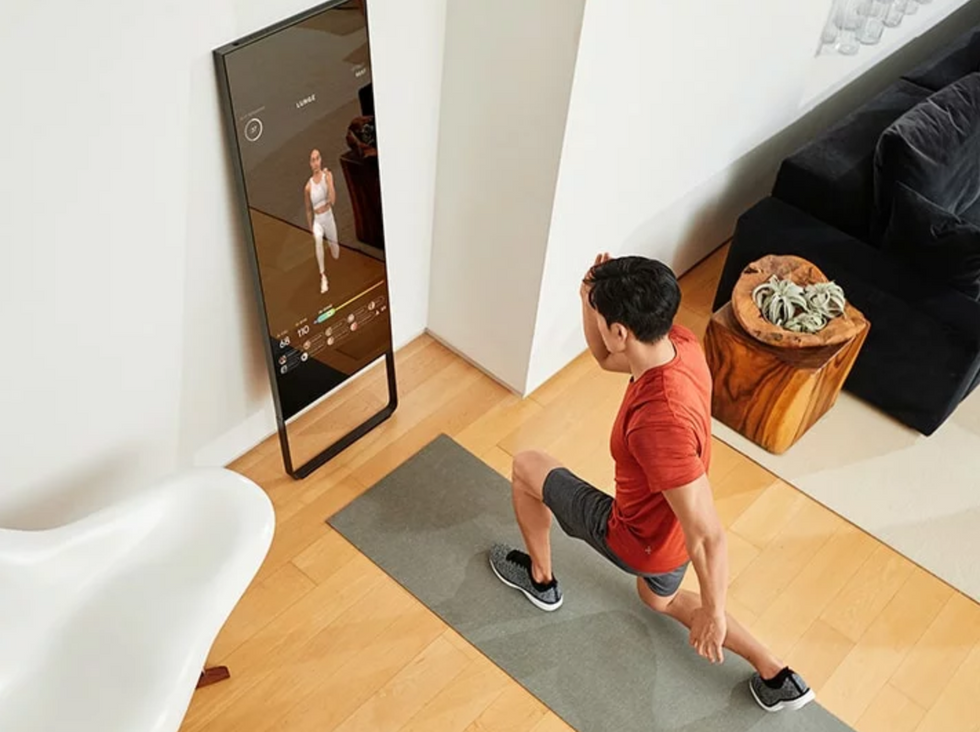 The Mirror includes live classes as part of a $39 monthly subscriptionMirror
The Mirror is, quite literally, a reflective mirror. But switch it on and the surface becomes a display for showing workout routines and live or on-demand exercise classes. The product can be wall-mounted or propped up against a wall using its included stand.

Because you can see yourself while working out, the Mirror aimed to help improve your posture. Guides include live-streamed and pre-recorded exercise classes, plus animations showing you what to do. The system records your heart rate and calories burned. The goal is to earn points by achieving, maintaining, then recovering quickly from a target heart rate.
Up to six members of the same family or household can use the Mirror with their own account for no extra cost. But even still, the Mirror is $1,495, plus a $39 monthly subscription.
Tempo Studio - $1,995 plus $39 monthly subscription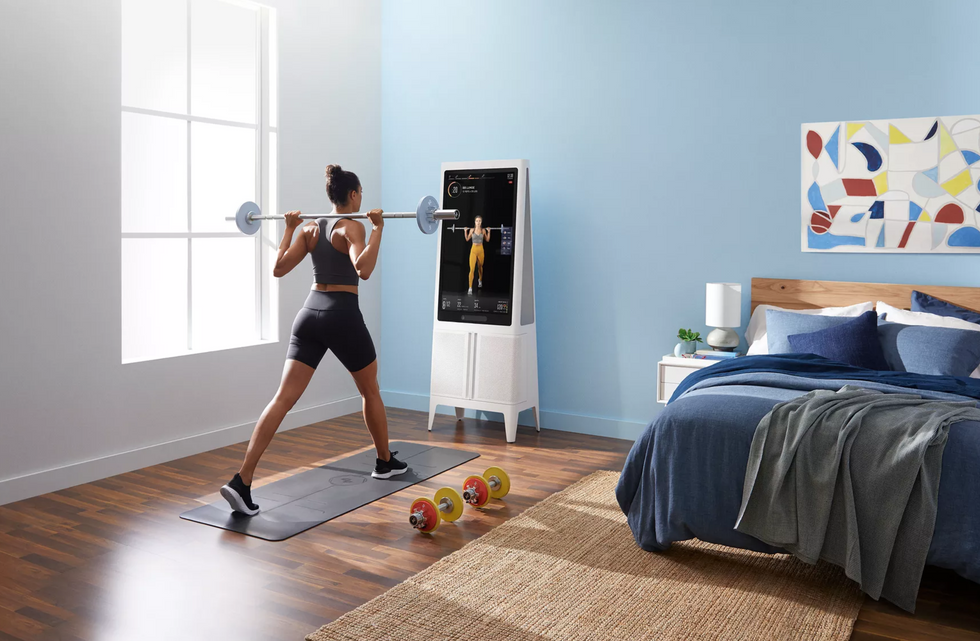 The Tempo Studio comes with a range of exercise accessoriesTempo
Announced in February, the Tempo Studio is similar in form factor to the Mirror, but uses a regular display instead of one behind an actual mirror. The display measures 42 inches and below it there's a cupboard for storing all of the included accessories, including a barbell, two dumbbells, a yoga mat, foam roller, and a range of weight plates for the bars. It's a somewhat comprehensive home exercise package.

As with other systems, the Temp Studio shows exercise tutorials and live or on-demand classes. What's different is how the Tempo Studio uses an integrated Microsoft Kinect Azure camera and sensor system to closely monitor your movements, then provide feedback to make sure your posture and technique is correct, improving performance and preventing injury.
The goal here is more about perfect technique rather than rushing through each session as quickly as possible, which we think makes a nice change.
Hydrow Rower - $2,199 plus $38 monthly subscription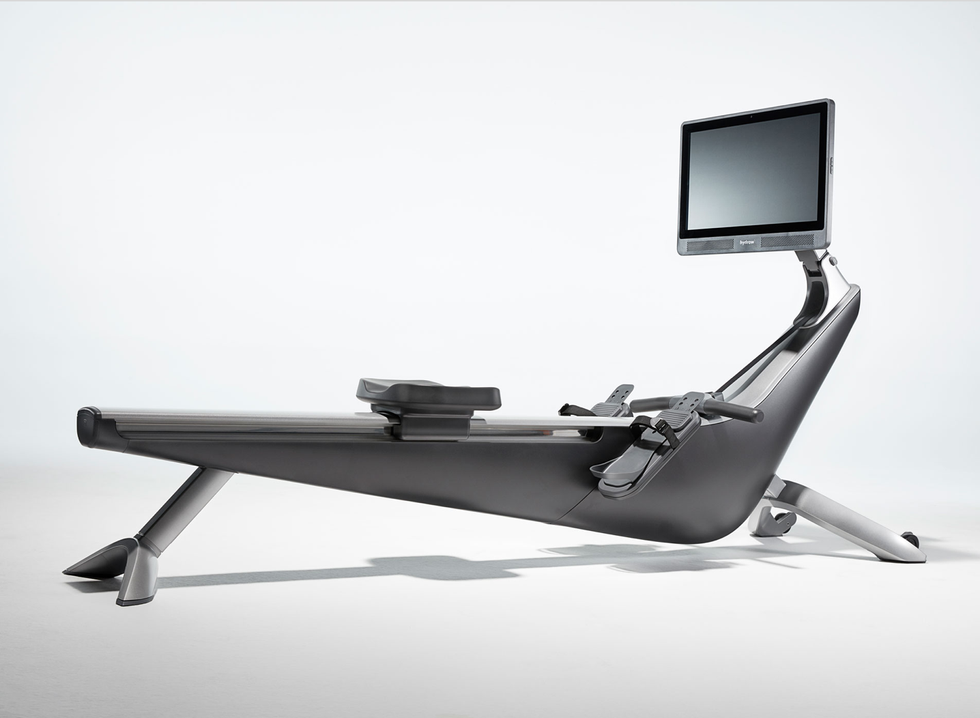 The Rower costs $2,200Hydrow
Taking the Peloton model and applying it to a rowing machine, we have the Hydrow Rower. Live and on-demand rowing classes are available to watch on the screen, which also shows your stats for each session, and where you are compared to others rowing in the same class.

The system boasts of offering life-like visuals and sounds to help make the experience feel more realistic, and Hydrow offers hundreds of rowing classes to suit your style, with new workouts recorded daily.
If you want something more relaxing, the rower also offers a free-row mode where you explore scenic rivers and waterways at your own pace.
JaxJox Kettlebell Connect - $229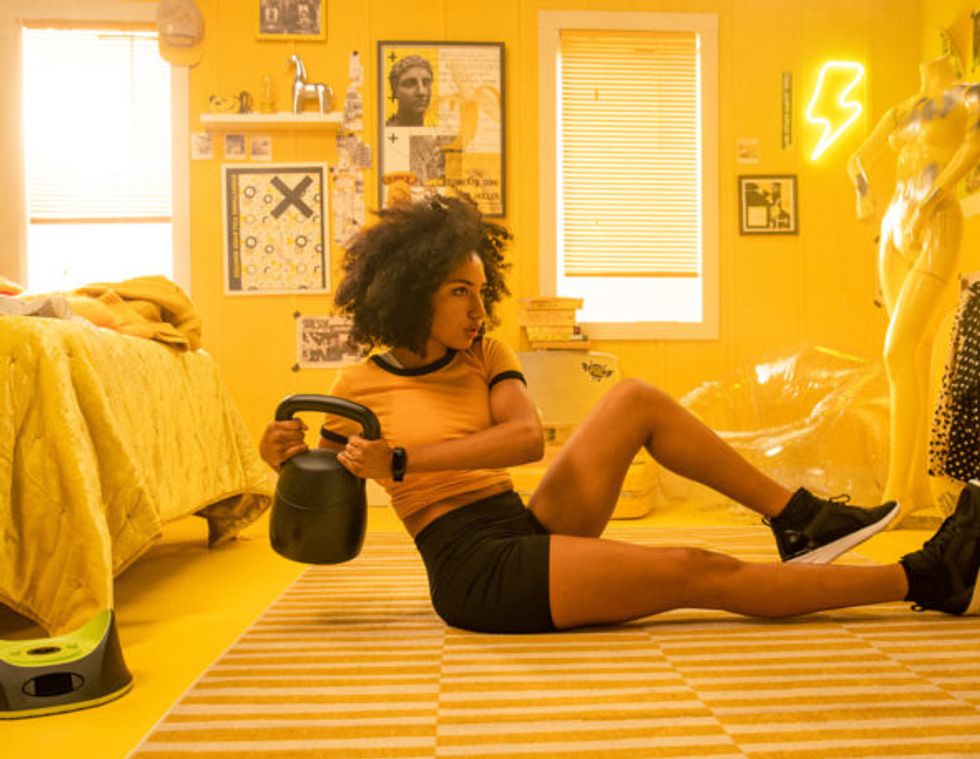 The kettlebell can weigh between 12 and 42 poundsJaxJox
Now for something much more affordable, and without the need for a subscription. The Kettlebell Connect by JaxJox is a smart exercise weight that connects to a companion smartphone app via Bluetooth. An adjustable six-in-one kettlebell, it can be set to weigh from 12 to 42 pounds, and up to nine users can connect to it using their phones.

The battery lasts 14 hours and data collected by the kettlebell can be shared to the Apple Health app if you are an iPhone user. Alternatively, the data is stored in JaxJox's own app, which tracks reps, sets, weight and rest time.