Like GearBrain on Facebook
Since I started flying drones everyday in the last year, I've come across many that I liked, a few I hated, and even fewer that I loved and would call a 'should buy.' I must say that even though this is no "Rotor Riot Butter Quad" (a unanimously loved racing drone), the Aerix Black Talon 2.0 FPV with VR Goggles ($115) certainly is a blast to fly and performs very well out of the box.

To some of you this micro drone may look familiar since a few months back I reviewed an earlier release of the Black Talon that came with a small LCD FPV screen. That one flew well, but with no instructions and props that came off far too easily I was not overly impressed. It seems Aerix listened, or somehow the quality control was far better here, because none of those issues were present with the Black Talon 2.0.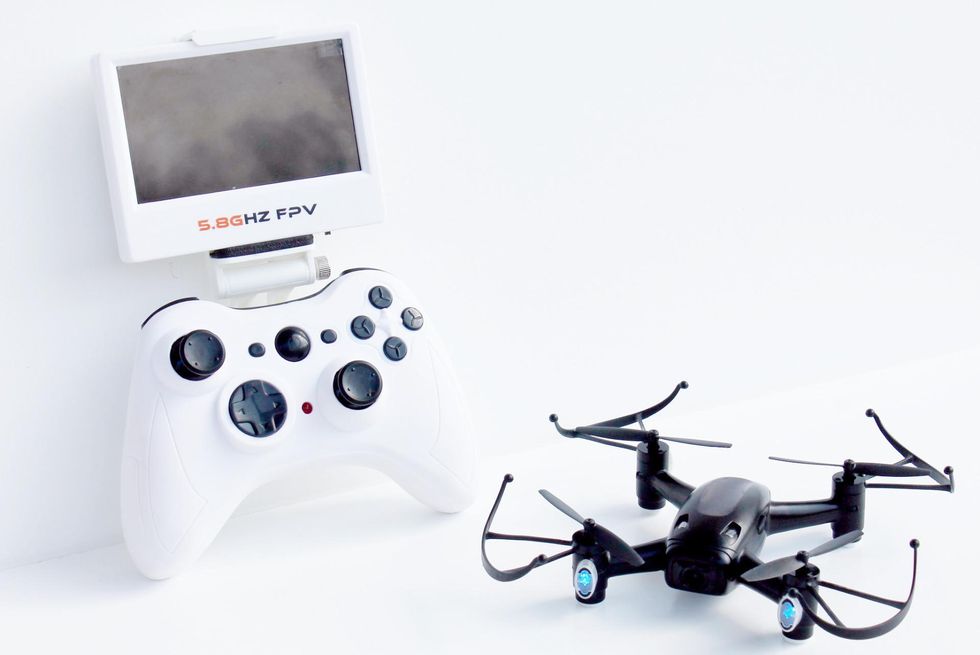 Aerix Black Talon 2.0 FPV micro drone
Black Talon 2.0's included instruction manual was very clear and thorough in laying out how to setup and arm the drone for flight. You just download and install the app, which you can use to run the drone, instead of the included control and also to view the video feed. The app is also where you can adjust the amount of maximum level—that's how you'll control how easily the drone will fly versus how fast, plus also the drone's lights, and the rest of its features. Installing the free app on my phone, and getting the video feed paired and up via Wi-Fi, took less than five minutes. Once paired, you slide your phone into the included VR style goggles and get ready to lift off.
Solid stunts
As with any FPV drone it is best to fly by looking at the drone first to get comfortable and make sure everything is working as expected. This method proved worthwhile as I quickly found that the Wi-Fi video feed got over powered by my home Wi-Fi router which was in the same room. This made the screen way too blurry to fly. Moving to the next room helped with this and I was able to use the FPV goggles to fly around indoors, as well as outside around my backyard. Be very careful for this and always bring a spotter when flying FPV for when things go wrong.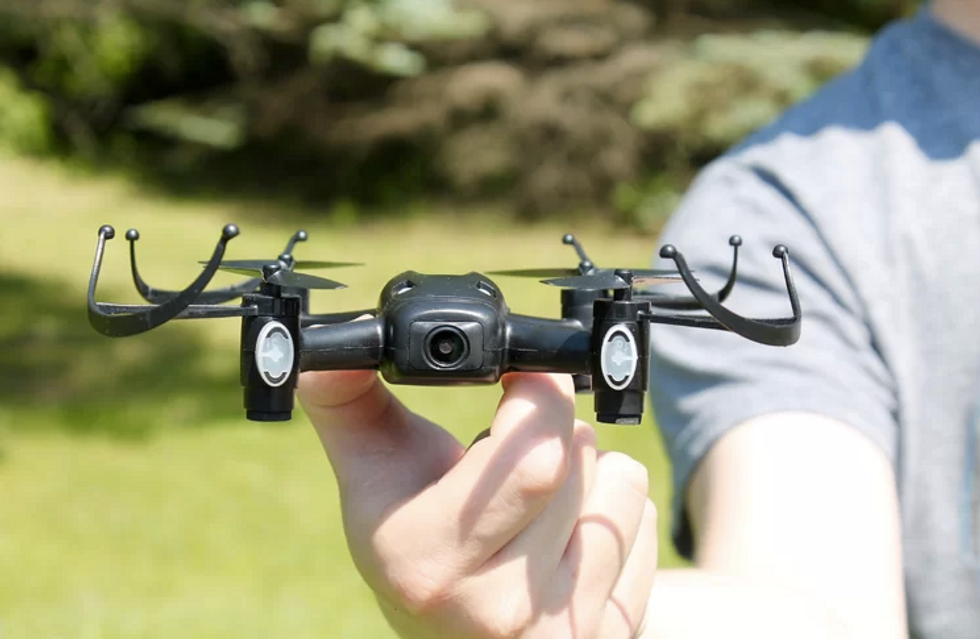 We found the Aerix Black Talon 2.0 FPV micro drone a solid stunt drone.
Next, I put Black Talon 2.0 through its paces doing stunts in its "stunt" mode. I held what would be the Xbox's "R" button, and while pressing the right stick the drone does a 360° flip or roll in the desired direction. Putting it on "3", the highest speed level, and doing flips in each direction really kept my attention so much so that I was flying almost back to back packs all weekend—which is rare with an attention span like mine.
The drone is equally as good as an indoor or portable stunt drone as it is is for beginners who will benefit from the altitude hold, stronger self leveling in speeds 1 and 2, headless mode (where the drone always come back to you when you pull back regardless of its orientation) and "return to home" which is only enabled in headless mode, without the googles.
Awkward around obstacles

The Black Talon 2.0 flew plenty fast for indoors but as with every Wi-Fi drone I've tried, the FPV signal isn't strong enough, or has too much latency to use effectively. Also the camera is angled slightly down, rather than up like a race drone. The idea for uptilt is that as you fly forward, the front of the drone points down so you need the camera tilted up to see where you are going. The Black Talon's angle may work for floating around while taking video, but not flying through obstacles.
I never really figured the "return to home" though. The Black Talon 2.0 seemed always to want to fly right at me, or go past me. Irrespective of that it is useful if the drone gets away from you across the yard. Just hit the button and it will come in your direction, once back in control just touch a direction stick and it will go back to flying as normal.
The Black Talon 2.0 can fly up to six minutes with a normal flight. While I was really wringing it out I was draining the battery in about four, but I think you can reasonably expect five minutes of flight time. As a bonus, my test unit came with the the optional two battery fast charger, for a total of three batteries which I highly recommend. With a drone this fun it will be agony waiting 30 minutes to recharge the battery between flights.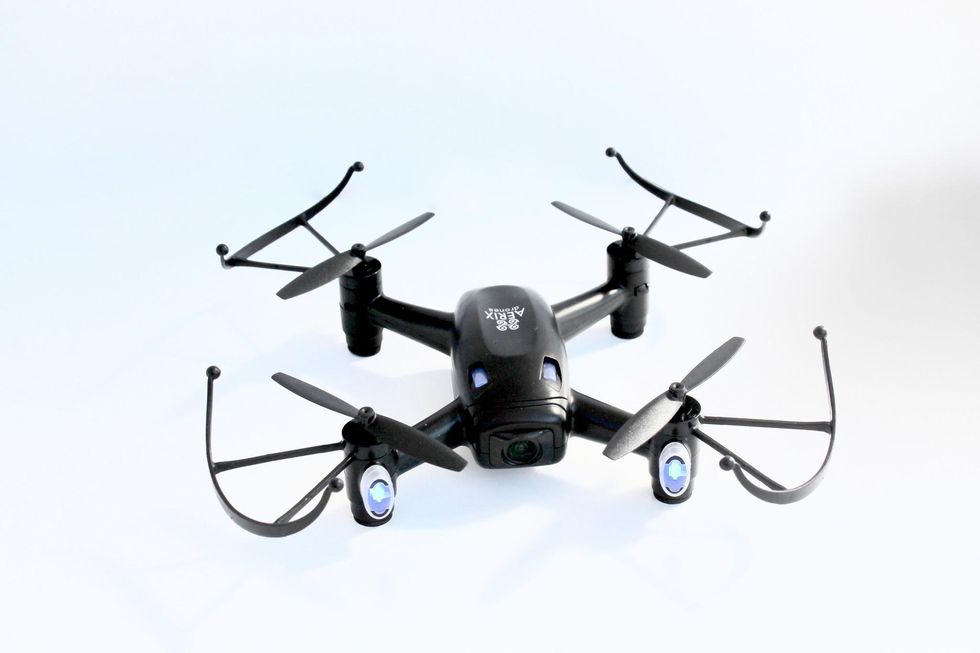 Fun stunt drone

I highly recommended the drone for its durability and flight characteristics, although personally I would pass on the FPV setup. Well done Aerix, you've proved that there might be room in my stable of 10+ race drones for a commercial/toy grade drone with good durability, stabile flight characteristics, and fun stunt modes. With each Aerix release I see new features and refinements improving.

Stats: Weighing just 2.4 ounces, this drone does not need to be registered with the FAA. The Black Talon 2.0 FPV includes adjustable max tilt (speed), is self leveling on by default, has nice LEDs and protective bumpers for the props. The drone also includes return to home, stunt mode, Wi-Fi FPV with a 720p Wi-Fi camera that can record stills or video directly to your phone or tablet, and has good durability.
The box includes the drone, 530mah 1s flight battery, USB flight battery charger, extra set of props, VR goggles to hold your phone, USB screen charger, transmitter (controller), 4GB micro SD card.
Pros:
• Ready to fly out of the box
• Includes VR goggles and a removable flight battery so you can carry spares for more flight time while you recharge
• Durable

Cons:
• Wi-Fi FPV is easily overpowered if you are anywhere near a router
• Return to home was funky, it certainly tried to come "home" but either came right at me or kept going past me
-Jeremy Wyckoff is GearBrain's drone reviewer and an expert FPV and freestyle drone flyer, builder and racer. Wyckoff's spends 4 to 6 hours a week flying drones, including five that he built on his own. He recently reviewed the JetJat Ultra micro drone for GearBrain.
Like GearBrain on Facebook