Like GearBrain on Facebook
By Jeremy Wyckoff

Pros: Drone fits inside the controller, the whole package fits inside a jacket pocket, fast charger included, and only takes about 20 minutes for a full charge.
Cons: As with most nano WIFI drones the latency and quality made it hard to try and fly any laps around the house, but good enough to impress my son's friends by taking great selfies and Instagram clips.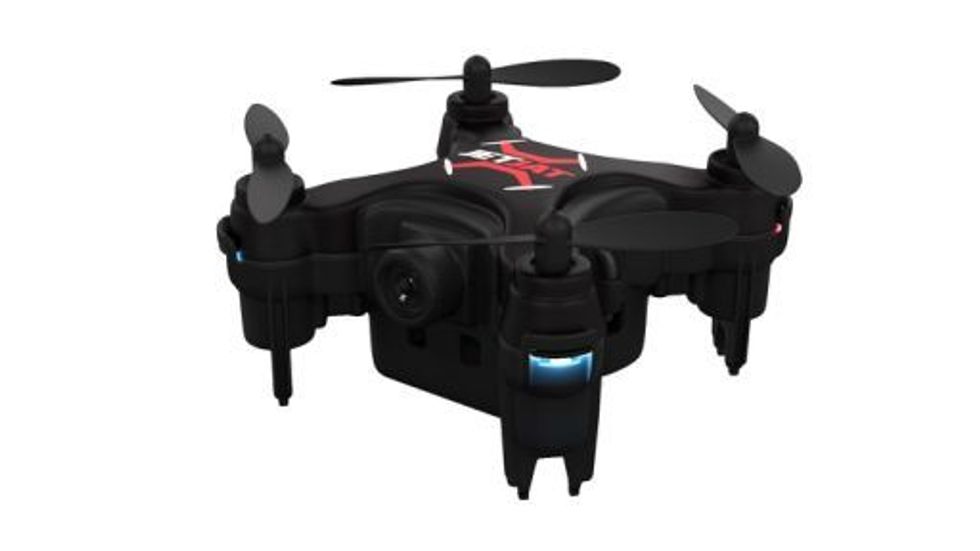 You're probably asking yourself the same question I mumbled when the JetJat Ultra by Mota arrived on my doorstep from the company to test—just as snow started to fall during (what was forecasted to be) the biggest storm of the year: Is this just another of the 100s of sub $100 nano drones out there?
The answer is yes, and also no.
Mota's JetJat Ultra is a micro drone in the truest sense: the drone, charger and controller fit in your pocket so you can take it with you anywhere. I know micro drones, I have a Tiny-Whoop, which is a small modified indoor FPV drone that you fly through a set of goggles that lets you feel as if you are inside the drone. But I recently cracked the frame and one of the motors had been acting up so it's out of commission.
Invited by friends to a Tiny-Whoop pizza party/race during the recent blizzard (with 20+inches were expected to fall), I tucked the JetJat Ultra in my back pocket, and brought the drone along for its maiden flight. I wanted to see if I could "hang" with the big boys while piloting the JetJat. What I quickly learned is the JetJat Ultra is a great nano drone—and flies really well—but it is not in any way suited for a night at the races.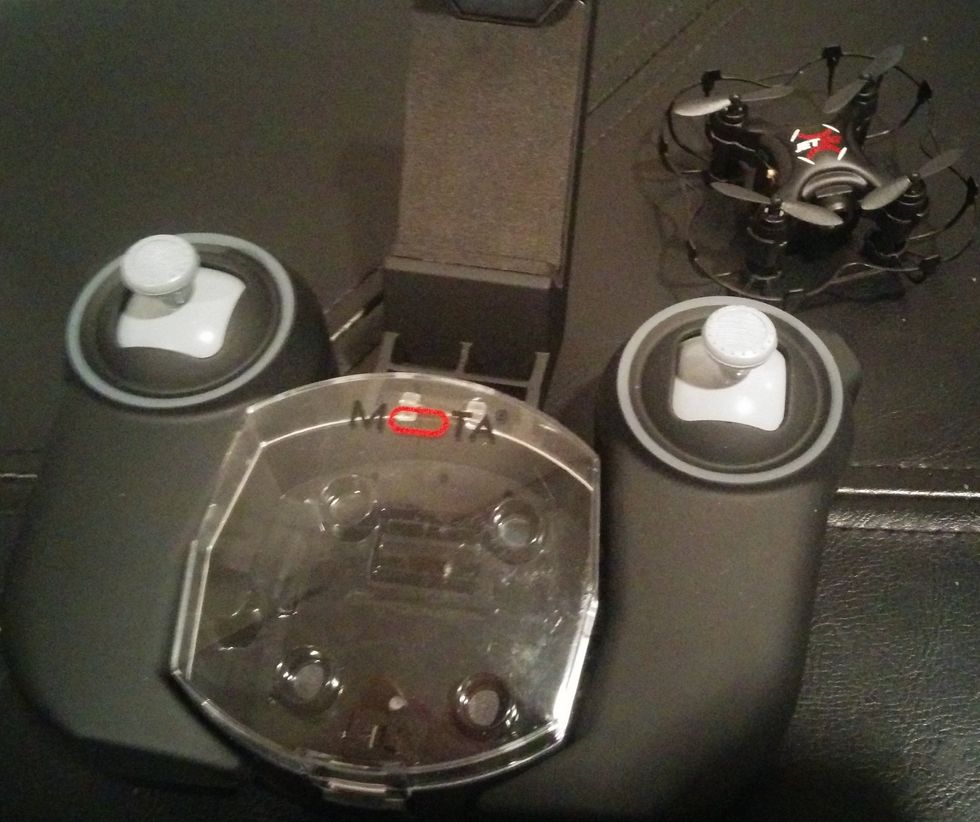 Not a racer
JetJat Ultra requires 25 minutes to re-charge its batteries, which isn't bad. But you can't swap batteries, meaning you're not going to be able to get this drone in the next race.
There's an HQ camera (So it's better than standard but not as good as HD) which really shines for pre-race selfies and Instagram clips. But the camera doesn't cut it for fast-paced racing since it lacks an uptilt. When you get moving forward you are looking towards the ground, and without the uptilt you can't see look ahead towards the complicated obstacle course typical of an indoor FPV track.
I finally gave up after the first race, and used the drone for it's intended use: a pure indoor flying fun device that takes entertaining pictures and videos. Overall I think I ended up having more fun with the JetJat Ultra than I do with my regular micro race rig, or at least I made up for it by eating more than my share of the pizza, getting to watch everyone else race.

While JetJat Ultra is not quite the same caliber setup of the Tiny-Whoop, it is also much less expensive as some of the racers at the party which can cost more than $1000 between the drone, transmitter and FPV goggles.
I was able to test all of the features—including its Wi-Fi FPV, its durability (which proved quite impressive) and I put the drone through flips and rolls. The Jet Jat Ultra was very easy to control.
Heart-racing fun
JetJat Ultra flies for four to six minutes on a charge, which is plenty of time to get your adrenaline pumping. This is a nano drone so it weighs next to nothing, less than an ounce, which means you don't need to register Jet Jat Ultra with the Federal Aviation Administration. But you're also not going to want to fly this drone outside.
While the drone is a great flier indoors, it's not quite suited for outdoor use. JetJat Ultra is just way too small—which is great for some reasons—but means it was never intended to fly in anything other than a calm backyard setting.
But the drone is fast. While, as I mentioned, it's not intended for racing, the Ultra would be really fun to fly—especially if you got a few of these together with friends or for a late night at the office. The drone goes about a jogging pace, you would be lucky to outrun it and JetJat Ultra can easily clear your house in terms of altitude.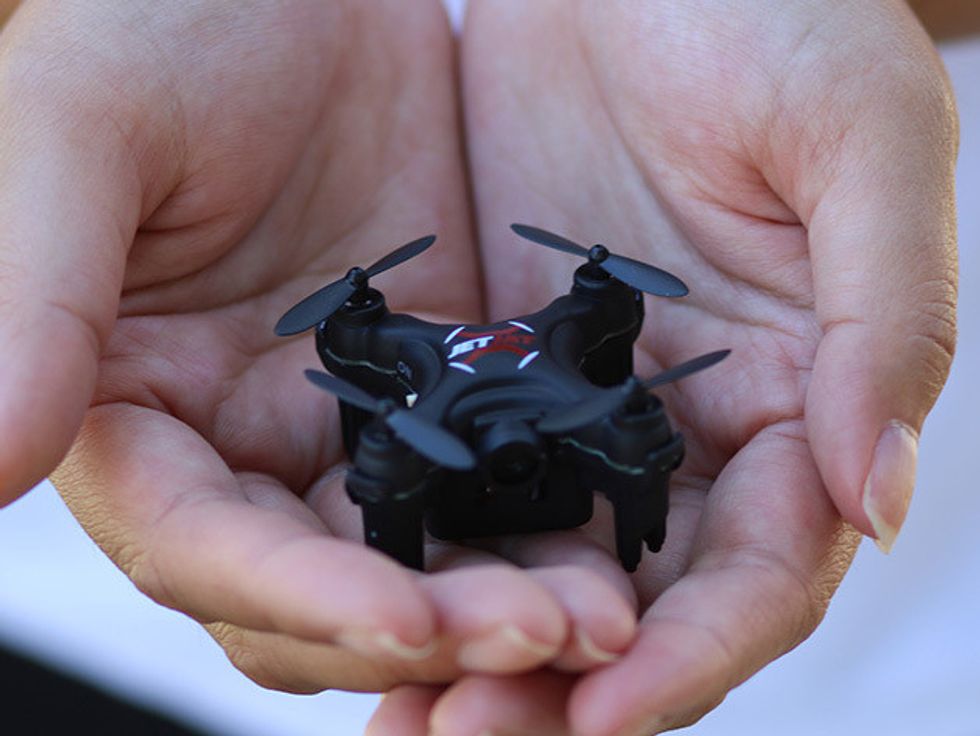 Specs
We found the drone for as low as $89 on Amazon prime. JetJat Ultra is a four-rotor drone, with 1-inch blades, and weighs in at 17 grams. The drone comes with an HQ Camera: which includes a 130-foot Wi-Fi camera range to record, or you can fly this via FPV from a free app on your phone or tablet. The transmitter (controller) has a clip-in cell phone holder so you can put your phone there while using the app.
JetJat Ultra also features auto-hover, auto take off, auto land, is self-leveling, offers motion sensor mode, group play, throw to fly and supports 360-degree stunts. There are various speed modes, the drone is quick charging, and connects via Wi-Fi. And while there's no 'return to home' mode, if you get in trouble you can hit a button to shut the drone off instantly.
It's not surprising that JetJat Ultra won a finalist spot as one of the best Tech Toys in 2017 from the Toy of the Year Awards. Overall we were all very impressed with this smaller than a golf ball nano powerhouse.
-Jeremy Wyckoff is GearBrain's drone review and an expert FPV and freestyle drone flyer, builder and racer. Wyckoff's spends 4 to 6 hours a week flying drones, including five that he built on his own. He recently reviewed the GDU BYRD pro camera drone for GearBrain.
Like GearBrain on Facebook