Like GearBrain on Facebook
Last Updated: October 12, 2016 Aerix calls its new Vidius nano drone, the "world's smallest first-person view (FPV) drone." FPV, or first-person view, is flying a drone through the eyes of the drone by means of a video feed sent from a camera mounted on the front of the drone to goggles or a screen (your smartphone in the case of the Vidius.) This allows the pilot to fly the drone as if they were actually inside, and is a truly immersive experience. We got our hands on a review copy and took Vidius for a test drive to show you more.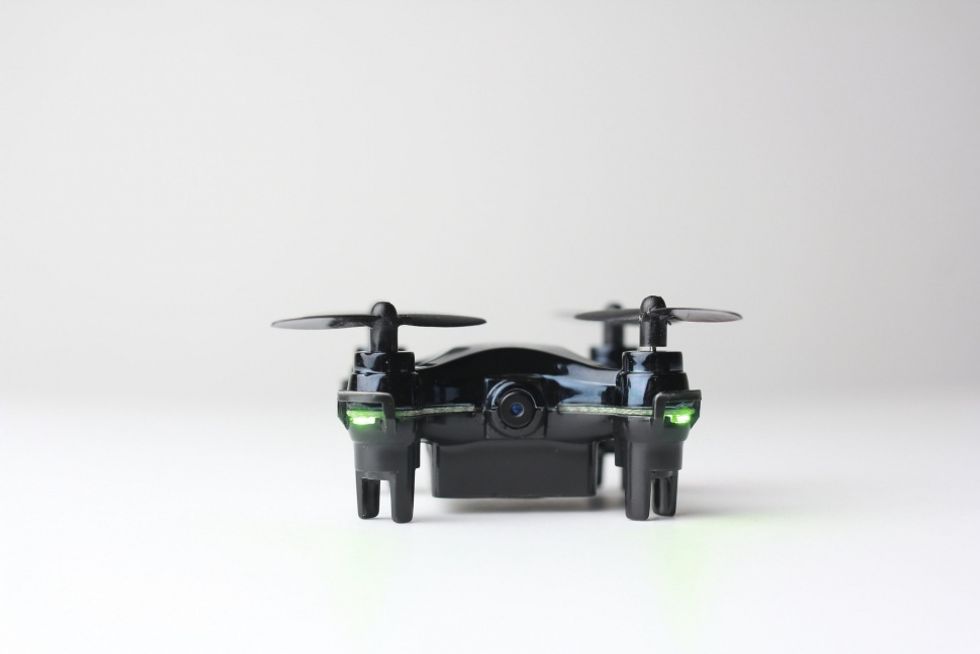 Vidius is lightweight enough that you won't have to register the drone with the FAA.Photo by Aerix
Simple set-up
When you first unpack the drone, you'll note the four-rotor multicopter has a nice fit and finish. The look is somewhat similar to other "Nano drones." But the bright LED lights, camera and design are clean and well thought-out. The controller/transmitter is a bit small, but that also makes the entire set-up good for portability.
I found the drone very easy to set up. You just install the transmitter batteries, charge the multicopter with the included USB charger cable, download and then open the Android or iOS app via Wi-Fi, turn on the drone and fly. Done.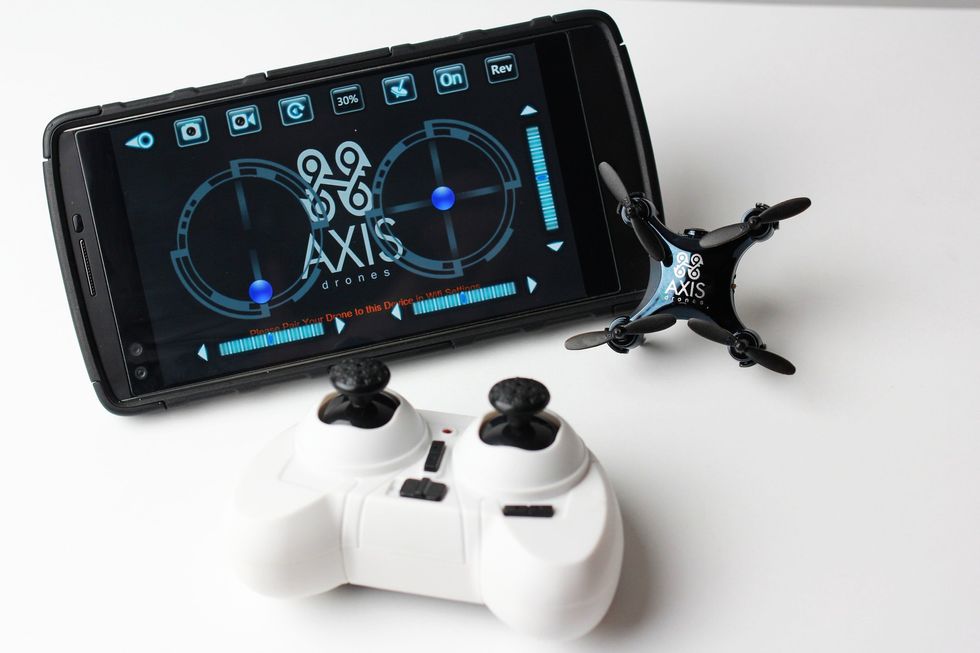 We found the app less intuitive than flying the drone with its controller.Photo by Aerix
Not apptastic
Once in the air, Vidius feels powerful enough to have fun with—and even battle light winds, which can be the downfall of many smaller drones. You can certainly fly this indoors, and because of its light weight Vidius is unlikely to damage your walls if you had any crashes inside.
The drone flies pretty quickly, something to note when flying indoors. And the FPV feature works well enough—but made it difficult to do laps when using it. That said, Vidius does automated flips and also rolls really nicely as long as you are at least 6 feet high to prevent it from hitting the ground while recovering from the stunt. The multicopter also has self-leveling (which means the drone straightens itself out) and is great for beginners, but can be slightly annoying for anyone with experience and wants to put the drone through its paces.
I preferred to fly Vidius with the included transmitter so I could feel the position of the sticks, much like the way you'd fly a hobby grade multi-rotor. In that way, I felt instantly comfortable flying the Vidius due to its 6-Axis Gyro Stabilization. Plus the app proved a little more problematic, taking some getting used to at the start. Also, using the transmitter the way I did also allows you to stand your phone closer to your face, and then use the app just for its FPV feature.
Three different speeds are pre-programmed to help you find your desired level of flight sensitivity. The app controls felt ok after a minute of practice, but flying the drone with the transmitter was much easier, and is what I would recommend.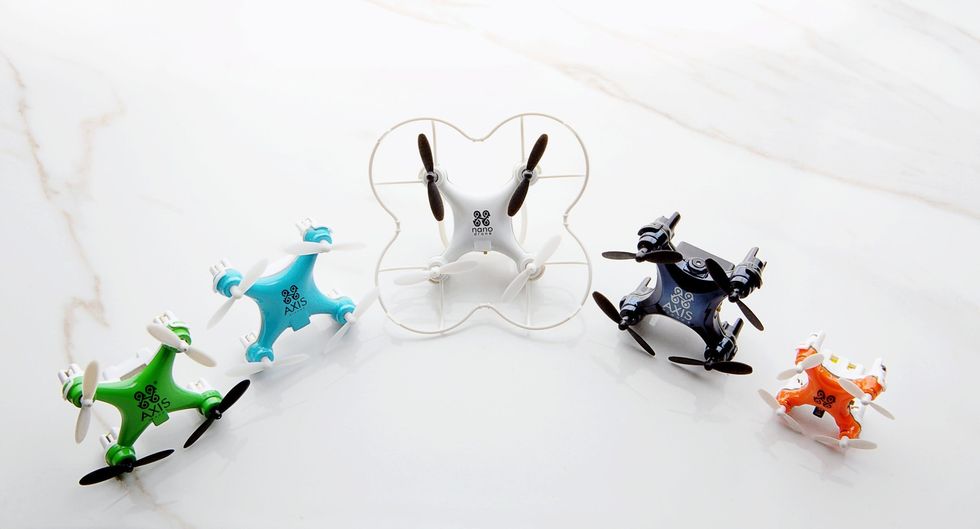 Vidius color options include the requisite tech black.Photo by Vidius
Solid performance
Vidius is a great option for beginners, or frankly anyone looking for a nano drone. Plus FPV is nice to have in a drone. Experts too would find this a fun drone, particularly on a rainy day, because of its ease of use and peppy performance. But note this would not be a drone you would likely use for racing. Plus, the drone lacks an acro/expert mode for those who are drone aficionados. Vidius also doesn't have GPS, altitude hold or return to home features—not a downfall, but worth be aware of if considering.
This is a great nano drone. While I, personally, would likely not pay the premium for the FPV, this is a solid feature for anyone looking for their first drone. I liked the indoor performance and Vidius would be fun to have around the house. Vidius also lets you take still images with 420p resolution. Overall, the best feature was the drone's motor performance and durability. The FPV setup? Definitely the least useful feature.
Vidius is priced at $95, comes with a 2.4Gz controller/transmitter, a 3.7V, 150 mAh li-poly battery already installed, USB charging cable, a Philips mini screwdriver, and a set of extra propellers, or blades.
-Jeremy Wyckoff is GearBrain's drone review and an expert FPV and freestyle drone flyer, builder and racer. Wyckoff's spends 4 to 6 hours a week flying drones, including five that he built on his own. Riding motorcycles for the past 16 years, Wyckoff starting stunting in 2004 after a crash left him with 70 staples in his leg. He still pushes the limits, but in "..closed areas like parking lots, where there are no cars, obstacles or other distractions." Although bikes of all kinds are his passion, you'll also likely find him on a skateboard, snowboard, unicycle or rollerblades.
Pros:
• Quick and easy to fly
• Very durable
• Easy to charge
Cons:
• Battery cannot be changed without disassembling the drone limiting you to about a single five minute flight every 30 minutes while you wait for a recharge,
• FPV setup and app not spectacular
• Lacks a true acro/expert mode
Like GearBrain on Facebook