Like GearBrain on Facebook
Airthings, a producer of home air quality monitors, recently updated its smallest product, the Wave Mini, with the ability to track the risk of mold growth.
At GearBrain were already fans of the $80 Wave Mini, which we reviewed in February 2020 before the mold tracking feature was added. We gave the sensor 4.5 stars out of five and praised its compact design, low cost and its ability to monitor temperature, humidity and volatile organic compounds.
Read More:
In November, we have revisited the Wave Mini to try out its new mold tracking feature. Here's how we got on:
First off, setting up the Wave Mini is the same as ever. This means inserting the three included AA batteries, installing the Airthings smartphone app, and connecting it to your phone using Bluetooth.
From there it's a waiting game. The sensor asks that you leave it to calibrate for seven days, so for those looking to set up their Airthings system in a rush, you'll just have to be patient. During those seven days you can open the app and check the data the Wave Mini is recording, but its estimates for the quality of your air might be a little off until calibration is completed.
Thankfully this is a one-off process and after a week the sensor takes just a couple of seconds to relay its data each time you open the phone app. This data includes an overall report for your air quality, which will be categorized as good, medium or bad. These are shown by a green, yellow or red light that appears on the Wave Mini itself when you wave a hand at it.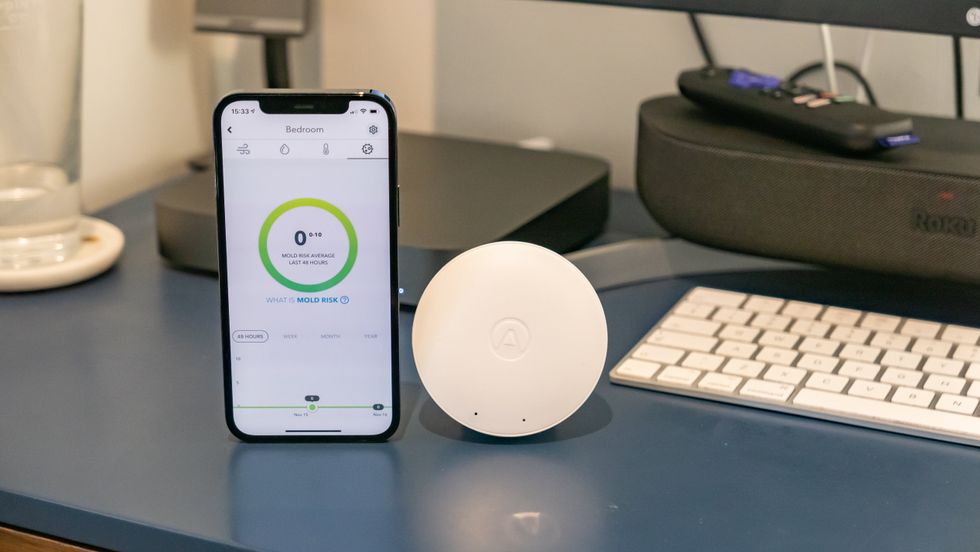 The Airthings Wave Mini and Airthings smartphone appGearBrain
The app also shows the ambient temperature and humidity, plus the current number of volatile organic compounds (VOCs) as a parts per billion figure, as well as the rolling 48 hour average. Your average humidity and temperature are also shown, with graphs showing how each metric rises and falls over the last 48 hours, week, month and year.

But what's new here is the 'mold risk' indicator. This takes a couple of days to calibrate, then awards a score running from zero to 10, with a higher number meaning an increased risk of mold in the Wave Mini's location. This figure is also plotted over time and the indicator turns from red to green with a score above three, then to red if the score is between five and 10.
A score of between three and five suggests mold could begin to grow on vulnerable materials like textiles and wood, while a score between five and 10 indicates a high mold risk on all types of material.
Airthings recommends that, for mold risk tracking, the Wave Mini should be placed where mold is most likely. This includes on a windowsill, on the floor next to an external wall, behind furniture, or inside cupboards or access doors fitted to your external walls. Being wireless, the device could also be put in a campervan, boat, or anywhere else mold can spread.
This is all useful information, especially if you have had mold problems in the past and want to keep tabs on the effectiveness of remedial work you have done. If the score increases, you'll want to get to work again in a bid to prevent mold from growing back.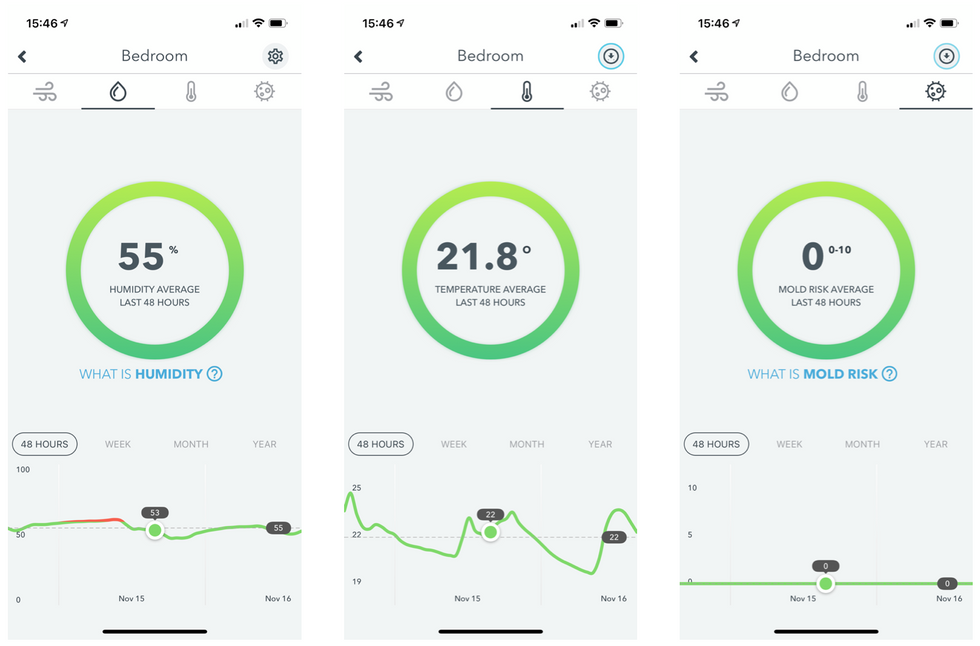 Readings from the Airthings smartphone appGearBrain
But there is an important caveat here. The Wave Mini does not detect actual mold spores in the air. Instead, it uses an algorithm that analyzes temperature and humidity readings to estimate how fast mold could grow in your the home's current condition.

Airthings also says the sensor is designed to overestimate your mold risk; that way, you will be alerted as soon as vulnerable materials like fabric are threatened. If you are getting a score of three or four in a bathroom with its walls covered in tiles, then your actual risk is lower than a score of three in a lounge full of soft furnishings.
I set up the Wave Mini in my bedroom, which is also where I have my home office and therefore the room I use the most. After eight days of use, the mold risk score reassuringly stayed at zero. I haven't had mold problems in the year I have lived in this apartment, but seeing that score gave me a good sense of relief.
Equally, had the score been above three, I would have potentially discovered a mold problem before it became visible and long before it became a risk to my possessions and my health.
In short, while Airthings' mold risk update doesn't actually track mold spores themselves, it's a useful (and free) new metric that I'm sure buyers of the Wave Mini will greatly appreciate. Especially if they have recently dealt with a mold problem and want to know if it has reappeared or remains under control.
From Your Site Articles
Related Articles Around the Web
Like GearBrain on Facebook