Like GearBrain on Facebook
It should go without saying that indoor air quality is important, especially since so many of us have spent so much more time at home than normal in 2020. But until recently, it was difficult to know exactly how much CO2, Volatile Organic Chemicals (VOCs) and dust was in your air — and there was no easy way to automate a response.
With the growth of the smart home industry, that position had changed. Now, there are several products capable of monitoring air quality, then with automation platforms like If This, Then That (IFTTT) they can alert you to changes, and even instruct other devices like air purifiers, ventilators and motorized windows to kick into action.
Read More:
Add to this a wide range of sensors tracking temperature humidity and
even the risk of mold growing
in your home, plus sophisticated fans that automatically monitor, clean and cool air, and you can quickly get a grip on the air quality in your home.
Here is the GearBrain guide to monitoring air quality and setting up your smart home to automatically improve the air you breathe.
Air quality monitors

First, you will want to buy an air quality monitor. There are several available today for between around $100 and $250. Some have a limited feature set, some are combined into security cameras and baby monitors, and others tap into Alexa, Google Assistant and IFTTT to become truly smart.
Another option you can take here is to buy something like the Dyson Pure Hot+Cool ($650), an all-in-one approach that works as a blameless fan and heater, but which also monitors air quality and proactively cleans the air when it senses a drop in quality (when you start cooking nearby, for example).
You an also build up a system with devices from a company like Airthings whose entry-level Wave Mini ($80) sensor tracks temperature, humidity and mold risk, while the Wave Plus ($230) also tracks radon, CO2, VOCs and pressure for a more complete picture.
Awair Element - $179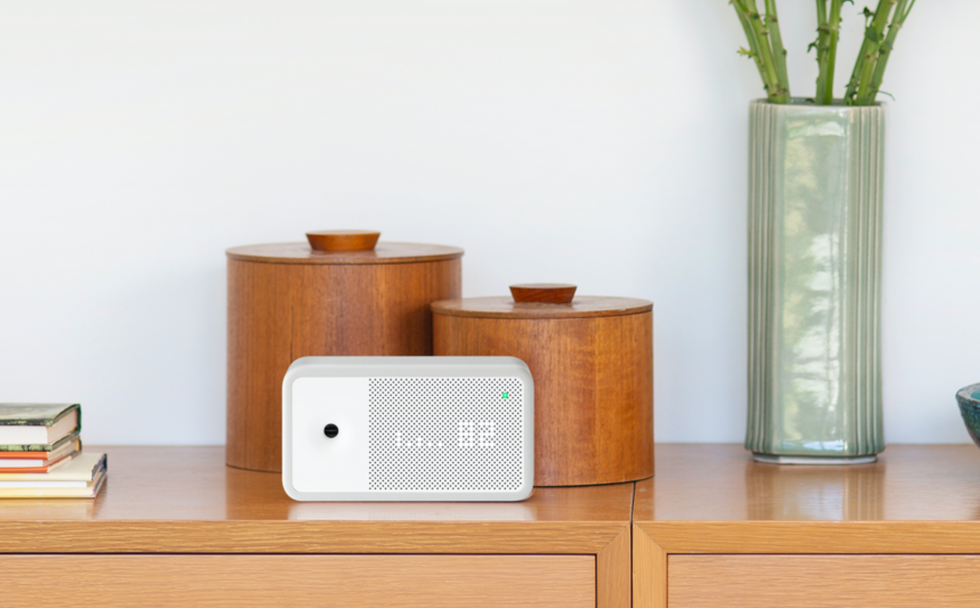 The Awair Element air quality monitorAwair
The Awair Element is an attractive and compact air quality monitor which gives your air a score out of 100. For the latest Element version, Awair moved away from the bamboo design of the first two models, but retained the same system for tracking temperature humidity, CO2, VOCs and PM2.5, which are particles with a diameter of 2.5 micrometers or less.

These tiny particles are small enough to get into the bloodstream, and are 40 times smaller than the width of a human hair. Fine dust has been known to cause coughing, chest tightness, shortness of breath, irritation in the eyes, nose and throat, and can contribute towards asthma and bronchitis.
The accompanying (and free) Awair app for iOS and Android gives useful information on improving the scores the Element reports, and you can tell the device which room it is in (bedroom, lounge, kitchen etc) to ensure it is recording correctly and giving you the right advice.

Amazon Alexa support means you can ask the assistant for your temperature score. IFTTT compatibility unlocks many more features, like having an air purifier automatically switch on when the Awair detects an increase in VOCs. We explain IFTTT in more detail further down this article.
Read the GearBrain review here
Airthings Wave Plus - $230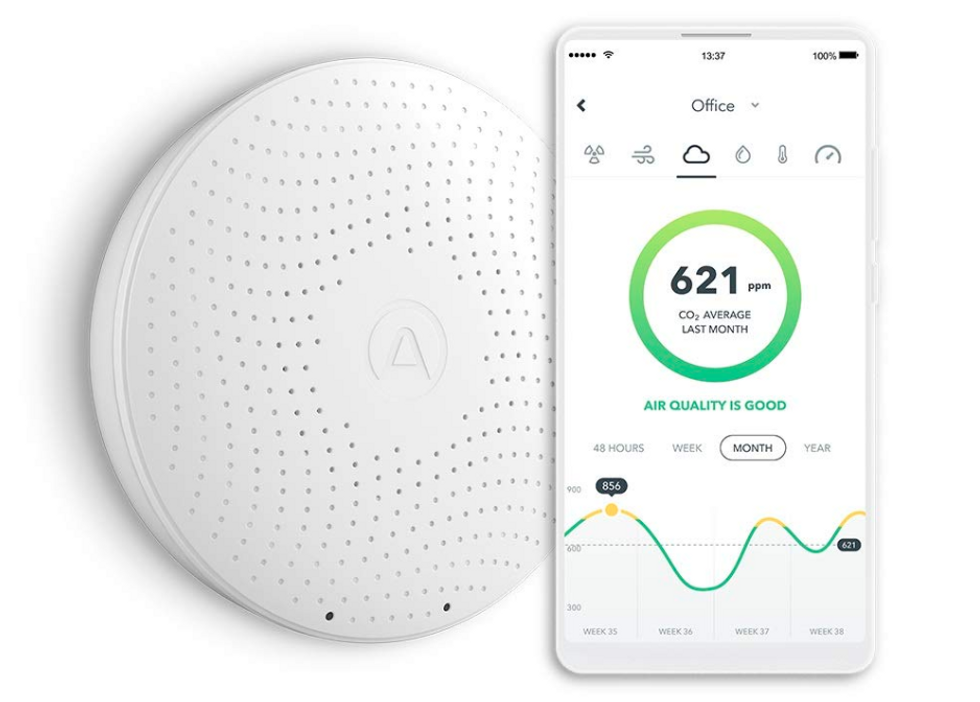 The Wave Plus is battery powered and can be wall mountedAirthings
Designed to be fitted to the wall or ceiling like a smoke alarm, the battery-powered Wave Plus by Airthings measures volatile organic compounds (VOC), temperature, humidity, CO2, air pressure and – rare among air quality monitors – radon. Radon gas comes from the ground, is found in all homes and is a leading cause of lung cancer, Airthings says.

The Wave Plus lasts for 16 months on the power of a pair of AA batteries, and sends the data it gathers to a smartphone app via Bluetooth. This data can also be viewed on your computer if you connect the $80 Airthings Hub, helping you understand how the levels of each chemical, as well as the temperature and humidity, change in your home over time. A light on the device shines red, yellow or green to give a quick indication of what the current air quality is like. Just wave at it with an outstretched hand, and the light shines for a few seconds.
Airthings has given the Wave Plus a full suite of smart home integrations including with Amazon Alexa, Google Home and IFTTT. With this, you can ask either voice assistant about current air quality, or set up an IFTTT applet to switch on a fan or an air purifier when the Wave Plus detects a spike in temperature or pollution.
Read the GearBrain review here
Netatmo Weather Station - $140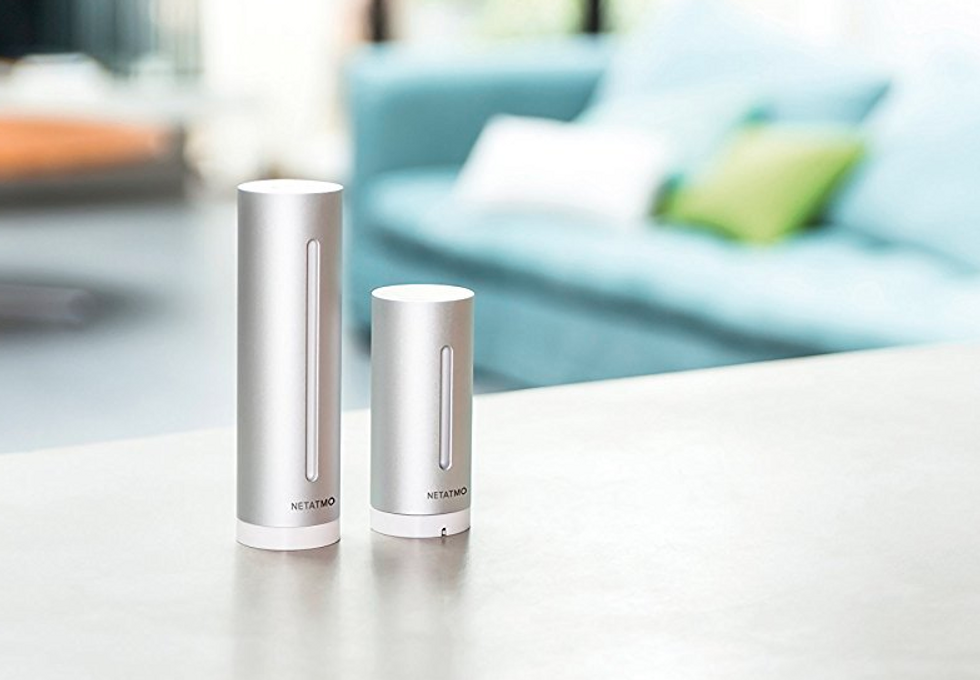 One sensor is for indoors and the other is designed to live outsideNetatmo
We previously wrote about the Netatmo Weather Station when looking at the best smart devices for your garden. There, it was used to keep an eye on rainfall and outdoor temperatures, but this is a two-part system, and one sensor is designed to stay indoors.
In all, the system measures temperature, humidity, air quality, noise levels and barometric pressure. The Netatmo sends alerts to your phone when air quality dips, along with advice on how to make the environment healthier. A with the others, the Netatmo has Alexa and IFTTT support for adding functions.
Nest Protect - $119 (wired) $119 (battery powered)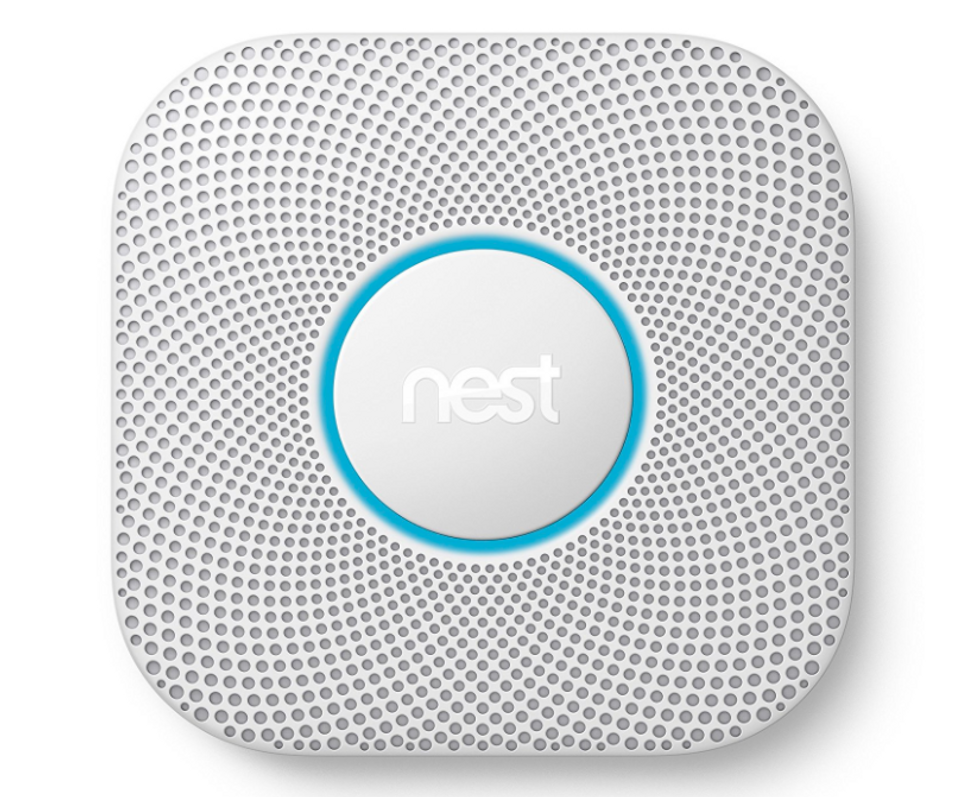 A smart smoke alarm, the Protect will alert you when you're outNest
Although more of an emergency device than a monitor, the Nest Protect is an important addition to your smart home. Designed to be fitted to the ceiling like a conventional smoke alarm, the Protect messages your smartphone (whether you are at home or away) when it detects smoke or increased levels of CO2. As well beeping like a regular smoke alarm, the Nest Protect speaks out loud to explain what's wrong. False alarms — like when you are cooking — can quickly be silenced from the app.
IFTTT integration means the Protect can be set to switch your lights on and turn them bright red when smoke is detected, or call you with an automated message if smoke is detected when you aren't home.
Smart air purifiers

These products take things a step further, by not only tracking your air quality, but also having the hardware to do something about it. These often use HEPA filters to gather up toxic particles from the air, and adjust their fan speed based on air quality. If you start cooking, or open the window on a particularly smoggy day, they will immediately get to work, drawing in surrounding air, cleaning, then expelling it.
GermGuardian CDAP4500BCA - $150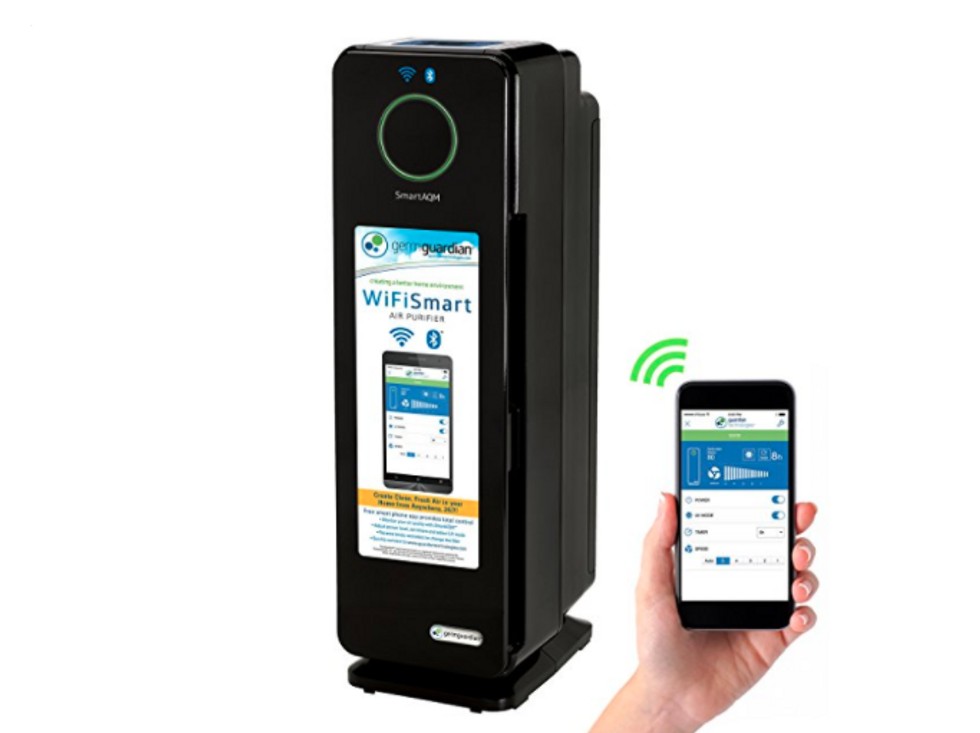 Smart air purifiers automatically regulate the air around youGermGuardian
Knowing the quality of your air is one thing, but now it's time to do something about it, and smart air purifiers are an inexpensive way to help autonomous improve air quality in your home. The $150 GermGuardian four-in-one system is designed to reduce odors, fight germs and provide allergy relief.
GemGuardian's smartphone app shows the quality of your air, and through this you can set the device to automatically switch on when levels fall below a certain level. An Alexa skill means you can ask the Amazon assistant to switch the purifier on and off manually, if you prefer.
Dyson Pure Hot+Cool – $650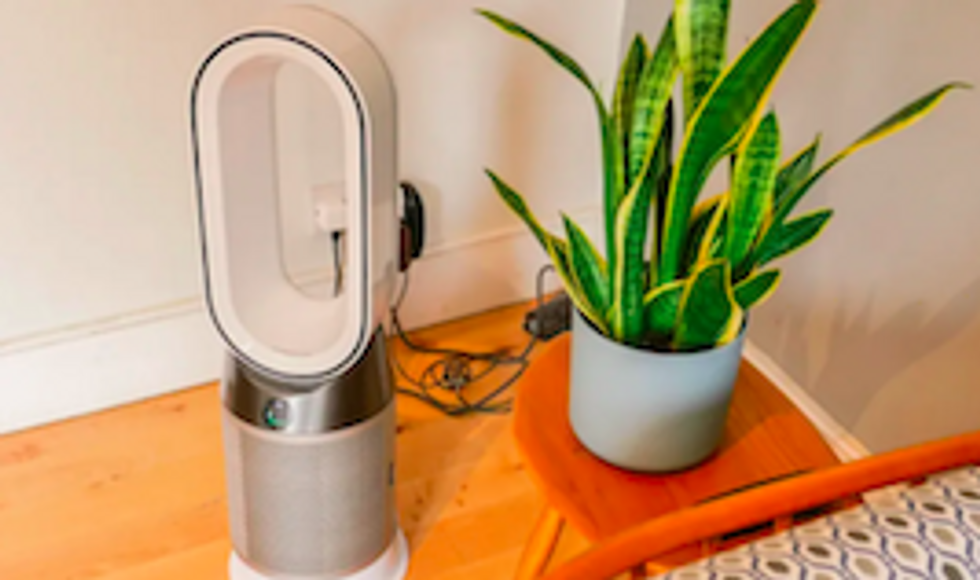 The Dyson Pure Hot+Cool is a fan, heater and air purifier Dyson
An undeniably expensive way to keep your air clean, the Dyson Pure Hot+Cool is an all-in-one air management system for smart home owners on a larger budget. This blameless fan constantly and silently circulates and cleans the air around it. If air quality falls (because you have started cooking, perhaps) the Dyson immediately notice this and kicks into high gear to pump more air through its filters, quickly cleaning up the room and returning the air quality to normal.

The Dyson can also heat a room reasonably quickly, especially when the unit is set to rotate (which it can do by up to 350 degrees), and the base unit is easily opened to access the HEPA filters used to clean your air. A remote, which connects magnetically to the top of the device for easy storage, is included, but the Dyson can also be controlled via a smartphone app or by speaking to Alexa.
Read the GearBrain review here
Coway Airmega 150 – $190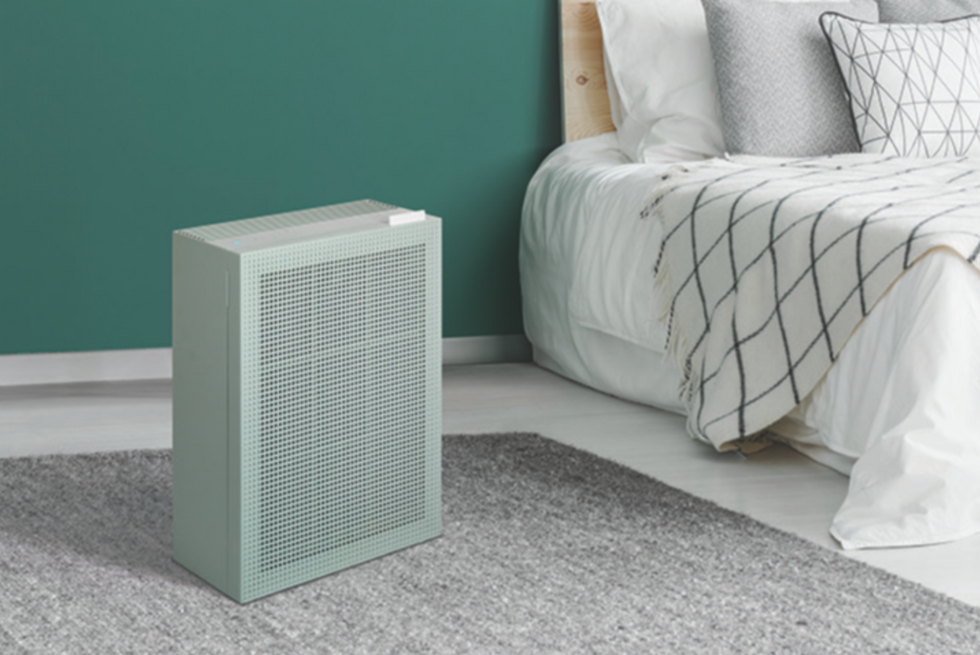 The Coway Airmega 150 air purifier costs $190Coway
Yet another option to consider is the standalone air purifier, like this Coway Airmega 150. An admittedly large and unsightly box of a product, we at GearBrain liked the Airmega 150, praising its sensible price, very quiet operation (at least when idling), and how simple it was to install and use.

This 150 model is designed to clean a space of about 214 square-feet and acts as both an air quality monitor and a purifier complete with True HEPA air filter for removing a claimed 99.7 percent of pm3 particulates in the air, including dust, pollen and smoke. Incidentally, we found that filter is easy to remove clean and replace.
As with other air purifiers, the Coway Airmega wants to clean your air as quickly as possible. As such, it becomes louder the moment an impurity is detected, so might not be suited for the bedrooms of light sleepers. When idling, however, it is practically silent. Unlike more expensive Airmega purifiers, the 150 does not have Wi-Fi and is therefore not compatible with smart home systems like Amazon Alexa, Google Home and Apple HomeKit.
Read the GearBrain review here
Wynd portable air purifier - $200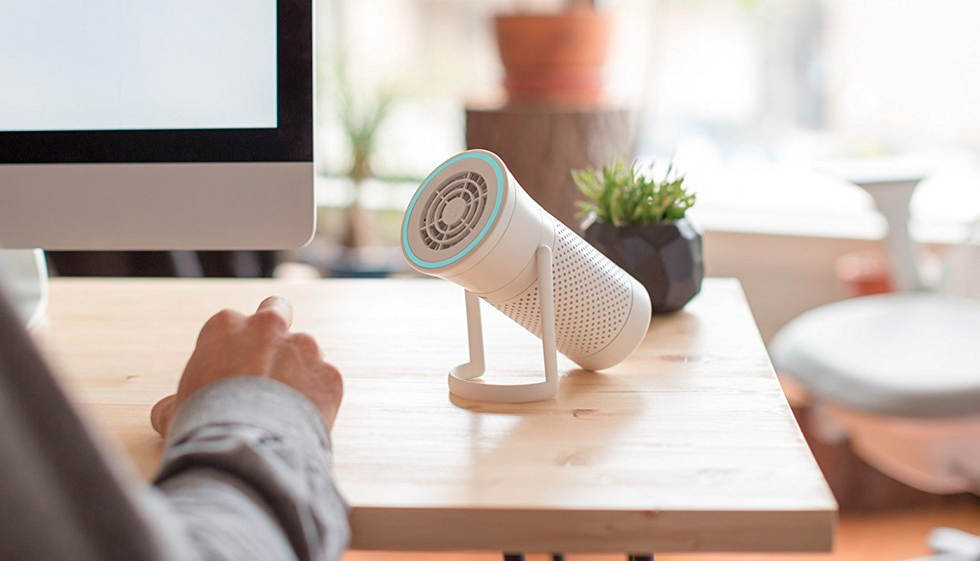 The portable Wynd air purifier will soon gain Alexa and Google AssistantWynd
More portable than the GermGuardian, the Wynd is designed to sit on your desk, a hotel room or your office cubicle to help improve the air in your immediate surroundings. The device includes a detachable air quality tracker which sends its findings to the accompanying smartphone app, which lets you check the levels from afar.

Although Alexa and Google Assistant integration is missing for now, Wynd says it is working to add these via a future software update.
Motorized windows
Velux Active with Apple HomeKit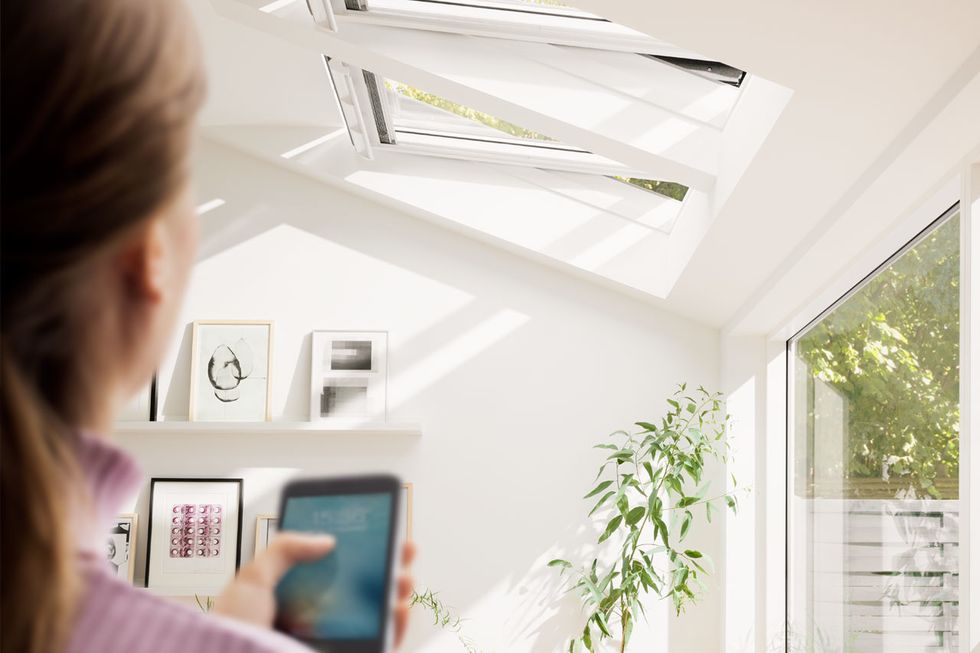 Motorized windows and blinds are controlled by sensors, or Apple HomeKitVelux
Velux has always been known for its skylight windows. But now the company is taking a smart home approach by incorporating Apple HomeKit and Siri voice control with motorized blinds and window openers.

The new Velux Active range uses a gateway attached to your router and smart sensors to constantly monitor a room's temperature, humidity and CO2 levels. The windows then automatically open and close to keep these levels in check. You can also use the Velux Active smartphone app to take manual control of the windows (opening them before you start cooking, for example), or ask Siri on your Apple device.
The Velux Active system and its gateway also work with existing motorized Velux windows, so long as they were installed in 2010 or later.
If you're building a smart home from the ground up, then there is much more you can do to monitor and improve the quality of the air your breath. For more on ground-up smart home building, read our guide.
IFTTT and smart plugs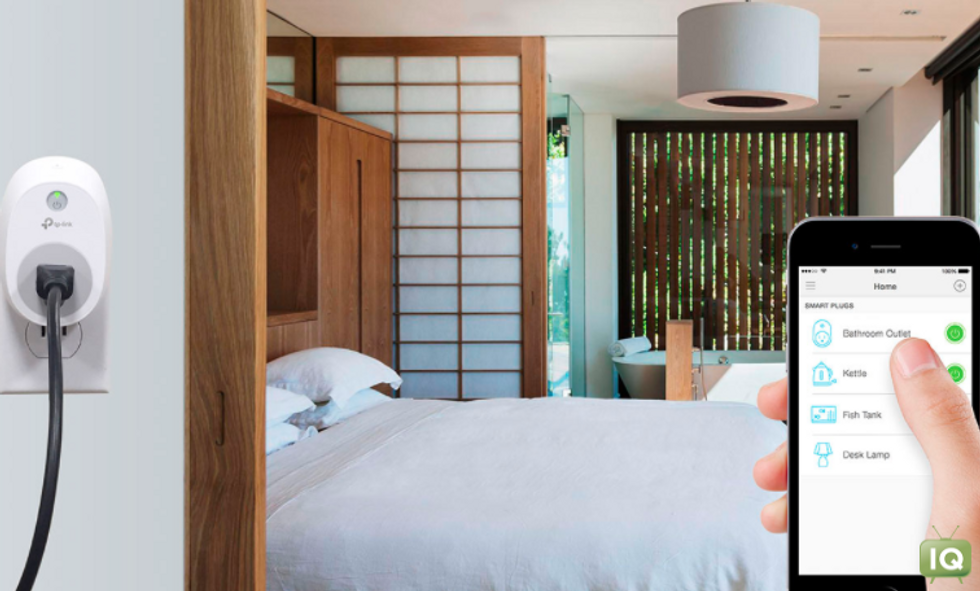 Smart plugs are the simplest way to automate non-smart appliancesTP-Link
While all of the above products are useful in their own right, tapping into IFTTT and a range of other smart home devices means they can be made to do much more.
For example, you could connect your dehumidifier, air purifier, or a simple fan to a smart plug. Then, devices like the Awair and Airthings Wave Plus can be configured with an IFTTT applet to switch that plug on in certain circumstances — such as when your VOC score or humidity reaches a certain level.
Here are some IFTTT applets to give you some inspiration for what's possible by linking an air quality monitor to smart plugs and lights:

Motorized window blinds from the likes of Lutron, Somfy or Ikea can also be brought into play, so when the temperature of one room reaches a certain level your blinds will automatically close to keep the sun out, or open to let the warmth into a space.
Taking this a step further is the Velux Active motorised window system. This works with Netatmo sensors and Apple HomeKit to automatically open and close your windows – such as when the temperature and humidity rises, when steam is detected, or when air quality falls.
We understand that fitting motorized blinds and windows will be beyond the budgets of many readers, but improving your home air quality can begin with nothing more than a smart plug set to switch on an air purifier twice a day. An air quality monitor and IFTTT can then be added to automate the process, and from there you can add more appliance and more plugs before every room of your home has its air cleaned and circulated whenever it is needed.
Check out The GearBrain, our smart home compatibility checker to see the other compatible products that work with Amazon Alexa.
7 Tips Everyone Needs to Know About How to Use Amazon Alexa and Google Assistant Enabled Devices www.youtube.com
Like GearBrain on Facebook