Like GearBrain on Facebook
Merging two different devices into a single product is not usually a good idea. If something goes wrong with one — the entire item is useless. That's something Netgear has avoided with the Orbi Voice, an Amazon Alexa-enabled smart speaker that doubles as a satellite in Netgear's Orbi Wi-Fi mesh system.

With Orbi Voice, neither the smart speaker nor the Wi-Fi mesh satellite is primarily mechanical — so there is less of a chance one will fail and taking the other with it. At the same time, you're replacing two boring white boxes with one item.
A great idea, however, doesn't always make a great product. For one thing, Netgear isn't a speaker company — why Netgear may have turned to Harman Kardon to design Voice's speaker. Second, the correct spot for a smart speaker may not be optimal for a Wi-Fi mesh satellite and vice versa. Fortunately, Orbi is one of the best mesh systems I've tested, so its placement may be only a minor issue.

The question is, however, whether the sum of Voice's parts create a viable whole.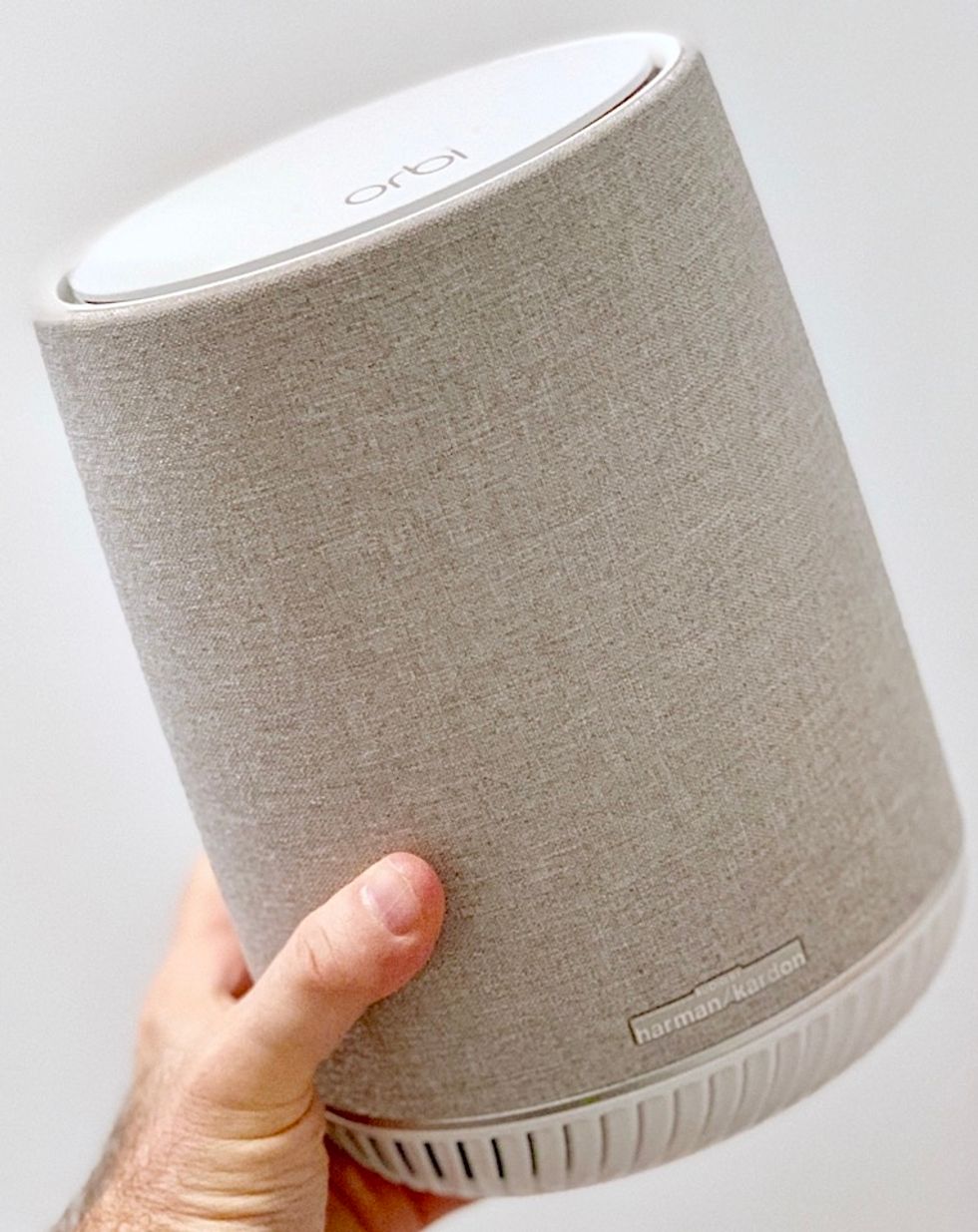 Harman/Kardon worked with Netgear to create the Orbi VoiceGearBrain
Specs/Ergonomics
If you're unfamiliar with Netgear Orbi, it's a Wi-Fi mesh system. You set up a centrally-located Orbi router, then place Wi-Fi satellites around your smart home to supply speedy internet connectivity no matter where you are in the house. Netgear says the Voice router-satellite system can bathe 4,500 square feet with Wi-Fi. If you need to cover more space – lucky you – just add more Orbi satellites to expand the mesh network.
Like its non-speaker Orbi satellite cousins, Voice is taller and wider (8.6 x 6.45 x 4.9 inches) than most single smart speakers, and much larger than satellites from competing Wi-Fi mesh systems.
Voice retains the oval design elements from the Orbi router and regular Orbi satellites. Surrounding the speaker is a cloth cover with a surprisingly obvious vertical seam in the rear. To be fair, you'll never see this line though since Voice, with its extensive rear jack pack, is designed to sit against a wall. Its base is a vented woofer that sort of resembles a large solid air freshener, which is not a bad thing.
On top of the Voice are LED touch controls, all of which light-up when you wave your hand over the top: a touch-and-slide frown-like arc volume control that makes the speaker seem anthropomorphically unhappy, and small circular pause/stop, microphone and speaker mute touch-buttons. An LED rings the top perimeter of both the white plastic router and the Voice that light up in four colored states: white/flashing or solid white while they connect or pair with each other, blue to indicate a successful sync, amber to indicate a decent but not great connection between router and satellite, and red to indicate a sync failure. No light means everything is working as advertised, which seems counter-intuitive to me, but one less bright LED in a room is fine with me.

As noted, on the rear of both the Orbi router and the Voice is a recessed jack pack that includes two Ethernet jacks (the router includes a more useful four), an AC power input, power on/off sync buttons, and a reset pinhole. Unlike other smart speakers, Voice's AC jack is a bulky transformer, but its prongs are conveniently aligned so the block doesn't cover additional outlets in a power strip.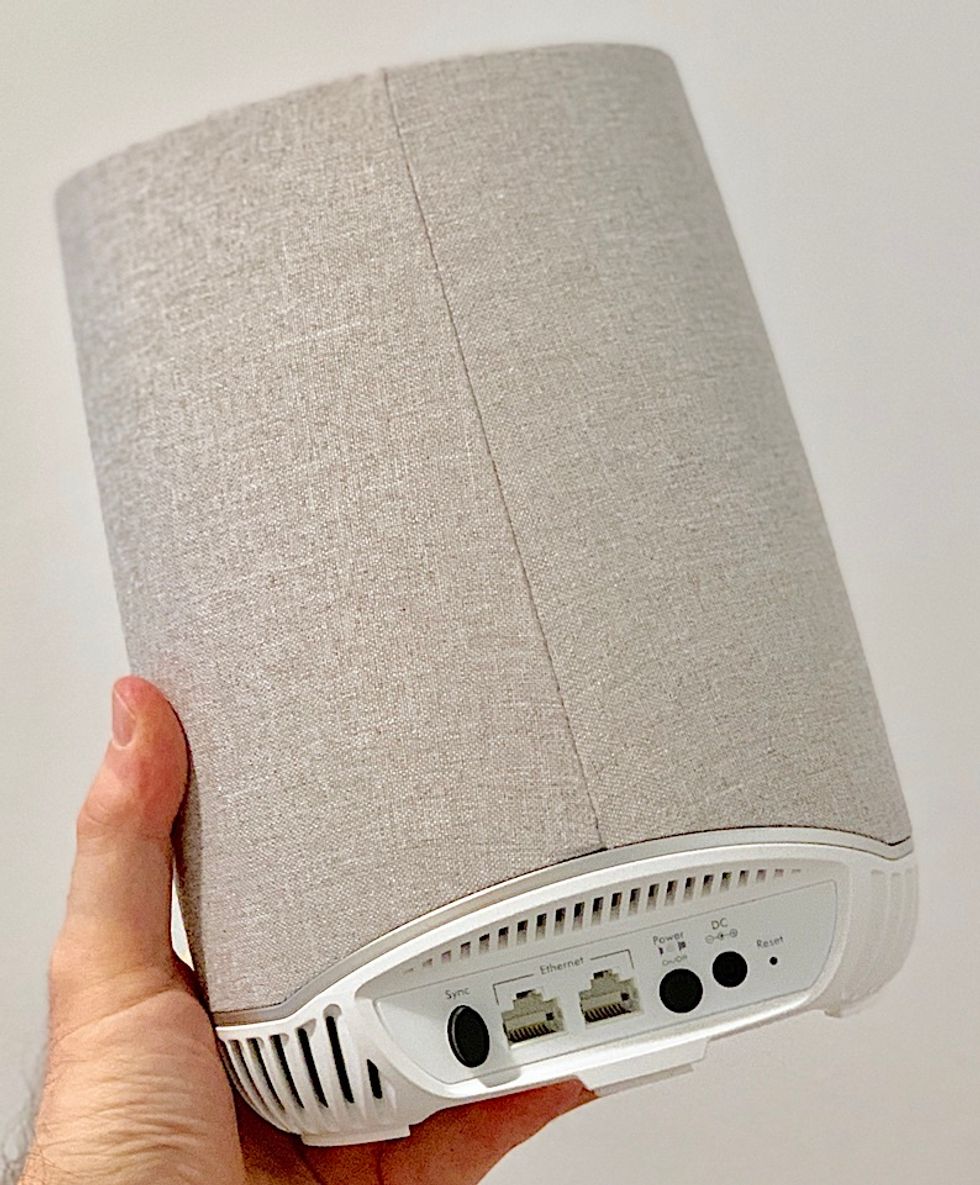 A seam runs up the back of the Orbi VoiceGearBrain
Setup
Inside the Voice box is a 10-panel accordion Quick Start guide, which, unfortunately, does not live up to its name. Nowhere in this guide could I find instructions for setting up either the Orbi router or the Voice satellite. Instead, you get a list of what's in the box and how to add Amazon Alexa, which you're only prompted to do after you get the whole Orbi system setup — on which the guide gives no guidance.
Fortunately, I have an Orbi system, so have already gone through the relatively simple setup process.
In short, you unplug your cable modem. You connect the Orbi router to said modem via the included flat white Ethernet cable, plug it and the cable modem into AC. While both modem and router are doing their power-up thing, download the Orbi app for iOS or Android. Once downloaded, click the "home" icon in the upper left hand corner of the app's splash screen, then tap "New Setup" in the resulting menu to get guided through the router setup.
After the router is up and running, place the Voice speaker satellite in the room you want, plug it in, open the app, tap the "home" icon in the upper left hand corner, tap "Add Satellite" and, again, just follow the on-screen instructions.

All of this is fairly straight-forward and worked as instructed, with a couple of caveats. For one thing, hopefully you didn't plan to place the speaker in the same room as the router – as that would defeat the purpose of this system. Second, you may have to move the Voice to an inconvenient or unwanted location in order for it to successfully pair with the Orbi router, depending on distance and physical obstructions (i.e. walls or floors). This placement problem doesn't exist, of course, when you deploy separate Wi-Fi mesh satellites and separate smart speakers.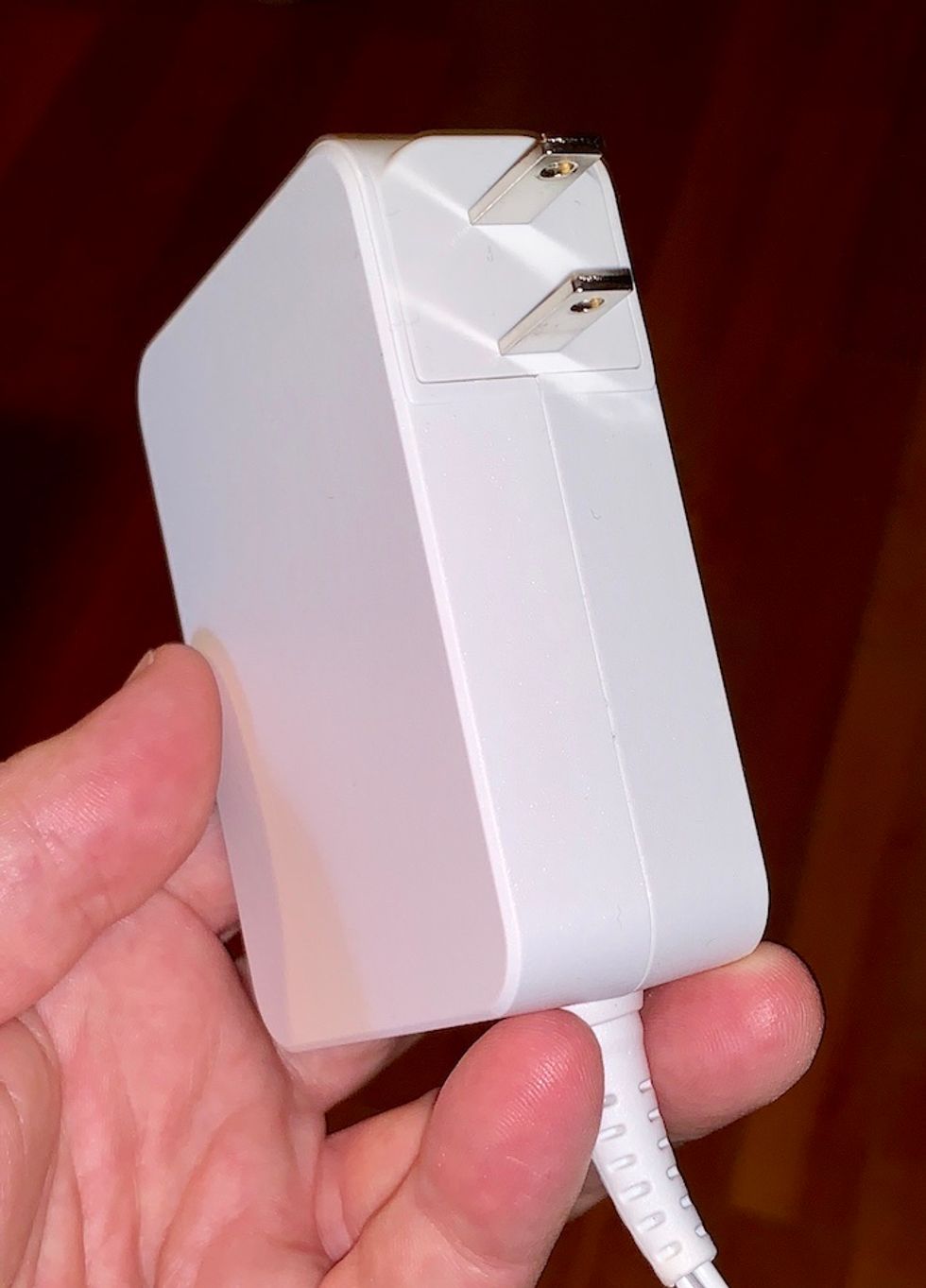 Orbi Voice is plugged into an AC outletGearBrain
Operation

As noted, toward the end of the Voice's setup you'll be prompted to link it to your Amazon Alexa account. The Orbi app sends you to the appropriate Alexa app screen where you simply give permission for Amazon to link to the Voice.
Netgear says you "can play your favorite from Amazon Music, Pandora, Spotify, iHeartRadio, TuneIn, and more – just ask." The "more" is just music streaming service Deezer. This is a wider selection than many other Alexa-enabled smart speakers, which are often limited to only Amazon Music as a voice-command streaming music source.
But, Voice can only stream Spotify if you have a premium account – and it took a bit of drilling down to discover this after I continually asked Voice to play Spotify but kept getting a "Sorry, I can't do that" response without an explanation why.
Worse, Voice doesn't include Bluetooth or Wi-Fi to stream anything to it directly from your smartphone as you can with other smart speakers. For instance, you can stream music or audio books from your phone to the Allure via Bluetooth and to both the Sonos One and the Riva Concert via Wi-Fi.
Even though it's designed to be part of an Orbi mesh network, multiple Voices can't be tied together to create a multi-room audio system ala Sonos One. (Only Amazon's own Alexa speakers can be combined into a multi-room system via its Alexa app.)
It also doesn't appear as if two Voices can be combined to create stereo the way you can with a pair of Sonos Ones – but then, having two Voices in the same room defeats their Wi-Fi mesh satellite purpose.
Finally, there didn't seem to be any compatibility with Alexa Calling or Messaging.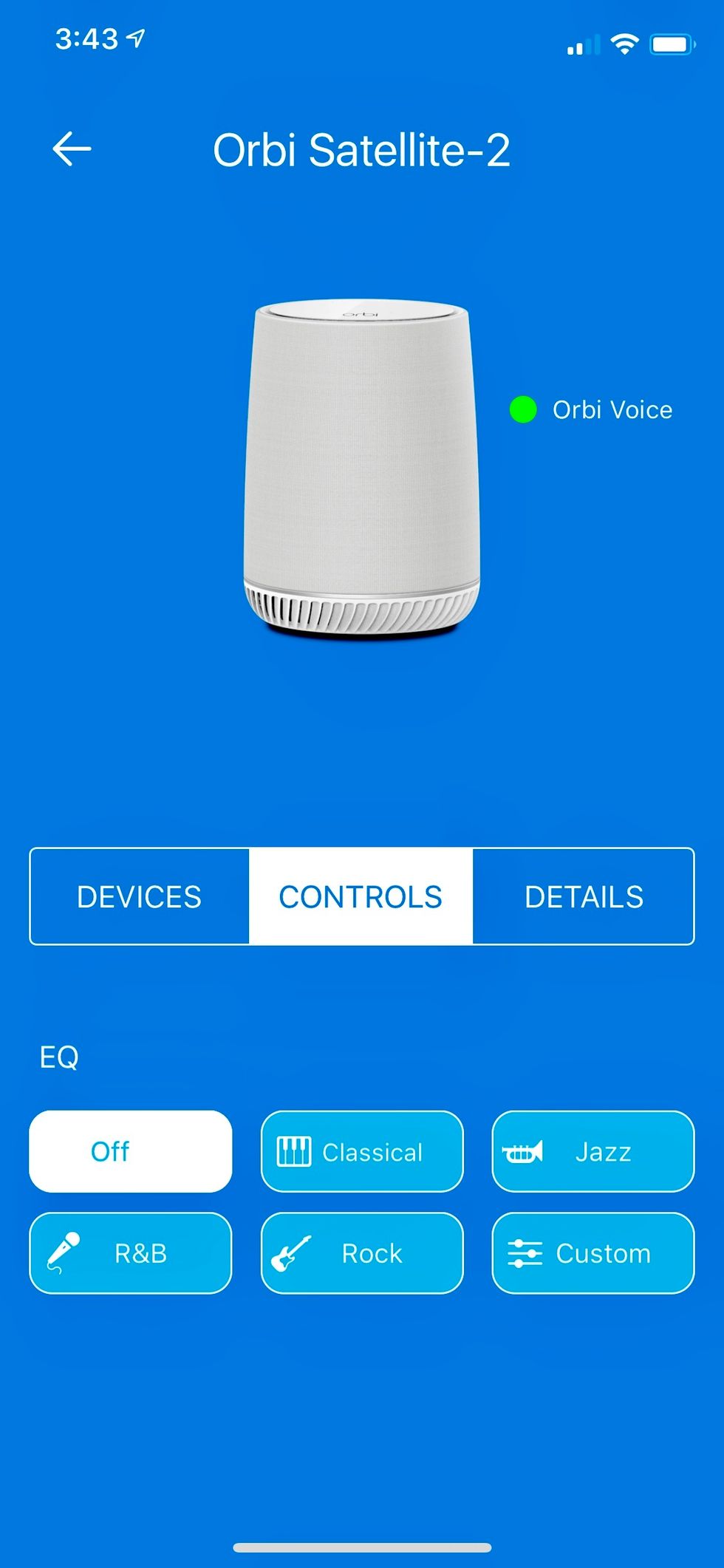 GearBrain
Sound Quality

Not meaning to be vague, but Voice sounds really good. But it's missing the multi-directional driver array of other single smart speakers to create true room-filling sound.
Voice is equipped with a 3.5-inch front-facing woofer and a 1-inch tweeter. Actually, both drivers face front, which means sound fades dramatically when you move off-center, as opposed to HK's circular Allure and Riva's new rectangular Alexa-enabled Concert speaker, both of which provide even 360-degree sound. Voice pumps out plenty of "room-filling" volume, but you'll have to place Voice against a wall or, even better, in a corner so everyone gets the same sound. Except that this placement that may not be optimal for Wi-Fi coverage.
Sonically, Voice wasn't as bright as either the Sonos or especially the Allure at the top end (which is totally a subjective preference) and was a smidge muddier in the middle, differences you'd only notice in an A-B comparison. Voice's bass is smooth and well-integrated, providing a lot more boom than the Sonos One and on par with the Riva Concert's beat, but more subtle than the throbbing bottom produced by the Allure. There's some EQ choices in the Orbi app that help mitigate some of Voice's minor midrange issues, but it's "custom" EQ adjustments consist purely of single bass and treble slides.
Summary

Netgear's Orbi Voice is, to a certain extent, an opportunity squandered. You get a great value, essentially a two-for-one deal: a speedy Wi-Fi mesh satellite and a high-quality smart Amazon Alexa speaker combined into a single box. You get excellent Wi-Fi coverage, an excellent array of voice-accessible streaming music sources, and, with Harman Kardon sound, excellent smart speaker sound quality.
But without Wi-Fi or Bluetooth to stream content from your smartphone you're limited to what you can listen to. The lack of 360-degree sound, or stereo pairing, combined with possibly conflicting Wi-Fi coverage v. soundstage decisions also creates potential placement problems. As a result, Voice may be appropriate only for a specific subset of consumers.
Voice is now available for pre-order bundled with an Orbi router ($429.99) or as a single speaker ($299.99) for those who already own an Orbi Wi-Fi mesh system.
Pros:
• Combines Wi-Fi mesh router with Alexa smart speaker satellite
• Easy set-up and a speedy mesh system
• Wide-range of Alexa-controlled music sources, and "room filling" volume
Cons:
• Larger than most smart speakers, mesh satellites
• No set-up guidance
• Lacks Bluetooth and 360-degree sound
What You Need To Know About Smart Speaker Assistants www.youtube.com
From Your Site Articles
Related Articles Around the Web
Like GearBrain on Facebook