Like GearBrain on Facebook
Amazon has begun to roll out a new feature for its Echo smart speakers called Alexa Guard, which alerts you to the sound of smoke and carbon monoxide alarms, as well as broken glass, while away from home.
Part of an invitation-only test for the past few months, Alexa Guard is a free update which is starting to roll out to all U.S.-based Echo smart speakers and smart displays today (May 14). The system is set up via the Alexa smartphone app, then armed by saying: "Alexa, I'm leaving."
Read More:
Doing this switches the Echo's microphone so that it is listening out for the 'Alexa' hot word, as usual, but also for the sound of a broken window, or the siren of a smoke or carbon monoxide alarm.
If any of these are detected while Alexa Guard is enabled, you will be notified via the Alexa phone app, which sends a 10-second recording of the event. You can then use the existing Drop-In feature to listen to a live feed from the Echo's microphones.

Also included in Alexa Guard is a new optional system called Away Lighting, which turns your smart lighting on and off to make it look like the property is occupied. Amazon says Alexa uses machine learning based on how you already use your smart lights to make this appear realistic. Any smart bulbs compatible with Alexa can be used with Away Lighting.
On returning home, the system is disarmed by saying "Alexa, I'm home."
Alexa Guard ties in with smart home devices made by Amazon-owned Ring. If you have a Ring Alarm system it can be automatically armed when you tell Alexa you're leaving. If broken glass or a smoke alarm is detected by Alexa, you can jump straight into the Ring app from the Alexa notification, where it's possible to call the emergency services — as long as you pay for Ring Protect Plus, which starts at $10 a month.
Taking things a step further, Alexa Guard also works with professionally-installed alarm systems from ADT. Telling Alexa you are leaving automatically arms the ADT system, and if Alexa detects the sound of a smoke or carbon monoxide alarm, it will alert ADT, which will contact the emergency services on your behalf.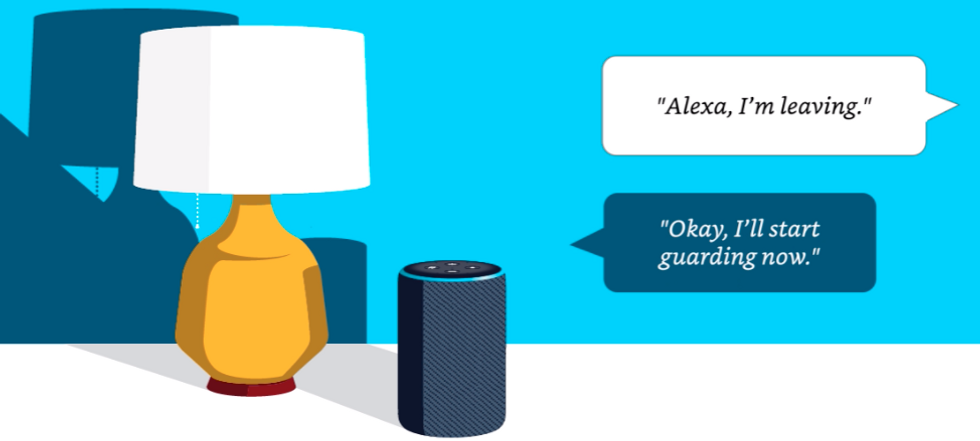 Alexa Guard is armed by telling the assistant you are leavingAmazon
While the new features are certainly welcome — especially given they are free — Alexa Guard used in isolation isn't a fully-fledged home alarm system. Amazon recommends users install an Echo device in every room they want monitoring, and clearly states this is not an alarm system with its own professional monitoring service. Amazon says: "When you receive a Smart Alert from Alexa, it is up to you to decide what action, if any, to take."

It is also worth noting that Alexa's ability to detect broken glass might not be as useful as it sounds, due to burglaries becoming less common. According to a 2017 report by the US Bureau of Justice, household burglaries declined from 11.6 per 1,000 in 2016 to 10.1 per 1,000 the following year.
As it currently stands, Alexa Guard is unlikely to react to a door being kicked in, or a picked lock. It also cannot respond to burglaries which occur when doors and windows are left unlocked or open, or when an intruder breaks in another way without smashing glass.
That said — and as we have reported before — automated smart lighting is a good way to deter potential burglars, and Alexa Guard adds smart connectivity to your otherwise unconnected smoke alarms.
GearBrain TV: How to Secure your Smart Devices www.youtube.com
From Your Site Articles
Related Articles Around the Web
Like GearBrain on Facebook