Like GearBrain on Facebook
One of the joys of building a smart home is how the various systems can encourage you to get creative. This doesn't just mean some funky smart lighting and clever Alexa automation routines, but also when it comes to keeping your home safe.
In this article we will give some suggestions for how smart home devices can be used to make it look like you're in, in a bid to deter potential burglars. After all, if your lights and TV go on and off each day, the window blinds rise each morning, and the outside features several security cameras, all but the most determined (or foolish) burglars will look elsewhere.
This article will focus on smart home tips and tricks you can install and configure yourself. For a deep dive into professional home security systems with 24/7 monitoring, check out this article:

Here are some of the best smart home devices to use to keep your property safe and deter burglars - whether you're on vacation for a month, or at the store for an hour:
Automated window blinds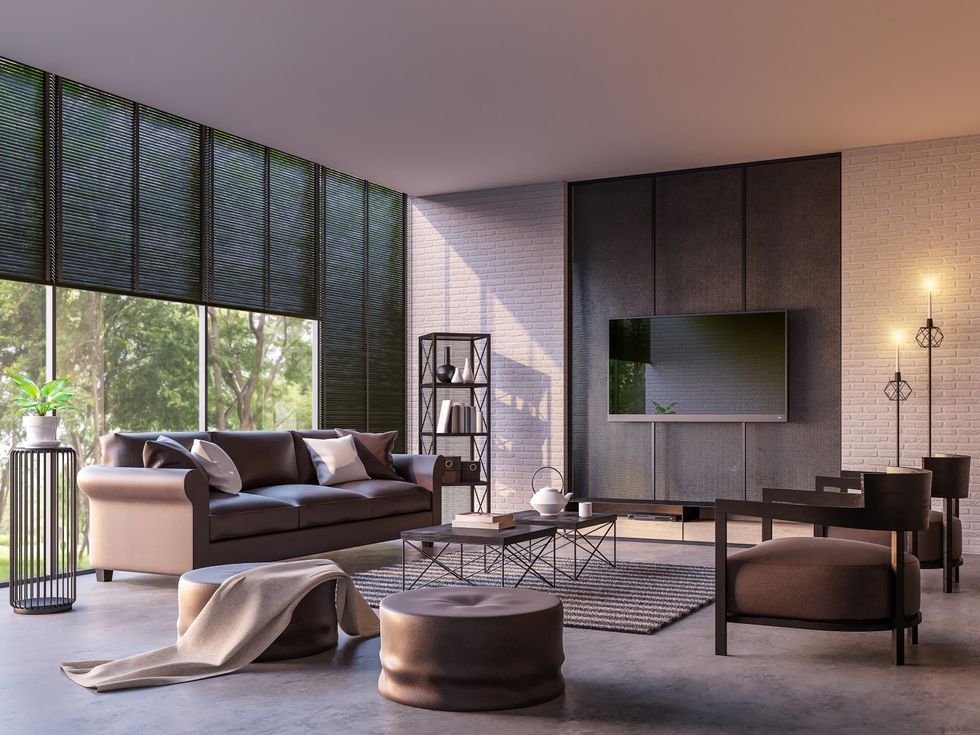 Automated smart blindsiStock
Is there a bigger giveaway of you not being home than your blinds remaining in the same position for an entire week? Anyone looking for properties to target will see this as a clear sign that no one is home, especially if the lights remain equally unused (but more on that in a minute).

As we recently wrote about on GearBrain, there are a number of options available when it comes to installing automated window blinds. Some are expensive (we're talking hundreds of dollars per window), while other solutions cost from around $110 per blind.
For the complete system, it is hard to beat Lutron — especially if remote control and automation are important to you. The company's Serena system offers a wide range of designs and fabrics, then the Caseta Smart Bridge gives support for Alexa, Google Assistant, Apple HomeKit, SmartThings, IFTTT and more.

A quick note on IFTTT (If This Then That): As of early 2019, some smart home device makers are taking a step away from allowing their products to work with IFTTT. The most high-profile is Google Nest, which says its products will no longer work with IFTTT from the end of August 2019. You may want to think twice before making IFTTT an integral part of your smart home, or of your burglar deterrence system, as if changes are made then you might find the automated routines you setup no longer work, potentially while you are away, leaving your home obviously unoccupied and potentially vulnerable.

An Alexa routine can be created to open Lutron your blinds at a certain time each morning, then close them again in the evening. This not only prevents burglars from peering in, but also gives the impression that someone is home. To make their operation look even more natural, you could create an IFTTT applet to open and close them at sunrise and sunset each day.
For those on a smaller budget, try the Soma, a motor which pulls on the existing cord or chain to raise and lower the blinds whenever you ask. Being solar powered, they won't run out of juice while you're away, and Alexa control means routines can easily be created.
Due later in 2019 are smart blinds from IKEA, called Kadrilj and Fyrtur. These are expected to cost from about $110 each, and should pack Zigbee connectivity, meaning they'll work with Amazon Alexa, Google Assistant and Apple HomeKit.
For more on smart blinds and shades, click here:
Smart lights on a schedule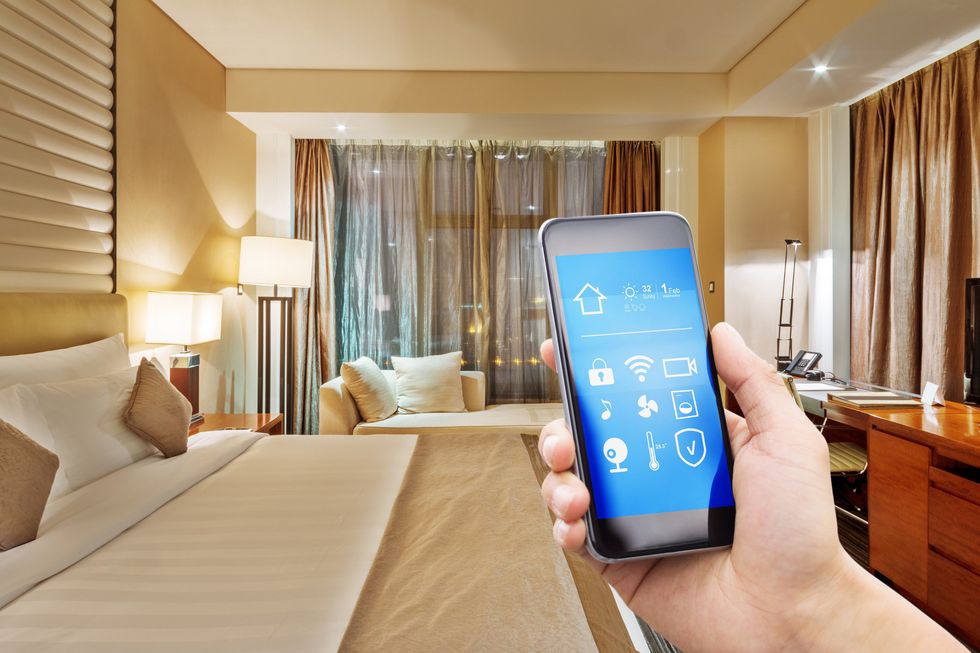 Use your smartphone or voice to control smart lights.iStock
Following the same theory we applied to the blinds, smart lights can be set to switch on and off each day to simulate you being at home. Smart lighting systems by Philips Hue, Lifx and Sylvania all work with Alexa and Google Assistant, so you can easily set up daily schedules and routines.
At its simplest, you'll want the lights to come on in the morning then go off at night. But you can go much further by separating each room into its own 'group' in the Alexa app, or 'room' in Google Home. Then, for example, the bedroom lights can switch on briefly in the morning and again at night, while the living room and kitchen can be set to function on a different schedule. Outdoor lighting could also be programmed this way, really making it look like you're home.
Wiz smart lighting makes all this simpler by already having a vacation mode, where the lights switch on and off in patterns which resemble someone being home.

Amazon recently added automated lighting to Alexa with its new Alexa Guard system. When armed, Guard uses the microphones of your Echo smart speakers to listen out for sounds like broken glass (signalling a break-in) and a smoke alarm. Guard can also be configured to automate your Alexa-enabled smart lights when you're away. The system first learns how you use your lights each day, then simulates this when you're not in.
Philips Hue recently added outdoor options to its smart lighting collection, designed to illuminate your garden, flowerbeds and pathways. When added to a scheduling system, these can also be made to act like someone is home, turning on at night going off again in the morning.
Finally, Lifx lights can play a key secondary role. The company's Life Plus range of smart bulbs emit invisible infrared light at night, which boosts the quality of footage recorded by security cameras with an infrared night vision function.
For more on smart lights, click here:
Cameras and signs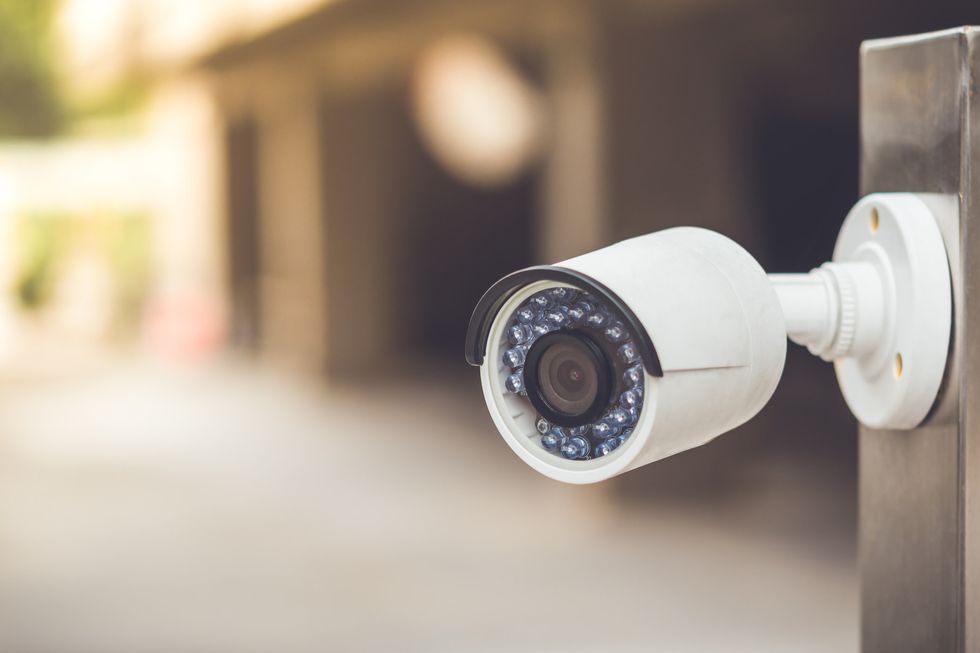 Security cameras help keep track of visitors.iStock
Automated blinds and lights will go some way to help deter burglars, but if they still think your home is a worthy target you should be prepared. There are a wide range of wired and wireless security cameras available to suit most budgets.
These cameras use motion detection to ensure they only record when they see movement, and some even use artificial intelligence to identify an unknown person before filming — saving the battery from being drained every time next door's cat walks past.
The mere sight of a security camera on the side of your property could be enough to put off most potential burglars, but you could increase the deterrent by putting up a sign, either on a wall, in a window, or on a stake in the garden, stating that trespassers will be caught on video.

Many cameras include microphones and speakers, so you can speak to trespassers from your smartphone, which can be set to alert you when the camera detects motion, or an unfamiliar face. That way, you can scare a burglar away with live audio, even if you aren't actually home and are away on vacation; of course, they don't know that, and may think you are watching them from inside the home.
Furthermore, systems like Google Nest, Swann, and Ring can incorporate a floodlight, which illuminates your garden when a potential burglar is spotted.
Wireless security cameras are naturally easier to install as they require no wiring for their power supply. But if you have the DIY skills (and don't want to charge up the batteries every few weeks or months) then wired options could make more long-term sense.
For more on smart home security cameras, click here:
Video doorbell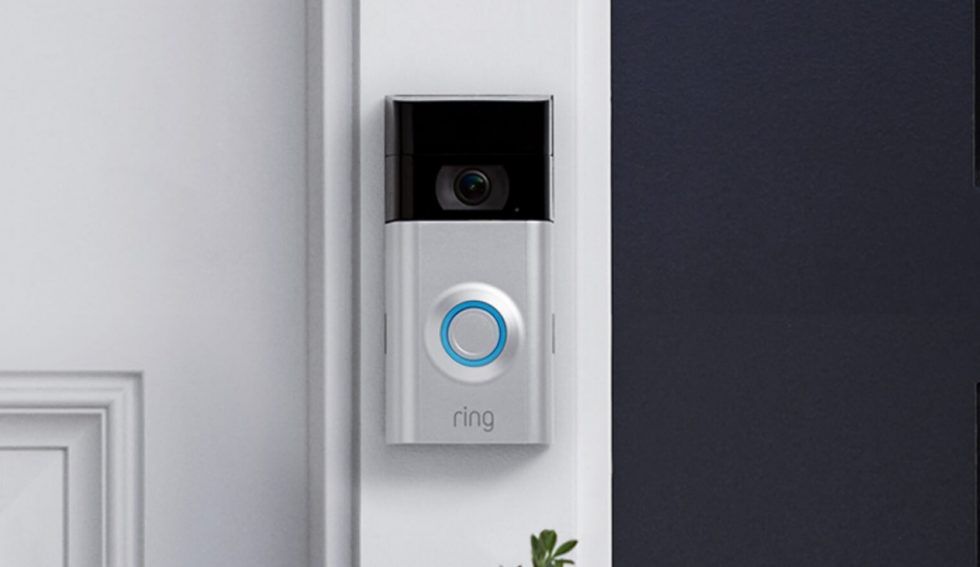 Ring video doorbellRing
On a similar note, the video doorbell is a useful security device to keep an eye on your front door and deter anyone who might be looking for a way in. Devices like the August Doorbell Cam Pro, Ring Video Doorbell 2 and Swann Smart Video Doorbell will start recording when they see movement and notify you. Recorded video is stored online and can be viewed afterwards.
A microphone and speaker gives these devices two-way audio, so you can speak to whoever is at the door through your smartphone — useful if you want to tell the delivery driver to leave a package by the door, or to ward off anyone who shouldn't be there.

For us, video doorbells are one of the best smart home features to invest in, as they act as a doorbell, an intercom, and a security camera, yet are small, affordable, fairly subtle, and often very easy to install - especially wireless battery-powered ones like the Ring Video Doorbell 2.
For more on video doorbells, click here:
Window and door sensors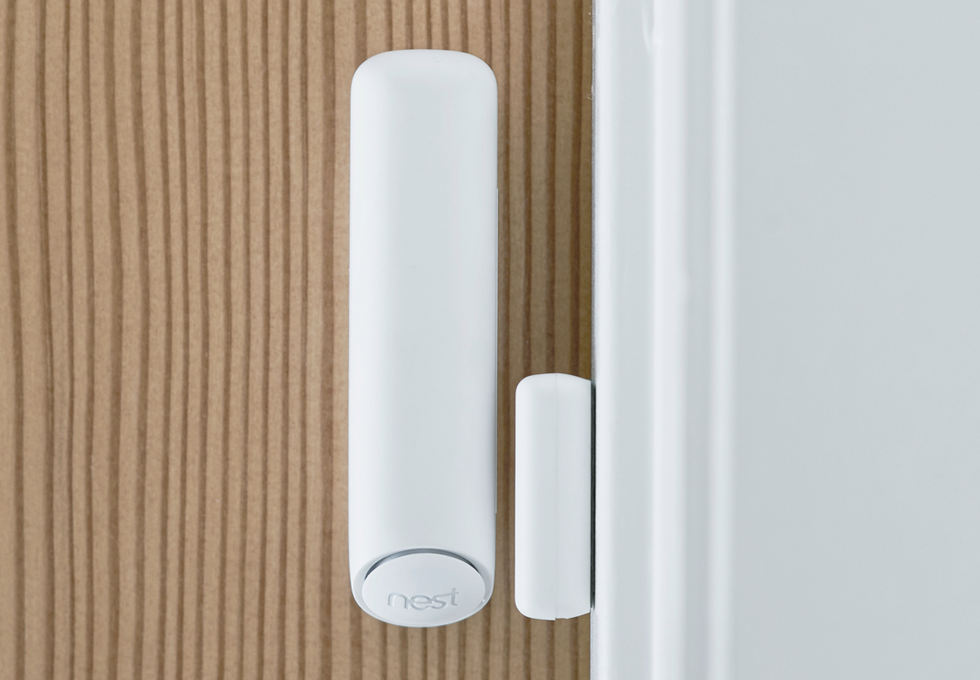 Door sensors connect to your smart home security system.Nest
If the worst should happen and a window or door is opened while you are away, a simple sensor could alert you immediately. Sensors sold by Wink, Hive, Wyze, Nest and others hook up to your Z-Wave or Zigbee compatible smart home hub, notifying you when the window or door they are attached to has been opened.
Although small, these sensors will likely be spotted by knowledgable burglars, who may opt to avoid your property, given it would be impossible for them to know if the sensor is fake, or attached to a broader alarm system with professional monitoring and automated police dispatch.
Taking this a step further, smart alarm systems like the Nest Secure use combined motion and opening sensors which alert you when they detect movement and when the door or window they are attached to is opened while you are away. Another off-the-shelf option is the Simplisafe, which connects to door, window and motion sensors, but can also alert you if it hears broken glass - and it apparently even knows the difference between a smashed window and a dropped plate.

A cheap option here is the Kangaroo Motion Sensor, which costs $30, which can be self-monitored for $1 a month, or connect to a professional monitoring service able to make a 911 call on your behalf for $9 a month.
For more on sensors and home alarm systems, click here:
The simple (and affordable) option - A smart plug and a lamp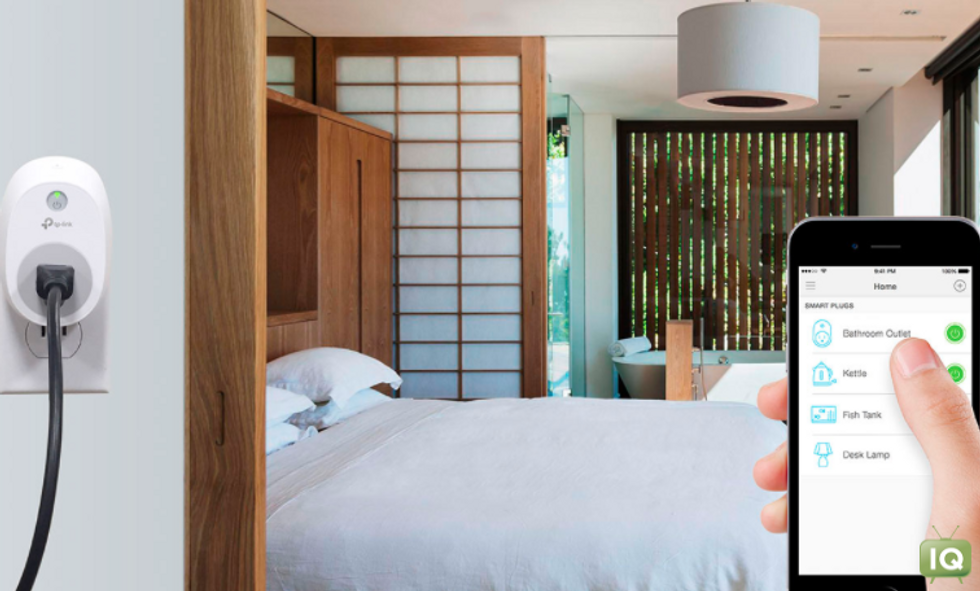 Use your smart plug to control appliances in your house.TP-Link
You don't need to spend a fortune to keep the burglars at bay during your next vacation. The simplest and cheapest deterrent involves a smart plug (which can cost comfortably less than $20) and any lamp you already own.
Smart plugs connect to the internet via your Wi-Fi network and can be controlled remotely from your smartphone, or set to function on a timer. Simply plug one into a wall outlet, then plug your lamp into it. Now head to the smartphone app and set the plug to switch on for a few hours each evening.
Place the lamp in a window which can be seen from the roadside and it will look like someone is home, switching the light on and off each evening. This set of four smart plugs by Etekcity costs just $34, and gives you plenty of options for having multiple lights switch on and off at different times each day.
On a similar note (albeit a little more expensive), the Harmony Hub by Logitech can be programmed to switch most televisions on and off at certain times, further making it look like someone is home.
For more on smart plugs and switches, click here:
Like GearBrain on Facebook