Like GearBrain on Facebook
Many of us have become used to unlocking devices like smartphones with biometric security systems, such as fingerprint readers or facial scans.
But instead of following this trend, Amazon sees potential is scanning our unique palm prints instead. To demonstrate how this works, Amazon has announced Amazon One, a palm-scanning identity system that is being rolled out at two of its Go retail stores in Seattle.
Read More:
To enrol in the Amazon One system, a shopper enters their credit card then holds their hand palm-down over the reader. The palm print and credit card details are paired, and the user can now continue their visit.
Remember, Amazon's Go stores already use computer vision technology to work out what items you have picked up and left the store with, billing you accordingly. The One device replaces the need to scan the Amazon app of your smartphone to identify yourself on the way in.
Once unrolled with the One system, visitors simply hover their hand over the reader for a moment to be identified, then pick up the items they want to buy, and walk out. Their credit card is billed shortly after. An Amazon account isn't required to use Amazon One, as it only needs a credit card and mobile phone number.
Amazon says the system is contactless, instead of requiring the pressing of a finger against a reader – a key point given the current pandemic and how Covid-19 can be spread by touch. The retailer filed a patent describing a "non-contact biometric identification system" using images of the user's palm back in June 2018; the patent was published in December 2019.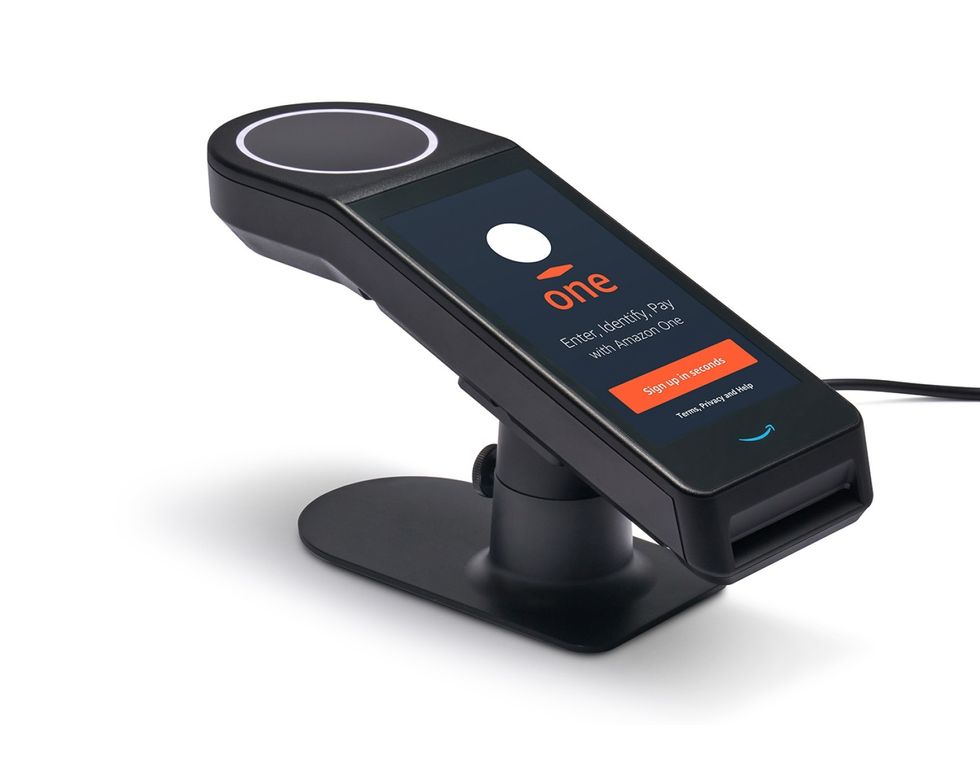 Amazon One contactless palm-recognition deviceAmazon
On why palm recognition was chosen over fingerprints or face scans, Amazon's Dilip Kumar said: "One reason was that palm recognition is considered more private than some biometric alternatives because you can't determine a person's identity by looking at an image of their palm. It also requires someone to make an intentional gesture by holding their palm over the device to use. And it's contactless, which we think customers will appreciate, especially in the current climate."

Beyond its Amazon Go retail stores, the company sees a future where the One palm-reading technology is used as identification in other settings. Users could enter a sports stadium with their palm as identification, for example, or be granted access to the office without swiping their security badge or showing conventional ID. Amazon is now asking third parties interested in the One technology to get in touch.
On why our palms can serve as reliable identification, Kumar added: "When you hold your palm over the Amazon One device, the technology evaluates multiple aspects of your palm. No two palms are alike, so we analyze all these aspects with our vision technology and select the most distinct identifiers on your palm to create your palm signature."
Palm scans aren't held on the device. Instead, Amazon says, they are encrypted and sent to a "highly secure area" built into the company's cloud server. A user's palm scan and associated data can be deleted via the Amazon One device, if they wish to stop using the service.
From Your Site Articles
Related Articles Around the Web
Like GearBrain on Facebook